9 Best Waxed Canvas Jacket that's Cool and Worth Every Penny
Manly Waxed canvas jacket to survival the worst or best weather, just perfect  to keep rain off your back.
The waxed jacket is synonymous with the British and Irish heritage. Although it's been around for many years, designers have not ceased to breathe new life to the coat with fresh ideas. This has made the waxed canvas jacket more functional and relevant to the modern man.
Whether you're skiing die-hard or the average workman, you'll find a suitable jacket for your needs. It doesn't matter whether it's a canvas rain jacket or a hooded trucker jacket.
Wax canvas Jacket buying tips
It's okay to get confused – whether to select this brand or that brand. Everyone gets to this dilemma every now and then especially with tonnes of options in the market to pick from. However, when it comes to wax canvas jackets, there are a few things you might want to consider to help you pick the right choice.
For starters, it's important to determine what you'll use the coat for. This will guide you in choosing the right design and related features such as closing mechanism, number and size of pockets, length of the coat and its shade.
Luckily, we've done the bulk of the work for you by searching for the best wax canvas jacket brands in the market and highlighting some top products. We hope you'll find these choices relevant to your needs.
Harley-Davidson is no doubt a big name in the motorcycle industry. When it comes to riding attire and accessories, you can't go wrong with Harley-Davidson products. the Harley-Davidson Waxed Canvas Slim Fit Jacket comes with a fresh look that gives you a trendy appearance. It comes in a denim body for assured comfort and durability. Moreover, the jacket features back and front waxed canvas yokes with a brown shade for a modern look. It also has a 90-day limited warranty as an assurance for quality.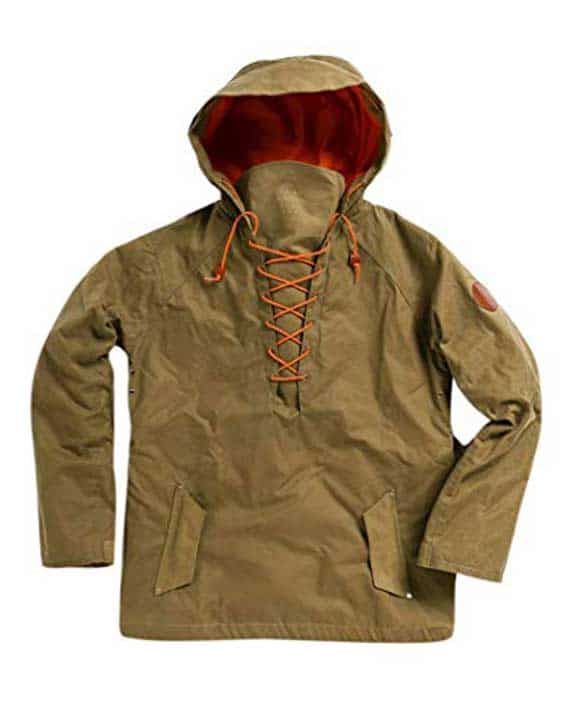 When it comes to mountain warfare, no unit in the US is better trained and prepared than the 10th Mountain Division Alpinists. In order to protect against the treacherous weather, these soldiers need specialized jackets.
The Alps & Meters Waxed Canvas Jacket is inspired and designed to meet these standards. Its inner membrane is waterproof while the exterior is made of British Millerain waxed canvas exterior for added protection.  The coat has side vents for cooling and is thus an ideal pick for your winter jacket.
It's so uncomfortable to be drenched wet in the rain. You could be in warm clothes but if they aren't waterproof, then you'll still get wet and cold. But with the Burton Waxed Canvas Jacket, you can brave both snow and rain. Its outer fabrics come with a hydro coating and waxed finish to keep off rain and mist. In addition, it's fitted with a hood and warm Sherpa fleece lining. Moreover, the fitting design of the coat is sure to give you a classic look.
Motorcycle racing can be so exhilarating and extremely satisfying especially after successfully pulling off some wheelies. It's, however, prudent to take precaution before any race. This is where the Speed & Strength Waxed Canvas Jacket comes in. It's fitted with Vault™ C.E.  shoulder, spine and elbow protectors for added safety. It also boasts of a removable hoodie that keeps you warm and comfortable. Moreover, it has back vents for cooling during hot weather and has several storage pockets.
As John Synge once said, "There is no language like the Irish for soothing and quieting", Vedoneire of Ireland seems to incorporate the Irish soothing effect to its product. The Vedoneire Waxed Motorbike Style Jacket features a regular fitting design with a sharp modern look that allows you to ride in style. It possesses an innovative dry wax finish that is water & stain resistant and extremely durable. The jacket has an adjustable inner waist and cuffs for a fitting feel.
Ever wondered why handcrafted products are special? Well, it's because they are made with a heart, passion, and love.
The Orvis Men's Heritage Field Coat is no different. classic field coat back with subtle updates to become the favorite of yet another generation. This dry-waxed cotton canvas turns away briars and repels rain. It features a lower bellows pockets with snap-closure pocket flaps and tailed with two upper slash hand-warmer pockets.
Geared with gusseted underarm panels, with grommets for ventilation and Shooting patches on both shoulders alone with reinforced elbow patches. Adjustable button cuffs with corduroy trim. Corduroy collar.
You can, therefore, adorn yourself with this high-end jacket not only for protection but also to make a fashion statement.
There is something special about being youthful. It exudes energy, courage, and enthusiasm in a person. Who doesn't want that? The Lucky Brand Waxed Canvas Jacket comes in a fitting style that gives you a youthful look to bring out the best of you. It has a high neckline design and a tonal stitchwork for a classic look. You don't have to worry about maintaining it as it's machine washable. In addition, it's designed with four pockets for adequate storage of your valuables.
Hunting is a great outdoor experience. It exposes you to the countryside and allows you to hone your survival instincts in the wild. Every great hunter knows the importance of adorning themselves with the right gear from the best field jacket to boots and so forth.  The Timberland Waxed Canvas Field Coat comes in a 3-in-1 layered design with a zippable cotton twill liner to protect you from cold. You will benefit from its roomy pockets for storage and can easily take off the outer shell when it gets warmer.
For more than a half a century now, Timberland has stood out as the go-to outdoor brand. Its Mt Davis Timeless Waxed Jacket is your ideal lightweight coat for cool weather. Whether you're in a tee or sweater, the coat will work just fine for you. In addition, it's waxed to withstand light water and comes with a concealable hood to protect you against cold.