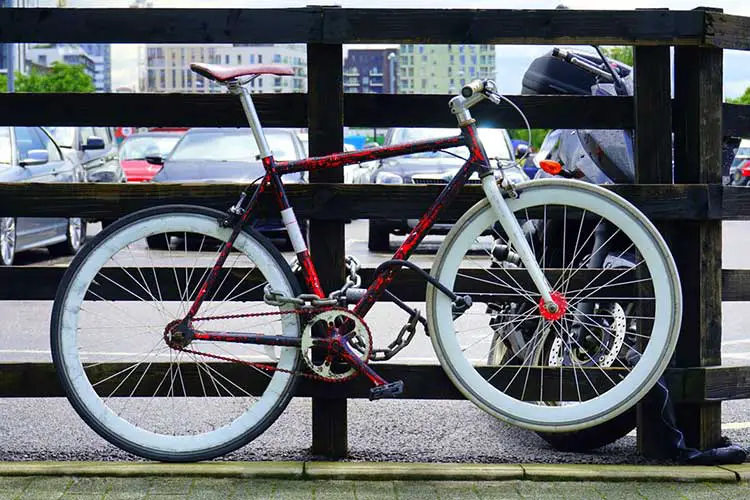 With the various types of bicycle locks available in the market, it's easy to wonder what the average cost of a bike lock is. Nonetheless, you know that whatever the cost, this affordable, simple piece of mechanism is worth it and necessary for keeping your bike safe. And if you treasure your bike, no price is too high for it.
So, how much is an average bike lock? Generally, it depends on how much you have and are willing to pay for one. And this is affected by how much value you place on your bike. However, depending on the type and quality of the lock, you're looking at $20 to $100.
And seeing as there are many varieties out there that can be confusing, you need to know how to choose a solid bike lock for your bike. This article will let you in on all you need to know before buying a bike lock. Questions on what type, brand, or money to invest in will all be answered. So secure a drink and dig in.
[/vc_column_text]
 Whenever you make a purchase through links on this page we make a small commission from our affiliate partners. Learn more
What Are the Types Of Bike Locks?
D/U-Locks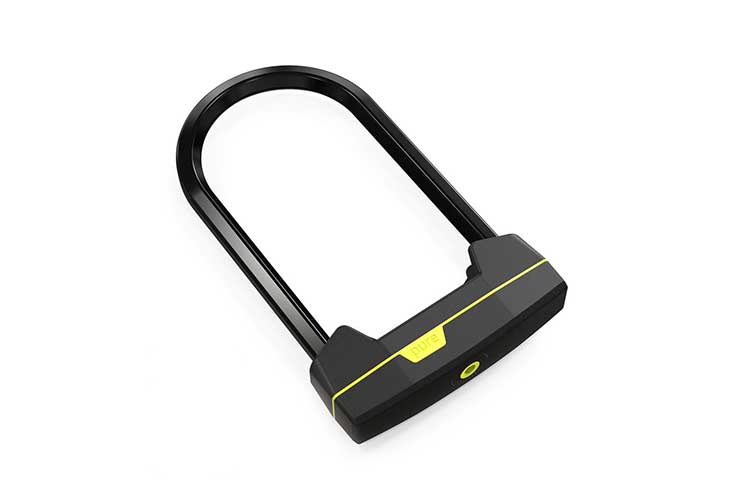 You'd know this lock by its shape. It has a simple D or a U shape and is the most popular type of lock. It's common to see bikers with this lock because it is easy to use and comes in a simple design.
This lock is highly effective and offers good protection for your bike. It can withstand many break-in tools like hammers, chisels, and so on. The idea with this lock is that it fits securely around whatever you're locking it with, leaving as little a gap as possible.
However, its size and shape limit the number or types of things you can secure your bike to.
You can find this lock in different sizes. The larger sizes can lock one wheel and a frame to an immovable object. It usually comes with key mechanisms, and sometimes it can have both key and combination mechanisms.
Cable Locks
Cable locks are typically made from woven metal cable.
These types of locks are adaptable and lightweight but are not as secure as the D/U lock. So it's better to use them in low-crime areas. This is because a bolt cutter can cut through most cable locks. So, if you're using a cable lock, you should avoid leaving your bike unattended for a long time.
So while cable locks are cheap and easy to use, they're not very secure. However, you can use this lock with a U lock for better security, especially for movable parts like the bike seat. And it mostly comes with a combination lock.
Chain Locks
The classic bicycle chain locks are sturdy and highly secure. They are chain links tough enough to withstand break-in tools.
The downside to chain locks is that they are bulky and heavy. However, they are best for stationary locks. Also, when using a chain lock, you still have to invest in a sturdy padlock.
On the upside, chain locks allow you to lock your bike in different ways, thanks to their wide locking area. You can even secure multiple bikes with one chain.
You can, however, get highly secure chain locks that are portable, like the Kryptonite New York Noose 1275.
Folding Bike Locks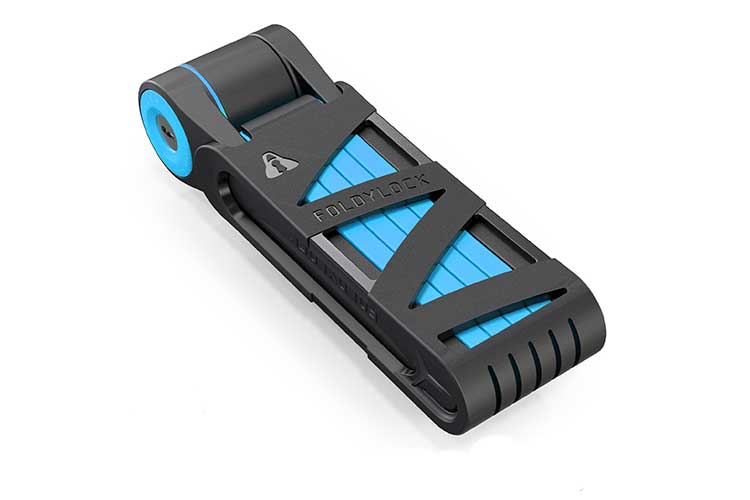 Even though the folding bike lock is a new invention in bike locks, it is receiving high-security ratings. These types of locks are made from 5.5mm tempered steel plates linked by fasteners.
The easiest of all locks to carry, the folding bike lock fastens around more objects than U/D locks. It is lighter than U or chain locks and offers the same level of security.
So with this lock, you get the security of a D/U lock and the wide locking option a chain lock offers. They are the most portable of all types of locks and even folds into a small box for easy transportation.
So if you want to secure your bike as best as possible without carrying additional weight while cycling, a folding lock is a good option. If you are interested in a premium folding lock, see the Foldylock Compact bicycle lock made by Seatylocks
How Much Is An Average Bike Lock?
Depending on the type of lock and brand, you can get a decent flex cable or chain lock for about $20.00. If you'd prefer a foldable lock, you should budget about $50 to $100. They typically cost more than a flex cable or chain lock. You can even find those with carrying cases, but it may cost you an additional $100.
For U-style locks, you can expect to pay about $60 for a solid top-quality lock. However, you can find some that fall under $31. The price range is flexible, so don't sweat it. Just go for a bike lock that fits your budget and shows how much you value your bike. Getting a good top quality bike is always worth it in the long run.
Do I Need An Expensive Bike lock?
On average, a good bike lock may not necessarily be dependent on the price. What you need is a bike lock that works. And if you spent a lot getting your bike, then you should spare no cost in getting a secure lock.
This is because sometimes the more money you spend, the better quality you get. And a good bike lock can last many years and even survive many bikes.
Typically, a bike lock cannot cost as much as a bike. So securing your bike should be a top priority. Your bike lock should cost a percentage of the total cost of the bike. And this includes customization done on the bike to suit your style.
A good quality bike lock is part of your bike gear, like helmets and reflectors. So whatever you can spend keeping yourself and others safe while you ride should be spent keeping your bike securely.
Finding a cool roadworthy bike you can connect with is not such an easy feat. And so losing it to the hands of thieves is a huge loss you don't want to suffer. For many bike riders, it's almost like losing a most reliable friend.
There will be times you have to stop for a meal or enter into a building, and you need to park your bike. You don't want to leave it unsecured or barely secured because you got a cheap lock or a bad quality lock.
So again, go with what best suits you, go with top quality, go with reliability and strength. And go with how much value you place on your bike and how much you can afford.
What Should I Look For In A Bike Lock?
You should lookout for the following when getting a bike lock.
Quality: Getting a quality bike lock should be a top priority. A quality lock won't stop working anytime soon or get jammed.
Weight and size: If you get a bike lock that's too complicated or too heavy, the chances are that you'll stop using it soon.
Strength and thickness of the lock: Whatever lock you're getting, chains, padlocks, or U-locks, tit should have a thick shackle and body. Steel alloys such as boron carbide are preferable.
Brand: Specialty brand locks are usually of higher quality. So it's good to consider the brand before buying a lock.
[/vc_column_text]
Is A Key Or Combination Bike Lock Better?
Both key and combination locks have their pros and cons. And in the end, your choice depends on your preference.
The key bike lock mechanism is usually found on U locks, while the combination mechanism is usually found on cable locks. Some key locks use flat keys, while others use cylindrical keys. Whichever way, both are effective.
With key bike locks, you usually get at least two keys, with one as a backup. And if you lose your keys, most key bike lock manufacturers offer key replacement services.
However, some people opt for combination locks as a result of their convenience. With combination locks, you don't have to carry keys around or worry about losing them. However, you have to always remember a four-digit code.
Also, with key combinations, you have to constantly lubricate the lock and watch out for rust. However, on the matter of security, keyed locks tend to be more secure than combination locks.
Things To Note In Choosing The Right Type Of Lock
In finding the best lock for your bicycle, you should consider:
How secure you want your bike to be: The main reason for getting a bike lock in the first place is to secure your bike. So we believe the answer to this should be "well secured."
Convenience vs. price vs. security. A lock might be convenient and affordable but highly insecure, e.g., a cable lock. It's always best to go for security first, then convenience, before price.
The type of bike you are riding: A racing bike may require a more light and portable lock, while a city commuter can handle a heavy or bulky lock.
How often you use the bike lock: If it's up to 4 times or more in a day, you might want to consider one that is more convenient and easy to use.
Since you're likely to ride your bike to different places, you mustn't choose a lock that limits the places you're able to lock your bike at.
Best Bike Lock Brands
There are many bike lock brands in the market, but our top three are:
Abus Bike Lock Brand
If you're going for Abus, then be ready to spend. This brand is the most expensive out there but not for fun. Its high quality, security, and sturdiness are unmatched. So you're actually getting real value for your money.
The locks are reliable, well made, and tested for security and durability. And even in poor weather conditions, these locks will not fail.
Kryptonite Bike Lock Brand
Kryptonite is another solid bike lock brand. The locks are less costly than Abus and not as strong, but they are stronger than the average lock.
But whatever kryptonite lacks in standard, it makes up for with outstanding customer service. They offer free key and lock replacement where necessary. And you are guaranteed the most adequate of the anti-theft security schemes.
OnGuard Bike Lock Brand
OnGuard locks give you the most affordable, high-quality bike lock you can get in the market. Although they are not as good as their counterparts above, they're still pretty decent.
There are other good brands like Seatylock, Hiplock, TiGr, Litelok, Sportneer, Sigtuna, and so on.
Tips To Protect Your Bike
Get a good lock: If you can, buy two solid locks. It will make it harder for a bike thief to get through your security. And many times, it will discourage a thief totally when he considers the time and effort it will take to steal your bike. The risk of getting caught wouldn't be worth it.
Insure it: If you're riding a very costly bike, you want to insure it against theft.
Parking: Ensure that you park your bike in a well-lit space, easily seen by passersby. Don't just lock a wheel or the frame. Lock both wheels with the frame to a static object. And don't park in the same place all the time, so your bike doesn't become a target.
Remove any parts that you can, like the seats or your pannier bag.
At home, keep your bike in a garage or locked shed and secure it to an immovable object.
And there you have it, with the perfect lock, you can secure your bike and enjoy more road thrill time. So put on a cool cycling jersey and ride without fear. For more on bikes, biking, and bike gear, check out these articles:
Best Bike Touring Routes In the US For Your Next Bike Packing Trip
What Motorcycle Jacket to Buy Online – A Complete Buyers Guide