Authentic vs Replica Balmain Biker Jeans Comparison
Let me tell you a short story. When I turned 16, I bought my first Balmain Biker jeans as a birthday gift to myself. I had saved up money for it for quite some time. But unfortunately, within a month I had to start patching some parts of the jeans. To say I was heartbroken about buying fake Balmain jeans will be an understatement and, I'm sure I'm not the only one who has bought fake Balmain jeans.
To avoid such from re-occurring, I did a little research on how to identify fake Balmain biker jeans which I will be sharing with you shortly.
And just in case you're wondering what biker jeans are, to start with, and why there are fake biker jeans, this article is for you. We also leave a little buying advice at the end of the article which you want to check out.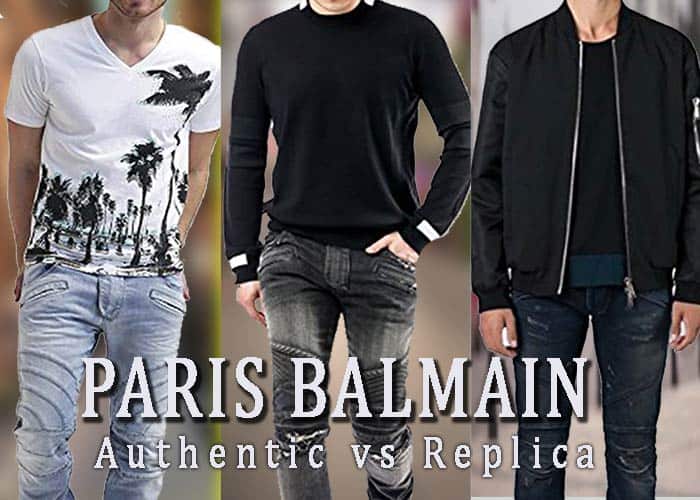 What are Biker jeans?
Biker jeans are also called motorcycle pants or jeans because they were originally designed for bikers. However, men's jeans have become a regular fashion item for men who like to dress cool. So, we see both bikers and non-bikers rocking the jeans.
It's safe to say you can divide the biker jeans into two classes- the one worn for biking and the one simply worn as a fashion item. The features of the former differ greatly because they are worn as a protective clothing. Every detail put into making those jeans serve a defined function, starting from the material used in making the jeans.
On the other hand, the Balmain biker jeans, which is our jeans of discourse, fall into the second class of biker jeans- those worn simply as a fashion item.
Balmain is a French luxury fashion house that was founded and named after its founder Pierre Balmain in 1945. Although it's been acquired by Mayhoola, it still operates under its founding name.
I kept asking myself one question after the incident I shared earlier:
Whenever you make a purchase through links on this page we make a small commission from our affiliate partners. Learn more
Replica Balmain Jeans Cheap Online At Amazon
Rev up your game with three of the best cheap biker style jeans on Amazon selected just for you.
Why are there fake Balmain biker jeans?
The need for less expensive options of a fast-selling product, such as cheap biker-style jeans, usually leads to the production of fake products.
Just like most other fashion brands, Balmain has also suffered being imitated. The Balmain biker jeans are imitated because Balmain is a successful brand that a lot of people love to identify with by wearing something from their store.
To take advantage of the situation, people create replica Balmain jeans which they sell as cheap Balmain jeans, but from experience I can tell that if it's not by Balmain it can never be like Balmain and to keep you from falling into such trap, you should know…
How to Recognize the Differences Between Real and Fake Balmain Biker Jeans
So how can you tell if the Pierre Balmain Biker Jeans you are about to buy is the original and not a replica? Here are some factors to look out for to know if it is original or not.
Packaging
Original Balmain biker jeans are delivered in a nice box with a well-branded packaging paper. The replica, on the other hand, is usually delivered in a clear plastic bag. I mean, what else would you expect from a manufacturer trying to cut cost by any means
Weight
The authentic Balmain jeans are heavier than the fake ones. This factor is attributable to the material used in making it
Zipper
Original Balmain jeans are fastened with silver zippers which are neatly sewn to the trousers. This is not the case with its replica. The replicas come in all sorts of zip colours, especially in a gold faded colour because they use low-quality closure. They are also usually sewn haphazardly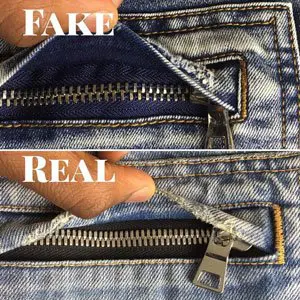 image source: instagram.com/closerlookofficial/
Brand logo
If you have looked at the packaging of your Balmain jeans, checked the weight, the waist fastener and the zipper and you are not yet convinced about the authenticity or otherwise of the jeans, then check the stitching of the Balmain logo at the back of the jeans.
If the stitching is smooth and neatly done, congratulations you may have successfully purchased an original Balmain biker jean. If otherwise, that is, the logo is roughly stitched and doesn't lie smoothly on the jeans, then what you have is the fake.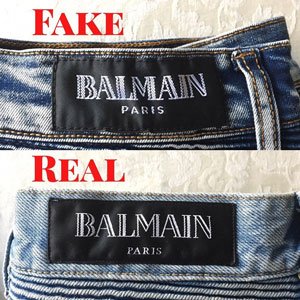 image source: instagram.com/closerlookofficial/
Inside label
For the authentic Balmain jeans, its size label tag number is white and visibly printed on a black material. The same cannot be said of the fake. With the fake Balmain jeans, you can hardly see the size number because it is slightly hidden by the stitches.
You will also notice that the fonts used in printing the labels and the way the texts are arranged vary. As usual, the original jeans are better stitched than the fake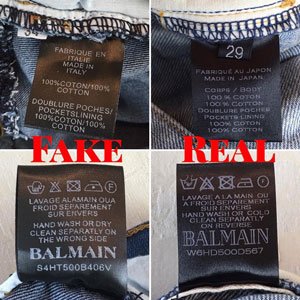 image source: instagram.com/closerlookofficial/
Hook and Eye Fastener
The hook and eye fastener on the original Balmain biker jeans have the words 'waist fastener' engraved on it, while the fake has nothing written on it
image source: instagram.com/closerlookofficial/
Cost
The original Balmain jeans cost more than the fake. Obviously because the original jeans make use of only original materials. Nothing sub-standard. The fake jeans can hardly boost of original zippers or waist fasteners, talk more of original jeans which is why they easily tear and are less expensive.
A pair of original Balmain biker jeans can be sold for over a thousand dollars. The fake would be sold for less than half that price
Stitching
Balmain has a reputation to uphold, so they take the pain to stitch every detail on their jeans perfectly. However, manufacturers of the fake Balmain have no reputation to uphold and don't mind ruining the reputation of the brand because they lose nothing by doing so, so they do not put much effort into stitching the jeans perfectly.
So, when you buy a supposed pair of Balmain biker jeans and notice that some parts are not neatly sewn, know they're not original
Knee Rib
Some users have also observed that the ribbing on the knees of authentic Balmain biker jeans are larger, while the fake ones have more ridges and are smaller.
How to avoid buying fake Balmain Biker jeans
The best way to avoid buying fake Balmain biker jeans is to buy directly from the company through their site or buy buying from a verified Balmain stockist.
And just so you know, I got myself another pair of Balmain biker jeans a year later when I had saved up some money. This time, they were original. Yippee!
RELATED POST