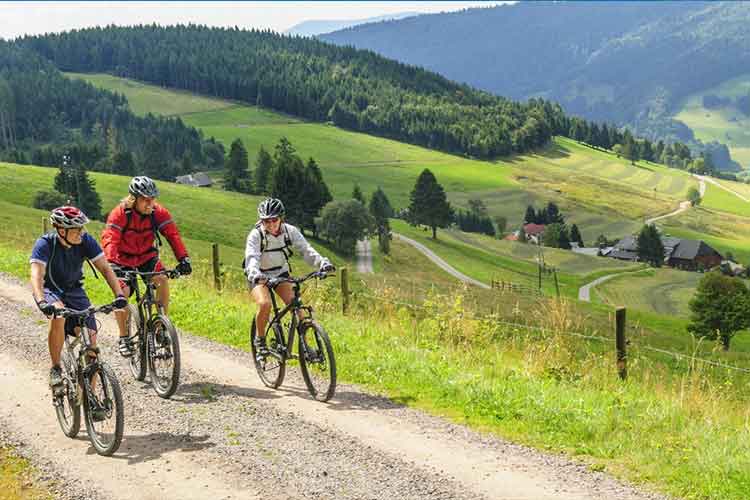 Combine two wheels and the best bike touring routes in the US, and you have a recipe for wonderful leisure. Not to mention enjoyable workouts. Plus, it's an opportunity to see and experience new places and has different experiences. And what better way to do so than on two wheels.
However, when you think about it, where do you sleep when touring a bicycle? The most obvious answer to this is dedicated campgrounds. Bikers also have the option of staying at hotels, hostels, inns, and so on. Even churches, fire stations, city parks aren't left out of your options.
So if you're ready for an epic adventure, get on your bike and roll out to the beauty that awaits your exploration. These best bike touring routes in the US are what you need.
Washington State
Drift away from the bustle of the City into the quieter and introspective cycling trails of Washington.
Where to cycle:
San Juan Islands
The San Juan Islands are every cyclist's delight. With an artistic vista that inspires every thought, you'll want to ride at a comfortable pace. And even better, you will want to treat yourself to a delightful stop in a cozy lodge in any of the Islands.
The Suan Juan Islands—Lopez, Orcas, and San Juan offer different terrains, sights, and experiences.
At Lopez Island, you can check out Lopez village, just 4.3mikes from the ferry landing. There, spend quality time at Agate Beach County Park for a view of the lovely beach. And you can stock up on picnic supplies at Lopez Island Chamber of Commerce.
The San Juan Islands also offer plenty of exploration. Be on the lookout for Orca Whales when you go to Lime Kiln Point State Park. Then, rest easy at the Roche Harbour Resort.
Olympic Adventure Route
25 miles on this all dirt trail leaves you with astonishing views of the Olympic Mountains and the Strait of Juan De Fuca.
This trail runs through beautiful quiet forests, good air, and the sounds of nature for a stimulating ride. And there's very little traffic. So while you'll see friendly riders here and there, at a comfortable distance, it still feels like you own the road.
The beautiful view starts at the Elwha River and ends at Lake Crescent in Washington's Olympic National Park. Here, you can camp comfortably with a close view of the lake at the Log Cabin RV and Campground.
Vermont
Vermont has 18 rail trails and public paths with spectacular views. So you have 130 miles of rail trails for your cycling pleasure. For even more adventuring, you can book with a tour company like inn to inn for everything cycling and touring.
Vermont provides fun and enjoyment for the whole family. There's something for everyone to see and do; it's like the adventure never ends. There's Vermont's waterfront to explore or Burlington's Waterfront Park with amazing waterfront views.
If you prefer views of the lake and fewer hills, then Champlain Bikeway is your trail. Or, if you prefer more of a challenge, you can cycle in hilly terrain.
Where to cycle:
Lamoille Valley Rail Trail:
No season is a bad season to go through LVRT. This 93-mile trail extends across some of the most beautiful landscapes you can find in Northern Vermont.
You can carry out any recreational activity you like. Whether it's walking, hiking, cycling, horseback riding, this historic treasure is sure to give you a rush.
Enough green to make you feel closer to nature than ever stretches from Stowe Village to Top Notch Resort on Mountain Road. And you also get to take in the breathtaking views of the mountain.
What makes it even better is that you can easily access restaurants and lodges for your relaxation. You don't have to ride miles and miles then slump on the bed like a tired sack of hay.
Oregon
Oregon has plenty of scenic routes for cyclists, be it mountains, deserts, or forests. Every route will prove to be an interesting experience.
Where to cycle:
Oregon Coast
When you're talking of stunning shorelines in America, it's impossible not to include the Oregon coast. You're looking at waterfalls, old-growth forests, sandy beaches, and all the viewing pleasures you can imagine.
It's even better when you're cycling at a relaxed pace. Then to cap it off, enjoy a nice meal in between taking in the scenic views the Oregon coast has to offer.
Crater Lake
Beyond viewing historical places is cycling through ancient mythological sites.
A popular myth is that Crater Lake was formed some 77000 years ago. In a battle between the sky god and the god of the underworld, the volcanic Mt. Mazama was destroyed. And now, that spot has one of the world's deepest, most pristine, and quaint lakes.
Encircling this large crater is a 32-mile strip of pavement you can ride on. This ride is quite challenging because you'll be going up a high elevation of 6,400 to 7,700 feet.  So, be sure to carry a hydrationpackalong.
Thankfully, you can begin and end your ride at the notable Crater Lake Lodge. And have a warm hearty meal and refreshing bed rest.
Historic Columbia River Highway State Trail
There's no doubt that the Columbia River Highway is one of the most beautiful highways in the world. What else do you expect from a path that runs along the gorgeous Columbia River Gorge? You get views of the river, gushing waterfalls, beautiful moss-covered forests, and the wonder of nature.
Colorado
Colorado's irresistible views lure road bikers to take a ride through some of the most picturesque byways and highways.
And we bet you won't be able to resist either.
Where to cycle:
Ride 48 miles of beautiful mountain scenery while ascending to an altitude of 5,540 feet. This climb will put you to the test, but then you have beautiful mountainscapes to keep you company. At the top, you get sweet views of the rocky mountain overlooking massive peaks.
Then begin the decline down the mountain. Going down is a breeze—literally. A good reward for all that climbing.
Because of the altitude, you want to wear water-resistant clothing in case there's a change in weather.
Trail Ridge Road
If you're a cyclist with plenty of gust and a love for nature and beauty, then you're going to love this. Splendid rocky peaks and lush pine trees trail alongside you on the Trail Ridge Byway.
You should stop 4.3 miles into the road to breathe in that clean air and appreciate the scenery. The Alpine Visitor Center is a nice place to stop, grab something to eat, and enjoy the view from viewing stations.
Peak To Peak Scenic And Historic Byway
The Peak to Peak byways runs 55 miles long along the peaks of the rocky mountains. So, you're up this moment and down the next. Now that's both challenging and fun.
Thankfully, there are many towns along this road so you can stop and rest.
Virginia
Everyone can take a leisurely ride along this rail trail. And there are different trails for any personality.
Where to Cycle:
This 469-mile roller coaster will give you a real workout. You have wonderful views to help you along and less traffic than most highways.
You'll find more species of trees than you can find in a regular biology textbook. With lots of flowering shrubs and wildflowers, you're in for a learning experience. Not to mention 54 different mammals as well as 59 bird species; that's a lot to take in!
Then you have the view—a spectacular view of the Appalachian mountains. There are developed sites along the Parkway for you to stop, park, grab a bite, stretch, visit restrooms, hike, and so on.
And if you'd like to explore wildlife and fish, then lodge in any of the available lodges or campgrounds.
Virginia Creeper Trail
The Virginia Creeper Trail is a 34-mile rail trail that cuts across Abingdon, Damascus, and the Whitetop Station.
First, you get the rolling farmland of Abingdon to Alvarado. Then you get high mountains between Damascus and Whitetop Station.
Considered one of the best bike trails in the nation, this rail trail has a lot to offer bikers. It has a soft and calm quality that keeps you relaxed on two wheels. And the 17 mile downhill ride from Whitetop Station to Damascus adds to the euphoria.
You can find numerous outfitters in Damascus and Abingdon who offer bike rentals and shuttle services to Whitetop Station. And when you hit the towns, you're sure to find lodgings and give dining for trail riders.
How To Choose A Touring Bicycle
Choosing a touring bicycle depends on several factors like:
The terrain: This will determine whether you'll go for a mountain bike or a regular road bike. While road bikes are faster, they cannot withstand tough terrains like mountain bikes. Mountain bikes are tougher, help you sit in an upright position, and they fit thicker tires that support more load.
Material: It's either you go for steel, or you go for aluminum. While steel is heavier and more likely to rust faster, it makes for a smoother ride. And surprisingly, the preferred steel frame for most routers.
Touring frame features: Certain features should be present on a touring bike. For example, eyelets on the rear dropouts, seat stays, and forks for mounting front and rear racks. But this can be helped by getting clamp-on racks.
Tires: Your touring bike needs thick tires that can carry the load. Most Mountain bikes come with 26-inch wheels, and it's better to go for one with at least 36 spokes per wheel.
Speed: Touring isn't something to do in a hurry but should be done at a leisurely pace. And so opt for a slow-speed option, with strong brakes.
What You Need To Know For A Self-supported Tour
A successful self-supported tour needs proper preparation and evaluation. So you should take note of the following:
Have a reality check: Not everything is topsy daisy when touring. You could get really tired, sweaty, discouraged, and so on. However, you should not let that deter you because touring has its rewards. You get to take in stretches of beautiful scenery such that your destination isn't the only thing you're looking forward to, but the journey itself.
Gear up: Next, think of the type of gear you'll need. Will it be a credit card tour, with you eating in restaurants, sleeping in hotels? Or, will it be a fully-loaded tour with camping gear or an RV?
Plan your distances: Determine how many miles you can travel per day and how long you actually want to cycle. It's best to give bike tours enough time so you can thoroughly explore your surroundings.
Consult: Find out all the information you can, guides, maps, etc.
Be safe: For every route you take, find out all the information about it. And try as much as possible to be in the company of other tourists.
Keep records: Put down what you can about your tour. You can even blog about it and keep your family and friends excited.
How To Pack for An Overnight Bicycle Trip
The idea will be to pack small and light. But whether it's a short trip or a more lasting trip, here's what you'll need.
A sleeping bag
A small tent or camp hammock
Food or provision for a restaurant nearby.
Toiletries, clothing, and so on.
or flashlight
Pocket knives
Waterproof matches
Cooking utensils
Camera
Fishing gear.
Map
Radio/Mp3 player.
You can add to this list but be careful not to weigh down your bicycle with a lot of loads. So it's better to pack as light as possible without leaving out the essentials.
And that's all we have folks on the best books touring routes in the US. For more cycling feed, feast your eyes on these articles:
Cool Cycling Jersey for Fat Guys to Reduce Air Resistance