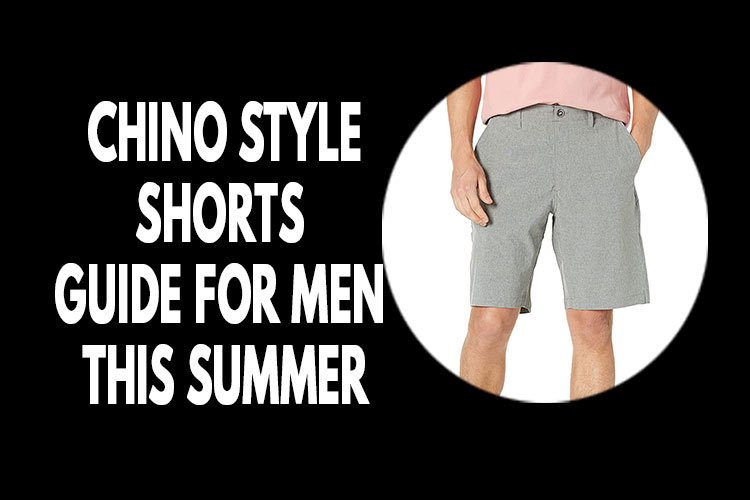 Summer is the perfect time to enjoy the warm weather, and the perfect outfit for this is a pair of stylish chino shorts. They come in various colors, styles, and sizes, perfect for any occasion. Chino shorts are perfect for the beach, park, or barbecue. 
What is a chino-style short? Chino-style shorts are casual shorts typically made from a lightweight cotton twill material. They are usually mid-thigh in length and have a flat front, slant pockets, and belt loops. Chino shorts are more tailored than other shorts, often worn with a belt and tucked-in shirt. Chino shorts come in various colors and patterns, making them perfect for both dressy and casual occasions. When paired with a polo shirt or a button-down shirt, they can create a classic, preppy look. 
But with so many options, it can take time to choose the best ones. That's why we've put together this guide to the best chino-style shorts for men this summer because there are a few key factors to consider. Quality, fit, and color all play a big part in ensuring you look your best. With the right pair, you can be sure to make a statement and stay cool at the same time. Read on to discover the perfect pair for you.
5 Best Chino Short You Can Wear This Summer
With the right pair, you can be sure to make a statement and stay cool at the same time. To help you out, we've rounded up some of the best chino shorts for men this summer. From classic khakis to more modern designs, there's sure to be something here that will be perfect for your summer wardrobe.
Tommy Hilfiger Casual Chino
These shorts are constructed from stretch fabric for maximum comfort and feature a 9″ inseam, button closure, and fly zip. Enjoy the convenience of the slit pocket design and show off your style with the embroidered flag at the back pocket. Perfect for work or casual occasions, these shorts are sure to become an essential part of your wardrobe. Buy on Amazon
Volcom Modern Hybrid Shorts
Experience the best of both worlds with Volcom's Modern Hybrid Shorts. These shorts are as versatile as they come, featuring a classic chino design combined with the performance of a premium surf trunk. Made with REPREVE Recycled Polyester, you can feel good about having them in your closet. Enjoy maximum comfort and style with Volcom's Modern Hybrid Shorts. Buy on Amazon
Chubbies Stretch Casual Chino
Get ready to move and groove with Chubbies Stretch Casual Chino shorts. These comfortable shorts are perfect for your next outing: vacation, date night, boating, golfing, or anywhere you need to show off your man thighs. Made with 3% spandex for stretch, maximum moveability, lunge-ability, and high kick-ability. Experience ultimate comfort and style – the best twill shorts around! Buy on Amazon
Vineyard Vines Chino Shorts
These 9 Inch shorts keep all of the tried-and-true styles of a pair of classic chinos but with added stretch and out-of-the-box softness that makes them unbelievably comfortable. The lightweight fabric is strong, breathable, and water-resistant, so they can keep up with you no matter where your day takes you. Perfect for work, golf, or everyday wear. Buy on Amazon
RVCA Weekend Stretch Chinos
Get the perfect combination of style and comfort with RVCA Weekend Stretch Chinos. These slim straight-fit shorts feature a durable twill fabrication for durability, along with stretch for added comfort. With slash pocketing at the front and welt pockets at the back, these chinos are versatile enough for any occasion. Perfect for a weekend out or a day at the office. Buy on Amazon
Related Read: 5 Tips For Buying High-Quality Chino Pants
Nike Golf Chino Shorts
Hit the course in style with Nike Golf Chino Shorts. These shorts feature stretchy fabric that provides a comfortable and casual fit for every round of golf. These shorts feature Dri-FIT UV technology and keep you cool and dry in hot weather. There are multiple pockets on these shorts for convenience. Look sharp and stay fresh from the tee box to the clubhouse. Buy on Amazon
6 Pro Tips to Consider When Buying The  Perfect Chino Short, Every Time
The Fit: How Chino Shorts Should Fit
When it comes to chinos shorts, the fit is key. The ideal fit should be slim but not too tight and long enough to hit just above the knee. The waist should sit comfortably on the hips without being too loose or tight. The hem should hit the mid-thigh, which will help keep everything in place and create a tailored look. 
The leg opening should be slim but not tight and taper slightly from the thigh to the knee. The fabric should be lightweight and breathable to stay comfortable all day long. Finally, ensure the shorts have enough room to move around and don't restrict your movements.
The Color: What Are The Best Colors For Chino Shorts?
The best colors for chino shorts depend largely on personal preference. Still, a few classic shades look great when styled correctly. Navy blue is a timeless color for chino shorts and works especially well with white tops and light-colored shoes. 
Khaki is another great option that pairs nicely with various colors and patterns. Olive green is a great shade to choose if you want something more unique. Denim blue is a versatile choice that looks great with various outfits.
 Burgundy is a bolder shade of red that can add a pop of color to an outfit. Light pastels such as beige, cream, and light pink can also be great for warm weather days.
Related Read: How To Wear Dress Shirt With Shorts – 7 Rules to Follow
The Inseam: What Length Should Chino Shorts Be?
The length of chino shorts can vary depending on personal preference, body type, and occasion.
 Generally, the inseam should hit somewhere between mid-thigh and knee length. Opt for a classic pair that hits just above the knee for a classic look. 
If you're looking for something more modern and fashion-forward, try wearing a pair from mid-thigh to just above the knee. To enhance your look further, consider adding a rolled hem to achieve an edgy, chic style. 
No matter your length, make sure the pair you select fits comfortably and looks flattering on your body type.
The Footwear: What Shoes To Wear With Chino Short
When selecting the perfect shoes to wear with chino shorts, there are a few factors to consider. First, take into account the event or occasion you're attending. For formal occasions, such as weddings or business meetings, leather loafers or dressy oxfords are great options. 
Sneakers, boat shoes, or sandals are great choices for a casual look. Additionally, consider the color and style of the chino shorts. Lighter-colored shorts, such as beige or khaki, can be paired with navy, brown, or white shoes, while darker-colored shorts can be paired with almost anything. 
Finally, consider the season – open-toe sandals or boat shoes are great options in the summer months. 
At the same time, a sneaker or boot may be better suited for the colder months. 
When choosing shoes to wear with chino shorts, it's important to consider the occasion, color, and style of the shorts as well as the season.
The Shirt: Which Shirt To Wear With Chino Shorts
When it comes to choosing a shirt to wear with chino shorts, there are a variety of options available. Depending on the occasion and the look you are going for, you could choose a classic polo shirt, a basic t-shirt, or a crisp, tailored shirt. 
Try pairing your chino shorts with a polo shirt for a casual yet sophisticated look. Opt for a lightweight cotton polo in a neutral hue like white or beige, which can be easily dressed up or down. If you're looking for a more relaxed look, pair your chino shorts with a basic t-shirt.
 Choose a classic crew neck style in a solid color, or go for a graphic tee if you feel adventurous. Opt for a tailored shirt in a light fabric such as linen or chambray for a dressier look. Choose a classic button-down style in a solid color, like navy or white, and pair it with a few tasteful accessories, such as a belt and watch, to complete your look.
Related Read: What Shoes To Wear With Chino Shorts
The Accessories: What Kind Of Belt To Wear With Chino Shorts?
When it comes to wearing a belt with chino shorts, the most important factor is to choose one that matches the overall aesthetic you're going for. If you're going for a more preppy look, you'll want to wear a slim brown or tan leather belt. 
On the other hand, if you're aiming for something more casual, a canvas belt in a bright color like blue or green can be a great option. It's always a good idea to match the color of your belt to the color of your shoes. For example, wear a brown belt if you're wearing brown boat shoes. 
If you're wearing white sneakers, a white belt could work nicely. It's also important to consider the belt's size and ensure it's not too oversized for your chino shorts. A thin belt is usually the best option for this look.
Chino Shorts Vs Regular Shorts, What Are The Differences
Pros:
1. Comfort: Chino shorts are generally more comfortable than regular shorts due to their thicker, softer fabric.
2. Versatility: Chino shorts can be dressed up or down depending on the occasion and provide a smarter look than regular denim or cotton shorts. 
3. Durability: The heavier chino material holds better against wear and tear than other lighter fabrics, making them an ideal option for a long-lasting garment that won't fade easily with washing cycles over time. 
4. Quality Appearance: Their smart appearance makes chinos great options when attending semi-formal events such as outdoor weddings or afternoon garden parties where jeans may not be appropriate, but dress trousers would seem too formal.  
5. Range of Colours: Unlike in regular denim, where colors tend to stay within shades of blue, black, and grey, chinos come in a huge range of vibrant colors, including bright greens, bright yellows as well as more subtle pastel shades, which will suit different occasions perfectly.
Cons:
 1. Larger Price Tag: Regular shorts typically have a cheaper price tag than chino shorts, as they can be made from less expensive materials and are generally easier to produce in bulk.
 2. Fit Issues for Taller Wearers: The rise in chino-style cuts is usually lower than that on regular cut-offs, so taller wearers may find them slightly uncomfortable or difficult to fit properly when buying online or off-the-rack products without trying them first. 
 3. Difficulty To Care For: While you could wash your casual pairs at home with ease, caring for this kind of garment requires extra attention due to its delicate fabrics, which might get easily damaged if not washed correctly
More Relate Read: Best Casual Shorts for Big Guys Summer Wear