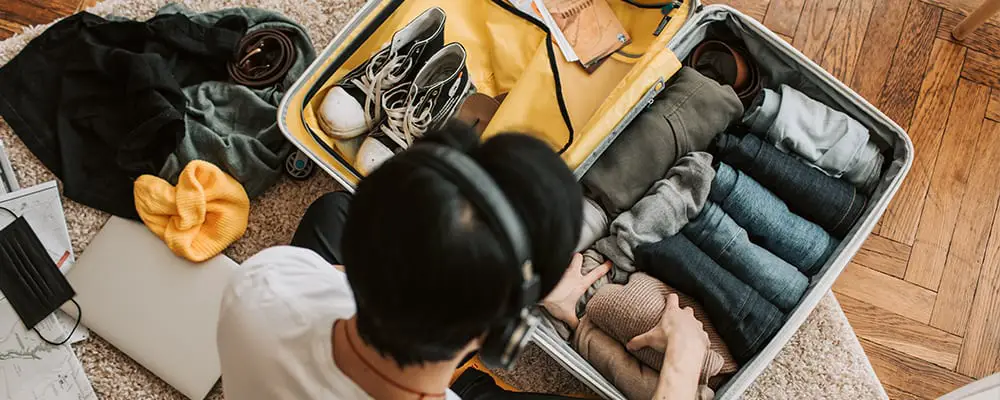 Photo by  Vlada Karpovich
The best lightweight luggage with a TSA lock is just what you need when traveling. Whether it's a short business trip or a vacation, ensuring your privacy and luggage security is vital.
Worrying about what's happening to your luggage on transit can put stress on your trip. And you don't want that.
However, the thing with locks is that it is easy to forget your combination. As such, you may decide to go without a lock or use one with a key. Thankfully, with some TSA locks, you won't have to go without a lock, as they also come with keys.
That's why in this piece, we'll be detailing the best lightweight luggage with TSA locks. These bags are super quality bags with incredible lightweight qualities.
 Whenever you make a purchase through links on this page we make a small commission from our affiliate partners. Learn more
Bamboo Wolf Aluminum-Magnesium Carry-on
Hard Shell travel luggage is taking center stage in the world of travel bags. A perfect example of the best lightweight luggage with TSA lock is this Bamboo Wolf Carryon Luggage. Bamboo Wolf is hard to the core. Getting one is securing many years of safe and worry-free travel experiences.
This high-quality hardshell bag is covered with durable Aluminium-Magnesium Alloy. And with bumper corners added to the shell, you have strong, long-lasting travel luggage. It can handle the hassle of checking in and survive many hits without any denting.
For a piece of luggage with a strong cover, it is super lightweight, weighing only about 5lbs. It comes with a no zipper, making it easy to open and close. Even more, it comes with a TSA-approved lock for security. A rather refined choice, won't you say?
Its spinner wheels move at a 360 degree on any type of road. They know how to roll nicely and noiselessly.
And what about space? Well, this carry-on has enough space for you to neatly fit in all your essentials and toiletries in separate compartments.
And finally, it's got amazing waterproof qualities. No more rain or spills putting a damper on your travels; your Bamboo Wolf has got you.  It looks terrific, and it's perfect for a business trip.
Buy on Amazon
COOLIFE TSA Expandable Suitcase
Whether you're going for a short trip or a long vacation, you can go easy with COOLIFE.
With this three-piece luggage, you get triple value for your money. It's got a 28-inch bag, expandable for up to 15% additional space. You also get a 20-inch ideal carry-on luggage and 24-inch luggage perfect for private or business trips. So whatever the need, you're made.
This set is made from durable ABS material, with scratch resistance and strong quality zippers. It also features extra hard corners and a TSA lock for added protection and security. With this three-piece luggage, you get superior strength and quality for any type of trip.
You can also handle and move the bag around easily with its four double spinner wheels. And its push-button handle is steady and adjusts to any height for convenience.
This COOLIFE luggage also features a solid well-compartmentalized interior, down straps, and mesh pockets. All your stuff can go in nice and easy and stay in place.
For storage, they conveniently fit into one another, so you don't have to worry about multiple boxes cluttering your wardrobe.
This is definitely one lightweight luggage with TSA lock to get.
Buy on Amazon
LEVEL8 TSA Carry-On Luggage
Enjoy endless possibilities with Level 8. Although a new brand, level 8 pays great attention to detail in meeting your traveling needs.
This Road Runner is simple and sophisticated and offers excellent space capacity. Its 360 wheels move smoothly and quietly on any floor surface.
For easy access to electronics, it features a front compartment for your laptop and other devices. And it includes more pockets for smaller items. Both compartments are secure as it has double TSA locks.
It is made of 100% PC hardshell Germany Bayer and comes with strong, unique YKK zippers. And with an anti-scratch surface, your bag stays good and new for a long time. A very durable and lightweight luggage with TSA lock weighing 8.9lbs, and easy to carry.
It also has a nice interior and a packing capacity of 35 L. Your clothes stay secure with interior tie-down straps. With this, your clothes are less likely to shift while on the move. There are also separate toiletries storage pockets. Remember to get a garment bag to keep your suits in nicely.
Perfect for business trips.
Buy on Amazon
Samsonite 3-DLX Hardside Luggage with TSA Lock
Be ready for anywhere and anything with this cool Samsonite Winfield 3-DLX. From its sleek, stylish design to the eye-catching pop of color, you'll never lose sight of this bag. It's easy to identify amongst many bags.
Sturdy and lightweight, this latest creation by Samsonite is built to withstand anything. It has a 4 pocket, 2 sided panel for neat and maximum organization. With no extra bulk and weight, everything stays where they are meant to be.
Its polycarbonate body also offers excellent protection for your belongings. And an integrated TSA lock gives more safety and security.
For an even better travel experience, you get strong 360 spinner wheels and a steady pull handle with a comfortable grip.
These spinner wheels offer effortless control. All you need to do is push your bag, and the wheels do the rest. You never feel weighed down by your luggage.
So travel in deluxe style and confidence with Samsonite Winfield 3-DLX.
Buy on Amazon
Travelpro Platinum Elite-Softside Expandable Luggage
Travelpro Platinum luggage leaves you looking smart and chic. If you haven't eased into hard shell luggage, then this is good soft luggage to get.
With durable Supra™ zipper heads, you don't have to worry about damage from daily use.
Its cover is made of nylon fabric with a duraguard® coating that is both water and stain-resistant. And, at no point would you have to lose your cool demure. With its integrated TSA lock, security and protection of your luggage are assured.
On the inside, you also get a bag with tremendous capacity and separate compartments. It has a posh interior with tie-down buckles and a built-in foldable suite. This keeps your suit from wrinkling.
For easy movement, this solid travel bag is equipped with four 360 degree spinner wheels. These wheels are guided by a sturdy handle that is adjustable to different heights.
Buy on Amazon
SHOWKOO Luggage Sets Expandable Suitcase
This luggage set is well made with a nice clean and simple design. There's a 28 inch, 24 inches, and 20-inch bag in this set. So, whether you need a carry on, or a checked bag, this luggage set has got you covered.
The body of this SHOWKOO luggage is made of tough 100% ABS material, making it durable and lightweight. This hardcover is also highly resistant to impact and scratches and has a nice finish.
For space, it's got plenty of room with nice pockets for easy packing.
It also features 360 multi-directional double wheels that ride comfortably. And for easy maneuvering, it has an adjustable telescoping handle.
When you're not rolling, you can carry it with its soft and flexible handle. So if you're going for durability and beauty, this is a great choice.
Buy on Amazon
Delsey Paris Lightweight Luggage With TSA Lock
If you're tired of dragging along bulky luggage, this super lightweight bag is a great option. This two-piece luggage comes with a 29-inch suitcase and a 21-inch carry-on suitcase.
With a solid ABS body, you can easily carry it anywhere with you while keeping your things secure. It has a soft-lined interior that has enough room for all your essential items.
And if that's not enough, this bag expands to provide you with up to 25% more room so you can fit in more stuff.
It also features straps in the main compartment that help hold down your clothes neatly.
Thanks to its double wheel, you can move it easily. And the handle gives a comfortable grip you can retract when not carrying.
With this bag, you can be sure Delsey Alexis designs lightweight luggage with TSA locks with you in mind.
Buy on Amazon
What Is A TSA Approved Lock?
A TSA-approved lock is one that meets the provisions of the Transportation Security Administration. These locks have the unique Sentry® symbol, which is widely recognized by travel agents. This Sentry® symbol looks like a maroon diamond.
With these locks, TSA agents can easily access your luggage for inspection using a universal master key. And this means your locks no longer have to be broken into and rendered useless.
Most of these TSA-approved locks come with a three or four-digit combination code and a keyhole. These types of locks are a better option.
You can buy a TSA-approved lock at the airport, a popular luggage store, and online outlets. You'll always see "TSA Approved" on the packaging.
Using a TSA-approved lock on your luggage is effective and a good way to save money. This is because you won't need to buy another lock where the TSA agent cuts yours. And you can't deny the peace of mind that comes with knowing your luggage is safe and secure.
Should You Put A Lock On Your Luggage?
Absolutely! You should always put a lock on your luggage. It's easy to get carefree when traveling or on vacation. So, the best thing you can do is to put a lock on your bag. Here are a few reasons why:
Storing in public transport: Even though carry-ons like a duffel bag or backpack are ideal for traveling, there's always the likelihood of carrying extra luggage. This luggage will typically make up checked luggage which will be separated from you. And to protect your luggage from being unduly invaded, a lock is in order.
Hotels or shared rooms: The next phase of a trip after transportation is lodging. At the hotels, bellhops handle your bags for you (depending on the kind of hotel), and if you're using a shared room, you want your properties safe and secure. That way, you can avoid theft or invasion of privacy.
Housekeeping: Most times, your hotel room is cleaned in your absence. Having a lock on your bag will help you relax wherever you are, knowing your properties are safe in your luggage.
When you're buying luggage, best to get one with a TSA-approved lock. This is so your bag doesn't get damaged during an inspection at the airport. But if you already have luggage without a TSA lock, simply buy a TSA lock.
Can Anyone Open A TSA Lock?
Generally, not just anyone can open a TSA lock. Other than the owner of the lock, only TSA agents should be able to open them. In cases where your bag needs to be inspected, TSA agents can use a special universal key to open the lock. They are specially trained to recognize the Sentry® symbol, which is common to all TSA-approved locks.
Despite this, people can still pick TSA locks. The same way regular locks can be picked and broken into, TSA locks can also be picked without causing damage to the bag. So, even when you have lightweight luggage with TSA lock, you still need to take extra security measures.
Is TSA Lock Mandatory for US Travel?
Not necessarily. TSA locks are not mandatory for all travelers going to the USA. You can use any other locks. However, if the agents need to gain access to your luggage, they will break it. This isn't safe for your luggage as it will stay without a lock until you can get a new one.
TSA locks, on the other hand, allow airport agents and security to inspect your luggage without damage.
TSA stands for Transportation Security Administration, a USA federal agency. These TSA locks are the approved locks for US travelers.
Which Countries Require TSA Locks?
USA, Japan, Austria, Canada, Finland, South Korea, Israel are some of the countries that require TSA locks.
These countries have a more rigorous security measure. And often, they require access to your luggage during screening without your permission. TSA locks give them that easy access to your luggage for inspection.
So if you are traveling to these countries, do get a TSA-approved lock to avoid unpleasant situations.
And that's all for the best lightweight luggage with TSA locks. Dig into our other articles for more on traveling:
9 Best Business Backpacks for Work and Travel
8 Manly Tip to Pack for a Weekend Travel
RELATED POST