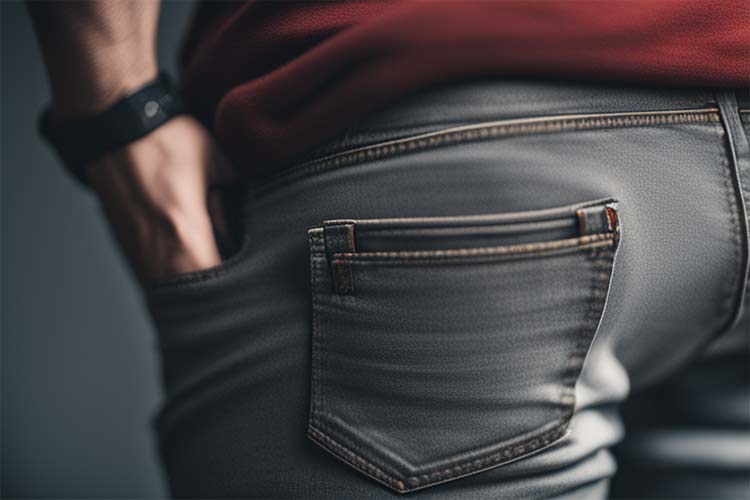 Some things never go out of style. As men increasingly prioritize comfort in their fashion choices, the rise of stretch jeans has revolutionized the way we blend comfort and style seamlessly. They have woven their way into our sartorial repertoire and become fixtures in our wardrobes.
Yet, in a world where comfort is king, finding that ideal balance between style and ease can be a challenge. This is where men's stretch jeans come to the rescue, offering a solution that embraces both factors harmoniously. The innovation lies in their ability to provide the freedom of movement akin to sweatpants, making them an ideal choice for individuals leading bustling and dynamic lives.
What is a stretch jeans?
Stretch jeans are made of cotton denim fabric that blends with other materials, such as polyester and elastane. This combination provides a stretchy fit that can return to its original shape. The jeans adjust to your body shape and offer great flexibility and comfort. As long as you care for them according to the instructions, super stretchy jeans will retain their shape well over time.
In this article, we have rounded up 8 best stretch jeans for men that adjust and adapt to your every step, proving that style doesn't have to come at the cost of comfort.
Lee Men's Athletic Taper Jean
Discover the Lee athletic taper jeans, a true favorite due to their exceptional blend of quality, design, and affordability. These jeans, priced under $40, perfectly balance style and comfort. Crafted from a fabric blend of 97% cotton and 3% spandex, they offer unrivaled ease of movement and comfort while sitting. The slim straight leg design elegantly tapers at the ankle, providing a look and sensation as if they've already been worn in. Bid farewell to the awkward "brand new jeans" phase – these jeans guarantee a seamless fit from the start. Buy on Amazon Primeeligible
Wrangler Free-to-Stretch Relaxed Fit Jean
If you're looking for a more affordable option, these Wrangler jeans are a good choice. You'll get a similar silhouette in five washes—two shades of light blue and three shades of dark blue. These jeans are made from a comfortable cotton-stretch blend and provide unrestricted movement throughout your day. Buy on Amazon Primeeligible
Lee Men's Big & Tall Straight Taper Jean
For big and tall guys, this LEE straight taper jeans has become a hot buy item for big men in search of that extra comfort in jeans that will last all day. For under $30 and available sizes up to 60W, you can expect nothing less from a pair of jeans "that conforms to your body, allowing you to move through life freely and "Made with comfort in mind," according to the brand. Buy on Amazon Primeeligible
Wrangler Free-to-Stretch Athletic Fit Jean
These Wrangler jeans for men are designed for an easy fit, thanks to the small amount of spandex in the fabric that allows for greater mobility, making them ideal for athletically-built men. Regardless of the wash you choose, they will pair seamlessly with any style shirt, be it long-sleeved button-ups, t-shirts, or even dress shirts. Buy on Amazon Primeeligible
Amazon Essentials Straight-Fit Stretch Jean
Amazon Essentials clothing has become quite popular lately. When it comes to online shopping, no brand makes it easier than Amazon. These straight-fit jeans are crafted with a bit of stretch to provide extra comfort and help maintain their shape while also adding a touch of edge to any outfit. They feature a classic 5-pocket design and sit below the waist with a roomier cut through the hip and thigh, with a straight-leg style.Buy on Amazon Primeeligible
HUNGSON Slim Fit Ripped Skinny Jeans 
It may surprise you, but even skinny jeans can provide a lot of stretch. Take, for example, this pair from Levi's. Reviewers have praised it as a great choice for men with super slim bodies. The fabric and cut also offer a sculpting effect, gently contouring your body. Buy on Amazon Primeeligible
Related Read: Best Jeans for Men With no Butt
Kenneth Cole REACTION Slim Fit Jeans
It shouldn't be surprising that Kenneth Cole has made the list of the best men's jeans with stretch in this category. Kenneth Cole's fashion is known for its modern and stylish designs, often incorporating sleek lines and a sophisticated urban vibe. This includes their men's jeans, which boast their contemporary cuts, with attention placed on detail and high-quality materials. This Slim Fit – 2-Way Stretch Jeans is a perfect example, which gives you a flexible fit that moves with you, giving you a soft feel for comfort. Buy on Amazon Primeeligible
IZOD Relaxed Fit Comfort Stretch Jeans
If you're a fan of denim clothes, you should try these stretchy straight-leg overalls. Thanks to a small amount of Lycra spandex, they offer a bit of stretch so you won't feel restrained while wearing them. You can pair them with a tshirt in the summer or a turtleneck in the winter for running everyday errands such as casual dog walks, grocery shopping, or grabbing lunch with friends. Buy on Amazon Primeeligible
GAP Stretch Slim Fit Denim Jeans
Gap soft-wear denim bridges the gaps between individuals, generations, and cultures. A great American brand recognized for offering a wide range of fits, washes, and sizes, making their jeans accessible to various body types and preferences. Gap's Men's Soft Wear denim features GapFlex stretch technology for improved comfort and versatility, regardless of which wash you prefer. Whether you dress them up with a button shirt or down with a T-shirt, these comfortable men's jeans will look great styled with your favorite pair of sneakers or boots. Buy on Amazon Primeeligible
Should men's wear stretch jeans?
Regarding men's jeans, stretch jeans are a more forgiving option than non-stretch jeans. They offer flexibility and can fit a wider range of body types while accommodating fluctuations in body size.
It's important to remember that you'll be sitting down in your jeans at some point, whether working at a desk all day or just lounging on the couch. Therefore, choosing a pair that fits nicely around the seat and thighs is essential for a comfortable and stylish look.
If your jeans are too tight, they'll feel uncomfortable when you sit down, and if they're too loose, they'll look sloppy and bunch up. Hence, it's best to wear jeans that stretch and hug your body without being too tight, even when seated.
Types of stretch jeans
4-way stretch jeans
A 4-way stretch jeans is constructed with fabric that stretches in four directions. 
98/2 stretch jeans
Jeans made with 98% cotton and 2% elastane for moderate stretch, most suited for slimmer to moderate profile. These fabrics will stretch out over time, so opt for a smaller size for a snug fit. Avoid washing this denim fabric in hot temperatures, as the heat will damage the elastane.
Cotton jeans vs stretch and which is better
There are some disadvantages to stretch denim as compared to 100% cotton denim. Stretch denim is slightly less durable and tends to be thinner. If your thighs touch, your jeans will pill and eventually wear out at the point of contact. However, cotton denim also wears out over time, just more slowly. 
If you're going for a rock'n'roll or edgy look, 100% cotton may feel more authentic. But these are minor considerations compared to stretch denim's comfort and versatility. Stretchy denim jeans are available in every cut and style and can be dressed up or down easily. They feel amazing on the body and are almost universally flattering. That's quite an achievement for such a simple yet enhanced denim fabric!
Overall:
Stretch jeans should be your go-to if you prioritize comfort over style. 

They are particularly great if you prefer your jeans to hug your legs, like skinny jeans. One of the biggest advantages of stretch jeans is their ample give, making them perfect for an active lifestyle. 

Moreover, stretch jeans instantly conform to the wearer's body, ensuring a perfect fit.
Non-stretch jeans prioritize classic style over comfort, last longer, and require a break-in period.
Do 100% Cotton Jeans Stretch?
When it comes to all-cotton jeans, it's important to remember that they are not "stretchy" like their blended counterparts. When you first put them on, they may feel tight and unforgiving. New 100% cotton jeans can even constrict your movement and cause discomfort. 
However, as you continue to wear them, the individual cotton fibers will stretch out, changing the fabric permanently. This means that the knees and seat will become baggy, the hips and thighs will relax, and the pockets may sag. 
If you wash and dry your 100% cotton jeans, you may notice that they snap back at first. However, the stretching process cannot be undone, and the fabric will eventually relax and become looser. 
If you're looking for 100% cotton jeans, it's a good idea to seek out options from other brands. Additionally, consider wearing them in relaxed or boyfriend cuts for a more comfortable fit from the start and less wear and tear in the long run.
Explore More Options
What To Wear With Black Jeans When You're A Guy
9 Best Mens Boots to Wear with Jeans
5 Fresh Ways to Wear Men's Grey Jeans
How to Wear a Suit Jacket with Jeans for Different Occasions
How To Tell Jeans Are High Quality In 7 Steps