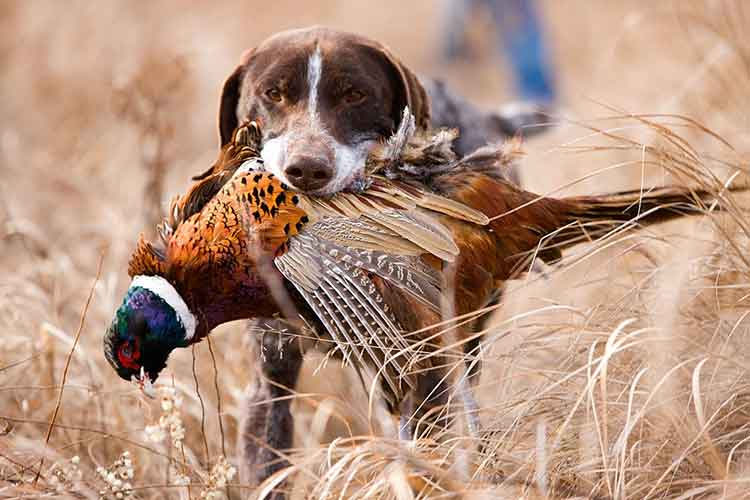 A good hunt in the best pheasant hunting areas in Colorado makes for a great hunting season. With pleasant nesting and brood conditions, you're sure to get plenty of good game. It's hard not to get excited about the fascinating sights and sounds of colorful and plumb pheasants coming from the fields. Never gets old.
So, what is the best time to hunt pheasants? The best times of the year to go pheasant hunting in Colorado are December and January. By then, there are fewer people from opening day in November. The cornfields have been harvested, lots of grass and stubble, and better air.
If you're looking for the best pheasant hunting area in Colorado, don't break a sweat. This article will narrow down your search for you. So, get ready to get your game on in the best hunting areas in Colorado for your next wild bird hunt. We're talking plenty of birds, a nice hunting environment, good food, and lodging.
Wiggins, Colorado
Where to go Pheasant hunting in Wiggins?
The Longmeadow Game Resort:
A whole new hunting experience awaits you at Longmeadow Game Resort. Enjoy a wonderful hunting adventure in over 20,000 acres of refined nature and the outdoors. That's a whole lot of hunting ground.
Long Meadow provides guided and non-guided hunts, whether it's a small game, waterfowl, or upland birds.
And after a long day of hunting, you can rest in any of the lodging options available. From comfortable double rooms to luxury king suites. Or, if you like a more outdoorsy feel, there are RV slots and Campsites prepared for you.
In between, relax, hang out with other hunters and catch a quick meal at the Prairie Dog Hole. You can also enjoy their spectacular catering and bar services, surf and turf, anyone?
A-Plus Game Birds:
Enjoy a deluxe Colorado pheasant hunting treat at A-Plus Game Birds. This family-owned hunting preserve is known for its top-notch birds and professional guides. And many other things to anticipate.
Here, you get to hunt in over 800 acres of land ideal for Upland Bird Hunting, including trees, CRP, and rolling hills. And you also get to chill at a comfortable and warm clubhouse or slap down some meat at the BBQ/Gas grill.
For whatever reason you might have, come and enjoy a fun-filled family hunting adventure. And there's just something special about the place that makes you feel like family. It will be like you left home to go to another home.
Kiowa County, Colorado
Where to go Pheasant hunting in Kiowa?
 KB Style Adventures
Whether it's trophy big game hunting or Upland Bird game hunting, enjoy affordable hunts at KB Style Adventures LLC.
At KB, it's hard not to catch on to the passion for the outdoors and embark on your hunting adventure. KB Style offers many acres of hunting ground, leisure, great food, and accommodation. You can lodge at the 1,400 sq. ft. ranch house with all the basic amenities you need.
Here, you don't need a hunting license as it operates under a special license. So you can freely hunt commercially raised, flight conditioned birds stocked for your hunting delight. And if you don't have a hunting dog, you can use one here for free.
So if a good hunt is what you need to get away, live it up at KB Style Adventures.
Silver Creek Sporting Club:
Silver Creek offers a variety of cool outdoor activities. So whether you want to get your hands at shooting clays or shooting down Upland birds, Silver Creek has got what you need. Sitting on 250 acres of creek bottom with trees and pristine grasslands, the Silver creek provides top game bird habitat.
And the customer service here is great, makes you look forward even more to another hunting season.
You won't be able to resist taking pictures of the beautiful wildlife. Be sure to go with a good camera bag to protect your DSLR camera.
Bennett, Colorado
Where to go Pheasant hunting in Bennett?
The Kiowa Creek Sporting Club
Kiowa Creek provides a welcoming place for all hunters and lovers of the outdoors.
You get to enjoy phenomenal hunting recourse in whatever field you choose. So whether you're improving your shooting skills on a clay course or hunting Upland Game birds, you're sure to have a great time.
And no day goes without a hit because there are plenty of prime birds to shoot at. And for more target practice, try your hands on some archery. As a member, you have access to dog training privileges.
You can also check out some delicious recipes to make with your fresh kill.
Valhalla-Bijou Hunt Club:
Get a load of prime bird hunting at Valhalla-Bijou Hunt Club.
At Valhalla, 500 acres of Upland bird habitat are waiting for you to explore.
You can choose to hunt at the lower field, a wooded creek bottom with a pond. Or you can hunt at the upper fields with CRP-type cover and planted millo.
You don't have to be a member to access this preserve, although being a member has its perks. If you become a member, you'll have access to the year-round amenities of the club and discounts on birds and hunting packages.
You also get a first-class place to dress your game or have it dressed for you while you settle in for a good lunch.
And for some hearty home cooking after a hunt, stop by Alice's Kitchen. Delicious donuts and everything pheasants are available to satisfy a hungry hunter.
Holyoke, Colorado
Where to go Pheasant hunting in Holyoke? 
Ballyneal
Home to one of the top golf courses in the country and now home to a pristine wilderness, Ballyneal offers a top hunting game.
This Upland reserve is set amid acres of cornfields, millet, native grasses, and so on. A perfect breeding ground for Upland Bird Game, especially the Chinese ring-necked pheasant.
You get exclusive access, professional guides and dogs, and a world-class hunting experience.
At Ballyneal, there's more for you than you can imagine. You can take a break from hunting by shooting some holes. And there are nice, convenient lodgings available. In fact, four lodges and two newly built cottages to choose from.
Then indulge your taste buds at Turtle Bar and Restaurants. And enjoy an amazing view, a fire pit, and a long exciting menu to choose from.
You don't need to be a professional to join in the hunt. Whatever your experience level, Ballyneal has something for everyone.
Newman Adventures
Your hunting dog will have a real treat running around this vast property, and so will you.
Newman Adventures has more than 7000 acres of natural land for hunting and 3000 acres of preserve. And hunting isn't all you'll be doing there. You'll also enjoy fine lodging, delicious meals, and real entertainment for you and your buddies.
That's not all. An 18 holes private golf course is available for play. So whether you're hunting, reclining, dining, or golfing, Newman Adventures has got you.
El Paso County, Colorado
Where to go Pheasant hunting in El Paso County?
Steel Fork Pheasants
Located in Rush, Colorado, Steel Fork Pheasants has got some good Colorado Pheasant Hunting games. With 10,000 acres of CRP, crops, and creek bottom, pheasant hunting at Steel Fork will give you a real kick.
Steel Fork Pheasants prides itself on providing a family atmosphere. So, the whole family, young and old, can join in this hunting soiree. And after hunting Colorado-grown Pheasants, the whole family can sit together for a delicious well-deserved dinner.
You can bring in your hunting dogs or rent a guide and a hunting dog.
So whether you're coming with friends or family, make some amazing memories at Steel Fork Pheasants. And for more thrills, you can also hunt for Bobwhite Quail and chukar.
Rocky Mountain Roosters Inc.
Hunt to your heart's content at Rocky Mountain. No membership is required to hunt in this fine establishment. And it's available 7 days a week.
There are plenty of games available, and you don't need a license to hunt pheasants here. And for more hunting fun, Rocky Mountain also offers lots of awesome Bobwhite Quail Hunts.
You can grab a delicious lunch in between hunts while comparing your game with your buddies.
Ranch lands Hunting and Fishing:
Ranch lands offer wonderful recreational opportunities in fishing, hunting, or wildlife hunting. Enjoy the marvelous scenic landscapes and excellent sportsmanship at this preserve. And guided hunts for prime Upland Game Birds.
Lodgings and other overnight amenities are available.
Tips for a Successful Hunt
A bountiful catch spells a successful hunt—the wish of every hunter. To achieve this, here are a few tips:
Habitat: To hunt for pheasants, you have to hunt in a place with pheasants—this isn't rocket science. You'll find lots of pheasants in cropland habitats, especially non-irrigated cropland, when conditions are right. The cropland should have stubbles of height between 15 to 30 inches, with sufficient weed growth. Pheasants nest in the wheat fields and raise their chicks in standing corn.
Strategy: Your strategy can make or mar your hunt; one wrong move and game over. So a good strategy to adopt is to move quickly and quietly. This is because once a few shots are fired, and they notice your presence, watchful birds will also be playing their escape.
Timing: Hunt at the right time. That's one of two times. When the birds leave their nests to feed in the mornings and evenings or return to nests from feeding in the afternoons. And try not to frighten the pheasants off to another field. You should also note their escapes—times when they best you—and seal them off.
And as a style tip, wear some comfortable clothing and underwear.
Should I Wear Orange While Hunting?
Yes, you should wear orange while hunting. But, don't worry; you won't lose your kill because of this bright color. Deers and most wildlife animals don't see color the way we do. So, your orange blends in like brown and grey to them.
Sporting blaze orange is actually for your safety. It's quite sad, but accidents do happen on the field. And so, wearing orange is the best way to get other hunters to spot you easily.
That's why Blaze orange is also known as "safety orange" or "hunter orange." It's bold, bright, and easily seen by other hunters.
Colorado State laws make it a must for hunters to wear at least 500 inches of solid blaze orange or pink. You can wear it as a hat or a vest, but it should be above your waist. This applies mainly to firearm seasons, but you're good to go without orange during archery seasons.
Even with blaze orange, you can still camouflage pretty neatly. It's very common to see hunters wear camouflage with blaze orange. Now you know why.
So stay safe while you have a good hunt.
Colorado Hunting Rules You Should Know
Here are some important hunting rules you should know:
It is unlawful to hunt under the influence of alcohol or controlled substances
Do not use poisons or explosives to hunt
Do not fail to completely extinguish any fire you set up.
Do not have a loaded rifle or shotgun in or on a vehicle, including motorcycles and ATV's
Hunt carefully. Do not discharge a firearm or release it without proper care for the humans around you.
Do not ride a snowmobile with a loaded firearm.
Do not shoot from a motor vehicle, ATV, snowmobile, aircraft, and so on to hunt or taunt wildlife.
Make sure you track any animal you wounded or killed. And if it wanders into private property, you must contact the owner before entering into it.
Interfere with other hunters or distract them during the hunt.
Do not kill and abandon game in the wildlife.
So, be fair to the animals and others if you want to have a fair game hunt.
And that's all we've got. So rally up the boys and head straight for an exhilarating hunt. We know you love a good hunt, and so do we.
To help you along even more, check out these articles:
Best Hiking Pants To Avoid Ticks