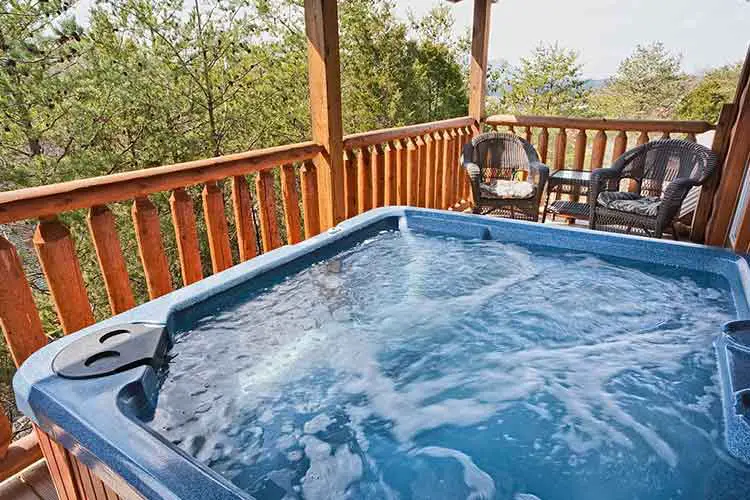 Cozy cabin rentals with private hot tubs in Colorado are the stuff dream vacations are made of. It's a good thing making dreams come true is one of our specialties. Nothing beats a private hot tub to make a vacation truly memorable. It not only does wonders to your tired body but also relaxes you for the next activity.
Colorado brings with its mountains and lakes and perfect sceneries. And whatever the outdoor activity, hiking, bicycling, skiing, kayaking, Colorado has the landscapes to suit them. So a wonderful vacation in Colorado is in order. And even better when you stay in a cozy cabin with a private hot tub.
Whatever season you choose, be it summer or winter, there's never a reason not to enjoy a lavish hot tub. And fortunately for you, we've done all the work of selecting these souls' relaxing cabins for you. So all you need to do is take your pick.
Fuller Home 52, Breckenridge
For a full luxury home vacation experience, Fuller Home 52 gets a golden buzzer. This eccentric-looking cabin was created to put its guests at ease and keep them cozy.
With state-of-the-art amenities like a private 8 seat hot tub, super-fast internet access, and a well-equipped kitchen, you'll hardly want to leave. Amongst other things, this cabin has four bedrooms and 3 bathrooms and can take up to 12 guests.
It also features a pool table, a massive wrap-around deck, three living areas, and rustic mountain decor. Not to mention a breakfast bar, hand-made aspen furniture, a kitchen with granite countertop, and a gas grill. This is the stuff luxurious vacations are made of.
This cabin is both cozy and spacious enough to give everyone their personal space. If you're looking to relax, you can watch any of the three flat-screen TVs with just about any channel you want. But try not to get carried away so you can have some outdoor fun too.
The massive wrap-around deck doubles as a sun trap and a cool relaxation spot. And the whole gang can rally together for some grill. So whether you're mountain viewing, soaking up at the hot tub, bird watching, and whatnot, you can create a vacation of your choice.
You can find this magical piece of property at Breckenridge, Colorado, surrounded by some amazing places. The scenery, the mountain views, the landscape, and the overall atmosphere are perfectly set up for a memorable vacation.
On The River, Estes Park
Revel in this cozy waterfront cabin and enjoy lush mountainous views with the On The River cabin.
This cabin is simply peaceful and soothing. With its river view, you get to watch nature come alive and see the river's reflection bouncing off clear waters. This is a joy in itself, and it's captivating.
Estes Park and the Rocky Mountain National Park are quite close by for hiking, horseback riding, scenic drives, and so on. Or you can head down to Estes Lake for some fun kayaking. You can also hang out downtown and visit the shops, bars, and restaurants.
With a pool table, beautiful hot tub, and proximity to skiing locations, it's a great place to retreat. The cabin has 3 bedrooms, 2 bathrooms and houses 8 guests. It provides 1 king bed, 1 queen bed, 2 twin beds, and 1 sofa bed. And the good news is your four-legged furry friends are welcome for a small nightly fee.
The interior has a lot of windows in the dining area, which makes the room bright. And it's got knotted pine walls which gives it a welcoming feel. The cozy living area has a warm fireplace, comfy furnishings, a TV, and a DVD player.
You also get different board games to choose from and free Wi-Fi. On the deck, there are seats, an outdoor fire pit, a gas grill, and a private hot tub.
And if there's anyone with a disability, a wheelchair ramp has been installed for accessing the front door.
Enchanted Place 18, Pagosa Springs
For this cabin to be called Enchanted Place, know that you're up for an enchanting stay. So what should you look forward to in this fairy tale cabin located in SouthWest Colorado?
Well, for one, you get to satisfy your craving for a luxurious private hot tub. Then there's the fact that it's within eyesight of Lake Pagosa. And this is what makes it truly magical. Swan Lake princess anyone?
This fabulous cabin has three bedrooms, can take up to 8 guests, and has two bathrooms. It provides 1 king-sized bed, 2 queen beds, 2 double beds, and 2 twin beds. So whatever your take, everyone is cozy, comfortable, and well relaxed.
An open layout with vaulted wood ceilings, premier furnishings, and a gas fireplace adds to the enchanting atmosphere. And the kids get their loft which is more freedom and fun for them.
Apart from a private hot tub, you get internet access, a washer/dryer (Private), and a Jetted tub. It also has a kitchen and dining area, equipped with a dishwasher, fridge, microwave, stove, etc.
For the lovely living room, you get cable TV, a DVD player, gaming system, wireless router, comfy chairs, and overall comfy decor. The cabin equally has an outdoor gas grill and deck where family members can sit and relax from a long day skiing at the lake.
Speaking of the lake, other fun things to do there are; stand-up paddleboarding, kayaking, fishing, and so on. And a short drive to San Juan National Forest provides hiking and mountain biking opportunities.
Irontree Mountain Home, Dillon
Summit County, Dillon, Colorado boasts of Irontree mountain home. And you will be boasting too after a lovely stay here.
This newly redecorated three-story cabin provides all the great comforts of home and more. So get ready to de-stress in the enchanting private hot tub while sipping on a cool drink. And if that sounds nice, then you'll love the beautiful patio view. And let's not forget the smell of meat sizzling on the grill. Is there anything like too much?
Not feeling like soaking in a hot tub? Then sit by the wood-burning fireplace and enjoy some mountain view. Of course, you can also get some sweet indoor entertainment in front of a flat-screen cable TV in any of the rooms available at the cabin.
This beautifully large house has plenty of space spread across the floors. There's enough space for games and a wonderful family setting that brings the whole family together.
There's so much you get to enjoy here; a pool table, well-equipped kitchen, heating and cooling, and consistent Netflix streaming.
Then on romantic nights, you can watch the stars with your partner from the bed in the master bedroom skylight. It also has an electronic shade for when darkness is desired.
Another amazing thing about this cabin is that it is just a mile from the center of Dillon. That's easy access to restaurants, shops, museums and so on. And you can go hiking, skiing or snowboarding in any of the mountains. Remember to rock a pair of solid hiking boots.
12 Sunny Slope – Ski Ridge Hideaway, Blue River
You need three words to know that your vacation is going to be off the hook — Ski Ridge Hideaway. So take a break from the hustle and bustle and chill out at this breathtaking cabin. And did we mention that there's a hot tub?
But before we go into that, there are other things to get you excited about this cabin. Not only is this hideaway family-friendly, but it's also pet-friendly. It has three lovely rooms and can take up to 6 guests. Perfect for the entire family.
Prepare amazing dishes in the top-of-the-line kitchen, complete with a dishwasher, fridge, microwave, and stove. Then the whole family can eat together in the cozy dining area.
You can also lounge and laugh with the whole family in the living area, play some board games or watch some TV. Or you can choose a more outdoorsy adventure like mountain hiking, skiing or whatever your preference.
And you'll be glad to know that great places like Quandary Peak Trailhead, Escape Room Breckenridge, Carter Park and Pavilion, Loveland Ski area, and so on are a few miles away.
And after a day outdoors—now here's the sweetest part—sink into that delicious hot tub and relax your aching muscles. And while doing so, you can take a view of the forest or count the dazzling stars high up. What a way to end the day.
The Wagon Road Lodge, Breckenridge
Finally, the king of cabins! This massive cabin is perfect for you and your little kingdom, or you can share the space with another family. It was created for multiple family get-togethers or reunions.
This King cabin has 6 bedrooms, 7 bathrooms and can take up to 16 guests. However, you don't have to worry about not getting enough privacy. This cabin has the space for that both indoors and outdoors.
It's got three levels, each level spacious and tastefully furnished for a luxurious experience. With three living areas and two media rooms, this 6,000 square foot home was well thought out to accommodate everyone.
There's a large game room where you can play some pool or other games. Or you can stretch out on the sofa for a movie night or catch up on a big game on the cable TV.
In this deluxe home, you get a massive kitchen with double ovens, double dishwashers, lots of storage, and marble countertops. And with such a large party, every time at the table is a feast. The whole gang can sit together at the large dining room tables, with one seating 6 and the other seating 10 people.
There's more. You can indulge in the large private hot tub located on the large patio. And enjoy a view of the stars in the evenings or watch the day begin in the morning.
For outdoor activities, you can go downhill skiing or rent a canoe to go down the blue river.
Why Do I Need A Private Hot Tub?
Including the obvious desire to just relax, here are other reasons you need a private tub for:
Stress relief: Stress leads to muscle tension, headaches, soreness, and a nice soak in a hot tub can help you distress nicely.
Arthritis pain: A hot tub is a good pain reliever for those with arthritis. And helps them move better and go about activities with ease.
Promotes weight loss: After a day of exercise, a nice dip in a hot tub simulates the effect of the exercise on the muscles. And so, it helps you lose weight faster.
Lower blood pressure: Relaxing in a hot tub takes off stress on the heart. And soaking in the hot tub for even 15 minutes will lower blood pressure.
Sleep more soundly: Soaking in a hot tub before going to bed is sure to help you relax more and, therefore, sleep deeper and better.
Things You Shouldn't Do In A Hot Tub
Don't use a bubble bath, or you'll have to completely drain the hot tub, clean the filters and refill your spa with fresh water. That's quite some work you don't want to embark on during your vacation.
Don't drink alcohol. This is because the heat of the water combined with the alcohol can make you dizzy. However, if you would like to still sip some wine, do not overindulge.
Do not use the hot tub if you have an open sore or any kind of infection. Instead, heal first and then take a dip.
Don't leave your kids unsupervised.
Do not enter with a dirty or sticky body. Please take a shower first.
Don't enter the hot tub if it's raining heavily. A combination of lightning and water is not something to experience. And no, you won't get superpowers from the encounter.
Don't play too much, so you or someone else doesn't slip and fall. Injuries from this can be ghastly
And that's all the cozy cabin rentals with a private hot tub in Colorado we have for now. So prepare to go on a fun vacation and check out these articles:
Pickpocket Proof Jackets for Travel Our 4 Favorites to Buy Right Now
Best Pheasant Hunting Areas In Colorado For Your Next Wild Bird Hunt