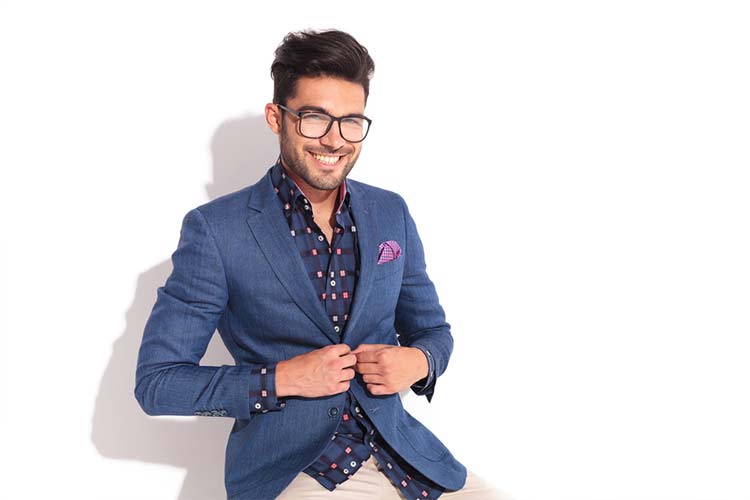 When it comes to men's fashion, khaki pants are a true wardrobe staple. They are versatile, comfortable, and suitable for various occasions, making them an excellent investment for any man. Whether you're dressing for a casual outing or a formal event, khaki pants can be dressed up or down to suit your needs. And when it comes to pairing khaki pants with a dress shirt, there are plenty of options..
Can you wear dress shirt with khaki pants? There is no problem with wearing a dress shirt with khaki pants. Khaki pants are an extremely versatile piece of clothing in anyone's wardrobe that can be dressed up or down depending on the situation. Dress shirt colors that go well with khaki pants are white, light blue, pink, or gray. 
In this article, we'll look at the 8 best dress shirts to wear with khaki pants. From classic white dress shirts to patterned options, we ensure you can find the perfect match for your style.
Whenever you make a purchase through links on this page we make a small commission from our affiliate partners. Our ultimate goal is to provide our readers with actionable insights and practical tips that they can use to improve their daily lives. Learn more
Kenneth Cole REACTION Blue Dress Shirt
You can't go past the color blue when looking for a shirt to pair with your khaki pants, and the Kenneth Cole spread collar dress shirt in blue is a perfect choice. The Kenneth Cole REACTION Dress Shirt is a top-tier fashion item that effortlessly blends style and sophistication. One of the standout features of this shirt is its attention to detail, from the meticulously crafted stitching to the carefully chosen buttons that add an extra touch of elegance. The slim-fit design ensures a flattering and modern silhouette, while the breathable cotton fabric provides comfort and durability. The shirt is versatile and can be dressed up or down, making it a wardrobe staple for any occasion. Its classic collar and cuff design, paired with the clean and crisp lines, creates a timeless aesthetic that never goes out of fashion. Buy on Amazon Primeeligible
Van Heusen Scarlet Button Down Dress Shirt
A scarlet dress shirt with khaki pants is a stylish option for formal affairs, and the Van Heusen Men's Regular Fit Dress Shirt is a great choice. Made from 100% cotton, this dress shirt is machine washable, so no dry cleaning is required, making it easy to care for. The regular fit is generous through the shoulders, chest, and waist, ensuring total comfort and a classic fit. The button-down collar is relaxed and casual, making it versatile for dressing up or down, with or without neckwear. The adjustable cuff allows for a customized, improved fit, while the chest pocket adds a classic touch and holds all your essentials. Buy on Amazon Primeeligible
Astylish Black Long Sleeve Dress Shirt
Whether you're going for a casual look or dressing up for a formal event, a black dress shirt will always come in handy. Astylish Men's casual cotton linen long-sleeve business dress shirt is a perfect example of a stylish black dress shirt you can wear with khaki on various occasions. It's lightweight, comfortable, and skin-friendly, making it perfect for the summer months. You can pair it with chino pants, shorts, or jeans to create a stylish and comfortable look that will make you feel handsome and confident. The adjustable cuff and button-down closure allow you to customize the fit to your liking, ensuring you feel comfortable and look sharp. This shirt's plain casual solid color makes it easy to match with other items in your wardrobe, making it a staple item that you can wear repeatedly. Buy on Amazon
Paul Jones White Button Down Dress Shirts
Every well-dressed man should have a white dress shirt in their wardrobe. When overwhelmed with too many options, it is the most reliable and simple choice. Paul Jones offers a fantastic Men's White Long Sleeve Button Down Dress Shirts option. Made with 35% Cotton and 65% Polyester, this shirt offers the perfect blend of comfort and quality. The breathable material feels great on the skin, making it perfect for all-day wear. Available in sizes ranging from Small to 5X-Large, Paul Jones ensures every customer can find the perfect fit. This versatile dress shirt is easily matched with formal trousers, jeans, ties, suspenders, and suits, making it perfect for all occasions, including weddings, parties, offices, work, performances, graduation, daily casual, and more. Buy on Amazon Primeeligible
Tommy Hilfiger Blue Non-Iron Stripe Dress Shirt
Built to transition between workdays and weekends seamlessly, look no further than the Tommy Hilfiger non-iron stripe dress shirt. This stylish shirt is designed with a classic stripe pattern that never goes out of style and is crafted from high-quality materials for all-day comfort. The slim-fit cut offers a modern, sharp look that will boost your confidence in any situation. Plus, the non-iron feature makes it easy to care for, ensuring you spend less time ironing and more time doing what you love. Whether you need to impress at a special event or just want to look your best at the office, this shirt is a must-have addition to any wardrobe. Buy on Amazon Primeeligible
COOFANDY Gray Men's Wrinkle-Free Dress Shirt
Yes, you absolutely can wear a dress shirt with khaki pants. Khaki pants are one of the most versatile items in a man's wardrobe and can be dressed up or down depending on the occasion. When pairing khaki pants with a dress shirt, there are a few things to keep in mind. First, choose a dress shirt in a color that complements the khaki pants, such as white, light blue, pink, or gray. Second, ensure the dress shirt fits and is appropriate for the occasion. Buy on Amazon Primeeligible
How A Men's Dress Shirt Should Fit
Do you struggle to find dress shirts that fit well? Proper fit is essential for both comfort and style. So, how do you determine if a dress shirt fits correctly? Start by checking the chest area. Ideally, you should be able to fit two fingers between the shirt and your chest with ease. Next, make sure the armhole is snug but still allows for movement. 
The shoulders should sit smoothly without any sagging or bunching. Sleeves should end at the base of your thumb bone when your arms are at your sides. Finally, ensure that the shirt length covers your waistband and bottom when tucked in. Following these guidelines will help you find a dress shirt that fits perfectly and makes you look and feel great.
Should I Size Up Or Down For Dress Shirts?
Are you tired of guessing your dress shirt size and ending up with a shirt that just doesn't fit right? Sizing can be tricky, but the key is finding a shirt that fits comfortably without being too loose or tight. So, should you size up or down for dress shirts? It depends on your body type and personal preference. If you have a larger build, it might be a good idea to size up to avoid discomfort or pulling at the buttons.
On the other hand, if you prefer a slimmer fit, you can size down. It's important to try on different sizes and styles to find the one that works best for you. Remember, a well-fitting dress shirt can make all the difference in how you look and feel.
What Goes Well With Khaki Pants For Men?
Pairing khaki pants with the right clothing items can make all the difference in creating a put-together outfit. One of the most versatile and easy-to-wear combinations is to pair it with a casual jacket. Jackets are an essential clothing item that can elevate any outfit, and khaki pants are no exception. 
Blazer or Sports Jacket
If you're in a hurry and need to go out, the khaki pants, dress shirt, and blazer are a winning combination. This combination is perfect for a business casual look or a date night out. Pairing a navy blazer with khaki pants creates a timeless and sophisticated look. 
Denim Jacket
When it comes to versatility, a denim jacket is a great option to have at your fingertips. When paired with a denim jacket, they create a stylish and effortless look that is perfect for casual outings or running errands. The contrast between the neutral tones of khaki and the rugged texture of denim creates an interesting and visually appealing outfit.
Khaki pants work so well with denim jackets because of their complementary color scheme. The warm, earthy tones of khaki pants pair well with the cool, blue hues of denim. This creates a balanced and cohesive outfit that looks put-together yet relaxed.
Leather Jacket
Pairing leather jackets with khaki pants is a timeless fashion choice that can create a chic and edgy appearance suitable for various occasions. The contrasting textures of leather and khaki add depth and complexity to the outfit. For a simple yet stylish appearance, pair the khaki pants with a basic t-shirt or sweater, making it an excellent choice for a night out or a romantic date.