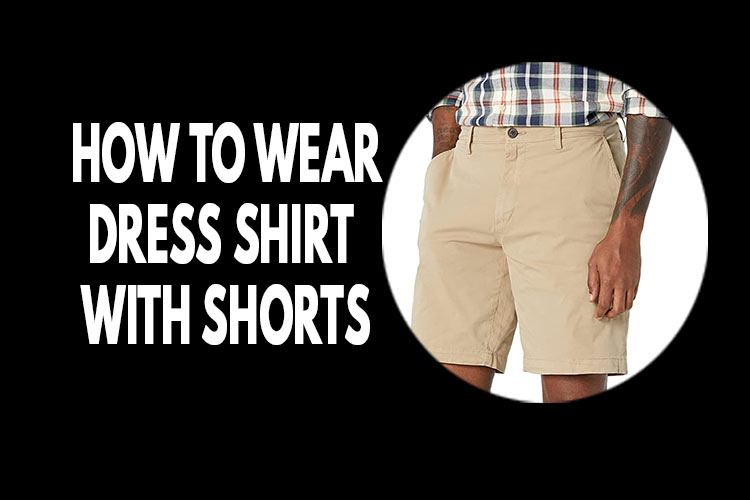 Dress shirts and shorts may seem odd initially, but when done right, they can be a great way to stay cool and look stylish. You can easily rock a dress shirt and shorts combo with the right tips and tricks. From the type of shirt to the type of shorts, a few key elements can take your outfit to the next level. 
Can you wear a dress shirt with shorts? The answer to this question depends on the context. Generally speaking, wearing a dress shirt with shorts is not considered appropriate for more formal settings such as work or special occasions. However, wearing a dress shirt with shorts can be an acceptable style choice in some more casual contexts, such as a weekend outing. 
It is important to consider the formality of the occasion to determine whether this style is appropriate. Additionally, the colors and materials of the dress shirt and shorts should be complementary to achieve a stylish look.
Whether you're attending a special event or just looking for a way to stay cool in the summer heat, these seven style tips will help you perfect the dress shirt and shorts look.
Make Your Look Modern And Stylish By Choosing The Right Short Length
When pairing your dress shirt with shorts, the length of your shorts is key. Generally, you want shorts that hit around mid-thigh, just above the knee. The ideal inseam length for shorts you want to wear with a dress shirt is between 7 and 9 inches. This length will provide a slim, tapered look that looks modern and stylish.
Shorter shorts can look sloppy and likely drag on the ground and look bulky. On the other hand, shorts that are too short can be unflattering and will draw attention to your legs in an unflattering manner. The ideal length is just above the knee, providing a slim, streamlined silhouette.
You Should Choose Shorts Based on Your Body Type
When wearing shorts with a dress shirt, you also want to ensure the shorts fit well. The waistband should fit snugly but not so tight that it cuts into your skin. The fabric should also fit well and not be too baggy or tight. Additionally, ensure that the shorts' inseam touches the top of your knee. This will ensure that your shorts provide the right coverage and look stylish when paired with a dress shirt.
Related Read: 5 Tips For Buying A High-Quality Dress Shirt
Choose Tapered Leg Opening Shorts to Enhance Your Sophisticated Style 
A short, with a gentle taper opening, creates a modern look that is both flattering and stylish. It's a great way to bring a touch of sophistication to your outfit without having to sacrifice comfort. The slim, tailored fit also helps to accentuate your figure and create a sleek silhouette that can be dressed up or down depending on the occasion.
It's Best to Wear No-Show Socks If You Must Wear Socks
Wearing shorts is a great way to stay cool on a hot summer day. The perfect pair of shorts can give you a sense of style and confidence. Still, one important rule of shorts-wear is often overlooked: never wear visible socks when wearing shorts. Wear visible socks with shorts can be a fashion faux pas and take away from the overall look.
 Whether you are dressing up or dressing down, it is important to keep this rule in mind. Visible socks can make an outfit look sloppy and outdated, so it is best to avoid them when wearing shorts. Instead, opt for no-show socks or socks hidden by your shoes. With the right no-show socks, you can keep your feet comfortable and give your outfit a more polished look.
Make Sure Your Dress Shirt Is The Right Length
A dress shirt should be long enough to be tucked into your shorts and remain tucked in without any excess fabric bunching up. The ideal length for a dress shirt is to have the shirt'sshirt's bottom hem fall at the middle of the back pockets on your shorts.
Related Read: How To Dress Up And Down A Light Green Button-Up Shirt
Wear Chino Shorts With A Dress Shirt; It Looks Sleeker And More Attractive
Many different styles and options are available to find the best shorts to wear with a dress shirt. The most popular choice is a tailored pair of chino shorts. These shorts are usually made from lightweight cotton fabric and are designed with a slightly more relaxed fit than dress pants. 
Chino shorts look great when paired with a button-down shirt and a pair of loafers or boat shoes. Denim shorts are a great option for a casual yet stylish outfit. Khaki shorts are another great option for a more relaxed look. They are made from a lightweight material and have a looser fit than chino shorts. 
Dress In Low-top Styles Of Shoes
The best shoes to wear with chino shorts depending on the occasion and personal style. For a casual look, canvas sneakers or boat shoes are a great option. They are comfortable and can be worn with almost any style of shorts. Loafers or dress shoes can be paired with shorts for a more formal look. 
This is an especially good choice for dressier occasions where you need to look polished and put together. If you're looking for something more unique, consider espadrilles or even a pair of sandals. These are great for a summer look that is both fashionable and comfortable. 
No matter what option you choose, make sure the shoes match the color and style of your chino shorts for a stylish and coordinated look.
Conclusion
Your best bet when wearing shorts and a dress shirt is to pick up a pair of chino shorts that fit well and don't have a lot of pockets. For example, opt for chino shorts instead of regular shorts that fit well at the waist and leg openings.
You can also wear chino shorts with dress shoes or loafers. Both options look smart and sophisticated. A beautiful pair of loafers and a dress shirt with chino shorts are great attire for a Friday afternoon and a business meeting.
If you have a small frame or don't want to cover up too much skin, you can opt for low-top sneakers. Remember to wear a long shirt to stay tucked in and maintain a neat appearance.
Related Read: Best Men's Button-Up Shirts To Buy