A muscular, athletic body goes hand in hand with form fitting shirts for men. After all, you work hard at the gym, and it's only human to want to show off the results. There are a few rules you should follow when shopping around for athletic fit shirts for a muscular body.
Whenever you make a purchase through links on this page we make a small commission from our affiliate partners. Learn more
What is a Form Fitting Shirt?
As the name clearly suggests, it's a tight fitting shirt that works best on a muscular body. The goal is to create a slim silhouette with broad shoulders, tight sleeves and a comparably narrow waist. Unfortunately, when it comes to shirts, most men tend to pick items that are oversized.
Here are some general rules you should follow when picking an athletic fit shirt: you want the shirt to hug your body, without creating an unaesthetic, baggy effect around the waist. It should be tight fitting, but the buttons need to close properly, without any gaps. Tight sleeves are OK up to a point: you definitely don't want the sleeves to look like they're about to explode on you. Also, the shirt should fit comfortably, loosely around the neck.
Current Options for Men's Form Fitted Shirts
Every man should own a collection of casual shirts, t-shirts and dress shirts that suit him perfectly and allow him to look classy and elegant in all occasions. Take the time to pick good-quality items, in colors suitable for all occasions, which have the right cut for your body type.
Whether you're getting ready for a casual dinner with friends, a date night at the movies or a fancy party, it's important to have at least a couple of shirts at the ready for each type of situation. You'll avoid the hassle of having to shop before every party, wedding or other formal events in your life.
Your everyday style will improve too: a few form fitting shirts for men, and we're talking here about everything from t-shirts and polo shirts to casual shirts, combined with slack pants or jeans, are the essential elements of a stylish, modern wardrobe for men.
Pick items from each category of shirts in classic, neutral, muted colors: whites, grays, blacks, browns. These colors go with everything. Of course, you should also wear brighter colors, but it's important to have an assortment of basic colors which you can wear no matter the situation. Here are the most popular types of shirts that every man should own:
Polo Shirts
Polo shirts are a wardrobe staple for men, a versatile type of shirt that gets you out of a lot of fashion dilemmas. Weekend brunch with your friends, movie date, lunch with your mom? A polo shirt is just right for all those occasions plus it's also really comfortable, doesn't need ironing, and you look a little bit more put together than in a regular T-shirt.
Polo shirts for athletic, muscular men should fit loosely around the upper arm: you definitely don't want the sleeve ribbed band to cut into the skin because it's pretty uncomfortable, for once, at it also looks terrible. The length of the sleeve should be around mid-biceps.
Make sure the buttons don't go down too deep: the opening should stop somewhere in the mid-pectoral area. You can definitely wear polo shirts with one or two buttons opened, but all three of them… not really, it's in poor taste. The length should be somewhere between upper to mid-crotch, while the torso ideal fitting is when you can pinch about an inch of fabric on either side of your stomach.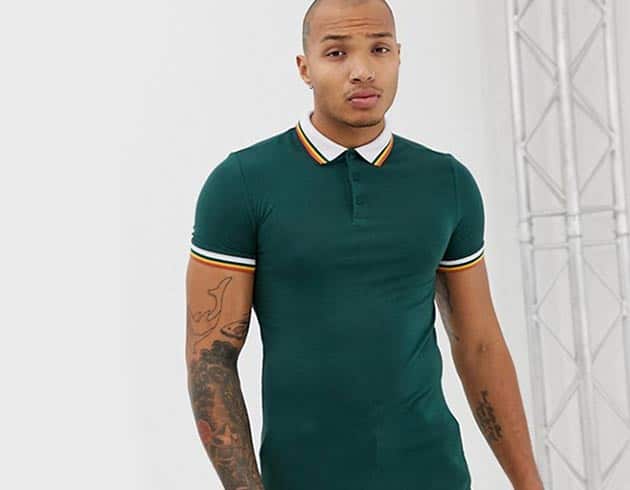 Muscle Form Fitting Polo Shirt
Henley
Henley shirts have some advantages for men with muscular bodies, and the most important is the loose neckline with buttons and the cut of the sleeve area that makes them a better, more comfortable fit for broad shoulders.
Henley shirts should fit tighter around the body than polo shorts and regular t-shirts. Basically, there should be minimal extra fabric at the shoulders or around the chest and the torso. The shirt needs to hug your body pretty closely.
Henley shirts are a slightly smarter variation of a regular t-shirt, and you can dress them up or down. Combined with slacks and a well-tailored sport blazer, a muted-colored Henley shirt is perfect for a casual date night or a business lunch.
Casual Slim Fit Short Sleeve Henley
T-shirts have to fit nicely around the neck and shoulders, but not as tight as the Henley shirts. You need just a little bit of loose fabric around the upper body – the neck the sleeve bands are not supposed to be too tight and to cut into the skin. You should be able to fit one finger underneath the sleeve band. A tapered cut around the waist area looks great on athletic bodies and emphasizes the shoulders, the arms and the chest.
Muscle Fitting T-shirt in White With Logo
Muscle Fitting Dress Shirts
Muscle fit dress shirts have a narrow waist cut with broad shoulders and tight sleeves. There is very little extra fabric with this type of cut and there's definitely no baggy area when you tuck it in. However, make sure it's comfortable around the neck and the buttons close properly, without any gaps due to the shirt being too tight around the chest.
Form Fitting Mens Dress Shirt
How Tight Should a Shirt Be?
Well, it should be tight enough to drape closely and comfortably on your body, showing off your muscles and silhouette. However, not as tight as to cause unappealing effects such as bulges around the collar or the seams.
Slim fit clothing for men became very fashionable lately, but, usually, it doesn't fit muscular bodies all that well. Slim fit shirts are way too small around the shoulders for muscular bodies, while casual fitted ones might need tailoring around the waist.
Some companies sell so-called muscle fit shirts that are actually the best form fitting shirts for men with muscular bodies. The cut of those shirts takes into account the fact that most men that work out a lot have broad shoulders, muscular arms and taut waists.
If you're shopping for a particular brand of shirts, and you never bought one from them before, do a little bit of research prior to ordering online. Sizes are usually not identical among brands, unfortunately, so it's better to either research the actual measurements (waist, chest, shoulders and neck) of the shirt you want to purchase.
When to Visit Your Tailor
You should visit your tailor if you can't find shirts that fit you properly around the shoulders and the chest and also around your midsection. As it's a lot easier to take a shirt in than it is to make it larger, pick one that's comfortable around your upper body, and loose around your waist. Your tailor will be able to take a couple of inches or fabrics from either side of the waist area for a slim and elegant look.
RELATED POST