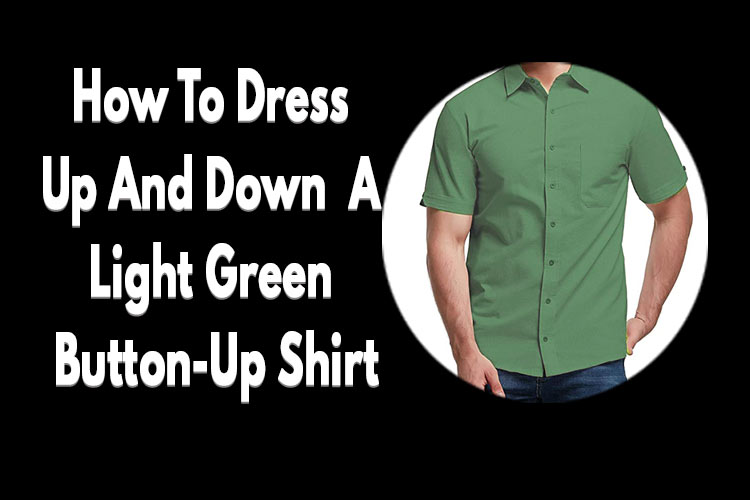 It is easy to dress up or down a light green button-up shirt based on the occasion. It can be worn casually and formally, making it an excellent addition to any closet. The key to styling a light green button-up shirt is to choose the right accessories and pieces to pair it with.
What would you say matches with a light green shirt?
A light green shirt can be paired with navy, grey, or white pants or shorts for a casual look. Khaki, mustard yellow, or olive pants can be worn for a dressier look. Jewel tones such as royal blue, emerald green, and deep purple are good options for a light green shirt.
Whether you're looking to dress up your light green shirt for a special event or dress it down for a more casual look, there are plenty of options. With the right styling tips and tricks, you can easily create a range of looks with your light green button-up shirt, taking you from day to night with ease.
We make a small commission from our affiliate partners whenever you purchase through links on this page. Learn more
Light Green Button-Up Shirt With Jeans
Adding a light green button-up shirt to your jeans makes you look stylish and current. You can start by selecting a pair of jeans in a complementary color. Dark-wash blue jeans are always a classic choice, but you can also opt for lighter colors like gray or black for a more modern look. 
Pair your jeans with a light green button-up shirt that fits you well. Ensure that the shirt is tailored to your body shape, with the bottom hem falling at the hip. Leave the top two buttons undone to add an element of sophistication and coolness. Add accessories like a statement belt or sunglasses to complete the look.
 Finish off with some stylish shoes, such as loafers or slip-on sneakers. With this look, you'll make a statement wherever you go.
Related Read: How To Wear A Dress Shirt With Jeans
Chinos And Green Shirt
Light green button-up shirts can be easily paired with chinos for a classic, timeless look. To start, you will want to choose a light green shirt that is made from breathable fabric, such as cotton or linen. This will help keep you cool and comfortable during warmer weather. For the chinos, look for a neutral pair, such as khaki or beige. 
These colors will complement the light green hue of your shirt nicely. To complete the look, consider adding a fun accessory, such as a colorful belt or pocket square. Finally, complete the ensemble with a pair of brown loafers or dress shoes to finish the outfit. With this classic combination, you'll be sure to make a great impression wherever you go.
Best Color Shoes To Wear With A Green Shirt 
The best shoes to wear with a light green button-up shirt will depend on the specific shade of green, as well as the style of the shirt. Generally speaking, neutral colors such as beige, white, and black are always safe for pairing with a light green shirt. 
Additionally, a pair of brown leather shoes or loafers can also be a great complement to the shirt. If the shade of green is on the brighter side, consider adding a pop of color with a bolder shoe choice, such as red, blue, or even yellow. 
When it comes to which colors to avoid, it is important to keep in mind that certain colors can clash with lighter shades of green. For example, bright oranges and yellows may be too overwhelming when paired with a light green shirt.
 Additionally, greens that are darker than the shirt can also create a clashing effect. It is best to stick with neutrals and muted colors to ensure your look is cohesive.
Tucking In Vs. Leaving Shirt Untucked 
When deciding between tucking in a shirt or leaving it untucked, the choice largely depends on the occasion, dress code, personal style, and body type. Generally, shirts should be tucked in for formal occasions, such as weddings, business meetings, and job interviews. However, a shirt can be untucked for casual occasions, such as a day with family or friends. 
It all comes down to personal style and comfort, as some people prefer the look of a tucked-in shirt, while others favor the more relaxed look of an untucked shirt. 
When considering body type, a tucked-in shirt can create a more flattering silhouette, depending on the person's size and shape. 
Those with a bigger frame may find that tucking in their shirt creates a more flattering look, while those with slimmer frames may get away with wearing an untucked shirt. Ultimately, it is up to the individual to decide which look they prefer.
When it comes to dressing codes, the decision to tuck in or leave a shirt untucked is typically determined by the occasion and the formality of the dress code. For example, a dress code may require that men tuck in their shirts for a formal event, while for a casual event, it may be acceptable to leave the shirt untucked. Ultimately, the decision should be based on the occasion, the dress code, personal style, and body type.
Smart Casual Way To Wear A Light Green Button-Up Shirt
Wearing a light green button-up shirt and blazer together can make for a smart casual look. Here are a few tips on how to best style them:
Choose a slim-fit light green button-up shirt. This will give you a more polished look than an oversized or baggy shirt. 
Balance the look with a well-tailored blazer. Opt for a classic cut in a neutral tone, such as navy, grey, or black, that will go well with the light green of your shirt.
For footwear, choose a pair of leather loafers or sleek dress shoes. Avoid sneakers or sandals, as they are too casual for this look.
Regarding accessories, stick to a single statement piece such as a pocket square or watch. Avoid wearing too many accessories, which can detract from the smart casual look.
To complete the look, add a pair of trousers or chinos in a dark color, such as navy blue or charcoal grey. For the finishing touch, accessorize with a leather belt.
How To Style A Light Green Short-Sleeve Button-Up Shirt?
A light green short-sleeve button-up shirt is a classic summer staple that can be styled in various ways. It is an easy and stylish piece to incorporate into any wardrobe. One way to style a light green short-sleeve button-up shirt is to pair it with khaki shorts and white sneakers. This look is perfect for a casual summer day, and the light green of the shirt will stand out against the neutral tones of the shorts and shoes.
You can wear the shirt with navy blue chinos and brown loafers for a more formal look. The light green shirt will provide a subtle contrast and a touch of color to the outfit. If you want a more dressed-up look, try pairing the shirt with white trousers and tan oxfords. This look is perfect for a summer wedding or other special occasion. To complete the look, accessorize with a matching belt and a pocket square in a coordinating color. 
Pair the shirt with dark-wash jeans and brown boots for a cool evening look. This look is casual yet stylish, and the light green of the shirt will give it a unique edge. Accessorize with a watch and a pair of aviator sunglasses for a complete ensemble. 
No matter how you style your light green short-sleeve button-up shirt, you are sure to look stylish and put together. It is a versatile piece worn with various looks and many different items. With creativity, you can create endless stylish outfits with this classic summer staple.
Related Read: Best Men's Button-Up Shirts To Buy
Tips For Determining The Best Size Dress Shirt For Your Body Type
Finding the perfect dress shirt can be a challenge. It needs to fit well, look good, and make you feel comfortable. The key to achieving all of this is finding the right size dress shirt for your body type. Knowing your measurements and understanding the different sizes and fits available will help you choose the perfect shirt for you.
With a few simple tips and tricks, you can determine the best size dress shirt for your body type in no time. Whether you're looking for a slim fit, classic fit, or something in between, you'll be able to find the perfect shirt that suits your style and looks great.
Measure your neck size: Use a measuring tape to measure the circumference of your neck. This measurement will help determine the collar size of the dress shirt you need.
Determine your body type: Look at your overall body shape and consider whether you have a slim, regular, or athletic build. This will help you choose the right fit for your dress shirt.
Measure your chest: Measure the circumference of your chest at its widest point, just under your armpits. This measurement will help you determine the appropriate shirt size for your body type.
Consider sleeve length: Your length will depend on your arm length and overall body proportions. Make sure to measure your arms from your shoulder to your wrist, and then compare that measurement to the size chart for the dress shirt you're interested in.
Try on different sizes: It's important to try a few different sizes to see which fits you best. Make sure to move your arms around, raise your arms, and stretch to ensure that the shirt isn't too tight or loose in the shoulders or chest.
Check the fit in the mirror: Make sure the shirt fits properly in the neck, chest, and waist and that the sleeves are the right length. Check for any bunching or pulling in the fabric.
Take note of the fabric: Keep in mind that some fabrics may shrink after washing or may not have much give, so you may need to size up or down accordingly.
Consider alterations: If you can't find a dress shirt that fits perfectly off the rack, consider taking it to a tailor to get the best fit for your body.
Do's And Don'ts When Wearing A Green Shirt
Do's:
Pair a light green shirt with neutral colors: Light green pairs well with colors like white, gray, navy blue, and brown. These colors help balance the green's brightness and create a cohesive look.
Wear a light green shirt with darker colored pants: Darker colored pants like black, navy blue, or dark brown will create a strong contrast with the light green shirt, helping to anchor the outfit.
Consider layering: A light green shirt can be paired with a sweater or jacket in a complementary color for a stylish and put-together look.
Choose the right shade of green: Depending on your skin tone, certain shades of green may look better on you than others. Experiment with different shades to find the one that looks best on you.
Accessorize appropriately: Brown or black shoes, belts, and watches are a safe bet with a light green shirt. A patterned tie or pocket square in complementary colors can also add visual interest to the outfit.
Don'ts:
Don't pair a light green shirt with bright or bold colors: This can create an overwhelming or clownish effect and draw attention away from the green shirt.
Only wear a green shirt with green pants: If you're going for an intentionally bold look, wearing a green shirt with green pants can be overkill.
Don't wear a green shirt to a formal occasion: Green is generally not considered an appropriate color for formal events, such as weddings or job interviews.
Make sure to wear a green shirt with casual clothing: Pairing a green shirt with shorts or athletic shoes can create an unbalanced, mismatched look.
Remember to check the lighting: Make sure to check how the green shirt looks in different lighting, as certain shades of green can appear more or less vibrant depending on the lighting.