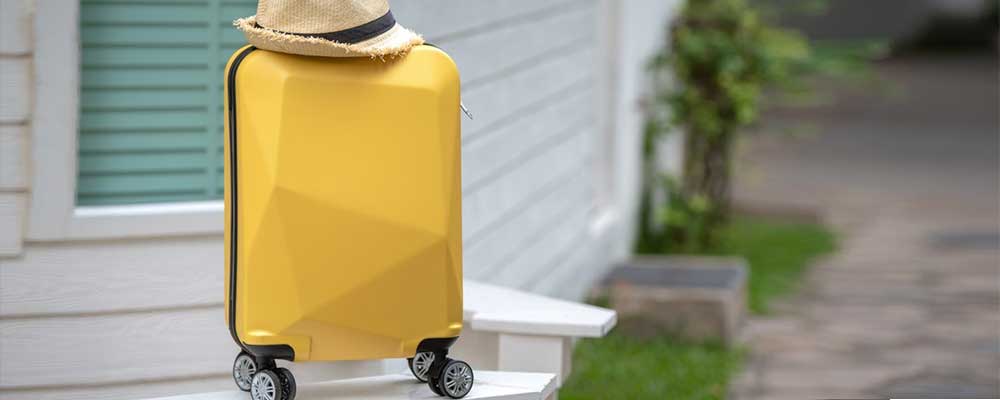 Having the best lightweight luggage with spinner wheels eases up a chunk of traveling stress. Luggage that you can easily maneuver is simply irresistible and highly efficient. Plus, it gives you an extra boost of confidence that's beyond what you get with rollers. Add a lightweight character, and you've got a bag fit for all your travels.
But what exactly is considered lightweight luggage? A piece of standard medium luggage (24-26 inches) weighs over 12 pounds. So, anything below that can be regarded as lightweight. It's even possible to find luggage of 30 inches weighing about 8 pounds. But it may cost you an extra buck.
However, should you go for roller luggage as opposed to a spinner one? Can the spinner wheels break off? If they do, how can you prevent them from doing so? Read on to find out the answers to all these questions and more. But first, our picks for the best lightweight luggage with spinner wheels for traveling.
 Whenever you make a purchase through links on this page we make a small commission from our affiliate partners. Learn more
Samsonite Freeform Hardside Expandable Carry-On
The future meets the present with Samsonite Freeform. Looking at the design of the hard side expandable carry-on, it's easy to see that Samsonite takes the lead in forward-thinking. This luggage comes in a unique shape with very modern features.
With this bag, you get more than what you bargained for. It's specially built to meet travelers' need for luggage with a lighter weight, more sturdiness, stronger build, and durability.
Its hard shell is splendidly light yet very strong. You'll also enjoy how easy it is to clean. Its exterior allows you to be able to easily wipe off any smudge or stain.
And with its strong retractable aluminum handle, you can easily maneuver your luggage.
You can also maximize the packing space of this carry-on. You don't have to worry about how you're going to fit in all you need for a weekend trip.
The interior features buckle-down straps and a zippered compartment for keeping suits neatly. And it has a small zippered compartment for smaller items and toiletries.
This bag also comes with four spinner wheels that can move in multiple directions. They allow you to roll at all 360 degrees while in an upright position. With this, there is no strain on your hands and shoulders.
This luggage is perfect for short trips.
Buy on Amazon
Travelpro Maxlite 5-Softside Expandable Luggage
Lighter in size than the Maxlite 4, this Maxlite 5 by Travelpro is sure to give you no stress or hassle. It's super lightweight, convenient, and easy to carry.
The Travelpro Maxlite 5 is made from polyester with a duraguard® coating for stain and water resistance. With its strong exterior and high-quality zippers, this is one solid and dependable bag.
Moving on to the interior, it has a lightweight design that allows you to pack more things. You can keep your clothes nice and snug using its adjustable buckle-down straps.
This bag also has a separate compartment at the lid, with an adjoining pocket, enabling you to organize your things neatly. Even more, it comes with two exterior pockets you can easily fit your devices in.
And if you're still looking for more space for your items, it easily expands up to 2 inches.
Finally, it has 360-degree spinner wheels that move in any direction you turn it. And you get an easy grip using its lightweight, high tensile handle with rubber touchpoints. It even features a unique bottom tray design that steadies the wheels for easy steering.
Buy on Amazon
It luggage World's Lightest
It luggage makes our 'it' list for the best lightweight luggage with spinner wheels. This evolutionary collection comes with new and improved features that are sure to grab your attention.
With 30 years of making high-quality, functional, and sturdy luggage, it's no wonder It is amongst the leading luggage brands.
This It luggage is made from high-density polyester, featuring a fiberglass frame. It also comes with a strong handle that's made from aluminum.
With the stylish design of this luggage, it's simply hard to resist. And thankfully, it comes in a range of colors you can choose from.
As for space, the interior features a large mesh pocket at the luggage cover and plenty of room for your clothes and toiletries. It also comes with buckle-down straps that keep your clothes in place.
And with no pipes protruding inside the bag, you have more space, and your clothes stay crease-free. Nonetheless, you can take shirts that do not require ironing just to be on the safe side.
In showcasing its uniqueness, It luggage features a wide handle design. This allows for better control of the bag while steering. And with eight spinner wheels for easy maneuvering, you know you've got an efficient bag.
Buy on Amazon
DELSEY Paris Chatelet Hardside Luggage
If you like luggage that is bold and confident and puts you out there, then this is a great option for you. Founded in 1946, Delsey is no stranger to excellence.
This Chatelet design offers a fully lined, luxurious interior with two compartments. A tie-down compartment on one side and a zippered mesh pocket on the other side. Smaller pockets and a hanger are also included for efficient space management.
Another cool thing about this timeless, elegant luggage is its integrated brake system. It works by locking the two front wheels with the push of a button. As such, it gives you the option of pushing the bag with its back wheels and also prevents your luggage from rolling away.
This Chatelet Hardside is made from 100% high-quality polycarbonate with leather-like emphases. And it has a high resistance impact and severe temperature.
Delsey also knows that no traveler likes to lose his luggage. And so this luggage is created with an inbuilt tracking device. With this, you can find your luggage easily if it gets lost. Talk about hi-tech luggage.
And that's not all. Its overall lightweight feature adds up to make this luggage great luggage.
Buy on Amazon
Briggs & Riley Baseline-Softside CX Luggage
Briggs & Riley offers redefined and revolutionary creations that make ideal travel companions. Their highly innovative designs are flexible to meet all traveling needs. Truly one of its kind.
This Baseline-Softside is functional, well-thought-out luggage. Its patented CX compression-expansion system expands up to 33% creating more space. And you can compress it back to standard size to keep your things secure.
Its outer body is made from long-lasting wear-resistant ballistic nylon fabric. So rest assured, abrasion, dirt, and moisture don't stand a chance.
Its outsider handles lie across the back of this luggage, allowing more space for the interior. Made from aluminum, these handles extend up to four levels.
On the inside, this bag has an inbuilt garment suiter with mesh pockets on the body.  The interior offers plenty of room for your stuff and has buckle-down mesh panels to hold clothes items in place.
For additional storage, there's an outside pocket between the handlebars and a zippered front pocket for easy access to small items.
Even more, all the zippers are strong self-repairing YKK zippers.
Finally, this bag also features 360-degree spinner wheels that move smoothly across any floor.
Buy on Amazon
Spinner Or Roller Luggage, Which Is Better?
In deciding which is better between spinner and roller luggage, here a few things to consider:
Carrying the weight: Spinners deal with the weight of the luggage and take off pressure from your wrists and joints. They stand upright and move effortlessly on smooth surfaces. Rollers, on the other hand, add pressure to your joints and wrists as you have to pull the bag behind you.
Maneuverability: Spinner wheels can move in all directions and in narrow alleys. Rollers, on the other hand, only move one way- towards the direction you pull it.
Stability: This is where rollers take the lead. Rollers can move on any terrain, while spinner wheels move better on smooth floors. The former can also remain in one spot while the latter tends to roll away when placed on a slope.
Weight: Spinner wheeled luggage tends to weigh more than roller luggage.
Comfort: Spinners are designed to be pushed rather than pulled. You can push them beside you, which is more comfortable than when your hands are behind pulling along luggage.
It still boils down to what type of traveler you are. Rollers are more likely to survive rugged trips, while spinner wheels are more for easy-going travelers.
How Do I Protect My Spinner Luggage Wheels?
There are a few ways to protect your luggage wheels:
Wheel covers: Using plastic or rubber covers will help reduce scrapes and damage to your luggage wheels. You can get these covers in online stores. Once you do, simply slip the cover over each wheel and screw it to the seat of the luggage.
Do not overwork your wheels: It is advisable to pack only what you need. This will take the weight off your wheels. And it will help your wheels last much longer.
Luggage protector: A luggage protector not only protects your wheels but the entire luggage. When buying luggage, look for one with a luggage protector. Nonetheless, you can buy the protector separately. A cool thing about luggage protectors is that you can find them in cool, stylish designs.
Go for wheels upgrade: Change the wheels from standard wheels to stronger wheels that can take a beating. You want to go for rollerblades or inline skate wheels. It's easy to install them, with several tutorials available online.
Carry your luggage: This goes with the earlier tip that you should pack light. On certain terrains, it helps to carry your luggage rather than roll it on the wheels.
Do Spinner Luggage Wheels Break Off?
Yes, Spinner wheels can break off. Like roller wheels, they experience wear and tear and require fixing or replacing. Thankfully, replacing a screwed-in spinner wheel is relatively easy. Here's how:
Clean the wheel of debris, dirt, or anything else covering the surface.
Place the luggage on a flat surface.
Unscrew the faulty wheel using the Allen wrench provided.
Then screw in the new wheel and test it out. That's it!
Remember to get a new wheel that's the same size and shape as the old one.
And that's it for the best lightweight luggage with spinner wheels for traveling. Do well to check out these other articles for more on traveling:
Best Men's Garment Travel Bag For Carrying A Suit
Best Merino Wool T-Shirt Every Man Should Own In Every Color
RELATED POST