Whether you want to step out in style this summer, or give your face some shade from the scorching sun, bucket hats are your go-to fashion item. Not only do bucket hats make you look super cool, they also give you an edgy look when dotting any casual outfit.
As a smart shopper, we know one question on your mind could be, 'What bucket hat fabric is best for me?' Cotton, polyester and nylon are some of the best fabrics for bucket hats. This is because they are durable, adapt easily to any weather condition and are easy to maintain.
If you're looking for the best men's summer bucket hats to buy, you should definitely stick around. We discuss 9 best bucket summer hats to try on ASOS. Our reviews are based on functionality and design. We also discuss other bucket hat styles to consider and what to wear with bucket hats.
Below are…
 Whenever you make a purchase through links on this page we make a small commission from our affiliate partners. Learn more
NICCE Men's Summer Bucket Hat With String
This 100% crisp nylon hat is exactly what you need for that cool London feel. Innit??
Unlike some bucket hats, it is wrinkle-free, fits snugly to almost any head size and can be adjusted with its toggle for a better fit.
It's easy to care for and maintain this bucket hat. A quick swipe with a neat damp cloth may be all you need to restore the neatness of this hat if it isn't very dirty.
Generally, nylon fabrics are strong. So you can bet this fabric will stand the test of time.
Whether you are taking a short ride out of town or having a picnic, this bucket hat will take up only a little space in your backpack.
We bet you'll have ladies staring at you when you rock this bucket hat with your summer form fitting shirt and shorts.
Weekday Connected Black Bucket Hat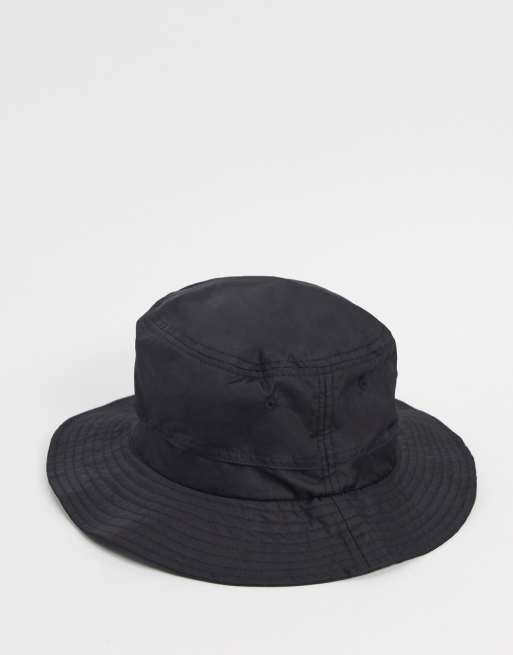 When you think about a hat that is resistant to tearing and ripping, think about this! With a hard-wearing ripstop, this hat by Weekday adds some solid addition to your wardrobe.
The adjustable strap leaves you confident that it's not coming off and the brim is wide enough to protect your face. With a 100% polyester material, you sure are getting really good comfort for your head.
Polyester is a wrinkle-resistant material. So you know what to expect of this bucket hat.
Feel free to go on that mountain trip, camping, or any other outdoor sport. It will always easily fit into your backpack or suitcase.
Investing in this bucket hat is a good way to spend your hard-earned money.
Reversible Brim Green Bucket Hat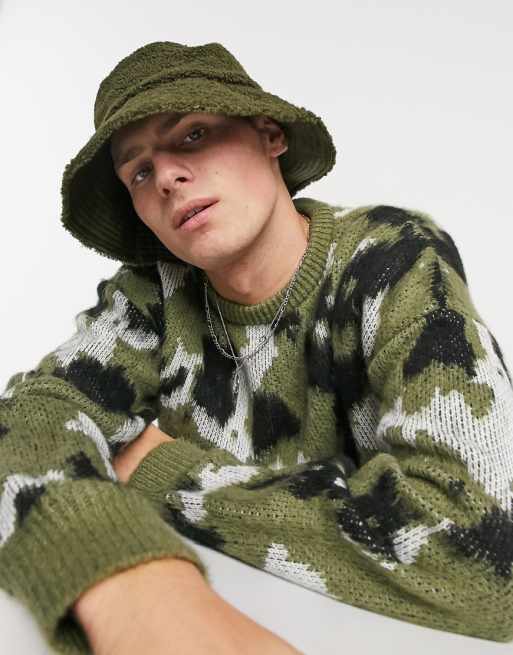 Considering that bucket hats are a good way to hide your untidy curls, this reversible bucket hat by ASOS should be in your wardrobe because you get two for the price of one! It's amazing what you can do with these choices.
One side of the cap is made with a borg fabric, while the reverse features nylon material.
That's like eating your cake and having it, because it makes the hat a perfect fit for not just summer, but other seasons too.
There's no end to the style combinations you can create with this hat.
It's all shades of stylish and you only need to wipe clean with a sponge or damp cloth.
Tommy Hilfiger in Navy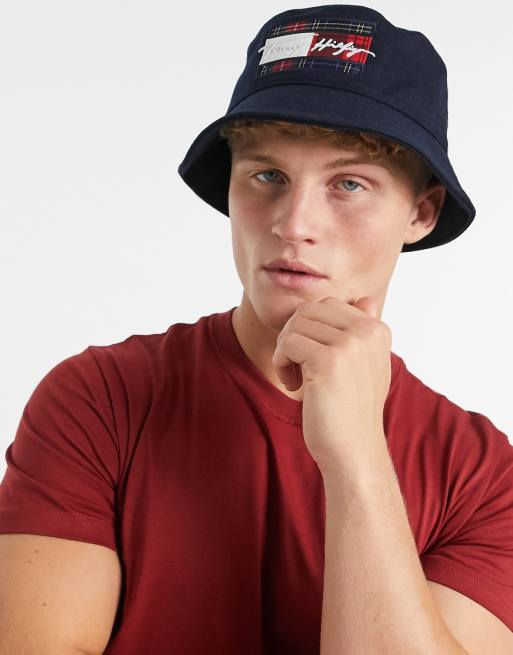 This top-rated hat by Tommy Hilfiger is ideal if you're looking to go retro.
Featuring a  narrow brim and the Hilfiger tartan logo patch, this bucket hat is certainly stylish and you can never go wrong with it. Its soft wool-blend fabric, made of 50% cotton and 50% polyester, gives you a cozy, wooly feel which is super comfy and highly recommended.
You can style this with any of your casual wears such as t-shirts, joggers and sweatshirts.
A quick clean with a moist cloth or sponge is all the cleaning your hat may need.
Ralph Lauren Polo Bucket Hat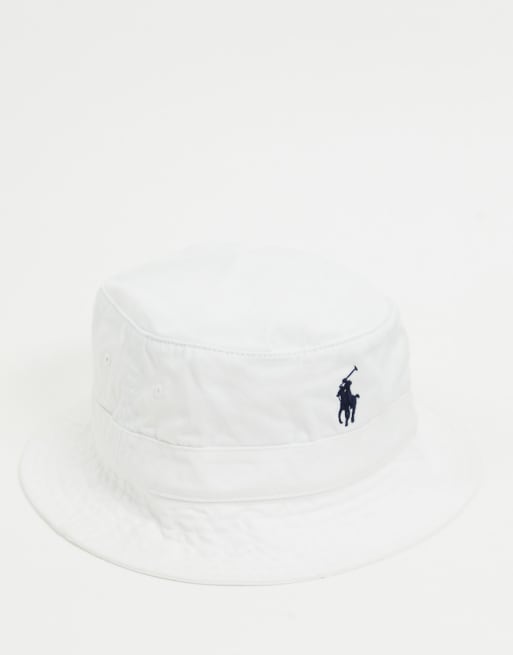 This hat has a seamed brim and a band around the crown, and features Ralph Lauren's signature pony embroidery in front.
With a quality oxford sweatband at the exterior, this dotting white bucket hat will suit a lot of style combinations.
This hat made of 100% cotton, has a semi-structured design with a parallel-rib pattern, short brim and can be found in different sizes.
The breathable eyelet vents allows for some air ventilation during the hot summer. Quite thoughtful of the designers, we must say.
Combine with a denim jacket or any casual outfit and you're good to go. For care and maintenance, hand washing is recommended.
Adidas Originals White Bucket Hat
What better way to show off your edgy summer style if not with this Adidas Originals bucket hat?
Featuring an embroidered trefoil Adidas logo in front. The Adidas brand needs no introduction and  you are definitely going to be the envy of many as you step out in this one.
As a one-size-fits-all, it will sit perfectly on your head.
The quality of the fabric is excellent. Made of 100% cotton twill, this bucket hat was made for comfort. The brim is also very flexible.
No need for ironing, just machine wash with like colours and very mild detergent and that would be all. I totally dig this hat! You should cop yours now.
Ellesse Bucket Hat in Black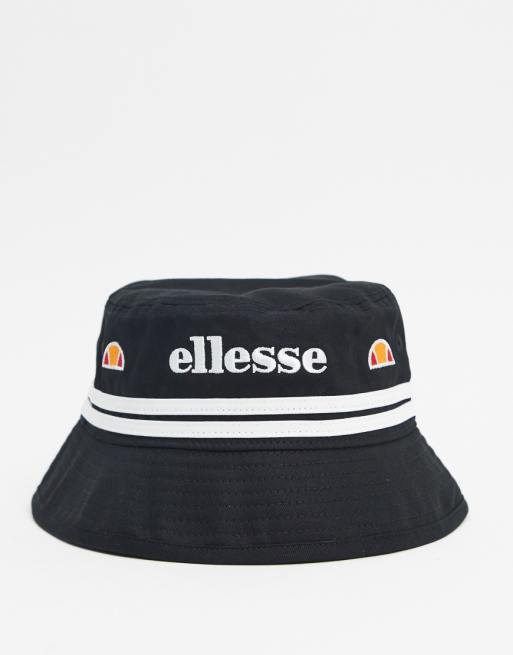 Another one-size fits all? We are totally up for it!
Not only is the brim wide enough to protect your face from the scorching sun, but the semi-structured cotton twill fabric is designed to be comfortable and breathable for everyday wear.
It also comes with a parallel rib pattern and contrast coloured stripes that go all the way around. The famous Ellesse logo is stitched somewhere across the front and the monochrome look gives it a little bit of the street vibe. It will go with absolutely any casual style.
A simple machine wash is all you need for it to be clean and ready to wear.
Simple and stylish are the words here when you think about the Ellesse stripe bucket hat.
ASOS Daysocial Reversible Summer Bucket Hat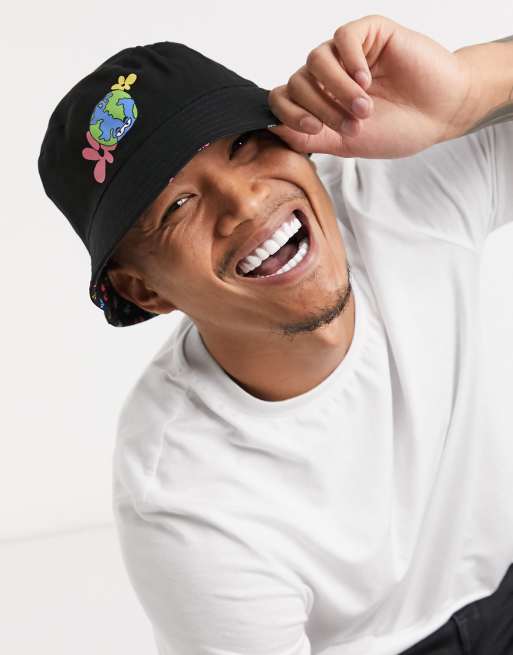 Thinking of keeping it simple? This reversible bucket hat is just what you need.
With this hat, you have more than one way to switch it up this summer.
One reverse of the hat has a plain black design, while the other side is designed in beautifully printed and playful graphics with colour pops. You can easily say this hat has 2 distinct moods.
This hat is made of 100% woven cotton which makes it easy to wash and cosy to feel.
It has a narrow brim which adds to its classic fit.
You can never go wrong with cotton on both sides. It's available in small, medium and large sizes, so there's something for everyone.
Converse Fleece Men's Designer Bucket Hat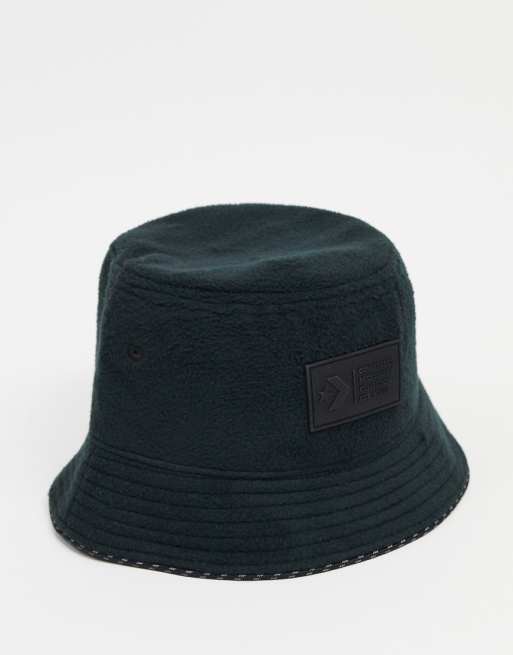 This well-detailed, fleece-lined bucket hat is a must-have.
Converse needs no introduction in the fashion industry. They're known for manufacturing functional sports wear, especially shoes. So, as expected, this bucket hat has that sporty/ athletic outlook.
This converse hat is made of polyester. Polyester is a fabric appreciated for its light weight and soft feel against the skin.
The narrow brin of this hat may limit its function as a visor. However, the ease of maintenance and simplicity of design makes up for its limitedness.
It's not difficult to clean. A quick swipe with a neat, damp cloth will just do fine.
The colour is outstanding, available in both black and white and can be easily combined with any outfit. We're 99% certain you'll love it
Other Bucket Hat Styles to Consider
Men's Reversible Bucket Hat
A good example is the Reversible wide brim bucket hat in khaki shearling and nylon by ASOS already listed above.
The interesting thing about reversible hats is that it gives you two different styles for the price of one. What better way to save money? You can switch up your style at any point in time and you get the same comfortable feel on each side.
Men's Waterproof Bucket Hats
When it comes to waterproof hats, consider the DOCILA 2020 fashion men's waterproof hat. Made solely for outdoor activities. It is comfortable and able to withstand heavy downpour, and keep your head dry.
Men's Bucket Hat With String
Are you thinking of an adjustable hat that stays put no matter the activity you engage in? Then you should try the men's bucket hats with adjustable strings. Good examples are the Nicce Viper reflective logo bucket hat and the Weekday connected bucket hat stated above.
Related Questions
What Season are Bucket Hats For?
I'd say bucket hats are for ALL SEASONS. Yes! In the summer, they can be worn to protect and shade you from the sun. In the winter, with bucket hats, you do not need a winter jacket with a hoodie, as the hat covers up for that.
What Do You Wear with Bucket Hats?
Bucket hats are great if you're looking to dress down on casual streetwear.
A simple, but classy T-shirt on fitted jeans capped with a bucket hat is that final touch you need to turn up looking super stylish.
For footwear, we recommend a pair of sneakers.
RELATED POST