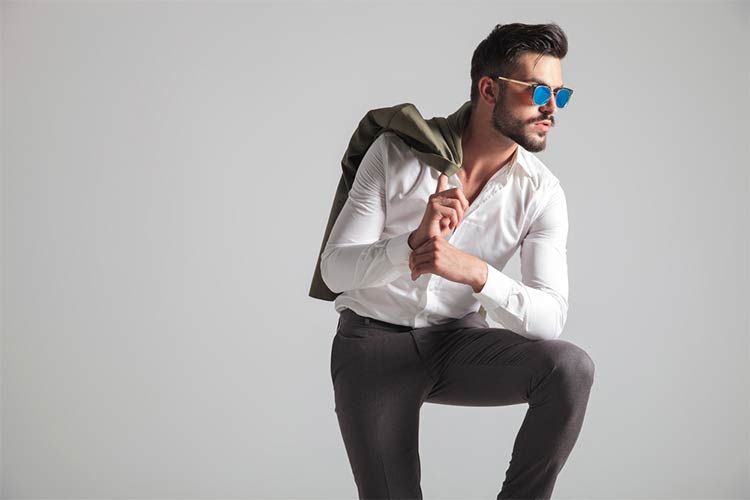 Every man should have dress shirts in their wardrobe due to their versatility and ability to showcase personal style. Dress shirts can enhance a man's appearance when properly fitted and styled. However, they often have a reputation for being uncomfortable, leaving men eager to take them off. If you're currently wearing a dress shirt, chances are it could be more comfortable. But fear not; we've got you covered. 
But have you ever wondered why do dress shirts feel uncomfortable? Designers often prioritize aesthetics and durability over these crucial elements, resulting in clothing that can feel tight and restrictive, especially in the shoulder and chest areas. This can leave you feeling uncomfortable and restricted, which is not ideal. Poor fit is also a major contributor to discomfort in dress shirts. 
Whenever you make a purchase through links on this page we make a small commission from our affiliate partners. Our ultimate goal is to provide our readers with actionable insights and practical tips that they can use to improve their daily lives. Learn more
Whether you prefer a button-down, spread, or point collar, we've discovered the 7 most comfortable dress shirts you can wear repeatedly for men. You might want to stock up and purchase them in bulk.
J.Ver Men's Dress Shirts
You can't go wrong with the J.Ver Men's Dress Shirts when it comes to comfort. These shirts are designed to provide ultimate comfort without compromising on style. The secret lies in their thoughtful construction. Made with a blend of high-quality materials, these shirts offer a perfect balance of softness and durability. The long sleeves and stretchable fabric ensure unrestricted movement, allowing you to stay comfortable throughout the day.
The wrinkle-free feature saves you time and effort, as you won't need to worry about ironing them every time. Whether you pair it with a tie, or a bow tie, khaki pants or go for a casual outing, this dress shirt provides a comfortable and stylish option for any wardrobe. Select from numerous colors and sizes to create your own unique ensemble. Buy on Amazon Primeeligible
COOFANDY Men's Muscle Fit Dress Shirts
The COOFANDY Muscle Fit Dress Shirts are a game-changer in men's fashion as they provide extreme comfort and freedom of movement. Made from high-quality, breathable fabric, this shirt keeps you dry and comfy all day long. The elastic material ensures a perfect fit for all body types, allowing you to move around with ease.
This shirt is designed to never hold you back, allowing you to move effortlessly throughout your day. It has a timeless design with a classic turndown collar, button-up front, long sleeves, and metal contrast buttons. These stylish details make you look more handsome and attractive.
You can wear this shirt for any occasion. Pair it with jeans or chinos for a casual look, or dress it up with formal pants for a more polished appearance. It's versatile and perfect for any event. Embrace your individuality with a multitude of colors and sizes to choose from. Buy on Amazon Primeeligible
Van Heusen Men's Dress Shirt
We'll always say yes to a dress shirt that's loaded with features, and the Van Heusen Men's Dress Shirt Slim Fit Flex Collar Stretch Solid is no exception. This remarkable shirt is designed to tackle the restrictive feeling that often comes with traditional dress shirts. Its slim fit and stretchable fabric offers a comfortable and flattering silhouette that allows unrestricted movement throughout the day.
The Flex Collar technology ensures a perfect fit around the neck without feeling constricting, providing added comfort and eliminating any discomfort or tightness. This shirt is a game-changer for those who value both style and freedom of movement. Say goodbye to the days of sacrificing comfort for sophistication because this shirt offers the best of both worlds. Take your pick from a diverse range of colors and sizes to personalize your look. Buy on Amazon Primeeligible
Calvin Klein Men's Dress Shirt
Pleasant to wear, no matter the season, the Calvin Klein goes the extra mile in providing you with exceptional comfort. Firstly, the non-iron feature saves you valuable time and effort by minimizing wrinkles and eliminating the need for constant ironing. You can simply wear the shirt straight from the dryer or after hanging it for a short while.
Secondly, the stretch fabric ensures unrestricted movement and flexibility, making it incredibly comfortable to wear throughout the day. Whether you're reaching for something on a high shelf or engaging in activities that require a full range of motion, this shirt moves with you. Additionally, the breathable fabric allows for proper airflow, preventing overheating and keeping you cool and comfortable even during warmer seasons. 
Discover an extensive selection of colors and sizes to match your style. Buy on Amazon Primeeligible
FAHIZO Men's Dress Shirt
The thoughtfully chosen combination of materials sets the FAHIZO stretch dress shirt apart and makes it incredibly comfortable. This shirt is made with a special blend of materials that make it really comfortable. The fabric is made with bamboo, known for being soft and breathable, so you'll feel cool and dry all day. The shirt also has microfiber in it, which makes it feel really smooth and luxurious against your skin.
The spandex in the shirt makes it stretchy, so you can move around easily and feel comfortable. The shirt is also designed to fit well without being too tight or too loose, so you can wear it to work or out for a night on the town and look and feel great. It's called the FAHIZO Bamboo fabric dress shirt, and it's the perfect combination of style and comfort.
Find the perfect fit with a range of sizes and an assortment of colors. Buy on Amazon Primeeligible
Izod Men's Stretch Button-Down Collar Dress Shirt
You can't go wrong! The IZOD Men's Stretch Button-Down Collar Dress Shirt offers a multitude of features that contribute to its pleasantness to wear. Crafted with natural stretch fabric, this shirt moves and flexes with your body, providing a comfortable and unrestricted fit. The shirt effortlessly moves with you whether you're reaching, bending, or simply going about your day.
The generous cut of the shirt ensures ample room in the shoulders, chest, and waist, promoting total comfort and freedom of movement. It is thoughtfully designed with a button-down collar that exudes a relaxed and casual vibe, allowing you to wear it comfortably with or without neckwear. This versatility lets you adapt the shirt to different occasions and personal preferences.
The dress shirt features a wrinkle-free finish that adds to its overall comfort. No more ironing or frequent visits to the dry cleaners needed. Choose from a variety of vibrant colors and sizes. Buy on Amazon Primeeligible
Alimens & Gentle Men's Dress Shirts
Alimens & Gentle is a true gem in the world of men's fashion. These shirts are made with a special stretchy fabric that feels really comfortable and lets you move around easily. You won't feel all squeezed in like you do with some dress shirts! Plus, they're really easy to take care of because they don't wrinkle easily.
You can wear them with dress pants, jeans, or even casual pants and still look polished. You can find these shirts in lots of different sizes, so there's something for everyone. If you want to look sharp and feel comfortable, you should definitely check out Alimens & Gentle's dress shirts. Available in several colors and sizes. Buy on Amazon Primeeligible
Factors Contributing to The Most Comfortable Dress Shirt For Men?
Are you tired of the discomfort that comes with wearing a traditional button-down dress shirt? It's time to consider a game-changing alternative that combines style and comfort: a stretchable dress shirt. Their shirts are designed to provide ultimate comfort and breathability, making them perfect for long days at the office or casual outings where you still want to look your best. Here are some factor you may want to consider when shopping for comfortable shirts to wear.
First and foremost, the choice of fabric plays a crucial role. Opting for stretch and breathability fabrics, such as cotton blends or performance fabrics, can significantly enhance comfort. These materials allow for greater freedom of movement and improved airflow, reducing the restrictive sensation often associated with dress shirts.
Furthermore, paying attention to the shirt's fit is essential. A well-fitted dress shirt tailored to your body measurements ensures it neither feels overly tight nor excessively loose. It should provide ample room in the shoulder and chest areas while maintaining a sleek silhouette.
Lastly, thoughtful design elements like adjustable cuffs, collar sizes, and back pleats can further contribute to the overall comfort of a dress shirt. These details allow for customization and adjustments to suit individual preferences.
In summary, comfortable dress shirts are essential for every man. By prioritizing comfort through the choice of fabric, proper fit, and thoughtful design elements, men can enjoy dress shirts that enhance their appearance and provide exceptional comfort throughout the day.
What Is The Most Breathable Fabric For Dress Shirts?
When it comes to finding the perfect breathable fabric for dress shirts, one standout contender is cotton. Renowned for its natural properties, cotton allows air to circulate freely, keeping you cool and comfortable all day long. It's like a refreshing breeze against your skin! Unlike synthetic materials that trap heat and moisture, cotton absorbs perspiration, promoting quick evaporation. Say goodbye to feeling stuffy or sweaty and confidently tackle your busy schedule. If you want to rock a stylish dress shirt while staying cool and fresh, opt for cotton fabric that effortlessly lets your skin breathe.
What Does A Stretch Dress Shirt Mean?
A stretch dress shirt is like the perfect blend of comfort and style. It's designed with a fabric that has just the right amount of stretch, allowing you to move freely without feeling constricted. No more tightness when you sit down or reach out! These shirts often feel more like athletic wear, making them a game-changer for those who wear dress shirts every day. They're made using spandex material, giving them a 4-way stretch while still looking like a regular dress shirt.