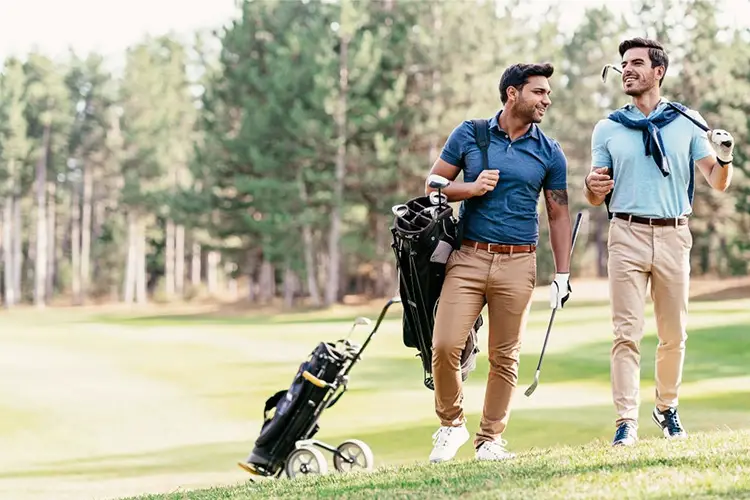 When it comes to shopping for Chino pants, quality should always be a top priority. Opting for a deluxe Chino ensures a comfortable fit and promises a longer lifespan. While designer brands may seem like the go-to option for premium materials, it's possible to find expertly crafted chinos at a more affordable price. 
The key is to look out for the good stuff that will not only hold up over time but also offer style and comfort. Don't let a lower price tag compromise the quality of your Chinos, and invest in a pair that will last you through many wears and washes.
How can you tell quality chinos?
To tell quality chinos, look for a tight weave with a smooth finish, sturdy stitching, and a proper fit. High-quality brands will often use heavy-duty cotton or a blend of materials for durability. Additionally, check for details like reinforced pockets and quality buttons. Examples of quality chino brands include Bonobos, J.Crew, and Banana Republic.
Not all chinos are created equal, and it can be challenging to differentiate between high-quality and low-quality options. That's why we've compiled this list of tips to help you make a smart purchase decision.
Durable Fabric
There are a few key indicators that can help you determine if the fabric of chino pants is of good quality:
Fabric: What fabric is used for chinos? The quality fabric used for chino pants are typically made from 100% cotton, which is strong, durable, and breathable. Avoid chinos that contain synthetic fibers or blends, as these materials are less breathable and can pill over time.
Weight: What weight should chinos be? The ideal weight of chinos should be around 8 to 10 ounces per square yard. This weight strikes the perfect balance between durability and comfort, allowing the chinos to withstand regular wear and tear without feeling too heavy or light. 
Additionally, chinos with this weight are versatile enough to be worn throughout the year, as they provide sufficient warmth during the colder months and breathability during the warmer months. Ultimately, choosing the right weight of chinos is essential in ensuring you look and feel your best in any setting.
.Twill weave: Look for chino pants with a twill weave. This diagonal weave pattern adds durability and texture to the fabric. This type of weave also gives chinos their signature diagonal lines.
Finishing: Check the finishing of the fabric, which refers to the treatment applied to the fabric after weaving. Quality chinos may have been pre-washed or pre-shrunk to prevent shrinking or fading after washing.
Brand reputation: Lastly, consider the reputation of the brand. Well-known brands specializing in producing quality chinos are likelier to use high-quality fabric and take pride in their craftsmanship.
By paying attention to these indicators, you can more easily identify chino pants made from good-quality fabric.
Related Read: The Best Way To Wear Chinos With A Dress Shirt
Durable Stitching
You should look for several key features to identify high-quality chino pants by their stitching:
Inspect the seams and ensure they are straight and even, with no loose threads or fraying edges.

The stitches should be tight and evenly spaced, with no puckering or gathering of the fabric. Another important detail is using a sturdy thread, such as polyester or cotton, which will hold up well over time.

Examine the pockets and ensure they are properly aligned and reinforced with additional stitching at the stress points.
By paying attention to these details, you can easily distinguish between a well-made pair of chino pants and a poorly constructed one. High-quality chinos will look better and last longer, making it a wise investment in your wardrobe.
The Stretch Factor
There are a few key indicators to look out for to determine the quality of chino pants based on their stretch factor. First, check the fabric content. A higher percentage of elastane or spandex in the blend usually means the pants will have better stretch and recovery. Next, feel the fabric. High-quality chinos will have a smooth and soft texture, while lower-quality ones may feel rough or scratchy. 
Another clue is the fit. Good quality chinos will hug your body comfortably without feeling too tight or loose and retain their shape even after multiple wears. Finally, do a stretch test by gently pulling on the fabric in different directions. If it quickly bounces back to its original shape, you've likely found a pair of well-made chinos with a good stretch factor.
Related Read: The Right Shoes To Wear With Black Chinos
Design Details 
Regarding chino pants, it's about more than just the material, the fit, and the design details. These small elements can make a big difference in the overall quality and style of the pants.
Several key factors are needed to determine the quality of a pair of chino pants based on design details. First, look at the stitching: high-quality chinos will have neat, straight, and reinforced seams that are unlikely to fray or come apart over time. Next, examine the waistband: well-made chinos will have a sturdy waistband with a well-constructed button and zipper closure that won't easily come undone or break. 
Another key aspect to consider is the fabric: good-quality chinos are typically made from durable and breathable materials, such as cotton or a cotton blend. Additionally, check for thoughtful details such as reinforced pockets, double stitching on high-wear areas, and a comfortable, flattering fit. By paying attention to these design details, you can easily spot a pair of high-quality chino pants that will last you for years. 
Related Read: 7 Reasons Why Chinos Pants Are Better than Jeans
5 Common Mistakes Men Make When Buying Pants
When buying pants, men often need to correct some common mistakes that can leave them with a less-than-perfect fit. Here are five of the most common mistakes to avoid:
Not considering the rise: The rise of the pants – the distance from the waistband to the crotch – can make a big difference in how the pants fit and feel. Men often overlook this factor, resulting in pants that are either too tight in the crotch or saggy in the rear.
Ignoring the inseam: The length of the pants from the crotch to the hem – is another important factor to consider. Pants that are too short or too long can throw off the entire look of an outfit.
Neglecting the waistband: The waistband is another key component of pants that can impact fit and comfort. Men often need to avoid buying pants that are too tight or loose around the waist, leading to discomfort and an unflattering fit.
Forgetting about the fabric: The fabric of the pants can also make a big difference in how they look and feel. Men often overlook the fabric's weight, texture, and durability, impacting the pants' overall quality and longevity.
Failing to try them on: Men's biggest mistake when buying pants is not trying them before purchasing. Even if the size and style seem right, trying on the pants is the only way to ensure a good fit and avoid surprises when you get home.
By avoiding these common mistakes, men can invest in pants that look great, fit, and comfortable for any occasion.
FAQ
What Type Of Fabric Are Chino Pants?
Chino pants are typically made from a cotton twill fabric, a tightly woven material that creates a smooth, diagonal pattern. This durable, lightweight, breathable fabric is popular for casual and dressy occasions.
One of the benefits of cotton twill is that it's easy to care for and can withstand regular wear and washing without losing its shape or color. The fabric also tends to resist wrinkling, which is a plus for those who want to look polished and put together without spending time ironing their pants.
Which Brand Makes The Best Chinos?
When it comes to finding the best brand of chino pants for men, there are several options to consider, depending on your style, budget, and fit preferences.
One popular brand for chinos is Dockers, known for its classic khaki-colored pants with a comfortable fit and durable fabric. Another well-regarded brand is Bonobos, which offers a range of fits, colors, and styles to suit any occasion or preference.
For those looking for a more upscale option, Ralph Lauren and Brooks Brothers offer high-quality chino pants with a refined, tailored look. J.Crew and Banana Republic are also popular brands for chino pants, offering a mix of classic and trendy styles at affordable prices.
Ultimately, the best brand for chino pants for men will depend on your individual needs and preferences. It's worth trying a few different brands and styles to find the perfect fit and style for your wardrobe.
When it comes to finding the best brand of chino pants for men, there are several options to consider, depending on your style, budget, and fit preferences.
What Are The Three Types Of Chinos?
Chinos are a popular style of pants that are versatile and comfortable. There are three main types of chinos: classic, slim fit, and relaxed fit. Classic chinos have a straight cut that is slightly tapered at the ankle, while slim-fit chinos are narrower throughout the leg for a more modern look.
 Relaxed fit chinos are looser throughout the leg, providing more room and comfort. Chinos come in various colors and materials, making them suitable for casual and formal occasions. With their timeless style and versatility, chinos are a must-have addition to any wardrobe.