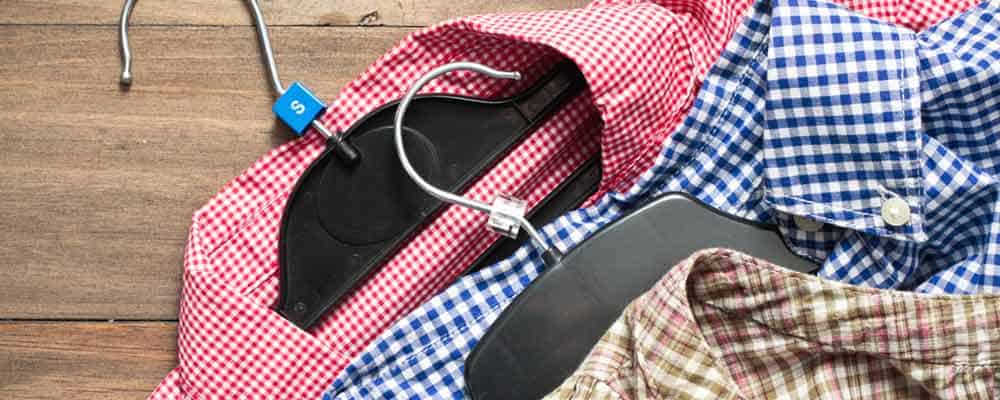 In case you've had the Dress shirts vs Casual shirts debate with yourself and the casual shirt won, you may want to consider going for short sleeve button down shirts as your casual shirt.
Usually identified as a casual wear, button-down shirts offer maximum comfort when worn and can easily be styled. In fact, when you're not sure of what to wear, the button-down shirt is your safe zone.
It may interest you to know that the button-down shirts are designed in both long and short sleeves, but this article concerns itself with the short sleeve.
Because we want you always on your A-game as far as your dressing is concerned, we'll be reviewing eight best short sleeve button down shirts and informing you of things people often neglect that you should consider when buying a short sleeve button down shirt.
Straight to the crux of the matter
Whenever you make a purchase through links on this page we make a small commission from our affiliate partners. Learn more
1.   Wrangler Men's Short Sleeve Classic Twill Shirt
You're probably putting on something from Wrangler as you read this. Wrangler, although originally known for jeans production, produces one of the best short sleeve button down shirts. They so much believe in their product that it carries a one-year warranty for customers.
This Wrangler men's short sleeve shirt is twill woven to make the shirt durable, soft and stain resistant. Even when it does stain, it is not easily noticeable due to its irregular surface texture.
The two pockets sewn to the front of the shirt are flap-covered and held in place using a button. Instead of the usual forward point collar, this shirt has a spread collar which is in line with what's trending now. Made of 100% cotton (apart from the buttons of course) you don't have to stress yourself with how to wash it as cotton easily lets go of stains.
We like that this shirt has a plain design. It makes styling even easier.
Main features
Dual button-flap pockets
100% made of cotton
Spread collar
Twill weave
2. Van Heusen Men's Short Sleeve Oxford Dress Shirt
It is called an Oxford shirt because its Oxford woven. If you're wondering why there's so much hype about Oxford weaving it's because it has the advantages of making the cloth comfortable to wear, breathable, easy to maintain, soft, sturdy, etc.
The shirt has a button-down collar to make the shirt even more comfortable. This collar style was originally introduced by polo players to keep their collars from flapping around while riding.
Another feature that keeps you comfortable in this shirt is the relaxed armholes. This gives room for air and prevents the clothes from sticking to the armpit which could be annoying, gosh!
You could accompany this men's short sleeve button-down shirt with a blazer. You could also wear it without one. You can also decide to tuck in this shirt or leave it untucked. Whatever decision you make will still leave you looking good.
Main features:
Made of 60% cotton and 40% polyester
Button-down collar
One open pocket
Oxford woven
3. Amazon Essentials Men's Regular-Fit Short Sleeve Casual Poplin Shirt
The poplin weave is characterised by fine crisscrossing ribs which makes it breathable and ideal for warm weather. The plaid design of this shirt makes it a typical casual shirt best worn with a jean trousers.
It also features a spread collar to give the neck more breathing space. As a cotton shirt, it is easy to wash and maintain. You could machine wash or hand wash, and iron under medium heat.
This shirt is sewn to fit and comes in different colours and sizes.
Main features
Spread collar
Chest pocket
Poplin woven
All over plaid print
Made of cotton and poplin fabric
4. Goodthreads Men's Standard-Fit Short-Sleeve Oxford Shirt
Goodthreads slogan is 'crafted with care'. This pretty much explains the detailing put into the production and design of this shirt. We've earlier, in this article, explained that Oxford-weaving a shirt makes it comfortable to wear, durable, lustrous, soft amongst other advantages it offers.
With its button-down collar, you won't have to adjust your collar often. There's also a chest pocket for you to keep your pen and small note pad in, if you will.
This shirt is fitted in the chest and slightly tapered through the waist. Match with a pair of plain trousers and canvass and you're good to go.
We like that it has a plain design because this makes it easy to style and eliminates the chances of awkward color combinations.
Main features
Box pleated back yoke
Button down collar
Single chest pocket
Oxford weaving
100% cotton
More reviews on the best short sleeve button down shirts for men
5. SSLR Men's Printed Button Down Casual Short Sleeve Cotton Shirts
If you've been searching for a colourful button-down shirt, search no more. Here it is. With this shirt design, SSLR played the 'colourful yet safe' card. This button-down shirt is printed in different colours, which occur in regular patterns.
Made of 100% cotton, this shirt will give you no hassle when it's time to wash and iron. It permits you to machine wash if you do not want to hand wash. It also has a concealed pocket where you can put your essentials.
You'll be safer wearing this shirt with chinos or plain trousers, preferably the color of the collar and back yoke (they are of the same color), considering that the shirt is colorful enough and you do not want to turn yourself to a mobile color book.
Main features
100% cotton
Inner placket
Standard fit
Hidden pocket
6. Tommy Hilfiger Men's Short Sleeve Button-Down Shirt
Tommy Hilfiger is a popular fashion brand that seems to have a thing for check designs. This shirt is sewn with a button-down collar and just one pocket by the chest for keeping your essentials.
It is your typical casual shirt that can be worn on days you want to look not-too-serious-but-not-joking-either. You could wear it to work if your place of work has a flexible dress code.
If you'll like to look a bit formal in this shirt, wear it tucked in with plain trousers and belt. Ensure your belt and shoes are of the same colour. But if informal cuts it for you, you could wear with a pair of jean trousers.
It's easy to wash and maintain.
Main features
Regular fit
100% cotton
Chest pocket
Button-down collar
7. Mocotono Men's Short Sleeve Oxford Button Down Casual Shirt
Mocotono short-sleeve button- down shirts are usually designed plain and in a single colour. The brand- Mocotono, produces these shirts in two types. One, of 100% cotton. The other is of mixed material- 50% cotton and 50% polyester. The one made of 100% cotton is thicker which makes it more durable, while the one of mixed material is thinner and softer.
It is Oxford woven to make it breathable, plus there's a chest pocket where you could keep your pen or whatever you need handy.
The sizing instruction for this shirt says to pick one size down your usual size if your body shape is average. You are also advised to iron under low heat if necessary. You could machine- or hand-wash.
Main features
The brand sells 100% cotton and 50% cotton + 50% polyester
Oxford woven
One chest pocket
8. Visive Oxford Pineapple Hawaiian Shirts for Men
You guessed right, there are pineapple designs on the shirt. This shirt puts you in the mood to go on a vacation in Hawaii or just lay by the beach under the sun with a little shade from an umbrella.
Visive as a brand, likes to select fabrics that stand out with unique, cool fun prints. You can see this reflected in this shirt.
This shirt has a soft feel against the skin and offers you maximum comfort. Really easy to maintain and can be worn to different occasions such as a party, carnival, festival, to the beach and anywhere you want to appear casual.
You should wear this shirt with a pair of shorts or trousers the color of the pineapple print.
Main features
It is made of 65% cotton and 45% polyester
All over pineapple print
Button down collar
Slim modern fit
1 chest pocket
Things to Consider Before Buying a Button-Down Short-Sleeve Shirt for Men
What could be complicated about buying a button-down shirt? You may ask. Not even the long sleeve shirts, but the short sleeves.
Well, if we didn't see people making wrong choices with the button-down short sleeve shirts, we may not have written this sub-section.
By the time you're done reading this section, you will understand why that shirt of yours doesn't feel right on your body sometimes or why that short-sleeve button-down shirt is a wrong choice to make for this time of the year or that occasion you intend wearing it to.
If you want to buy what would serve as the best short sleeve button down shirt for you, then consider the following:
Fit
There are two main areas you should focus on when choosing a short-sleeve shirt, whether button-downs or not. The sleeves and shoulders. Any mistake here and you've dropped your A-game.
The sleeves should end around your mid-bicep and the space between the cloth and your body should be big enough for just one finger. But this is excusable if the shirt is intentionally baggy as a beach shirt would be.
As for the shoulder, the shirt should fit well across it. The fitting your shirt has on your shoulders speak a lot. When your shirt is well-fitted on your shoulders without any creases or slacks, you give off an aura of authority and confidence.
Different shirts come with different fitting which is usually specified by the manufacturers.
Another place to look out for is the arm hole, although the shoulder and sleeves contribute to this. Shirts with a little space between the armpit and shirt are usually more comfortable and promote air circulation within the shirt.
Buying a fitting shirt will be possible only when you know…
Your measurement and body type
You are likely going to buy your shirt online and you don't get the chance to test clothes online before buying. Even if you were getting the shirt from a retail outlet, not all retail outlets allow testing of clothes before purchase. So how are you going to know if the shirt you picked will be your size if you don't know your body measurement?
Your neck size, arm length, waist and chest sizes are important body measurements you should have when shopping for a shirt because sometimes the standard fit of your size range may not be good for you.
Material and the weather or season
Material determines a lot of things as far as your clothes are concerned. It determines how long the cloth will last, it determines your comfort, it determines if the cloth will crease easily, it determines how it will be maintained and how easy it will be maintaining it.
The safest bet usually is cotton, because in addition to the above stated factors, it provides warmth during cold.
Colour and print
What you intend to use the shirt for should influence the colour and print design of the shirt. If you intend for the shirt to be an office wear, do well to get yourself one devoid of inscriptions. It could be distracting and spell unprofessionalism. Buy a shirt with a single colour and plain design.
However, if you want a short-sleeve button down shirt for carnivals, parties, festivals, etc feel free to buy a multi-colour short-sleeve shirt in whatever design or pattern you want. But keep the other factors discussed here in mind while making your choice
Weaving
Weaving is also important because it contributes to factors such as comfort and maintenance. We saw that Oxford weaving makes the clothes breathable, durable, lustrous, easy to wash, dirt-resistant, etc. Choice of weaving is sometimes decided by the material. Cotton is often Oxford- or twill-woven, but when it's more than one material type poplin weaving is recommended.
RELATED POST