Let me assume that you are a fashion novice and someone random asked you, what are wingtips shoes? If your response was shoes with the tips that are shaped like wings, you will be forgiven. However, the answer is a lot more complicated than that and this is what I would like to get into today.
What is a wingtip shoe? A wingtip shoe is a brogue that has the lower case w-shape at the point where your toes join your feet.
A lot of people, including fashion experts refer to wingtip shoes as brogues and they are not entirely wrong for this. However, there is a clear distinction between wingtip shoes and brogues.
If you look at the wingtip shoe closely, you would see that that w-shape has the semblance of a wing and I think this inspired the name, 'wingtip shoes'. The wingtip shoe as a type of brogue has a very rich history that dates back to the 16th century Ireland. For shoes so old, why are wingtips in style today?
Whenever you make a purchase through links on this page we make a small commission from our affiliate partners. Learn more
That is one of the many questions I will answer in this article. But if you are going to learn anything today, let it be this tiny fact; a wingtip shoe is a type of brogue that is in a class of its own. In this article we are going to look at when to wear wingtips as well as how to wear them. We are going to explore some of the types of wingtips.
Types of Wingtips Shoes
I won't lie, in trying to create this list, I was forced to look closely at the, "what are wingtips shoes" question posed by our fictional stranger. The answers I got on the internet baffled me a little. But as I made further discoveries, I realized that the errors came from trying to infuse different cultures ie the American and British/Irish.
When you sort through all of that, you will find that we are all actually on the same page. And so, with that in mind, let us look at some of the most common wingtip shoes on the market.
1. Full Brogues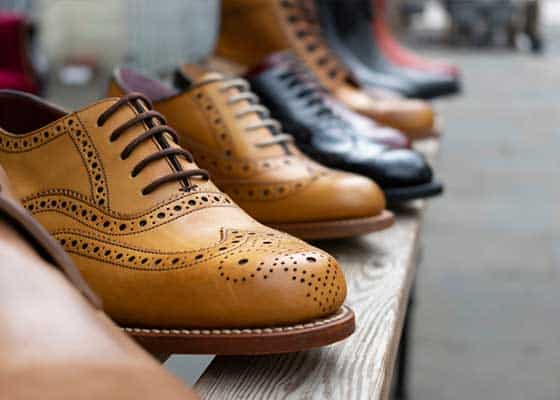 If you were expecting the type of wingtip shoes that I would list here to have wingtip in the title, I am happy to disappoint. A full brogue essentially is a classic wingtip shoe with wings that run along both sides of the toe. The first thing that characterizes a full brogue is the pointed toe cap with visible perforations.
2. Austerity Brogues
These are variations of the full brogues and they are called wingtip shoes because they spot the same w-shaped toe cap. However, it has no perforations which is common with brogues
3. Blind Brogues
Now these shoes are the opposite of austerity brogues, in that they have the perforations that are missing. However, the w-shape that is distinct with wingtips is not visible instead the perforations are made to match what you have with wingtip shoes.
4. Spectator Shoes
Spectator shoes are like full brogues but the difference is that they come in two contrasting tones. The toe and heel cap typically has the darker color while the body of the shoe takes on a lighter shade. In some designs, the color of the lace panel matches the design off the toe and heel cap.
5. Longwing Brogues
Just as the name implies, the longwing brogues are wingtip shoes with wings that extend all the way from the toe cap to the back of the shoes. In other words, the wings in this case, runs the full length and is only divided by the center seam at the heel.
How to Wear Wingtip Shoes
Back in the day, wingtip shoes were considered outdoor shoes and gentlemen often wore them out for hunting. The perforated holes on the shoes were basically designed to help drain water from them when the men stepped into marshes.
Today, these shoes are considered formal wear. That is not to say you cannot bend the rules a little. But as I always say, it is better to start from the basics. And as you gain more confidence, you can begin to explore.
That said you will be happy to know that designers of today have crafted the wingtip shoes in such a way that they can be perfect for any occasion. With that in mind let us look at some of my favourite pairing
1. Black Wingtips with Jeans for a Casual Look
If you are looking for a way to upgrade your favorite denim look, a pair of black wingtips shoes is just what the fashion gods ordered. They have a way of making your well-fit jeans look like they belong in a gentleman's world sans that lazy vibe. It is a fun way to wear casual without being too laid back about it.
2. Suit Up For the Gentleman Business Look
Your classic wingtip shoes were made for suits. They have a way of streamlining your outfit thus giving you this wholesome gentleman look which is great for a business setting. All you have to do is ensure that the suit you are wearing is a perfect fit. Pair up the colors nicely; navy blue suit with brown wingtips are perfect.
A nice dress shirt underneath your suit would complete the look. This list here has everything you would need to get started
3. Wear It with Formal Shorts or Khakis for a Modern Twist
For British royalty, shorts may be a children's affair, but in today's modern world it passes for an exquisite take on business casual. My ideal combination would include a nice knit sweater over shorts with the spectator shoes. Just be sure to keep the colors in the same family.
Here's a fun twist on wearing wingtip shoes;  if you ever find yourself in Ireland or perhaps you are attending a traditional Scottish event, you might want to consider pairing your outfit with ghillie brogues. These are high top wingtips with laces that are wrapped around the ankle. You would fit right in with the crowd.
Next time you hear the question, "what are wingtip shoes?", I am hoping that you would do me proud in your response. PS? you can also share your favourite way to wear wingtip shoes in the comment section. It would be most appreciated.
For more men's featured articles and recommendation, checkout our favourate Most Comfortable Tuxedo shoes for formal and wedding occasions , the most comfortable oxfords men's dress shoes, the 5 best Shoes to wear with shorts and polo shirt and 7 Best Men's Boots for Everyday Wear.
RELATED POST