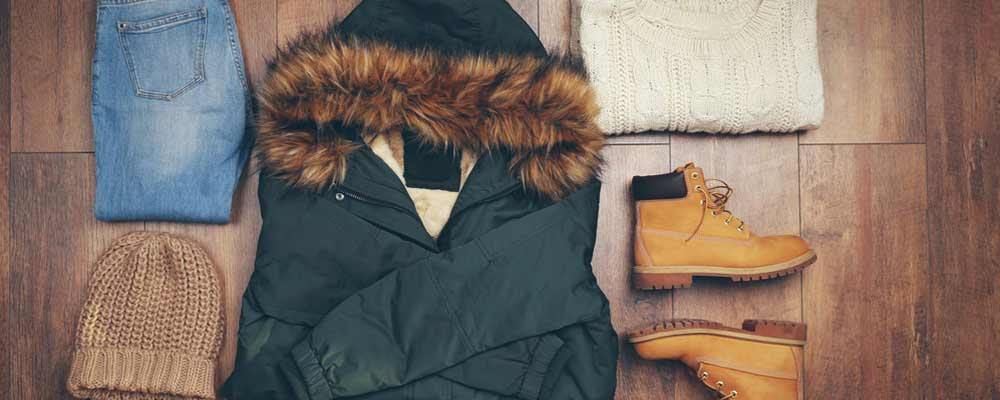 It's almost that time of year again when you put away your casual Chino's and T-shirts and bring out the Leather jackets or Wool overcoats. As seasons come and go so does fashion, want to know what's hot in men's fashion for winter? Here is your ultimate guide to a contemporary men's winter wardrobe, look trendy and stylish this year with these 15 must have men's winter fashion essentials.
Whenever you make a purchase through links on this page we make a small commission from our affiliate partners. Learn more
Corduroy Jacket
Great news for the 80's Kids, Corduroy is making a comeback this winter and it is going to be the most stylish winter outfit for guys. Top brands such as Levi's and Ambercombe and Fitch have launched a Corduroy Trucker Jacket line this winter made from 100% cotton. The trucker jacket can be worn during sub Zero Weather conditions as the Sherpa insulation is designed to perform to the highest level and keep you warm. Corduroy is an easy way to add some colour and style to your winter wardrobe.
Camel Coat
This Camel Coat is a timeless masterpiece for your winter wardrobe, perfect for office wear and for executive meetings, this is sure to be a formal favorite during winters. Stitched using luxurious microfiber fabric to make you look elegant and stylish, this is going to be the ultimate modern Men style fashion statement that will make heads turn.
Camel color is an excellent choice during winter because whilst it's a neutral color it still feels pretty bold, the welt chest and flap front pockets are the icing on the cake for this Sport coat.
Timberland Boots
Looking for a men's winter shoes style? The classic Timberland just never get old in fact, they make a bigger, better come back each year. Timberland boots are Waterproof, perfect for hiking through Snow, Water and Mud. Manufactured using 100% leather they are guaranteed to keep your feet dry even if you are walking through deep snow.
The stylish pair of boots can even be worn to office and can be described as a versatile, modern men style pair of boots. Not only are they comfortable thanks to the padded collar around the ankle they are also ultra modern.
Wool Coat
A thick woolen Winter coat, perfect for dwarfed temperatures is a must have for men's winter wardrobe, Keep yourself warm this Winter with classic wool coats, stitched with high quality craftsmanship, made from wool and cotton, Wool coats are often wind proof wind proof so not only does it keep you warm, it's stylish look ensure that you look voguish.
The coat can be worn to the office or on a night out with friends. The notched collar gives it an elegant formal look. The Single breasted Long Wool Coat is a must have men's fashion essential for winter.
Cashmere Scarf
A large winter scarf is a necessity during winter, protect yourself from catching a cold by protecting your nose, neck, chest and mouth with a warm cashmere scarf. Scarves are trending this year for men's winter wardrobe and not just for casual wear, they are even trending as formal wear.
This Fullron high quality Cashmere scarf is super soft scarf designed for men is comfortable and provides warmth, not only is it a great accessory to protect you from the cold it is also fashionable and looks trendy when paired with a complimenting coat or jacket.
Waterproof Insulated Glove
Keep your hands warm and dry during the cold, wet Winter days and nights, with waterproof gloves offer thermal insulation, they come with a pull on closure to make sure that they are secure and comfortable.
They are suitable to be worn during the snow and heavy rain, the internal waterproof insert and added fleece cuff make sure that your hands remain warm no matter how low the temperatures. They are particularly recommended for bikers.
If you want to be the optimum of modern men style this winter make sure to combine the gloves with a trendy Men's Leather jacket.
Thermal Socks
The most popular Winter socks on the market, ideally made from Merino Wool and Nylon, the best socks are the ones that are at least  15" high which means that they reach the calf to provide warmth to your feet and leg, the merino wool is recommended because they soaks odor and insulates warmth whilst the Nylon provides extra comfort.
Some thermal socks come with an XHi full terry cushion for added comfort, the socks can be worn during snow and wet weather and are guaranteed to provide comfort and warmth perfect for winter men style.
Thermal Underwear
Insulating thermal to keep yourself covered in layers to protect you from the wind, often made from ultra-soft polyester to provide comfort, can be used as an under layer during indoor and outdoor activities such as cycling or jogging. Feels soft on the skin and retains the natural heat from your body.
Fed up of looking bulk due to under layers? Feel like you're lacking behind on men's fashion for winter? The Thermajoh soft thermal fits perfectly on your body, the lightweight thermal seems almost invincible under your clothes and not only does it look invisible it also feels invisible due to its lightweight and soft material.
Crewneck Sweater
A trendy, modern men style this year is the cable stitch Crewneck sweater, these sweaters are best when made the made out of 100%cotton they do not only look trendy but feels soft and comfortable too.
The Crewneck sweater can be worn on a casual day out or as formal wear to work. Looks stylish paired with regular fit Blue jeans as worn by various celebrities such as Channing Tatunam, Ryan Reynolds and Will Smith, it is the most stylish winter outfit for guys, but it is not suitable to be worn during extremely cold weathers unless layered with a coat, it is suitable for windy weather but not for Snow or Rain.
Beanie Hat
Seeking a sleek and Stylish, trendy men's fashion for winter? Get your hands on a knitted beanie hat. Cover your ears and keep your head warm in this knitted beanie hat available in different colors.
The stylish beanie hat will keep you warm, the close knit fabric is designed to ensure the cold wind cannot escape. One size fits all and it won't fall off when the wind blows. The optimum of street style and fashion trends. Fit for indoor and outdoor use. A recommended accessory for men's winter wardrobe.
Warm Skull Cap
A good warm woollen skull cap that cover your head and ears can be bought as less as at just $8.99 this is a true bargain, Beanies came into fashion in the 2000's and have been a men's fashion for winter trend since then. They are cozy, warm and comfortable and serve as a fashion statement too. Beanies are particularly popular amongst teenage boys, but can also be worn during outdoor activities such as cycling, jogging and skiing.
Men's beanie hats are designed to fit perfectly around the head, which means it won't blow off during strong winds.
Winter Snow Boots
Is it likely to snow heavily where you are this winter? Then you need to invest in a men's winter shoes style that looks trendy, feels comfortable and keeps your feet warm in falling temperatures.
A good pair of snow boots are lightweight and provide insulation to make sure your feet remain warm and dry even in sub-zero temperatures. If you need to go out in the rain, snow or mud these shoes must guarantee to protect your feet.  Another important factor of these boots are that they must be easy to slide on and slide off as they have a closure design.
Puffer Winter Jacket
Get the Versatile Puffer jacket if you want to excel in men's fashion for winter a great modern men style jacket is quilted for protection from the wind, the jacket must have a fully zipped or buttoned front and straight collar to protect the chest and neck from chilly winds.
It can also be worn under a coat for added protection from the cold and can even be worn inside out if you want to look extra stylish. The puffer jacket was also a hit in 2018 winters and was highly adorned by Men it gives a smart look so can be worn casually and formally.
Men's Biker Leather Jacket
A premium quality leather jacket ranges from $300-$800 they are versatile and comfortable piece of clothing, trendy and stylish it is guaranteed to be durable and long lasting too. It is pretty hard to get your hands on a leather jacket that is made from 100% leather and won't cost an arm and a leg but if you manage to buy one it is guaranteed to last.
Low quality leather often becomes damaged even if they are in the wardrobe.
Thermal Shirt
Quilted sleeves and thermal lining to help you keep warm during winter nights, perfect for the slightly chilly weather, but for lower temperatures additional clothing must be worn. Looks stylish and keeps you warm. Perfect if you have a date night and don't wish to pile up with jackets or if you are headed out with the boys.
5 Best Fabrics for Winter and Cold Weather
1. Leather
The perfect for fabric to gear up your style game, leather jackets are trending this winter. They provide warmth and make men look like Hollywood superstars. This has been a classic winter favorite amongst men and women for years but recently biker jackets have been trending.
2. Wool
An incredibly warm fabric, wool creates a natural insulation and is known for being long-lasting and durable.
3. Fleece
Really comfortable and super warm a must-have in your winter wardrobe, a comfortable fleece sweater is what you need during cold, wet winter nights.
4. Cotton
A universal fabric that can be worn during summers and winters, for winters you need to get your hands on a thick cotton.  Just like wool this is also highly durable and can last for years.
5. Corduroy
This year Corduroy is making its comeback and we bet it's going to be ravishing, it looks bold and stylish and is extremely warm. A must-have men's winter fashion essential!
Now that you have seen our men's winter clothing ideas. Check out this article for the 7 Best Men's Sweaters for Cold Weather or 5 Best Men's Fall Winter Boots to wear this Season.
RELATED POST