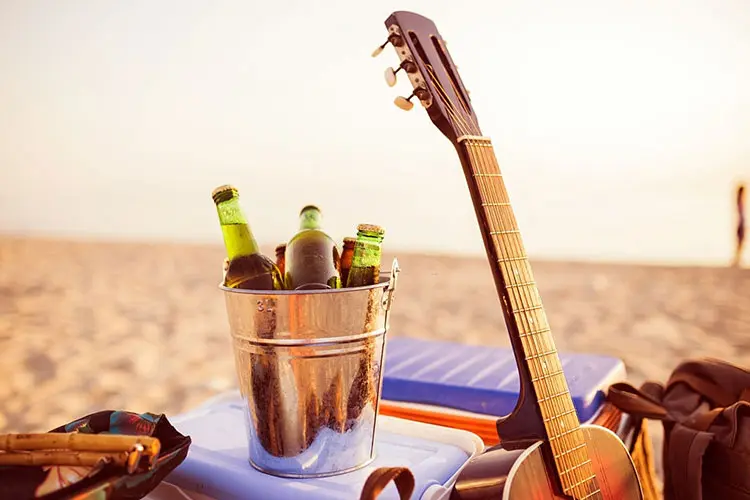 Summer, for most of us, means picnics, beach, barbeque, and many other outdoor fun. And this is incomplete without some chilled drinks to go. So having a handy cooler to transport your food and drinks is a must, especially when it has wheels. Sure, you'll like to test your strength with some heavy lifting. However, easy always does it.
So, is a cooler with wheels better? You bet. A cooler with wheels makes everything better and easier. You can carry all your stuff with ease by gently using the handle to guide the wheels. All this without breaking a sweat. Plus, you get a makeshift dining table for serving food and drinks.
 These wheeled coolers are lightweight and durable and boy, do we have some of the best ones for you! They come in different sizes, colors, and designs, depending on your budget and what you're looking for. We'll also be showing you what to look out for in choosing a great wheeled cooler. Plus, what you need for a perfect time outdoors.
Whenever you make a purchase through links on this page we make a small commission from our affiliate partners. Learn more
Can You Add Wheels To A Cooler?
If you happen to get a cooler without wheels, don't worry. These days, you can buy a wheel kit and attach it to your cooler to make it more efficient.
However, before you get the wheels, first decide what type you prefer. You can go for the single axle system or the wagon-style flatbed style. One requires attaching the wheels and securing them with the cooler tie-down slots. The other carries the cooler with a cart, and you can secure it with straps.
How to install the single axle system:
Set up the wheels' axle, then attach the wheels onto the axle. Afterwards, place the cooler onto the axle, sliding it as close to the bracket as possible. Ensure there's enough space between the cooler and each wheel before you secure the wheels.
Take the long strap that came with the wheel kit and put it through the holes in the bracket. Start from the front side of the bracket then to the adjacent holes. Make sure the strap is straight, and there are no twists or snags. And that the cam lock is slightly longer than your cooler.
You'll have two rope ends. One with a cam lock at the end of it, and the other without.
Then put the strap through the cam buckle and tighten it properly. You'll find the cam buckle at the end of the strap.
Place the cooler on the long strap close to the wheels. The bracket should be lying flat against the ground. And the space between the bottom of the axle and cooler should be 3-4 inches.
Pull the loose end of the strap through the cooler's tie-down spot. Then secure it tightly with the cam buckle.
Then attach the handle piece to the cooler's molded edge at the opposite side of the first tie-down slot.
Place the gable piece on the underside of this molded edge and put the clip through the slot. Then connect the loose end of the long strap coming from under the cooler to it.
How to use a cart:
Place the cooler at the center of the cart.
These carts are strong enough to pull up to 400 pounds, so you don't have to worry about loading up your biggest cooler.
You can also extend the length of the cart to accommodate the big coolers.
If you're carrying a small cooler, it should be placed as close to the handle as possible. This is so you can pull the carry easily without the cooler being out of balance.
Avoid putting a cooler that's longer than the base length of the cart.
You can strap the cooler to the cart to prevent it from falling.
And that's how you turn a regular cooler into a wheeled cooler.
Coleman Rolling Cooler
Xtreme Technology; Insulated lid and extra wall insulation keep ice up to 5 days in temperatures as high as 90°F

High capacity: Holds up to 84 cans

Heavy-duty wheels: Effortless rolling over any terrain

Have-a-seat lid: Closed lid supports up to 250 pounds

Cup holders: Molded into the lid to keep drinks close and prevent spilling

Telescoping handle: For easy pulling and compact storage
Prices pulled from the Amazon Product Advertising API on:
Product prices and availability are accurate as of the date/time indicated and are subject to change. Any price and availability information displayed on [relevant Amazon Site(s), as applicable] at the time of purchase will apply to the purchase of this product.
Igloo BMX 52 Quart Cooler
Heavy duty blow-molded construction with reinforced base for increased strength and protection.

Extremely durable yet lightweight with proven 4-5 day ice retention at 90°F

UV inhibitors protect the cooler against sun damage for extended life. Capacity: 83 12-ounce cans, 52 quarts (49 liters)

Rust-resistant, stainless-steel hinge rods and hardware provide extended performance.

Rubberized T-grip latches keep lid secure. Threaded drain plug is garden hose compatible and features a non-slip, easy-grip stainless steel tethered cap

MaxCold body with 20% thicker foam and insulated lid provide advanced cooling performance and up to 5-day ice retention.

Cool Riser Technology molded base elevates the cooler away from hot surfaces and improves cooling performance.

Swing-up comfort grip handles for easy two-handed carrying.

Built-in tie-down loops for securing cooler during transport.

Integrated ruler on lid easily estimates your cat
Prices pulled from the Amazon Product Advertising API on:
Product prices and availability are accurate as of the date/time indicated and are subject to change. Any price and availability information displayed on [relevant Amazon Site(s), as applicable] at the time of purchase will apply to the purchase of this product.
YETI Tundra Haul Portable Wheeled Cooler
Rotomolded Construction makes it armored to the core and virtually indestructible

The Haul is the first-ever YETI cooler on wheels. Perfect for taking the Tundras legendary toughness and unmatched insulation power the extra mile

Never Flat Wheels – A solid, single-piece tire construction that is impact- and puncture-resistant

Strong Arm Handle – A durable welded aluminum arm with comfortable grips. The curved design tracks left or right for heel-friendly towing

Rotomolded Construction - Makes it armored to the core and virtually indestructi
Prices pulled from the Amazon Product Advertising API on:
Product prices and availability are accurate as of the date/time indicated and are subject to change. Any price and availability information displayed on [relevant Amazon Site(s), as applicable] at the time of purchase will apply to the purchase of this product.
Pelican Elite Wheeled Cooler 45QT
VOLUME: True 45 quart internal volume; Molded-In handles with built in trolley handle

EXTREME ICE RETENTION: Which means your drinks and food will stay cooler for longer

Features over molded carry handle, 3 inch locking latches, reinforced lockable hasp, stainless steel bottle opener, anti-shear hinge system, molded-in tie-down slots

It features a leak-proof drain plug, integrated measuring board on lid in centimeters and inches, non-skid rubber feet

Warranty: Pelicans legendary lifetime - you break it, we replace it. Foreve
Prices pulled from the Amazon Product Advertising API on:
Product prices and availability are accurate as of the date/time indicated and are subject to change. Any price and availability information displayed on [relevant Amazon Site(s), as applicable] at the time of purchase will apply to the purchase of this product.
Koolatron Kargo Thermoelectric Cooler
31 L / 33 QUART SPLIT-LID COOLER Portable 12 V DC / 110 V AC powered cooler holds up to 42 standard 12 oz/355 mL cans with a unique split lid that lets you access contents easily even in a tightly packed vehicle

PORTABLE WHEELED DESIGN Sturdy wheels and handle make it easy to transport this 31 L / 33 quart capacity cooler from your vehicle to your campsite, boat or cottage

ICELESS THERMOELECTRIC TECHNOLOGY CFC-free thermoelectric technology and brushless fan motor efficiently cools to 40°F (22°C) below surrounding temperature or warms to 140°F (60°C), using less power than your vehicle's tail light

WARMING AND COOLING FUNCTIONS Use in cooling mode to safely store meats and keep snacks and beverages cool on the go or switch to warming mode to bring home take-out or transport hot dishes to a family gathering

MADE IN NORTH AMER
Prices pulled from the Amazon Product Advertising API on:
Product prices and availability are accurate as of the date/time indicated and are subject to change. Any price and availability information displayed on [relevant Amazon Site(s), as applicable] at the time of purchase will apply to the purchase of this product.
What Size Cooler Do I Need?
Coolers come in different types, brands, and sizes. So, finding the right size of cooler you need depends on
What you're packing,
What outdoor activity you're going for/ How many people you're packing for,
Your budget.
What you're packing:
Coolers can be as small as 8 quarts and as large as 65 quarts. The bigger coolers can weigh as much as 40 pounds, so they are very heavy. The smaller ones, on the other hand, are lightweight and so easy to carry.
An 8-quart cooler can take up to 8 drink cans and 5 pounds of ice. A 20-quart cooler can take up to 18-20 drink cans and 12-14 pounds of ice.
Now moving on to the really big sizes, the 40-quart cooler can take up to 32-35 drink cans and 20 pounds of ice.
What Outdoor Activity You're Going For / How many people you're packing for:
For a Camping trip:
To find the right size of cooler you need for a camping trip, first ask yourself, "how many people are going on the trip?" If it's just you, then you should carry a small cooler.
One reason is that you won't be eating so much, except you intend to feed a bear. Another reason is that it's not hard for you to carry. Coolers this size are usually between 8- 20 quarts.
Another thing to consider is if you're long you'll be staying. If it's a short camping trip or an overnight weekend trip, an 8-quart cooler is perfect. They're usually lightweight and roomy enough for your stuff. If you plan on fishing while camping, you might want to go for something bigger.
If you're coupling it up on this camping trip, then a 20-30 quart cooler size is ideal. You need room for more drinks and of course a bottle of champagne.
For a family, you either go big or go home. This means you're looking at a cooler size of 25-45 quarts, depending on the size of the family. If it's a trip for a whole week, that will be 45-65 quarts. However, note that these coolers are quite heavy, so you may want to go easy on the things you'll be needing. That said, it's better to go for something between 25-45.
For A Picnic
Wherever you're having your picnic, at the beach, a nice park, you don't require a large cooler. However, if you're having a picnic and inviting 10-20 people over, then go for a big-sized cooler.
So depending on how many people you're planning for, anything between 8-25 quarts is perfect.
Your budget
Depending on the brand and size, coolers can cost up to a whopping 400 dollars. So find something within your budget that can best manage other factors we considered above.
There are some brands like Igloo that are less expensive and offer good quality coolers.
How To Pack A Cooler For Camping
How you pack your cooler can affect the cooler's insulating capacity. It can determine if your food stays fresh for as long as you want it to or if you'll end up with a spoiled or soggy mess.
So to pack properly;
First, keep your cooler in a cool place. If possible, keep it inside a fridge a day before your trip, so it cools properly.
Next, layer the inside of the cooler with ice packs. You want to make sure you get good ice packs and not those that melt easily.
When packing your food, determine which foods need to stay coldest, and you will need much later. You should put these at the bottom of the cooler, while the ones you need first should be at the top.
After the first set of food, add another layer of ice packs over them. Then the next batch of food and things you need and add more ice packs over them.
Repeat this process till you've placed all you need.
After the first layer of ice packs, place a thin layer of cardboard for insulation and a foam pad between the ice packs and your food.
This is so your food doesn't fall in between the ice cubes. Also, it prevents your food from getting wet and mushy from the ice cubes melting.
You can also place insulating cardboard between your food and the top lid.
For your drinks, since it's summer, it's hot, and you'll sure be drinking a lot, place them where you can easily access them.
The best way to do this is by reserving one side for them so you can easily take a drink without leaving the cooler open for too long.
It helps if you know where you put what so you don't have to unpack and pack to find one thing. For this, pack according to the order of priority or need.
This means that whatever you'll be using immediately should be at the top, and whatever you'll use much later should be at the bottom.
If you can have a separate section for your snacks, that will be great. You can also keep your snacks in your outdoor waterproof duffel bag.
Pack your food in containers that won't leak or in sealed plastic bags. Freeze whatever can be frozen before they're put in the cooler, for example, meat, fish, some vegetables, and so on.
Since you'll be reaching for drinks a lot more than other things, you might want to consider getting a separate cooler for them. This will help your food stay cooler longer because it won't be opened that often.
As your containers empty, you can use them to store the water from melted ice. The water in these containers will still be cold, which will help keep your things cold.
With these tips, you should not have any issues packing your cooler. Also, your food and drinks can stay fresh, clean, and cool throughout your camping trip or picnic.
How To Choose The Best Wheeled Cooler
When choosing the best-wheeled cooler, you should consider:
Type
Insulation ability
The size and capacity (depending on what you need)
Features of the cooler
Type
Coolers are either hard coolers or soft coolers. Hard coolers have a hard body with built-in cup holders. Plus, they provide a nice place to sit or place things on.
Soft coolers, on the flip side, have a soft body. This makes them flexible and easy to store. It can be hard to find soft coolers with wheels, but they exist. Some brands offer wheels and handles for easy use.
Insulation
It wouldn't be a cooler in the first place if it didn't come with insulation. However, some coolers have better insulation capacity than others. And this is a major thing to consider when choosing a cooler.
You want to go for a cooler that can keep things cold for up to a week. However, if you don't have the budget for that, a day or two of cooling will just have to do.
Some coolers use foam for insulation which is very effective. High-quality coolers feature insulation in the sides and lid of the cooler. These ones are, of course, more expensive.
The Size and Capacity
With coolers, there are sizes ranging from small 8 quarts to over 100 quarts. Small coolers are lightweight, portable and they take up less storage space.
Large coolers, on the other hand, are heavy and take up a lot of storage space. You also need to have a car with a trunk big enough to transport it. Also, moving it around at the picnic spot can be tough, especially in a crowded area.
However, large coolers have a large capacity to store things. And when it has a hard body, it easily doubles as a seat or table.
Features Of The Cooler
A major feature of a wheeled cooler is that it's portable. Portability is determined by different other features like the size, wheels, handle, and so on. We've discussed the size already.
So for the wheels, some wheels are made for rugged terrains, like rubber wheels, which are ideal for camping. Other wheels, like plastic wheels, are made for softer terrain like grass or pavement.
The wheel can also be threaded or smooth. Treaded wheels are great for rough terrain, while smooth wheels are best for smoother terrains like perfect grass or pavement.
Then for the handle, the length should be long enough to be pulled while standing. Also, it should be properly placed, so it isn't uncomfortable.
Other additional features the cooler may have are:
Built-in cup holders,
Removable shelves or compartments for easy organization
Bottle openers
Mesh pockets
A hard surface that doubles as a seat, and so on.
So 5 best coolers with wheels to get are:
Coleman rolling cooler
Igloo sportsman series
YETI Tundra Haul portable wheeled cooler.
Pelican Elite wheeled cooler
Koolatron W65 12V Kargo Electric Wheeled Cooler
Now get ready to beat the heat this summer with these best-wheeled coolers. Don't forget to wear something fun and light like a Hawaiian shirt.
You can have an even better camping or outdoor experience when you check out these articles:
8 Best Family Tent with Blackout for Camping