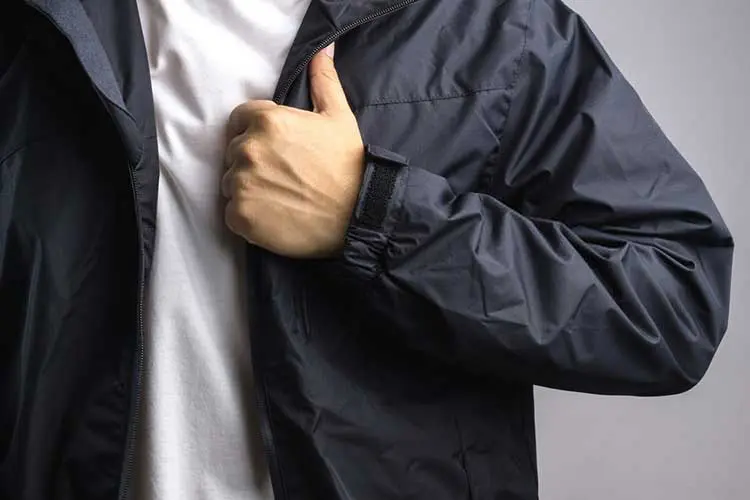 We love to bring out our rain jackets whenever heaven chooses to release her waterworks. So, it can be disappointing to find out your rain jacket isn't so waterproof after all. So, before you know it, you're water-logged. As such, it's important to know if your jacket is 100% waterproof to avoid unpleasant surprises.
But first, how do you tell if a jacket is a rain jacket anyway? You can tell that a jacket is a rain jacket by looking at what fabric it's made of: nylon, polyester, polyamide leather, etc. They also come with multiple layers to prevent water from coming through. Other features like sealed seams and waterproof zippers are typically on these jackets to provide more protection.
Do you know some rain jackets are water-resistant and not waterproof? What's the difference between these two qualities? Well, in this article, we'll be covering everything you need to know to tell if your rain jacket is 100% waterproof. And the best rain jacket to buy to get you prepped up for the next rainy season. And, of course, we can't leave out style. So let's get right to it.
Whenever you make a purchase through links on this page we make a small commission from our affiliate partners. Learn more
How Do I Know If A Jacket Is 100% Waterproof?
Generally, waterproof jackets feature waterproofing technology like a waterproof breathable membrane, laminates, sealed seams, and so on.
The waterproof breathable membranes used in waterproof laminates are made to allow air to pass through the fabric and body vapor to escape. And at the same time, sealing out all outer moisture.
However, even with this, if the seams of your jacket aren't sealed, water can still pass through. So sealing all seams helps ensure maximum protection from water.
This can be done by taping the seams with waterproof tape. But better than this is by welding the seams. That is, instead of stitching, the seams are joined by using glue or sonic bonding. This takes care of the bulk or susceptibility of stitching.
If you want to know the waterproof rating of your jacket, do a static column test. Sounds complicated, but it isn't.
These are big words for testing using a one-inch diameter tube and placing it on the fabric. Then slowly fill the tube with water. Once you spot water leakage, note the height of the tube, and that becomes the waterproof rating of your jacket.
If the fabric doesn't leak until the water is up to 6000mm, the fabric is considered rainproof but under light rain. And at 20,000mm and above, then the fabric can withstand a heavy downpour.
Which Jacket Is Best For The Rainy Season?
Rain jackets come in different styles and levels of thickness. So you can either choose a jacket based on the style or based on the type or number of layers.
On type or layers, rain jackets come in different numbers of layers.
2 layer rain jackets: This is the most common type of rain jacket. It features an outer waterproof covering. And it has an inner lining made of mesh, polyester, or taffeta. The inner layer helps the outer covering last longer by protecting it from the wearer's sweat and movement.
5 layer rain jackets: This jacket has the same features as the one above but with an additional inner thin polyurethane layer. This layer protects the inner or second layer from dirt and sweat. So the jacket stays breathable.
3 layer rain jackets: The difference between this jacket and the 2 layer jacket is that all three layers are bonded as 1 layer jacket.
3 in 1 layer rain jacket: This features a detachable inner pad or softshell making it a versatile jacket.
On style, you can go for:
A business rain jacket: This is the best rain jacket style to wear to work and for formal events. You should get one that's comfortable and stylish with a neutral color and a beautiful design. Also, sharp side pockets make a great addition
Hooded rain jacket: This is the most popular and stylish rain jacket. Not only does it protect you from rain, but the hood offers protection to your head and face from the elements. This makes it ideal for hikes and road trips. Pair with an amazing pair of hiking or running shoes depending on which one you're on.
Waterproof bomber jacket: Bomber jackets are stylish, comfortable, and a great look for the rainy season.
Is A 100% Nylon Jacket Waterproof?
Nylon is a great water-repellent fabric. Plus, it's got super moisture-wicking abilities. This means that it wicks off sweat from your skin, leaving you dry and comfortable even during physical activities.
Another great thing about nylon is that it's lightweight, making it a great choice for the fall or spring seasons. And it's breathable. This allows you to carry out physical activities without getting too hot and uncomfortable.
What Makes A Rain Jacket Waterproof?
Waterproof rain jackets feature a coated or laminated membrane made with Teflon or Polyurethane. This membrane has holes small enough to let vapor out while keeping water from getting into the jacket. This is what allows the jacket to stay breathable.
Another feature is the tri-coat mesh lining bonded to the laminated membrane to protect it from dirt and sweat.
The outer fabric of a waterproof jacket may not even be waterproof. However, you can apply DWR to it to prevent the saturation of your jacket.
Is Waterproof The Same As Water Repellent And Water Resistant?
Waterproofing is not the same as water repellant or water-resistant. The difference is in how much protection from the water they offer.
Basically, water-resistant offers the lowest level of protection, while water repellant offers a medium level of protection. And waterproof offers the highest level of protection from water.
So with water-resistant clothing, you can survive light contact with water, like spills or drizzles. Water repellent clothing, on the other hand, can take light rain and water splashes. But if you want to survive heavy downpours, then go for waterproof clothing.
Why Is My Waterproof Jacket Not Waterproof?
Sometimes it's not really your jacket that's not waterproof enough. What happens is that waterproof jackets are made to be breathable. And this allows internal vapor to pass through while blocking out water from getting in.
Sounds cool, right? But the problem is that we sometimes sweat way more than the breathable fabric can handle. And so the vapor within can't escape as much as it should, which leaves your clothing feeling damp. At such times, you begin to think rain got into your waterproof jacket when it's really you.
But don't sweat it too much; it can be helped. Treating your coat with DWR (Durable Water repellency) coating helps prevent the surface of your jacket from becoming saturated.
This means that water droplets on your jacket will bead and roll off. However, DWR isn't permanent. It wears off and should be reapplied when this happens.
How Can I Make My Jacket More Waterproof
Over time, our waterproof jackets begin to underperform. Thankfully this can be helped. How?
Wash your waterproof jacket: This helps get rid of oil, dirt, sweat, smoke, and other things that can clog the waterproof membrane. You should do this after 5 to 6 wears. And when reapplying DWR, wash the jacket first to get rid of contaminants so the DWR will stick to the jacket's surface.
Dry your jacket: Drying your jacket helps reactivate the water repellant treatment. So you can dry it out in the sun or toss it in the dryer but check the jacket label first.
Re-apply DWR: It's better to use a spray-on DWR than a wash-in one to control where you want the DWR. And let the DWR dry before you use the jacket. You should apply DWR every 6 to 12 months, depending on how often you use your jacket.
Does Washing A Waterproof Jacket Ruin It?
Contrary to myth, washing a waterproof jacket does not ruin it. Instead, it helps revive the waterproofing ability of the jacket. So you should wash your waterproof jacket and here's how:
Do not use regular detergent to wash it; rather, use a cleaner specifically designed to wash this sort of jacket. This is because regular detergent can tamper with the waterproof coating of the jacket.
Remove dirt or loose mud from the jacket before washing and close up zips and flaps on the jacket. Also, removable detachable parts like a hood or collar in case it needs to be washed in some other way.
Clean out your washer of regular detergents and toss the jacket in. But put only the jacket in or one other garment with it.
Wash and rinse at a complete cycle at 30 degrees. Or check the label for specific care instructions. Rinse your jacket thoroughly to wash out any residue from the cleaner used.
Then dry in the sun or use a dryer.
If you notice that your jacket is no longer repelling water, then it's time to apply a DWR.
Do Rain Jackets Wear Out?
Rain jackets do wear out. This is why you shouldn't wear it so often unless you need to. Wearing it a lot will make it get dirtier faster, and this will require more washings.
You can take care of diminishing waterproofing abilities by reapplying DWR. And also, check the seams for any leaky areas. If you spot any open or torn seam, have it fixed immediately. It's best to take it to where it can be fixed properly rather than do it yourself.
You may have gotten an awesome jacket and had many good runs with it. If it's gotten worn beyond repair, it's time to let go and get a new jacket. An example is if it's delaminating or you notice flaking or bubbling on the inside of the material.
How To Choose A Waterproof Jacket
When buying a waterproof jacket, don't just buy anything. You should look out for the following:
Hardshell or soft shell: Softshell jackets are breathable and lightweight. But they are more of water repellent jackets than waterproof jackets. While they can keep you dry during light showers, moisture, and snow, they can't protect you from a heavy downpour. On the other hand, hardshell jackets are windproof and waterproof. But they are less breathable than the softshell jackets.
Check the seams: Waterproof jackets either have welded seams, fully taped seams, or critically taped seams. For welded seams, the seams on the jacket are glued together rather than stitched. For fully taped seams, every seam on the jacket is taped to prevent leaks. While critically taped means that only areas that are easily exposed are taped. Areas like the neck, shoulders, and chest.
Lightweight, midweight or heavyweight: You can get a lightweight jacket if you don't plan to use it much in the rain. If you're going to stay long in the rain, then a mid-weight jacket is best. And if you're expecting it to rain cats and dogs, then opt for a heavyweight jacket for more water protection.
Layers: For the best protection from rain, go for a 3 layer waterproof jacket.
Breathability: Get a jacket that's breathable, especially for when you're going on a hike or biking.
A hooded jacket is your friend: Hoods act as windbreakers. With a hood, your head is protected from the elements like rain, wind, and so on.
Pockets are gold: Get a jacket with pockets for convenience. So you have a waterproof place to store your items. And the pockets should be lined with mesh for breathability.
Know the difference between water-resistant and waterproof: Thankfully, we've talked about this already. Then again, The label of the jacket may tell you this.
Fitting is everything—almost: Make sure you get the proper fit. The jacket should be big enough for free movement and to fit in two extra clothes underneath. And long enough to cover your upper body well. Because what's the point of a waterproof jacket if areas of your body are exposed?
Stick to your budget: While you want to stick to your budget, set it at a reasonable price so you can get a great waterproof jacket.
Bottom line, while you can get a really great waterproof jacket, it is doubtful you can get one that's 100% waterproof. However, if you have one with a 20,000mm rating, you have more than you can imagine.
So there you have it. The science of waterproofing at your fingertips. Put this knowledge to use when next you shop for a new rain jacket. If you need help with that, check out these articles:
Three Top-rated Men's Winter Jackets To Buy Now On Amazon