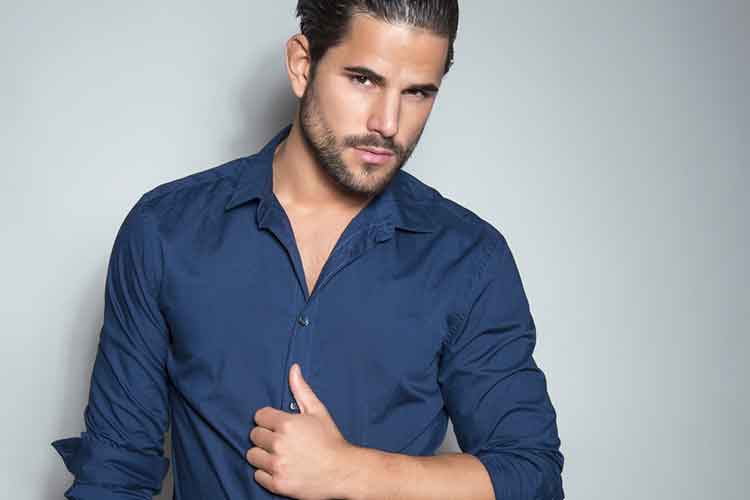 Consider upgrading your wardrobe. In that case, it's time to break away from the classic, neutral colors and incorporate bold hues into your collection. Dress shirts are an excellent starting point for experimenting with colors and adding variety to your outfits.
While it may seem daunting to stray from the tried-and-true white or blue dress shirt, adding some vibrancy to your closet can greatly impact your overall style. 
So, how much does a nice dress shirt cost? It depends on where you shop and what brands you're looking at. You can find dress shirts for as little as $20, but if you're looking for a higher quality shirt or a designer brand, expect to pay upwards of $100 or more. It's always a good idea to shop around and compare prices to find the best deal on a shirt that fits your style and budget.
With so many color options available, figuring out where to start can take time. That's why we've curated a list of the eight best dress shirt colors to add to your collection.
Whenever you make a purchase through links on this page we make a small commission from our affiliate partners. Our ultimate goal is to provide our readers with actionable insights and practical tips that they can use to improve their daily lives. Learn more
The Best Dress Shirt Colors To Buy
Lavender Dress Shirts
Buy on Amazon
Prime
eligible
A lavender dress shirt is a good choice for the spring and summer, as it exudes a fresh and airy feel that is perfect for the warm weather. The unique appeal of a lavender dress shirt lies in its versatility and ability to complement different skin tones. Incorporating lavender into your wardrobe can be done in various ways, from pairing it with classic navy or gray suits for a formal look to wearing it with light-colored chinos or jeans for a more casual outfit.
To make the most of a lavender dress shirt, it's important to pay attention to the fit and cut of the shirt, ensuring that it's neither too tight nor too loose. Accessorizing with complementary colors and patterns, such as a navy or gray tie, can add a stylish touch to your outfit. Ultimately, the key to wearing a lavender dress shirt is to wear it confidently and own your style.
Related Read: 7 Best Shirts for Big Belly Men
Pink Dress Shirts
Buy on Amazon
Prime
eligible
Although the notion that pink clothing is exclusively for women has been deemed antiquated for quite some time, some men still struggle to pull off this hue confidently. First, it's important to note that shades of pink can suit different skin tones. For instance, light or pastel shades work well for men with fair or light skin tones, while darker shades, such as magenta or fuchsia, look great on men with darker skin tones. 
When pairing a pink dress shirt with other clothing items, it's important to keep it simple and opt for neutral colors such as gray, navy, or beige. Pairing a pink dress shirt with a navy suit or gray trousers can create a classic and sophisticated look while wearing it with light-colored chinos or jeans can create a more casual and relaxed look. Ultimately, the key to confidently wearing a pink dress shirt is to own it and wear it with pride, knowing that you look great and unique.
Pastel Dress Shirts
If you need more clarification about adding color to your wardrobe, pair a pastel piece with something neutral. The trend towards pastel dress shirts for men is becoming increasingly popular, as men are branching out from traditional colors like white and blue. Pastel colors are soft, and calming and offer a refreshing change from darker, bolder hues. Some popular pastel shades for dress shirts include baby blue, pale pink, lavender, mint green, and light yellow. 
To wear a pastel dress shirt without looking too flamboyant, it's important to keep the rest of your outfit simple and understated. Pair a pastel dress shirt with a neutral suit, like gray or navy, or with khaki pants for a more casual look. Choosing a pastel color that complements your skin tone is also important. For example, if you have a warmer skin tone, opt for a pastel shirt with a yellow or orange undertone, while cooler skin tones look great in pastels with blue undertones.
Buy on Amazon
Prime
eligible
Patterned Dress Shirts
Buy on Amazon
Prime
eligible
Wearing a patterned dress shirt can add a touch of personality and charm to any outfit without being too loud or flashy. From classic stripes and checks to bold prints and florals, there is a wide range of patterns to choose from, and each one can convey a different vibe. For a more formal look, stick with subtle patterns like micro checks or pinstripes, which pair well with solid-colored suits and ties.
 Wear a bolder pattern like gingham or plaid for a more casual outfit, and pair it with jeans or chinos. Don't be afraid to mix patterns either; just make sure to keep the colors complementary. For example, pair a navy and white polka dot shirt with a burgundy and navy striped tie. Overall, a well-chosen patterned dress shirt can make you stand out in the best way possible.
Black Dress Shirt 
Buy on Amazon Primeeligible
Every man should have a black dress shirt in his wardrobe, as it's a versatile piece that can be worn in various settings. A black dress shirt is popular for formal occasions, such as weddings, business meetings, or black-tie events. It exudes confidence and masculinity and is a great alternative to the classic white dress shirt. When pairing a black dress shirt, it's essential to keep the color scheme in mind. 
Black goes well with almost any color, making it easy to pair with different outfits. For a classic look, pair a black dress shirt with a black suit or trousers, while for a more casual approach, pair it with dark-wash jeans and boots. To keep a black dress shirt crisp and fresh, ensure it's properly laundered and ironed before wearing. Avoid using bleach or harsh chemicals, as they can damage the fabric and cause it to fade over time.
Crisp White Dress Shirts
Buy on Amazon
Prime
eligible
If you're going to a formal event, a white dress shirt will always be the perfect match for any color suit. However, there's more to white dress shirts than just wearing them with a suit. They can also be worn with casual outfits, making them one of the most versatile pieces in a man's wardrobe.
 There are several types of white dress shirts, such as the classic button-down collar, the spread collar, and the wingtip collar, each with its unique style. A white dress shirt is considered a timeless classic because of its versatility, elegance, and simplicity. It's a staple item that can be dressed up or down and is perfect for any occasion. To keep your white dress shirt looking its best, it's important to wash it properly and store it in a cool, dry place away from direct sunlight. With its classic appeal and versatility, a white dress shirt is a must-have in any man's wardrobe.
Light Blue Dress Shirts
Buy on Amazon
Prime
eligible
Light blue dress shirts are a versatile choice that can elevate any outfit. This classic color is perfect for both casual and formal occasions, making it an essential piece in any man's wardrobe. Pairing a light blue dress shirt with a navy suit will create a classic, sophisticated look. It can also be paired with khakis or jeans for a more casual yet put-together outfit.
When choosing a light blue dress shirt, there are many shades to choose from, such as sky blue, baby blue, or periwinkle. It's best to select a shade that complements your skin tone and pairs well with the rest of your wardrobe. Keeping the shirt simple and minimalistic is key to ensuring that it pairs well with various outfits.
Related Read: The 7 Most Stylish Dress Shirt Colours For Men
Frequently Asked Questions
Why Are Most Dress Shirts Blue?
Blue dress shirts are popular because they give off a professional and successful vibe. Navy blue, in particular, is linked with success. Lighter hues of blue, such as sky blue, can give off both a powerful and friendly appearance. 
Blue is a primary color, so it can be easily paired with other colors like black, white, gray, brown, beige, yellow, red, orange, purple, and other shades of blue. Furthermore, it complements all skin tones, making it a universally flattering color choice.
What Is The Best Color To Wear Under A White Dress Shirt?
If you're unsure which color to wear under a white dress shirt, choosing a shade that matches your skin tone is best. While some people choose white or black undershirts, they can show through the white shirt and detract from your overall appearance. Instead, consider a nude or flesh-toned undershirt that closely matches your skin color. 
This will create a seamless look to stay on top of your outfit. Try a light gray undershirt if you're worried about sweat stains. Remember, the purpose of an undershirt is to provide an extra layer of protection and prevent your skin from being visible through your dress shirt. So, choose a color that accomplishes this without causing any additional distractions.
What Pants To Wear With Patterned Shirt?
When it comes to fashion, choosing the right pants to go with a patterned shirt is crucial. To ensure that your outfit looks great, stick to solid-colored pants that complement the color scheme of your shirt. If your shirt has warm colors like red, yellow, or orange, opt for neutral shades like black, white, or gray.
However, if your shirt has cool tones like blue or green, choose pants in similar shades or complementary colors like navy blue or khaki. Additionally, it's important to consider the style and material of your pants. If your shirt has a busy pattern, pair it with simple, straight-legged pants in a solid color. 
Conversely, if your shirt has a simple pattern like stripes, you can experiment with bolder pants like bright-colored chinos. Remember to balance the patterns and colors and choose pants that flatter your body type and overall style to create a great outfit.