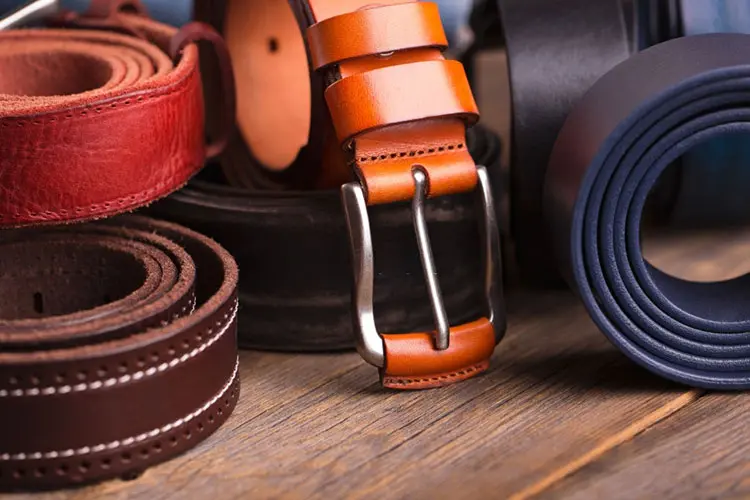 A belt is one of those accessories you only consider once you get dressed. 
And if you're looking to add some support to your favorite pair of jeans, they serve as the focal point of your outfit while showing off a dash of style and sartorial care.
So, what type of belt should I wear with jeans?
As a general rule, dark denim pairs well with narrow belts, while light denim goes better with wider belts. Leather belts are a great choice for jeans and can be paired with either wide or narrow belts. Overall, The type of belt you should wear with jeans depends on the color and formality of the jeans. 
 In this article, we rounded up all the best men's belts to wear with jeans, ranging from leather to nylon to reversible belts and everything in between. 
Timberland Men's 35mm Classic Jean Belt
Looking for an easy way to enhance your wardrobe? Consider adding a classic leather belt in a neutral color. It's a timeless accessory that can add versatility to any outfit, whether you're dressing up for work or keeping it casual. Timberland's Classic Jean leather belt is a fantastic option that offers both style and affordability. You don't have to break the bank to add this valued accessory to your collection, no matter where you wear it – on a job site, in the office, or out and about. A neutral leather belt is a wardrobe staple that can elevate any jeans and shirt look. With Timberland's Classic Jean leather belt, you're getting both quality and value at a price that won't hurt your wallet. So why not add this fail-safe accessory to your everyday wardrobe?
Buy on Amazon
Prime
eligible
Related Read: Best Jeans for Men With No Butt
Levi's Men's Reversible Jeans Belt
Levi's reversible Two-in-One belt is a practical and stylish accessory that offers great value for its quality and price. With its rotative buckle, you can effortlessly switch between a black and brown belt, making it a versatile choice for any outfit. Made of genuine leather, this belt is durable and comfortable. At under $30, it is an affordable option from a renowned brand that guarantees excellent craftsmanship.
Buy on Amazon
Prime
eligible
Fossil Reversible Black/Brown Belt for Men
Fossil has truly outdone itself with the creation of its latest belt. It embodies all the best qualities a guy could want in a belt, making it a versatile accessory that can be paired with any outfit, whether a suit or jeans. Furthermore, it possesses the transformative qualities of a statement belt while still maintaining the practicality of a reversible belt. With sizes ranging from 32 to 44 inches, Fossil has ensured that everyone will be able to find a size that fits them perfectly.
Buy on Amazon
Prime
eligible
Dockers Men's Leather Casual Belt
For over 30 years, Dockers has been the go-to brand for khaki pants. It was a natural move for them to create a line of men's belts that complement their collection while maintaining their high-quality standards. A brown leather belt is a must-have staple in your wardrobe, especially if you tend to lean towards neutral styles.
Buy on Amazon
Prime
eligible
Columbia Men's Everyday Casual Belt
Columbia is well-known for its commitment to outdoor sportswear, which emanates through its thoughtful approach to design. This study strap casual dress belt is ideal for big and Tall men since it fits waist sizes up to 4x.
Buy on Amazon Primeeligible
Steve Madden Casual Everyday Leather Belt
Looking for a belt that can effortlessly take you from a casual day to a more formal event? The Steven Madden leather belt is a classic choice for any style and lifestyle. Crafted with bonded leather, this reversible belt is smooth to the touch and perfect for the versatile man who wants a reliable accessory. Whether you're dressing up or down, this belt is a must-have in your wardrobe.
Buy on Amazon
Prime
eligible
Tommy Hilfiger Men's Jeans Belt
You can seldom go wrong with a detailed logo-stamped belt to finish a look. Tommy manages to offer a belt that feels both luxurious and laidback all at once, though. A summer-ready design ready to be styled with your favorite jeans, slacks or khaki, shirts, and booths. 
Buy on Amazon
Prime
eligible
Calvin Klein
Everyday Two-In-One Reversible Belt
 If you're buying a men's leather belt, just consider matching your belt to your shoes and other leather accessories. Black goes with black, brown goes with brown, and you really shouldn't mix the two together. This Calvin Klein reversible belt gives you the option to wear your jeans with black or brown shoes.
Buy on Amazon
Prime
eligible
Groove Life Nylon Belt with Magnetic Aluminum Buckle
Looking for a belt that can keep up with your active lifestyle? Check out the Groove Life men's nylon belt, proudly made in the USA. With a durable strap that stretches slightly for added comfort, this belt is easy to adjust and features strong magnets in its latch mechanism for quick and effortless use. It's the perfect choice for hard-working dads and weekend warriors alike who need a reliable everyday belt.
Buy on Amazon
Prime
eligible
Lucky Brand Men's Leather Belts
Choosing a Lucky Brand Men's Leather Belt is a smart choice that is hard to go wrong with, as long as you choose the right size and color to match your outfit. The buckle is sturdy, easy to use, and adds a nice touch to the overall look of the belt. This belt is made of high-quality leather and has a simple yet classic design that can complement a wide range of outfits, making it a versatile accessory for any wardrobe.
Buy on Amazon
Prime
eligible
Calvin Klein Men's Casual Buckle Belt
These will be your go-to weekend belts, perfect with slim-fit, straight cut or relaxed tapered jeans. If you want a belt made from 100% leather, everyday style and upscale finesse, this Calvin Klein is the perfect choice if you're on a budget.
Buy on Amazon
Prime
eligible
Tommy Hilfiger Fabric Belt with Harness Buckle
The Tommy Hilfiger brand is primarily known for its preppy and classic clothing styles. It is often associated with the "Ivy League" look, featuring classic designs such as polos, chinos, and button-up shirts. . This Tommy ribbon fabric belt features a harness buckle that will add a touch of sophistication to your jeans or any outfit.  
Buy on Amazon
Prime
eligible
Carhartt
Casual Rugged Belts
Carhartt is a brand that is widely recognized by construction workers, farmers, and other professionals who require clothing that can withstand harsh working conditions. If you're looking for the same level of durability in a belt, then look no further. This belt is designed to last and is crafted with premium materials such as full-grain leather and a robust metal buckle.
Buy on Amazon
Prime
eligible
Wrangler Men's Every Day Belt for Jeans
The Wrangler Mountain Casual Every Day Belt features a simple leather strap and a sleek silver-tone buckle, making it a versatile accessory that can complement a variety of outfits. Whether you're going for a relaxed, casual look with your favorite jeans and t-shirt, or dressing up with dress pants and a button-up shirt, this belt is a great option. As the leather ages, it develops a unique patina that adds character and enhances its overall appearance.
Buy on Amazon
Prime
eligible
Choosing a Belt
The finest belts only improve with time, much like a fine pair of leather boots. They should last you for years if you prioritize casual belts and dress belts crafted from reliable materials, such as sturdy yet flexible leather. Fabric alternatives can also be a great option, but make sure they are made from woven or webbed textiles. These thicker, stronger fabrics are more adept at enduring impacts and scrapes.
Styling Leather Belts with Jeans
It's important to create a cohesive look when styling leather belts with jeans. To achieve this, consider your belt's color, width, and material, and choose one that complements your jeans. Whether you're wearing skinny jeans, straight-leg jeans, or bootcut jeans, there is a belt that can work for you. Don't hesitate to showcase your style with statement buckles. By following these tips, you can style your leather belts with jeans like a pro.
How Thick Should a Belt Be for Jeans?
For denim and casual wear, we recommend the 40mm width. This kind of belt fits perfectly in the loops of your jeans and has a nice weight when worn with denim or other casual pants. This width suits almost all occasions except for the most formal ones. Its versatility makes it an excellent choice.
What Is The Most Versatile Belt for Men?
A plain leather belt is arguably the most versatile and easy to wear. They can vary in their detailing, from contrasting stitching to different colour metal hardware, but plain belts can be worn with everything from tailoring through to denim jeans and shorts. This is largely due to their minimalist designs
What Color Belt Is Most Versatile?
A black leather belt is the ultimate accessory to take your outfit to the next level. Its versatility makes it an essential piece for any wardrobe. Whether you're wearing black, grey or navy clothing, or a bold and colorful ensemble, a black leather belt is guaranteed to elevate your look. A black leather belt is the clear choice for a timeless and sophisticated appearance.
Every man must own a black and brown leather belt, as these are the two most versatile colors. Your decision should be based on the color of shoes you wear most frequently. If you frequently wear black shoes and boots, it is absolutely necessary to have a black belt in your wardrobe.