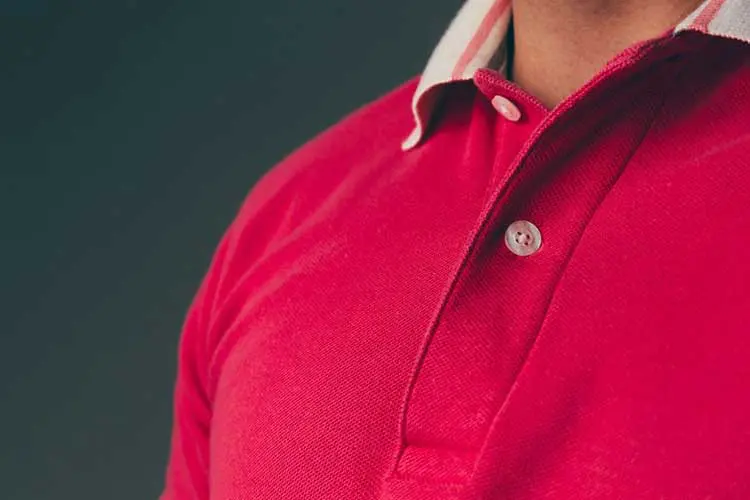 Polo shirts are known for being comfortable and versatile, as well as a necessary piece of clothing for every wardrobe. Its signature collar and short sleeves make it the perfect bridge between casual and formal that any guy can pull off, even a fat guy—effortlessly.
However, if you're not convinced and still wondering, "do polo shirts look good on fat guys?" The answer is, polo shirts can look good on fat guys. It's all about knowing the right ways to wear it. You can dress up the polo shirt and look formal or go casual. And you also have the option of smart-casual.
So as a fat guy, even though you can don a polo shirt anytime, you need to consider some things to find the right fit for your body. And of course, being able to make a stylish impression also matters. And that's why we'll go over the ways to wear polo shirts for a fat guy, covering all the tricks of the trade.
 Whenever you make a purchase through links on this page we make a small commission from our affiliate partners. Learn more
How Can A Fat Guy Look Good In A Polo Shirt?
The struggle is real for a fat guy in looking good in a polo shirt. There's the temptation to go too big to hide extra body layers. And the temptation to go smaller, which is not always a flattering look with bellies sticking out from under the shirt or shirt cuffs boring into the skin.
To help with this struggle, let's see how a fat guy can look good in a polo shirt:
Find the perfect fit: A well-tailored fit is a way to go, something that rests lightly against your body frame. Not only do you look sharp, but it also hides problem areas giving you a clean silhouette.
Pick your colors wisely: simple and bold colors are your friends if you're a fat guy. This doesn't mean you should only wear black because other colors can produce a similar slimming effect. Colors like chocolate, brown, olive green, navy blue, and so on. You can also wear brightly colored polos if you choose; just stick to colors that go with your skin tone.
Tuck in: Tucking in your polo shirt into your trouser emphasizes your waistline.
Create some structure: Polo shirts draw the eyes downwards rather than across the body, which is good for a fat guy. You can wear a polo shirt with a sharp blazer, slightly padded to square off your shoulders and cover belly fat. Or you can throw on a sports jacket for a smart casual look.
Choose the right fabric: Polo shirts can be thick or light depending on the brand and weave. Thick polo shirts add more bulk to your frame, while thin ones will show off fatty areas. Something in between should do the trick. Thankfully some polo shirts are made from 100% cotton or pique cotton, so you should be fine.
Go for a darker wash of jeans or beige chino pants.
What's The Best Fit Polo Shirt For Fat Guys?
As a fat guy, when you wear a polo shirt, you want to wear it right. As such, here are a few things to consider in getting the best fitting polo shirt for you:
Sleeves
One of the things to love about polo shirts is their short tight sleeves that have a tighter cuff. Nonetheless, it's not uncommon to see the long sleeve versions these days.
It can be hard, as a bigger guy, to find the best sleeve fit. This is because nobody wants sleeves so tight that the cuffs eat into the arm.
However, for polo shirts, tight sleeves may not be so bad after all. It can give the impression of having muscles, even if it's simply fat. Still, you don't want anything too tight. You should be able to easily slide a finger in between your skin and the sleeve.
Length
The length of your polo shirt should go below the bottom half of your zipper. This is to make up for the extra length required for your belly. That way, your underbelly won't stick out when you lift your arms.
But if you plan to tuck in the polo shirt, you should go for a slightly longer length, so your shirt stays tucked in.
Classic Fit
There are three polo shirt fit options available for men: slim fit, custom fit, and a classic fit. And it's a no-brainer that fat guys should avoid the slim fit, which leaves us with the custom and classic fit.
Custom-fit is somewhere in the middle between a slim fit and a classic fit. So it's longer than a slim fit but shorter than the classic fit and gets slimmer as it approaches the torso. This fit also features higher armholes. Now, this can be quite unflattering for a big guy, so your best bet is the classic fit.
The classic fit drapes nicely against your body and provides the necessary comfort and movement you need.
8 Best Polo Shirts for Fat Guys
IZOD Big and Tall Performance Stretch Polo Shirt
While the right polo shirt for a big guy needs to be fitted, you also don't want it to be too tight. You should be able to slide your finger between the end of the sleeve and your arm. Not only must it fit right but having a polo shirt that helps you to sweat less is a plus. The IZOD Performance Polo Shirt gives you that advantage with its moisture-wicking properties. This wardrobe addition comes in a variety of colors and machine washing make it easy to care for.
Check Latest Price on Amazon
Columbia Golf Men's Omni-Wick Drive Polo
This golf polo shirt from Columbia has been designed to keep you outdoors longer, no matter what the weather throws at you. It's good for warm weather as it keeps you cool and comfortable when out golfing. And it helps protect you from the sun's harmful UVA and UVB rays. With its moisture-wicking fabric, it quickly evaporates sweat from your skin. This Omni-wick drive men's polo shirt offers some tasteful colors for you to choose from.
Check Latest Price on Amazon
Related Post: 8 Athletic Fit Polo Shirts For Muscular Men
Nautica Performance Deck Polo Shirt
An overwhelmingly popular piece of clothing by Nautica is their polo shirt. Thanks to its warm and soft fit, its fabric doesn't fade that easily. This Nautica Performance Deck Polo Shirt is available in several sizes all the way up to 3X-large. The Classic fit deck polo shirt features a Button front closure and a Vented side seam.  Enhanced to keep you dry, the material is made with moisture-wicking fabric.
Check Latest Price on Amazon
Tommy Hilfiger Short Sleeve Polo Shirt
The  Tommy Hilfiger polo shirt in its true form, is stylish, durable and classic. Shaped from 100% organic cotton, it's a solid go-to shirt for occasions that are calling for something nice. Available in a myriad of colors, and featuring its signature embroidered flag on the chest. This makes a worthy addition to any large guy's wardrobe.
Check Latest Price on Amazon
Hanes  EcoSmart Jersey Polo Shirt
The jersey polo shirts are made of a soft -comfortable blend of cotton and polyester which has resistant to wrinkles. Hanes Ecosmart uses 5% of recycled fibers from plastic to make this shirt. So, by wearing one of these shirts you are helping the environment.
Check Latest Price on Amazon
Under Armour Men's Tech Golf Polo
It's soft! It's breathable and lightweight! It … wicks sweat and dries really fast. Besides the technology behind this Under Armour polo shirt. It's definitely designed for hot weather.
Check Latest Price on Amazon
Amazon Essentials Cotton Pique Polo Shirt
As a general rule, it's best to stick to solid color polo shirts that are more versatile. As they blend easier with your body type and skin tone. Made of 100% Cotton that is perfect for the office or the weekend, this Amazon Essential polo shirt has 42 different color options to choose from. With sizes up to XX-Large. Buy on Amazon Primeeligible
Nautica Cotton Pique Polo Shirt
Sleek and sophisticated the Nautica brand can not go unnoticed. These solid stretch cotton pique polo shirts are made of the finest materials. Comfortable and timeless, has it hangs on your body gently.
Check Latest Price on Amazon
Related Read: Choosing The Best Polo Shirts For Men And How To Wear 'Em
Ways To Wear A Polo For Fat Guys
A fat guy can wear a polo shirt in three different ways:
#1. Casual:
Polo shirts make a great casual getup. Whether you're going to meet up with friends or running a quick errand, you can snatch up a polo shirt and head out.
Even though you can almost get away with anything on a casual note, don't go out looking just like anything. Slip on a pair of dark jeans to go with a brightly colored polo shirt. Then pair with boat shoes or a pair of trainers.
#2. Formal:
The polo shirt was formerly sportswear but can now be dressed up as formal attire. Simply replace your dress short with a polo shirt, pair with a suit or blazer, and add a pair of loafers or derbies.
Remember to keep it simple and wear a bold neutral color rather than a patterned or brightly colored polo shirt.
#3. Smart casual:
Standing between a formal and casual look, the smart casual look is your everyday definition of well dressed and laid back. To knock this look right out of the park, wear a sports jacket over your polo shirt and beige chino pants.
Don't be afraid to accessories with a cool watch and a pair of sunshades.
Do's And Don'ts Of Wearing A Polo Shirt
Now even if you've got the perfect polo, you can still make a fashion faux pas if you don't know the dos and don'ts of wearing a polo shirt. Here are a few:
Whatever you do, don't wear an undershirt with a polo shirt. Polos are designed to be worn as a single layer close to the body, and an undershirt will make you look bulky with parts of it sticking out of your collar and so on.
Do not pop your color: Leave this style to the high schooler and dress responsibly. If you need to protect your neck from the sun, use a good suncream
One polo is enough, do not layer polo upon polo.
Don't go for pockets unless you really want to: Pockets on a polo shirt are not bad and are stylish in themselves; however, over time, the pocket begins to sag and look frumpy. So to avoid that, it's better to stick to no pockets.
So button at least one of the buttons. Leaving all buttons undone makes the shirt look unflattering.
Feel free to tuck in or let your polo hang loose and go with the occasion. So if it's for a formal meeting, tuck in, but if you're going casual, tuck out.
Have a fixed collection of neutral solid colors and then explore brighter options.
What Should Chubby Guys Wear?
Having more flesh and owning it isn't the same. You can either just wear whatever and run out of the house, or you can love your size and dress appealingly and nicely.
So if you're still figuring out what you should wear, we're here to help with that:
Go for suspenders: Chubby guys should switch from belts to suspenders. Belts do not hold up much for a chubby guy and end up with an unsightly bulge. A suspender, on the other hand, is more suave and tailored.
Avoid tight clothing: Tight clothing does not make you look slimmer. Instead, it accentuates all your fatty areas, which isn't a good look.
Avoid baggy clothes: Rather than hiding problem areas, baggy clothes look sloppy and add to your weight. They also don't frame your body well.
Wear trousers with the right waist fit: Your shorts and trousers should sit on a normal waist level and not under your belly.
Tailor your clothing: Get your clothes tailored or go for bespoke clothing.
Wear vertical lines: Stay away from horizontal lines; they make you look bigger. On the other hand, vertical lines draw the eyes upwards, making you look taller.
Solid neutral colors are the way to go: These colors are slimming and do not overwhelm you. You can always add color with your accessories.
Wear a hat: One of the rules of being a gentleman is to wear a hat. It has a way of dressing up an outfit and making it an event.
Untuck tailored shirts: A nice look for a fat guy is to wear tailored shirts untucked. It's even better when the shirt has a round hem.
Wear shorts that stop above the knee and not below it.
Accessories with large simple wristwatches for a balanced look.
When wearing a dress shirt, go for shirts with a spread collar.
Wear V necks instead of crew necks.
Get sports jackets and blazers.
Don't stuff your pockets or wallet.
When wearing a tie, go for a bigger tie and leave the slim ones to the slim guys.
Can A Fat Man Wear Oversized Shirts?
As a general rule, fat guys should stay away from oversized shirts. They make you look bulky, sloppy and untidy.
Instead, invest in well-fitting clothes. So if you're not sure what your body measurement is, then ask an employee at the clothing store.
Are Polo Shirts Smart Casual?
Polo shirts are smart casual. Smart casual clothing combines a well-fitting formal look with a casual feel. Think jeans, polos, loafers, button-downs, and so on. The idea is to wear a little bit from both ends, like combining a pair of dark wash jeans with a button-down shirt and a V-neck sweater.
Polos can be worn as smart casual when paired with dress pants, a pair of beige chino pants, or dark wash jeans. For shoes, go in loafers, oxfords, or boat shoes.
If you're not sure of what an occasion calls for, smart casual is your safest bet. With it, you can get away with almost anything.
What Pants Go With A Polo Shirt?
Due to the versatility of polo shirts, picking out a pair of pants to go with them should be easy as pie. The only glitch will be what pants to wear for what occasion. This is where you might need a little more effort.
So let's see some pants you can wear with polo shirts and the best time to wear them:
Jeans: Jeans are every man's best friend. There's barely a man without a pair or two. Darker wash jeans are better for formal events, and if you're going for a more laid-back style, then you can go for a pair of light blue jeans.
Dress pants: Dress pants are made for formal occasions. And a polo shirt is one of the things that pair nicely with it.
Joggers: A pair of joggers and a polo shirt make a nice combination for a casual get-up.
Bottom line; being a fat guy has its perks. One of which is that you can pull off a nice-looking beard.
If you need more styling tips for fat guys, check these out: 7 Best Shirts For Big Bellied Men and
5 Best Pants For Big Bellied Man
RELATED POST