When you think of a large guy in suspenders, you are immediately transported to those good old movies about Italian mobsters. They are usually a part of the security detail, the sleazy lawyer to the bad guy or a detective in a run-down agency. This stereotyping of that guy is the very reason you need an article that offers major style tips for fat guys in suspenders.
Whenever you make a purchase through links on this page we make a small commission from our affiliate partners. Learn more
Should you wear suspenders? In general, suspenders are worn with loopless trousers.  Ideally, the trousers would also have the needed buttons sewn inside to attach traditional braces, just in case you're not using clip-ons. Suspenders are suitable wears for weddings, ceremonies, formal events and evening galas.
We are going to look at some of the more common types of suspenders and how to wear them to suit your body frame for a more modern look or you could choose to top them off with blazers for a less formal look.
Suspenders have a way of transporting your look to the golden years of Hollywood if you do it right. But beyond the general aesthetic appeal, they also have a functional purpose. Apart from using belts, suspenders are a classy way to keep your shirt neatly tucked in your pants. If you want more tips on ensuring that your shirt does not come untucked, you should read this article.
Beyond that traditional vibe, suspenders also has its place in today's modern world as Hollywood god, Ryan Gosling has proven over and over. Now, Ryan maybe a good-looking stud with a body physique that most people aspire to but with the right moves, big guys can play with suspenders and achieve the same stunning results. That said, let us get into the suspenders Bootcamp.
Types of Suspenders for Large Guys
Before you run off to order outfits that can go with this look, you need to know the different types of suspenders. Technically, you have over 100 types of suspenders for men. Right now, we don't have the time to go over each and every one of them. Over the years, men's suspenders style has evolved, and we are going to stay with the styles that are most relevant today.
Button Suspenders
These are suspenders that you fasten to your pants with buttons. They are easy to put on, but they keep the whole look formal. So, if you are hoping to achieve that classic gentleman vibe using suspenders, opt for the ones with buttons. They go very well with tuxedos or suits and trust me, there is a difference. Read about it here.
Clip-on Suspenders For Fat Guys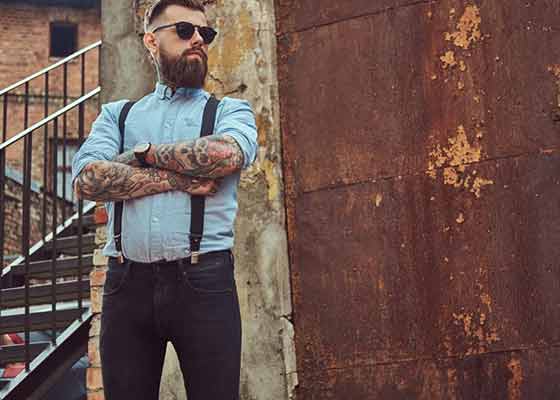 There are clip-on suspenders that have a formal look, but they give this quirky feel which may contradict the sharp classic man look you are aspiring for. However, if you ever find yourself at a laid-back event, you will fit right in. A word of caution though. Clip-on can ruin the waist of your pants after long use. Think about this before you commit to a pair.
Work Suspenders
These are the bigger heavy-duty suspenders used by manual laborers and people who work on construction sites. Unless you work in those fields, I would say that you don't have any business with these kinds of suspenders.
Leather Suspenders
As you can guess, these are suspenders made of leather. They are great for both formal and social events. Suspenders for men are made from different materials but I included the leather here because of its versatile nature. In fashion, it is important that your clothes serve multiple purposes.
Suit or Black-tie Suspenders
This right here is the king of suspenders for formal wear. From the fabric to the width and right down to the color, these suspenders are designed with the corporate environment in mind. If you are going to be in a work environment most of the time, this is the type of suspenders you should stock up on.
The ABC of How to Wear Suspenders For Chubby or Tall Men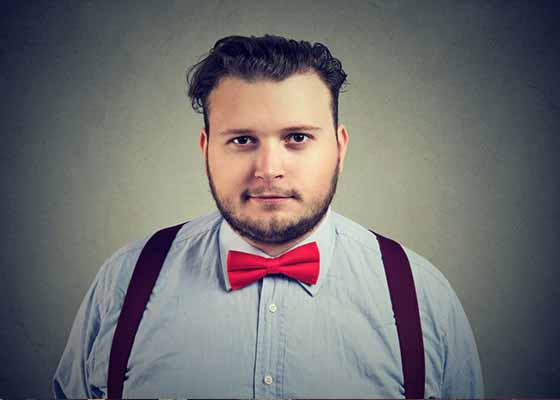 Suspenders are pretty much one of the easiest ways to accessorize your outfit. But there are a few golden rules you must obey like not wearing a belt with suspenders. Especially if you do not want to be called a fat guy in suspenders. The goal to look like the perfect gentleman and your body size does not have to get in the way of that. With that in mind, let us look at how to wear suspenders the right way.
Rule Number One: Avoid Bright Colors or Patterns
It is no secret that clothing in dark colors has a slimming effect. The same can be said for suspenders in dark colors. If you are a chubby guy, chances are, a concentration of your body's mass would be around your tummy. Dark-colored suspenders have a way of sculpting that region, but colored suspenders would draw attention to it in the most unflattering way.
Rule Number Two: Be Simple and Classy
You know how some people put an outfit together and even though they have all the right elements, they just don't seem right? Well the same thing can happen with suspenders. When you pair suspenders with vests or suspenders with belts, you take a left turn from gentlemen's club and end up in almost-a-clown territory. Stick to a nice shirt (with French cuffs) and a pair of slacks with a good fit.
Rule Number Three: Coordinate Your Outfit Appropriately

Most stylists would tell you that in a formal setting, the color of your suspenders should match your shoes and contrast nicely with your shirt. This is not the only way to coordinate your outfit, but it is the safest way to keep your look elegant. Of course, you could go-ahead to create your own rules. I would advise that you do your experimentation when you are in less formal settings.
What to Pay attention to When Wearing Suspenders
When creating a formal look in suspenders, the genius is in the details. Here are just a few details to factor in your dressing.
The size of the suspenders
Typically, you find them in size 46 which is fits everyone. But for a bigger person, you want to go a few sizes higher for a better fit.
The width of the suspenders
Bigger isn't always better and this is one of those cases. The bigger the suspenders the more utilitarian you would look. Like a serviceman
X marks the spot
Suspenders are crossed with an X or a Y shape at the back. For a fat guy in suspenders, X works best especially if you are going to wear your outfit without a jacket.
On a final note, while this article is more focused style tips for big guys in suspenders, I would say that the most defining thing you can do to create that elegant look is to ensure that the rest of the outfit; shoes, jacket, shirt, and pants are a good fit and in perfect coordination. Nail that and the suspenders would be the icing on the cake.
RELATED POST