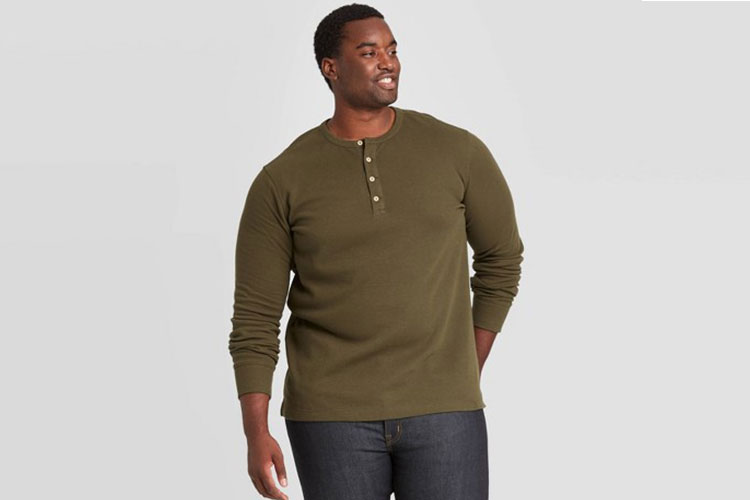 Big guys wearing Henleys are hot and stylish in any season, and they give off a relaxed vibe. So if you're looking for a good alternative to regular t-shirts, go with a henley shirt. However, as versatile and simple as henley shirts are, not every guy can pull them off. The reasons vary from size to age to the shirt's design.
This brings us to an important question, do Henleys look good on big guys? Henleys emphasize your shoulders and arms rather than your stomach. So, they can look good on a big guy. However, this still depends on your body shape, even as a big guy. And, of course, the henley should be well-fitting.
We know how tough it can be for a henley and big body match-up. However, you don't have to stay away from it completely. There are ways you can style them for a pleasing overall look. This is why you want to know the ways to wear a henley shirt for a big guy. And that's what we're here to help with.
Whenever you make a purchase through links on this page we make a small commission from our affiliate partners. Learn more
Why Are Henleys Called Henleys?
A henley shirt is a collarless shirt with a round neck and a placket or fly.  The placket is usually two to three inches long for placing three to five buttons on it (but usually three buttons). Or simply put, a henley shirt is like a polo shirt but without a collar.
You can find it in short or long-sleeved style, and it is usually made from cotton. Other fabric variants include cotton-polyester blends, thermal, and so on. Albeit, henleys can be either lightweight or heavyweight.
Lightweight henleys should be worn in warmer seasons and heavyweight henleys in colder seasons. Thankfully, most brands make light or heavyweight henleys according to the season. So, it's easy to find what you need per season.
A little history of Henleys is that the name Henleys was derived from the town called Henley-on-Thames. In this town, the henley shirt was the official shirt of the rowers, and so the name stuck. It was introduced in 1839 to the Henley Royal Regatta.
Then it became popular in the fashion industry in the 1970s when Ralph Lauren bought into his fashion clothing line.
Since then, henleys have been available in both men's and women's fashion as super soft and comfortable clothing. They're also versatile, very affordable, and wearable all season.
You should also know that henleys are designed to have a trim fit. This means that there shouldn't be more than an inch of extra material around the arms. Then around the stomach, you can escape with one or two inches of extra material.
Anything above this, and you're prepping for a sloppy look.
# 1. Wear Only The Henley Shirt.
Being a big guy isn't only about fat and chubbiness. It can mean you are tall with heavy and thick muscles, and this can be flattering beneath a henley shirt.
You can simply wear the henley shirt with dark chinos and a pair of low-top sneakers. that's available on amazon. A henley shirt on its own offers simple and comfy styling. It shows that you're comfortable in your skin and in a relaxed mood. So it's easy to view you as approachable and playful yet reserved and simple.
Wearing a Henley shirt even with a chubby belly, you look more put together than just throwing on your favorite t-shirt.
During warmer months, a lightweight short-sleeved henley is a better option. But if you want to wear long sleeves, you can push up the sleeves a bit. It's both savvy and cool.
And during the colder months, opt for heavyweight long-sleeved henley shirts.
# 2. Wear Your Henley As A Warm Base Layer
A well-layered outfit offers both smart casual and business casual styling which is a great office look. You can always throw in a henley shirt into the mix, and you'll look pretty neat.
If the weather is cold, wear three layers of clothing when layering. For this, you can pair a henley shirt with a buttoned-down or flannel shirt and a pullover. The henley shirt works as a great base layer for your outfit.
At the bottom, wear a pair of jeans and low-top sneakers.
You can also layer with just two pieces of clothing at the top. That is a henley shirt and bomber jacket. A pair of dark wash jeans and sneakers will also go with this nicely. Basically, henleys go with just about any jacket.
For a style changer, try pairing a henley shirt with a waistcoat and a pair of slacks. Go with a long-sleeved henley shirt pushed up to the elbows.
Layering up your henley shirt as a big guy is a great move. Because it helps hide side fat and extra layers, leaving you with a neat, polished look.
# 3. Pair With a Flannel Shirt
Pairing a flannel shirt with a henley shirt is the definition of casual and cool. Still, it serves the purpose of keeping you warm and comfortable without making you look bulky.
So if you feel the temperature has dropped a bit, just add a flannel shirt to your henley. It also adds a pop of color to your overall look. And it's an easy way to change your style up a bit.
Grab a pair of comfy jeans and sneakers to complete the look.
# 4. Wearing Henley Shirts Tucked In
One way henleys stand out as versatile is that they look good tucked in, tucked out, or half-tucked.
Any way you choose, you come out looking good. You can wear it tucked in with a blazer and a pair of light-wash jeans for a bold, smart look.
A half-tucked henley shirt is hot and casual. And it's a great look for a night out with friends or a vacation trip.
# 5. Wear a Henley Shirt With a Pair Of Boots
As a fat dude, a key to looking good in whatever you're wearing is to create a balance in your overall look. Thankfully, henleys emphasize the shoulders and arms, which is what we want. However, we don't want to look too small as the eyes approach the bottom.
This is why pairing henleys with thick boots are great for a big guy. Boots look chunky and will help create a balance between your upper half and bottom half.
# 6. Wear With a Pair Of Chinos or Jeans
Paired with a henley shirt, chinos add texture and formality to your overall look. This makes it good for both work and play.
And of course, jeans are your go-to bottoms any day, anytime. Whether it's a light wash or dark wash, full or ripped jeans, henleys do not discriminate.
# 7. Wear Buttoned Up Or Not?
Henley shirts feature three buttons (sometimes five) on a placket. You can choose to button up for a conservative look. Or you can leave the top button undone for a more casual look.
Some men prefer to leave all buttons undone to show off their chiseled chests. Well, you should go with whatever style you prefer, depending on the occasion. However, a more versatile look will be leaving only the top button undone.
# 8. Wear Henley With Shorts?
A great look with a henley shirt is a pair of shorts. As a fat dude, you can pull off this look easily. Just make sure your shorts are one or two inches above your knees. And avoid wearing cargo pants.
Also, consider wearing a heavyweight henley shirt with it. Then finish off with a pair of low-top sneakers or loafers.
# 9. Wear it With a Dress Shirt Underneath
Now, this may rock your boat a bit. But a henley all buttoned-down kinda looks like a V-neck sweater. So with that in mind, you can pair it with a dress shirt underneath and a tie. The tie is optional, however.
This look can work as a business casual or smart casual look.
You can still go further and top this look off with a suit, and bam, that's business formal styling.
What Looks Good On Big Guys
Anything can look good on a big guy if worn right. So here are a few things that look good on big guys:
The right fit: This involves saying no to baggy clothes and avoiding skinny fit. The best fit is somewhere in the middle. You want a clean finish to your outfit while accentuating the right areas. Therefore, not too tight, not too loose is our right fit.
Solid neutral colors: The best look for a fat dude is neutral colors. That said, you want to avoid bold colors or patterns. It tends to look busy and makes you look heavier. This doesn't mean you can sport color. However, don't go for colors that are too bright. And tone down the color by pairing it with a darker shade.
Black: Black is a slimming color that always looks good on big guys.
Vertical stripes: Another slimming trick is to wear vertical stripes. These also give the illusion of height.
Jackets: Not only do jackets add layers to your outfit, but they make you look smart. Jackets also share off your shoulders, making them look broader.
Riley Shirts: these are shirts with sleeves that connect all the way to the shoulder. They also make your shoulders look broader, which is a good look for a big guy.
Do Girls Like Guys In Henleys?
Women find guys who wear henleys attractive. Why? A henley shirt adds to your personality and makes you look mature and cool. Any guy who sports a henley shirt is sure to stand out.
It also shows that you care about style and you're not afraid to test out your options. Seeing as Henley is a versatile shirt, you almost can never go wrong with henleys. And this will leave you looking stylish every time.
Do Henleys Look Good on Fat Guys?
Henleys look great. You can wear them in different ways with different things. Plus, they instantly get you noticed. With henleys, you look super stylish without needing to put a great deal of effort into your outfit.
And that's not all that makes a henley shirt awesome. They also make a good base layer for winter and can be worn alone during warm seasons.
How Tight Should A Henley Fit?
A Henley shirt shouldn't be too tight. It needs to be the right fit if you're going to pull it off as a big guy. Here are a few things to note in finding the right fit:
The neck: As a big guy, you likely have a thick muscular neck. As such, the neck of your henley should not be too tight that it makes your face look rounder or cut off the air supply. And at the same time, it shouldn't be too loose that it becomes a "scoop" neck. The best fit for a henley neck should be at a close diameter to your neck's width. Albeit, you can make adjustments by undoing one or two buttons.
Length: The length of your henley should be around mid-crotch. If it's too long, it will bunch up. And for a big guy, that will only make you look bulkier.
Sleeves: For long sleeves, your henley should end at your wrist. On the other hand, short sleeves should end at the middle of your upper arm. You can escape with an inch below the middle. For long sleeves, if they're too long, then they'll also bunch up. Although, you can push up your sleeves, and it becomes a style.
Quality: The quality of the henley affects its fit over time. So if you want your henley to hold up its shape, get a good quality henley. And this is particularly important for a big guy.
Fit: You shouldn't pinch more than one or two inches from the body of your henley. And you shouldn't get more than one inch off your sleeves.
Should I Wear An Undershirt With A Henley?
You can wear a Henley shirt with an undershirt. During colder months, you can wear a v-neck t-shirt underneath your henley.
There's so much to love about henleys so, if you don't have one yet, what are you waiting for? If you do, now you've got a few more ideas on how to style it better as a big guy.
For more style tips, check these out:
Best Casual Shorts for Big Guys Summer Wear
Best Shirts for Guys with Broad Shoulders