Would you rock your tailored suit with a pair of sneakers?
No?
I know you will be quick to add that the rules say you can't.
For the longest time, pairing any athletic footwear with a tailored suit was seen as a fashion crime. Only old men who wore the look looking for comfort were given a pass.
Today, there is a new trend in town.
The sneaker has evolved from being worn on the field to the street, to the boardroom.
If you are still in doubt if this look can work, here is a guide on how to wear your suit with sneakers without looking out of place.
Whenever you make a purchase through links on this page we make a small commission from our affiliate partners. Learn more
The Ground Rules
If you want to look trendy, you can't wear just any pair of sneakers with your suit. Similarly, not every suit can be paired with a pair of sneakers.
Before you rock this look, here are a few factors to consider.
Get the Suit Right
Pair your sneakers with a tailored suit. Avoid the off-the rack suit.
Additionally, what you wear with your suit does determine if the suit pairing will work. You don't have to wear it with a button-down and tie. You can wear it with a polo shirt, a turtleneck, or a lightweight sweater.
Other factors to remember include:
• A more casual suit gives a great pairing
• Go for a fitting slim suit that has a perfect fitting jacket with no loose sides
• Look for pants with no break whose length ends just above your knees
• If you are wearing low cut sneakers you can wear cuffed pants and complete the look with go sank socks
• Avoid the very formal black suit. Go for light tone suit colors such as gray, beige, navy, burgundy, or blue

Source: Pinterest
Respect the Suit by Wearing the Right Sneakers
The suit is the center of attention, so ensure the sneakers are an extension of the suit. This way your look will appear well put together.
Keep the look subtle by wearing the right sneakers. For example, a gray sneaker with blue laces looks better paired with a navy suit than pairing it with a blue sneaker.
If you are confident, bright cultured sneakers can work. However, ensure you don't color clash your outfit.
The shape of the sneaker also matters avoid bulky sneakers as they won't streamline your look.
When in doubt, keep it simple with white sneakers as they are the most suit-friendly.
Further, a basic sneaker in natural shades of black or grey will give your suit an edge without the fear of looking gaudy.  Other options that go well with a suit include Con All Stars, Adidas Stan Smith or sneakers made of suede or leather.
Additionally, ensure your sneakers are clean including the laces and the outer soles for that crisp look.
Know When to Leave Your Sneakers At Home
Don't disregard the occasion in an effort to look trendy.  Know when it's inappropriate to rock the suit-sneaker look.
Semi-formal events such as a cocktail event, an award ceremony, or a casual office environment go well with this look. The bright colored sneakers should be reserved for less formal occasions.
If you work in an environment where you can dress down during the week, dress this look as an alternative to a downright casual look.  Don't forget pristine hair and a well-maintained mane can improve the formality of this look.
Avoid the look when:
• Going for a job interview
• Going to a funeral
• If you work in a formal office such as a bank or a law firm
Source: Pinterest
Ways to Rock the Sneaker-Suit Look
Here are six of our best examples of how you can don your comfortable sneakers with your sharp suit.
1. Create a Bold Silhouette
The easiest way to pair your suit with your casual footwear is to go with one color. It will give you a bold silhouette and keep disapproving eyes from your kicks.
Basic colors such as grey or black for the sneakers will work best if you want to divert the attention to the suit.
2. Fresh Classic White
If there is a style that has remained timeless over the years it is the white sneaker. Worn with a suit the white sneaker adds informality to a tailored suit.
In addition to being effortlessly cool, a fresh pair of white kicks with a suit is easy to pull off.
Notably, the crispness needed for the look requires that your sneakers be clean and bright. A dirty pair will kill your sartorial elegance. Further, ensure the laces are white too.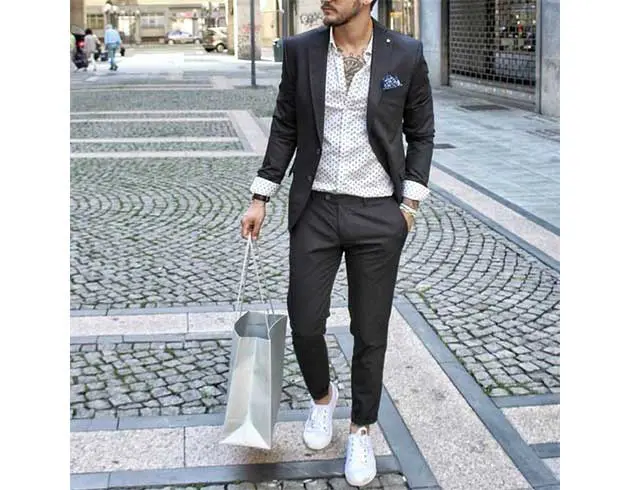 3. The Athlete Look
Mix sports and sophistication by pairing your sporty trainers with a casual cotton suit. This look also injects a youthful look to your tailoring.
Wear a simple suit in basic colors such as black or grey to draw attention to the shoe. Ensure your kicks are clean and don't draw too far on the "performance" kind of sneakers.
4. The All Star
If you want to pair a classic with another, try wearing your suit with a pair of chucks. A classic Chuck Taylor pair looks good anytime and you can style it with almost anything in your wardrobe-a suit included.
However, don't disrespect the suit by wearing an all-stars pair that is dirty or worn out. It better be in mint condition.
5. Add a Splash of Color
Pair a brightly colored sneaker with a suit to make a statement.  A little bold color such as a red sneaker worn with a white, blue, grey, or a black suit shows you got style.
Just make sure the shoe doesn't overpower the suit.
RELATED POST