While dress shoes and jeans are on opposite sides of the formality scale, they can be paired together in a number of different varieties of stylish outfits. Matching the perfect pair of shoes with your jeans can transform your look from ordinary to fashionable.
Jeans are appropriate for business casual attire, but the right shoes can elevate the outfit.
What Is Considered Business Casual Shoes? Business casual attire is a perfect blend of formal and informal dress codes that demands a professional, polished appearance that is also comfortable and relaxed. 
In this article we cover 10 pairs of shoes for business casual wear that will pair perfectly with your favourite jeans.
Best Business Casual Shoes to Wear With Jeans
Cole Haan Men's 2.Zerogrand Laser Wing Oxford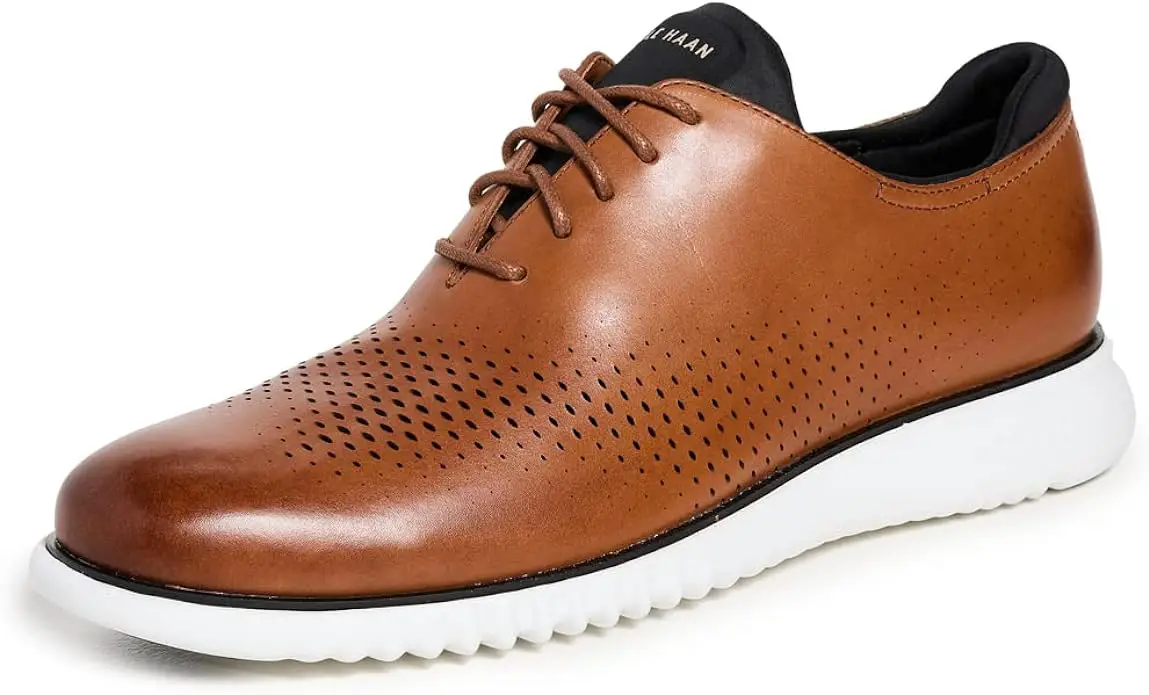 These Cole Haan dress sneakers have been a reliable choice for the user since 2021. They are versatile enough to wear with jeans in a business casual setting, office-related events like happy hours or client meetings, and everyday office wear. The sneakers feature uppers made of dress shoes and footbeds made of sneakers, offering the perfect combination of style and comfort. Thanks to the EVA midsole and patented cushioning, you can wear these sneakers comfortably for extended periods on multiple occasions.Buy on Amazon Primeeligible
Bruno Marc Men's Rivera Oxfords Shoes Sneakers
Looking for shoes that offer a casual yet professional look? These Oxford shoes are perfect for business casual attire and can be easily paired with a casual blazer and jeans. The versatile sneakers are also suitable for warmer weather and can be styled with chino shorts, polo shirts, and no-show socks for a smart casual look. Plus, they are incredibly comfortable with a fabric lining and lightly-padded tongue for added support. Buy on Amazon Primeeligible
Deer Stags Men's Argos Chelsea Boot
When it comes to dressing business casual, boots may not be the first thought. But they can be both stylish and comfortable, making it easy to create a polished look. These Chelsea boots from Deer Stags have a cushioned memory foam insole that feels soft and plush against your foot, ensuring exceptional comfort. The elastic sides allow for easy on and off without the need for laces or buckles. Deer Stags is a family-owned American business that has been a significant player in the footwear industry for nearly a century. Buy on Amazon Primeeligible
Nunn Bush Men's Barklay Canvas Plain Toe Oxford Lace Up
Before embarking on the journey of achieving success, it is crucial to feel comfortable and self-assured. A plain-toe canvas lace-up shoe is an excellent way to accomplish this. These casual-looking oxford dress shoes not only provide your feet with great support but also boost one's style. The Barklay canvas plain toe oxford is made of high-quality canvas uppers with classic Oxford detailing that gives it a refined look. This shoe pairs well with warm seasonal jeans, slacks, trousers, and chinos, making it a versatile addition to any wardrobe. Buy on Amazon Primeeligible
Skechers Men's Braver-Rayland Slip-On Loafer
The Skechers Braver-Rayland shoes are a great investment for anyone looking for comfortable and stylish slip-ons. The leather upper and rubber sole ensure durability, while the shoe lining and memory foam provide comfort.. These shoes have a unique design and a relaxed fit, making them easy to slip on and off without using your hands.
If you wear these shoes for a few days, the leather upper may initially feel a little tight, but it will loosen up over time as you wear them. Initially, the leather upper may feel tight, but it will loosen up over time as you wear these shoes. The shoes take a while to break in, but they still run true to size after break-in. Buy on Amazon Primeeligible
Rockport Beckwith PT OX Sneaker
The brand "Rockport" is synonymous with stability and flexibility without adding a lot of weight. Confidently take every step with comfort thanks to a memory foam footbed and added cushioning in the heel to help absorb shocks. We found these shoes to be extremely supportive and comfortable, even after wearing them for an entire day. There were no issues with the shoes being too tight or causing blisters. The soles are breathable and mold to your feet to ensure a perfect fit.
Travelers can easily pack these shoes for both daytime sightseeing and evening dinners due to their casual style.Buy on Amazon Primeeligible
Steve Madden Men's Harpoon Oxford
These stylish Steve Madden Oxford shoes are perfect for your business casual footwear collection. These shoes are not only comfortable but also have a short break-in period, making it possible for you to feel comfortable right after you buy them. Additionally, they have adjustable lace-ups, allowing you to wear thick or thin socks depending on your preference. These shoes are a great choice for anyone seeking comfort and versatility.
With five different colors to choose from, you can easily find the perfect style to complement a pair of jeans. However, after wearing them regularly for three months, we noticed that the suede material was susceptible to moisture marks from rain and snow. Buy on Amazon Primeeligible
Bruno Marc Chukka Lace Up Dress Boot
Combining jeans with boots provides several benefits. They are long-lasting, robust, and give off a rugged appearance. The Chukka Lace Up Dress Boot is a great pair with jeans. This boot is both sturdy and comfortable, making it an excellent choice for any formal or casual event, such as work, dates, business meetings, weekends, etc. Additionally, this boot is also available in black, giving you more options to choose from.Buy on Amazon Primeeligible
Dockers SupremeFlex Casual Oxford Shoe
Dockers, a classic and well-loved brand, has been a market leader in men's business casual and casual shoes since 1992. The Cooper SupremeFlex Casual Oxford is perfect for various office and office-adjacent events, including client meetings and happy hours. The Oxford's upper design is made of synthetic leather, but it looks and feels like genuine leather. Its footbed is treated with hygienic technology that minimizes odor and promotes good foot health. The footbeds provide a comfortable fit that is comparable to a sneaker, allowing you to wear them for hours without experiencing discomfort. When paired with jeans, they look great for a business casual look.Buy on Amazon Primeeligible
Lacoste Men's Bayliss Sneaker
Upon first glance, these Lacoste sneakers may seem casual. However, if you take a moment to check yourself in the mirror, you'll realize just how stylish you can look in a pair of straight or tapered jeans and a dress shirt. Any worry you might have had will quickly vanish. The minimalist design makes them versatile and appropriate for casual and semi-formal occasions when you want to feel comfortable while expressing your personal style.Buy on Amazon Primeeligible
What Is Appropriate Footwear For Business Casual?
The material your shoes are made of play a major role in whether they are appropriate for your workplace. When dressing for a business casual office, it's best to choose shoes made of quality materials like leather or suede.
Can men wear sneakers for business casual?
When considering business casual shoes, high-top sneakers are a stylish choice that can really make a statement. They're more fashion-forward than their low-top counterparts, yet still appropriate for the office. High-top sneakers are the perfect pick for the man who wants to showcase his unique style.
What Men's shoes go with jeans for work?
When it comes to pairing jeans with business casual shoes, you can achieve a formal yet not overly sophisticated look by opting for loafers, Derbys, Chelsea Boots, and Brogue shoes. To achieve a classic look, opt for leather shoes in black or brown. It's important to make sure that your jeans are well-fitted, clean, and free of distressing or excessive fading. Darker denim tends to look more formal, so keep that in mind when selecting your jeans.