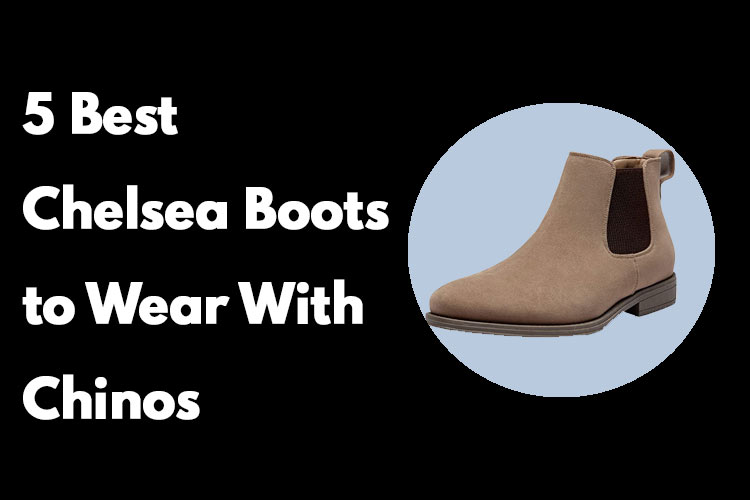 If you're looking for stylish and comfortable footwear to pair with chinos, then Chelsea boots are great. These iconic ankle-length boots provide a sleek, casual look while offering extra support and stability. Choosing the best Chelsea boots to wear with chinos can be tricky with many different designs and styles. 
To help you out, we've curated a list of the best Chelsea boots available, perfect for completing your look with a pair of chinos. From classic leather designs to modern suede styles, there is sure to be a Chelsea boot to fit your style. All these boots offer comfortable and fashionable footwear for any occasion, so you can feel confident that you'll look your best.
Whenever you purchase through links on this page, we make a small commission from our affiliate partners. Learn more
The Best Chelsea Boots To Wear With Chinos
UGG Men's Biltmore Chelsea Boot
Step up your style with the UGG Biltmore Chelsea Boot, made from full-grain leather. This utility-meets-fashion boot features all-weather innovations such as state-of-the-art waterproof construction, a temperature-regulating interior, and dynamic support and traction. 
The Chelsea silhouette looks great with vintage denim and a fitted shirt, while the white spider rubber outsole provides added traction. Step out in confidence, knowing you're prepared for whatever Mother Nature throws your way
Buy on Amazon
Related Read: 6 Best Men's Waterproof Ankle Boots To Keep You Dry
Dr. Martens Unisex Chelsea Boot
Get ready to make a statement with Dr. Martens Chelsea Boots! Inspired by the streets they're worn on, these boots combine classic silhouettes with modern urban style. The Embury is based on the Original 2976 Chelsea boot and comes with legendary Docs DNA for an amplified attitude. 
Comfortable from the first step and built to last, these boots will be your go-to for years to come. Their simple design allows you to adopt them as part of your unique style; their famous durability and comfort make them perfect for everyday wear. No matter where you go, these boots will take you there in comfort and style.
Buy on Amazon
Steve Madden Highline Chelsea Boot
Step up your style game with the Steve Madden Highline Chelsea Boot. Crafted from soft suede and deep goring panels for an eye-catching look. Minimal adornment ensures maximum versatility – rock it with chinos, jeans, khakis, or a suit! Plus, the synthetic lining keeps your feet comfortable all day long. Get ready to make a statement with the Highline Chelsea Boot from Steve Madden.
Buy on Amazon
Ariat Rambler Recon Western Boots
This slip- and the oil-resistant boot is perfect for those working outdoors, offering superior support and cushioning with the ATS technology. With a durable flat outsole blended with classic rugged features, this fusion style of leather work boots has a solid square-toe construction that protects from direct impacts. Experience excellent stability and cushioning with the contrasting color sole unit, so you can keep working without sweat!
Buy on Amazon
Merrell Men's Moab Adventure Chelsea
experience all-day comfort out-of-the-box fit with the Merrell Moab Adventure Chelsea boot. Crafted with 100% leather, a Vibram sole, and a waterproof leather upper, this boot provides waterproofing and traction you can trust. Its low bulk insulation keeps your feet warm and comfortable, while the fleece lining adds an extra layer of warmth. Finally, its molded nylon arch shank ensures stability for long days on your feet.
Buy on Amazon
Related Read: The Right Shoes To Wear With Black Chinos
Can You Wear Chelsea Boots With Chinos?
Yes, you can wear Chelsea boots with chinos. Combining these two pieces of clothing is a great way to create a stylish yet comfortable look. Chelsea boots are a classic style of shoe that has been around for decades, and they look great when paired with a pair of chinos. 
Chinos are a type of casual pants typically made from cotton twill, and they come in a variety of colors and styles. When wearing Chelsea boots with chinos, keep the color scheme neutral so it doesn't look too busy. Choose a pair of boots in a dark brown or black, and then choose a pair of chinos in a lighter shade, such as khaki or olive. 
For a more formal look, you could select a pair of Chelsea boots in glossy black patent leather and pair them with a pair of navy chinos. For a more casual look, you could choose a pair of suede Chelsea boots in a light tan color and pair them with a pair of chinos in a darker shade, such as charcoal grey or olive. 
You could also accessorize your look by wearing a belt in a contrasting color or a patterned scarf to add some interest to the look.
Why Are Chelsea Boots So Popular?
Chelsea boots have become popular for men and women due to their versatility, comfort, and stylish look. These boots are easy to slip on and off, making them an excellent choice for everyday wear. Another reason people wear Chelsea boots is that they provide a classic look that you can dress up or down depending on the occasion. 
The elastic sides make them comfortable and provide a snug fit, while the low heel gives some support without being too high. Chelsea boots can be worn with casual and dressier outfits, giving them a timeless appeal. They also protect from the cold and wet weather, making them a staple in any wardrobe. 
Chelsea boots are also a great alternative to sneakers, as they are more comfortable and fashionable than most other shoes. All in all, Chelsea boots are a popular choice for their versatility, comfort, and style.
Related Read: What Casual Shoes To Wear With Chinos
Can Chelsea Boots Be Worn In Winter?
Not only are Chelsea boots fashionable, but they are also convenient and versatile. They are made from heavy leather or suede material, which helps insulate against cold temperatures and provides excellent coverage and protection from the elements while remaining lightweight and comfortable. 
Many Chelsea boots feature a waterproof upper, making them even more suitable for the wet weather of winter. They often have rubberized soles that offer increased grip and traction on snow and ice, making them ideal for winter wear. Additionally, the elastic side panels make them easy to slip on and off. 
Wearing them with thick wool socks is a great way to keep your feet warm during winter.
Can You Wear Chelsea Boots All Year?
Chelsea boots are a timeless style worn in any season and for any occasion. In the winter months, you can wear thick socks and heavier jeans to keep your feet warm and dry, while in the warmer months, you can pair them with shorts or skirts for a more casual look. 
The versatility of Chelsea boots makes them an excellent choice for all-year wear. They look great with everything from chinos to jeans, so they can easily transition from day to night. 
Do You Wear Socks With Chelsea Boots?
While wearing socks with Chelsea boots is not required, socks with Chelsea boots are generally recommended for comfort and hygiene purposes. Wearing socks helps keep your feet warm and prevents any irritation from the material of the shoe rubbing against your skin. 
Additionally, socks help to reduce moisture, which can cause bacteria to grow in the shoe and lead to foot odor. If you wear socks with Chelsea boots, you should select a thin pair that won't add bulk to your look.
It depends on personal preference and the look you're going for. 
Related Read: Best Men's Sweatshirts To Wear With Chinos
How Long Do Chelsea Boots Last
The longevity of Chelsea boots depends on various factors, including the quality of the material used to make them, the frequency of wear, and the level of care taken with them. Generally speaking, a pair of Chelsea boots made from high-quality leather or suede can last for years if cared for properly. 
This includes regularly wiping them down with a damp cloth after wear and conditioning them with a leather care product such as mink oil or beeswax. These steps will help keep the boots supple and robust while preventing cracking or splitting. 
Additionally, it's essential to keep the soles in good condition; they should be occasionally polished and replaced when worn down. Following these steps can significantly extend Chelsea boots' life, allowing them to last up to 10 years or more.
Can Chelsea Boots Be Worn In The Rain?
These ankle-high boots are made from materials that are usually water-resistant, such as leather or rubber. But it is essential to take specific steps before and after wearing them to ensure the boots stay in good condition. 
Before wearing the shoes in the rain, it is an excellent idea to protect them with a waterproofing spray or wax. This will help keep out moisture and keep the leather in top condition. After wearing them in the rain, it's best to dry the boots off with a cloth as soon as possible and then let them air dry naturally. Leather should never be put near a direct heat source, such as a radiator, to dry out. 
Additionally, it is crucial to condition the boots regularly to keep the leather soft and supple. Following these tips will help keep your Chelsea boots looking great even after wearing them in the rain.
 More Related Mens Style Content: What shirts To Wear With Chino Pants For All Occasions