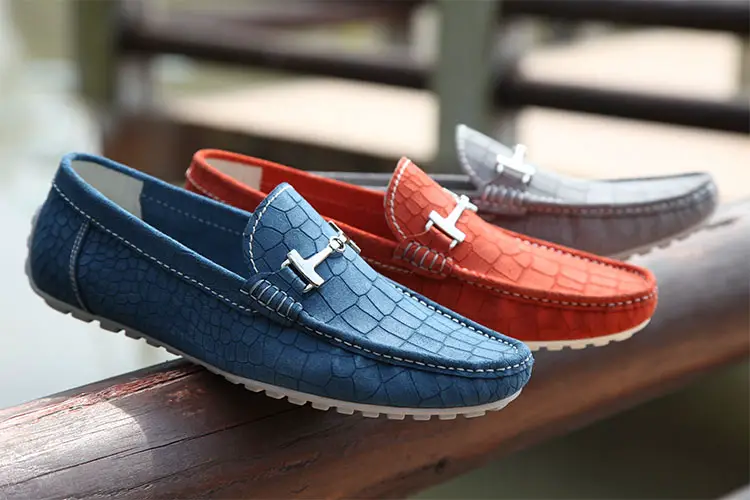 It is possible to wear virtually any shoe style with black chinos. You could opt for a pair of white canvas sneakers or slip-on loafers for a more casual look. These styles are perfect for a weekend outing or lunch date. You could try a pair of desert boots or brown leather brogues for a slightly more dressed-up style.
These styles work well for a night out at the bar or dinner with friends. If you're looking for something even more formal, oxfords and derby shoes go perfectly with black chinos. These styles are great for a business meeting or special occasion. Whichever style you choose, make sure it complements the rest of your outfit.
Whenever you purchase through links on this page, we make a small commission from our affiliate partners. Learn more
What Color Shoes Go With Black Chinos
When selecting the right color of shoes to pair with a black chino, there are a few key factors to consider: the type of event you're attending, the season, and your style. Choosing the right shoes for an outfit can be challenging, but if you keep these tips in mind, you'll be able to select shoes that perfectly complement your black chinos. 
If you're attending a formal event such as a wedding or a job interview, you'll want to go with a more classic look. A pair of black or brown dress shoes would be appropriate, depending on the situation. If you're looking for a less formal look, a pair of loafers or boat shoes in brown, tan, or gray would work well. During the colder months, wearing dark brown boots would also look great with black chinos. 
Try pairing your black chinos with a pair of white sneakers for a slightly more casual look. This combination is perfect for a summer day out or a movie night. Opt for a pair of oxfords in black, navy, or burgundy for a dressier look. A classic pair of desert boots in tan or brown is also an excellent option for a more relaxed style. 
No matter what type of event you're attending, the key to finding the right shoes for your black chinos is to choose a pair that complements your style. Whether you prefer a more traditional style or something more modern, plenty of options are available to complete your look.
Related Read: What Casual Shoes To Wear With Chinos
What type of shoe goes with chinos?
For a casual look, sneakers and loafers are popular choices. Sneakers come in wide varieties, from classic canvas styles to modern athletic styles, making them an excellent choice for everyday wear. Loafers are another great option for casual looks, as they bring a more polished look without being too dressy. For dressier occasions, such as a job interview or an evening out, oxfords and monk straps are great options. Oxfords are a classic style of shoe that always goes in style, and monk straps offer a unique look that is sure to make a statement. No matter which type of shoe you choose, make sure to pick a color that matches or complements the color of your chinos.
What boots to wear with black chinos?
When styling boots with chinos, there are a few ways to achieve a great look. First, consider the occasion and environment. Boots can be great for a casual look when paired with chinos but might not be suitable for a formal event. For a casual look, chinos can be paired with Chelsea boots, desert boots, or other similar styles. If you're looking for something more formal, dressier boots such as Oxford or Derby boots can work well. 
How do you style boots with chinos?
The type of boot you should wear with black chinos depends on the look you're going for and how formal you want to be. Generally speaking, dark brown or black boots are the most popular choice. Dark brown boots provide a more casual look, while black boots give a more formal vibe.
You could opt for a polished dress boot or a pair of Chelsea boots in black or brown for a more dressed-up look. If you're looking for something edgier, try a pair of combat or engineer boots. For even more style and comfort, try a pair of shearling lined boots in a light tan or chocolate color.
Whatever you choose, make sure the style of the boot is appropriate for the occasion and complements the rest of your outfit.
Related read: Twill Pants Vs Chinos, Do You Know The Difference?
What shirt goes with black chinos?
The shirt color that goes best with black chinos depends entirely on personal preference and the occasion. A white, cream or light blue dress shirt would look nice for a more formal look. A gray, navy, burgundy, or olive-colored shirt will be ideal if you're looking for a more casual but still put-together ensemble.
 For a more laid-back and trendy look, consider a striped or checkered shirt in a bright hue, such as yellow, pink, or orange. You could also opt for a printed or patterned shirt in a muted color like brown, lavender, or beige. Ultimately, choosing a color that reflects your style and matches the occasion is essential.
What color jacket to wear with black chinos?
There are many options when determining the best color jacket to wear with chinos. Darker colors such as grey, navy blue, or black are the most versatile and classic options, as they will go well with most other colors and styles. Try pairing chinos with a light-colored blazer for a more modern look. Tan, cream, and beige are all great choices that can create a stylish and sophisticated look.
 You can opt for a bright or patterned blazer if you want something bolder. Floral, plaid, checked, and striped designs can all add a unique touch to your outfit. Of course, it is also essential to consider the season when choosing your jacket. Heavier fabrics such as wool, corduroy, and velvet are ideal in cooler months. In comparison, lighter materials such as cotton, linen, and poplin are the way to go in the warmer months.
Related Read: Best Men's Sweatshirts To Wear With Chinos