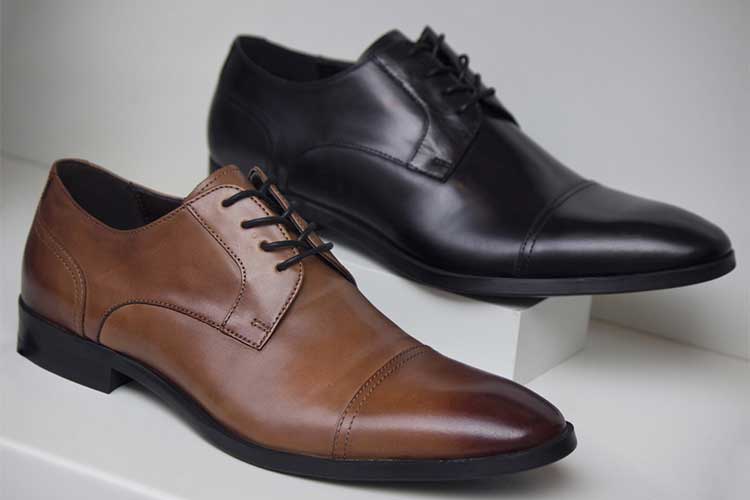 Oxfords have been the staple formal footwear for years. Weddings, business meetings, offices, funerals, corporate events, and so on have all had a nice run with oxford shoes. So it's easy to wonder if more casual settings and get-ups can have a go at these reliable style pieces.
Well, to answer the million-dollar question, "can Oxford shoes be worn casually?" Definitely. You can wear Oxford shoes in casual clothes and more relaxed settings. You can combine them with jeans, t-shirts, turtle neck shirts and so on. You simply need to know how to pair what with which.
 So trust us to have you covered on the most stylish ways to pull off a casual look with a pair of Oxfords. You'll never look at oxfords the same way after this. And with your oxfords, you will never be caught "unfresh" in any setting or style. Get ready to walk into a whole new style experience.
Whenever you make a purchase through links on this page we make a small commission from our affiliate partners. Learn more
Are Oxford Shoes Too Formal?
Oxford shoes are formal but, thankfully, not too formal that they can't be worn casually. If they were, we wouldn't be talking about it. Apart from how stylish and posh oxfords look, they are also versatile. This allows them to be dressed down for a more casual look.
To help you along, here are some tips on how to wear a pair of men's Oxfords shoes:
Have fun with colors: Everyone's used to the traditional black and brown oxfords, so why not try out bold colors for a casual look. You can opt for dark blue, bright red, white, beige, and so on. Here, less conventional equals casual.
Pair with Chinos: Chinos go with almost everything, including oxfords. Go for nice fitting Chinos in colors like brown, navy, tan, or beige. This look is great for a date, a bright summer day out with friends, a nighttime hang out, and so on. You can even wear Oxfords with Chino shorts. This makes a great summer look.
Pair with Jeans: For a smart look, pair your oxfords with dark-colored jeans like deep blue or black. This helps preserve the elegance of the oxfords. Jeans like Chinos are versatile, stylish, and chic and a great pair for oxfords.
Dress Smartly: We're going for casual, not frumpy, so make sure your shirt's well-ironed and neat. Even though oxfords can look casual, there's always a smartness to it.
Pair a black blazer with a plain black t-shirt underneath. Add a pair of gray-colored twill pants and black oxfords.
Some stylish pairings you can go for are:
A pair of black oxfords paired with navy pants and a gray turtleneck or henley shirt. This look is super dapper and casual. Another great casual look is an overcoat paired with denim and black oxford shoes.
If you're going for brown oxfords, a pair of dark wash jeans and a flannel shirt work great. You can also match up a gray blazer with a blue dress suit, a pair of lighter-colored jeans, and deep brown oxfords.
Is It OK To Wear Oxfords Shoes With Jeans?
Jeans are a great piece to wear with oxfords. And you can look amazingly stylish if you wear it right. The ruggedness of jeans balances out the formality of oxfords to produce a smart casual look.
Black or brown oxfords go best with dark-colored jeans. Tan-colored Oxfords, on the other hand, can pair well with a lighter-colored pair of blue jeans. Avoid distressed or ripped jeans with oxfords because you'll end up looking too casual.
Suede leather oxfords are also a style statement with jeans. To complete the look, add a buttoned-up shirt or t-shirt and a blazer.
When it comes to fit, you should opt for jeans with a tapered leg and a straight or tailored fit. This will give you a neat, more put-together look. Boot cut flared, or baggy pants are too casual for oxfords.
It's also best to go for oxfords with more rounded toe caps than pointed toe caps to achieve a casual look.
Another way to wear Oxfords with jeans is by changing the shoelaces. Using brighter colored laces adds color and style to your overall look. It's more interesting when the color of the lace really contrasts with the color of the shoe. However, you should avoid looking childish or tacky.
Why Do Oxford Shoes Have Holes?
Brogues are a type of oxford that has holes. These holes are there to drain water out of the shoes when walking on wet terrain. This was the initial function of the perforations on brogues. However, these days, the perforations are more decorative than functional.
You can also identify types of brogues by the number of perforations they have. For instance, there are the full or wingtip brogues. These brogues feature a pointed toe cap with a wing-like or "M" or "W" shape on the top of the shoe.
They also typically have many perforations. In fact, it has the most perforations of all the types of brogues. They're also the most casual of all brogues. So these are your best option for a casual look with Oxford shoes.
Next are the half-brogues. These are more formal, with details and serrations along the edges and middle of the toe cap. Despite how formal they are, they go with any outfit and can be dressed down for a casual look.
Finally, there are the quarter brogues. These types of brogues feature a straight toe cap with detailing along the toe cap edges but none in the middle. The quarter brogues are best for business and formal events.
Brogues are just one out of the many types of oxfords. Now while brogues can be oxfords, not all brogues are oxfords. A closed lacing system is the distinctive feature of oxfords.
What's The Difference Between Oxfords And Derbies?
Both Oxfords and Derbies are similar classic dress shoes, with the major difference between the two being the lacing system.
The Oxford defining characteristic is a closed lace system. This means that the eyelets are sewn under the vamp and sealed, leaving no opening. Now a vamp is the upper part of the shoe that covers the front of the shoe.
Another part of Oxford shoes is the quarters. The quarters are the part of the shoe that wraps around the back of the shoe and meets the vamp in the middle of the foot. For closed lace shoes like the Oxford shoes, the vamps are sewn onto the quarters while the eyelets are sewn under the vamp.
Oxford shoes also feature low heels and exposed ankles.
That said, you know a pair of derbies by their open-laced system. And the quarters are stitched on the vamp
Oxfords come in different styles and designs. There's the brogues Oxfords, the plain oxfords, cap-toe oxfords, saddle oxfords, Kiltie oxfords, and so on.
Types Of Oxfords
Oxfords come in a variety of styles and designs, some of which are:
Plain Oxfords
These are the classiest, plainest, and most elegant of all Oxford styles. As such, they're the most preferred options for truly formal get-ups. They don't have any perforations or detailing toe caps or whatnots but simply feature the quarter and the vamp.
These are your go-to oxfords for a black and white tie event.
Cap Toe Oxfords
These types of oxfords feature a toe cap in front recognized by a straight line separating the toe area. These are also simple and elegant and a very popular type of oxford.
You can find them in black, brown, tan or beige. However, the most popular is the black cap toe oxford shoe.
Brogues
Brogues feature perforations and detailing on the front and sides. The number of perforations varies according to the type of brogue. And the fewer perforations a pair of brogues have, the more formal they are.
This is why the quarter brogues are the best option for a formal event. And if you're going casual, the full-winged tip brogues are the best option.
Saddle Oxford
This type of oxford features an additional piece of leather in a color that complements the shoe. This piece covers the width of the eyelets, which is the middle of the shoe, down to the sides. Saddle oxfords may or may not have heel caps in a contrasting or complementary color.
Although historically an American design, they are now made by companies all over the world.
Whole Cut Oxfords
Whole cuts have a very sleek appearance and are by far the hardest shoes to make. This is because shoes are typically made from different pieces sewn together. And this is not the case with whole cuts.
Whole cuts are made from a single strip of leather with a small cut in the middle for the eyelets. They feature only one seam at the back, and so require a lot of leather to make.
However, because of how stylish they look, they are definitely worth it. And despite how costly whole cuts can be, they are quite popular. The reason is that these types of oxford are very versatile.
Despite the simple and elegant design, they work for many different get-ups. And this is such that they are an exception to the rule that says the more detailing and perforations on the oxford, the more casual it is.
Kiltie Oxford Shoes
The kiltie Oxford shoes are not very common these days. They are known by an added fringed tongue placed over the top of the shoe. They also include detailing and serrations in the middle.
This design is casual and will go nicely with a pair of jeans.
Spectator Oxfords
Spectator oxfords are like the rebels of Oxford shoes. This doesn't mean they aren't formal, but the bi-color feature puts them in a more casual category.
The spectator was first made in 1868 as a cricket shoe. However, because cricket shoes were typically white and stained easily, John Lobb added black leather to the places that were stained easily. And that's how the spectator was created.
Spectators can be derbies, loafers, or oxfords, but the main thing is that the shoe uppers feature two colors.
Are Loafers And Oxfords Shoes The Same?
Loafers and oxfords are not the same and are different in many ways. For one, loafers are laceless slip-on shoes with a moccasin design. Oxfords, on the other hand, feature laces and a close lacing system.
In place of the laces, loafers feature decorative pieces like tassels, bows, cut-outs, and so on. These decorative pieces also indicate the type of loafer you're wearing – whether it is a penny loafer, Gucci loafer, tassel loafer, or a Belgian loafer.
While Oxfords may have toe caps, loafers have moc toes which are broader and flatter in front. And because of how loafers are designed, they tend to be for casual wear, although you can wear them with a suit. However, keep them away from tuxedos.
Oxfords, on the other hand, are more formal. They can be worn with suits, tuxedos and toned down a bit for a more casual dress-up.
Can You Wear Oxfords Shoes With Shorts?
Not a classic look but you can definitely wear oxfords with shorts. To pull this off, go for the less traditional oxfords in bright colors. For example, red leather oxfords, burgundy suede Oxfords, black and white leather oxfords, navy oxfords, and so on.
So, you can combine a nice tan print crew neck shirt with a pair of mustard-colored shorts. Top it off with brown leather oxfords, a beige straw hat, a lovely gold wristwatch, and you'll look smashing.
Another great combination is a pair of navy oxfords with tan shorts, a tan shirt, and a beige-colored jacket. You can also match up a pair of charcoal-colored shorts or dark blue jean shorts with a white long-sleeved shirt and tan leather oxford shoes. Remember to fold up your sleeves.
There you go. You don't have to be afraid to dress down your oxfords a bit. So with this under your belt, you're ready to nail a cool and casual look with your oxfords. If you found this helpful, then check out these articles to upgrade your style game:
8 Most Comfortable Men's Oxford Dress Shoes That Are Stylish