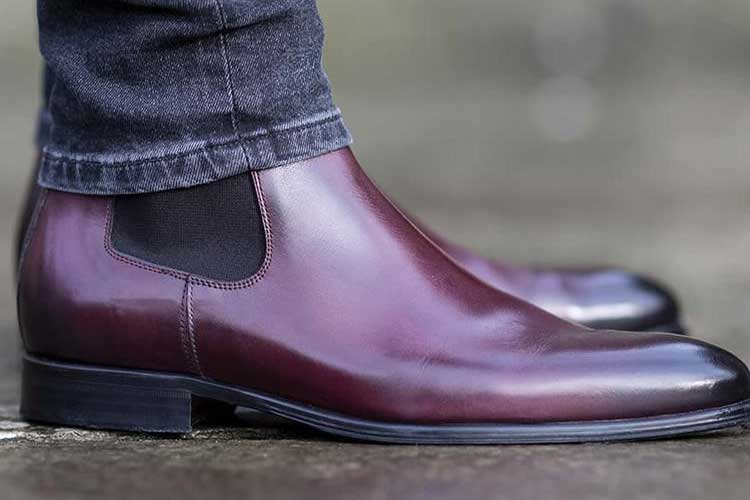 You're ready to buy a pair of banging Chelsea boots. However, you're not sure what the right boot size and fit should be. And who would want to spend their well-earned money on a pair of boots that don't fit? Or spend hours trying on many shoes just to find the right pair. So knowing the tricks of the trade will go a long way.
But first things first, "should Chelsea boots be tight or loose?" Well, Chelsea boots should fit snugly, not too tight, not too loose. It should fit like a glove, but with some room to wiggle your toes. The shaft should also have some space of about 1 to 2 inches, so your legs are a bit free.
Still, there are other things to consider which we'll be looking at in this article. And at the end, you'll have all you need to know about these comfortable, versatile, stylish footwear. As well as what to pair them with for some smashing style.
Whenever you make a purchase through links on this page we make a small commission from our affiliate partners. Learn more
How Do I Choose Chelsea Boots?
You can easily find a perfect pair of Chelsea boots with these tips:
Fit: We agree that the established rule still stands; your Chelsea boots should fit snugly. This is because Chelsea boots do not have shoelaces with which you can use to tighten your boots. What you see is basically what you get. But just because this is so doesn't mean you should go for tight Chelsea boots. So the key is for the boots to be snug around your ankles.
Material: The material of the Chelsea boots also matters. Suede is a bit supple and so gives a better fit. On the other hand, leather is stiff, so you should give it 1 or 2 extra inches to find a good fit. However, the advantage of leather over suede is that while suede is prone to stains, leather is easier to clean and care for. So for winter, leather is a better choice.
Go for quality: Whether it's leather or suede, you want your Chelsea boots to last a long time. So go for original lamb or calfskin. And also, check the quality of the elastic. It shouldn't stretch so much, or you will have some problems later.
When buying a new pair of Chelsea boots, it's best to do so in the afternoon or evening after you might have walked around a while. What happens is by then, your feet are a bit swollen, and that should represent your normal boot size.
Also, try on the boots with a pair of thick socks or the socks you want to wear them with. And feel free to walk around the store to test your boots. Don't allow the storekeepers to discourage you from doing that; you have a right.
Avoid chunky heels: A classier and classic heel choice is a simple thin sole. Tall or chunky heels make you look like a flamenco dancer and take away the minimalist beauty of Chelsea boots.
How Do You Know If Chelsea Boots Are Too Big?
You know your Chelsea boots are too big if they slip off your feet easily. Chelsea boots should fit like a glove which means that they shouldn't be too big or too tight.
To get the best fit, the ankle area should be the slimmest part of the boots. However, it should have enough space, so blood circulation isn't cut off. And the toe cap should be wider, while it should fit snugly around the middle of the foot. If you have larger feet, then go for a more round toe cap.
You should also note the elastic at the shaft of the boots. Do this by checking how much the elastic stretches. If it stretches too much, then that isn't a good sign. There should be a bit of resistance, so you'll know it will retain its shape for a long time.
You should also know that the standard width measurement for Chelsea boots is a size D. While sizes 2A and B are extra narrow and narrow, respectively. And for wide and extra-wide, that is sizes 2E and 4E.
Related Read: Best Men's Dress Work Boots For Your 9-To-5
Do Chelsea Boots Fit Wide Feet?
You can find a pair of nice Chelsea boots that fit wide feet. There are different widths available from 2A to 4E, so if you have wide feet, 2E to 4E should be your best bet.
You also want to go for boots with a more rounded toe cap so you can have more wiggle room for your toes. No one wants a situation where they develop ingrown toenails from wearing tight boots. The pain is not pleasant at all.
Thankfully, with different sizes available, even with wide feet, you can follow the steps of the Beatles and rock a pair of Chelsea boots.
Do Chelsea Boots Shrink?
Chelsea boots do shrink. So if you happened to buy a size too big, not to worry, you could shrink them in different ways:
If you're looking to shrink leather Chelsea boots, completely submerge the boots in water, so it shrinks evenly. Then wear them immediately with your socks on.
You can also wear a pair of completely wet socks with your boots. This will shrink your boots and protect your feet as well.
Then wear your wet boots with your wet socks until the socks dry. By the time the socks are dry, you should have the fit you want.
For suede boots, soaking them in water can change their appearance, so it's better to wet the inside of the boots and air dry them.
You can also fill a spray bottle with hot water or use a wet rag to wet specific areas. Spray a generous amount of water. Then blow-dry your boots at low heat while standing 6 to 9 inches away from your boots.
Then try on the boots to see if they fit. And if they don't, repeat the process.
Finish off the process by applying leather conditioner to your boots. This will prevent your boots from cracking or peeling due to the heat from the blow dryer.
How Do You Stretch Chelsea Boots?
It's hard to let go of that lovely pair of Chelsea boots you just got because they're too small. Thankfully, there's a solution. You can stretch them to get your desired size, and here's how:
Use a boot stretcher: A boot stretcher helps relieve stress in the toe area and stretches the boot to a more relaxed fit. You can get this online or in most departmental stores. Don't leave the stretcher in your boot for more than 8 hours, or you may overstretch your boots. And if the boots don't stretch enough after the first try, try again.
Use a hairdryer: Heat softens leather allowing your feet to expand leather boots. You should wear a pair of socks or two with the boots and use the hair dryer about 6 inches away from the boots. Then wiggle your toes around for more space. Finally, leave the boots on while it cools down, so it molds to your desired size.
Use thick socks: Layer 2 to 3 thick socks and wear them with your boots around the house for some hours.
Use leather oil conditioner: For leather boots, use a leather oil conditioner to help soften the leather for stretching and also prevent cracks.
Stuff your boots: When you aren't wearing your boots, stuff them. Use papers, socks, and so on to help your boots retain their shape.
Go to a cobbler: When all has been said and done, visit a cobbler. They will know what to do.
Do Chelsea Boots Go With Jeans?
Chelsea boots pair with jeans stylishly. These classic shoes for gents are comfortable, versatile, and chic, and you can dress them up or down however you like. You can choose to rock classic leather Chelsea boots or go for the cool suede options.
Pairing Chelsea boots with jeans can give you a casual or casual smart look. For a casual look, suede Chelsea boots are a better option. They have a more relaxed and casual feel than leather Chelsea boots.
And brown is a nice casual color for Chelsea boots. So pair brown Chelsea boots with a pair of jeans and a sleek t-shirt.
To achieve a casual smart look, black leather Chelsea boots are your go-to footwear. Layer up with a pair of black jeans, a v-neck sweater, and a shirt. Or you can go for a turtleneck sweater and a long coat.
As a bonus, you can also nail a business casual look with sleek leather Chelsea boots, a dress shirt, and a blazer.
With Chelsea boots, you can either cuff your jeans above the top of the boots or pull the leg down over the top of the boots.
So not only are jeans versatile, but they are also a safe look with your Chelsea boots. And whatever you do, do not tuck your jeans into your boots.
Are Chelsea Boots Still In Style?
Chelsea boots are definitely in style. These boots are classic footwear for every man's wardrobe. And they work well with any outfit, transforming beautifully into any look.
What began in 1837 as footwear for royals quickly became style game-changers thanks to icons like the Beatles and rolling stone.
And now, any guy who doesn't own a pair of Chelsea boots is missing out on some serious style. Designed for easy wear, these boots are comfy as they are classic.
And you cannot underestimate how versatile they are as they go with both formal and casual outfits.
However, if you're in doubt, look around at some of the stylish men you know. You'll likely spot a pair or two Chelsea boots on their wardrobes.
Can You Wear A Suit With Chelsea Boots?
Chelsea boots are formal boots and so can be worn with a suit. But they need to be worn right, so you don't end up looking like an official mess.
Get the right clothing fit, and endure that you wear slim pants so that they fit into the cut of the boot.
You also need to check the length of your pants. The length has to be just right so that it shows the unique elastic sides of the boots. And don't tuck in your trousers; it's not a sleek look.
As a pro tip, leather is more formal than suede, black leather to be precise. So with a black suit, wear a pair of slim black Chelsea boots with a pointed toe. And remember to give your boots a nice shine.
Brown Chelsea boots go nicely with navy blue suits, but you can wear black Chelsea boots too. And for dark green suits, pair black Chelsea boots with them, and you'll leave a good impression.
Finally, if you're wearing a grey suit, dark brown, black, or burgundy-colored Chelsea boots are great matches.
Why Is It Called Chelsea Boots?
Chelsea boots got their name from an area in London called Chelsea in the 50s and 60s. The area was the upscale and trendy area of London at that time. And they became even more popular thanks to the Beatles, Jean Shrimpton, and the Rolling stones. Soon, everyone wanted to own a pair of boots.
However, Chelsea boots began as regal footwear for Queen Victoria. It was invented and designed by J. Sparkes-Hall, Her Majesty's bootmaker, for walking and horse riding. And it features a small heel and elastic at the side for easy wear.
Now, the boots have gone on to be worn by both men and women as a fashion statement. And a must-have wardrobe staple.
Need any more convincing? Hopefully not. So go get a pair of Chelsea boots and follow these tips on finding the perfect fit and size. For more on boots, check out these articles:
What are Roper Boots? | How To Wear Them To Boots Your Style