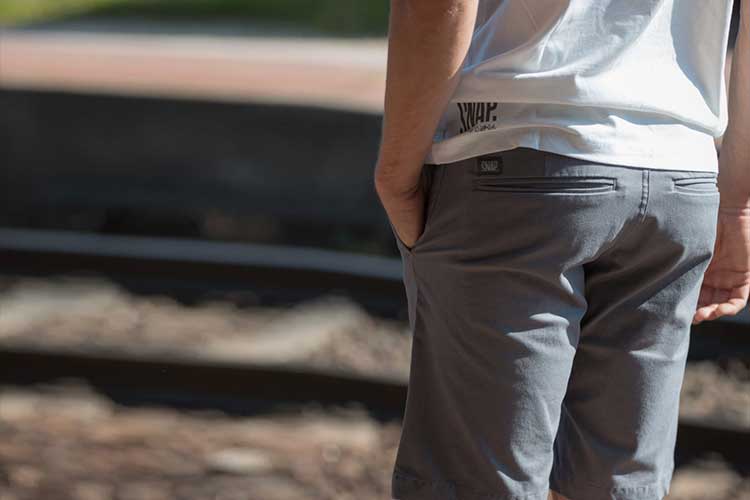 Believe it or not, shorts are hot this season, particularly Chino shorts. They create an effortlessly cool look and are a versatile, easy choice of clothing. However, to kill this look, you need the right pair of shoes with the right colors to match your shorts. And this can be quite the task. So how do you go about it?
What shoes can you wear with chino shorts? Thanks to the versatility of the chino shorts, you have a wide option of shoes to wear with them. You can choose to wear loafers, sandals, sneakers, etc., depending on the occasion.
Sadly, it's still quite easy to miss it, and getting it right requires some effort and, might I add, expert advice. And you're at the right place. With this article, summer won't find you lagging in style. You'll never have to miss out on an opportunity to show off 'them' legs in the most stylish ways possible, whether it's to work or a hot summer weekend with friends and family.
 Whenever you make a purchase through links on this page we make a small commission from our affiliate partners. Learn more
What Are Chino Style Shorts?
Chino shorts are lightweight shorts made from cotton. They're a perfect alternative to the chino pants during the hot season.
They are your go-to fashion shorts, ideal for a smart-casual look. Furthermore, you can also use them to achieve a semi-formal or business casual look. And that's the great thing about chino shorts—they're versatile and dapper. Paired with a button-down shirt, you get a formal look, and paired with t-shirts, you get a casual look.
These chino shorts are typically available in various colors, from classic colors like olive green, cream, white beige to more modern bold colors like orange, blue, red, neon, and prints.
However, you should match the color with the occasion. A bright orange chino pants to work isn't a good look, but a pair of navy blue or black chino shorts will do just fine.
What Shoes Do You Wear With Chino Shorts?
Generally, you can wear almost any type of shoe with chino shorts. It all depends on the look you're going for.
Chino shorts are one of the few shorts that you can wear for many occasions. And the occasion is what determines the shoes to wear with chino shorts. So let's take a look at some shoes that go with chino shorts.
Shoes to wear with Chino Shorts To Work Or For A Formal Event
Loafers
Even your workplace recognizes that the summer heat calls for some urgent action. And Chino pants are the classy option for workwear. Now, you can't wear shoes that show your toes like a pair of sandals, so the ideal shoe to wear here is a pair of loafers.
Loafers are easy to wear, professional, and a bit more casual than oxfords. And this combination of professional and casual goes great with a pair of chino shorts for work. You can get this slip-on in three different styles: Gucci, the penny, and tassels.
Remember to wear a neat, well-pressed white shirt on top. This paired with navy blue chino shorts will look very tidy. And more importantly, please don't wear socks.
Brogues
Every guy should own a pair of classic brogues. You'll thank us, especially when it's time to match your chino shorts for a semi-formal or smart casual look.
Brogues are popular for their stylish look and unique perforations. These classify brogues into three styles: full brogue (wingtip), half brogue, or quarter brogue. We advise you wear a quarter brogue to work because it has fewer perforations and will match nicely with a pair of chino shorts.
Boat shoes
Boat shoes are known for their soft rubber soles and an upper section made from canvas or treated leather. They feature short leather shoelaces on top with decorative laces at the sides. And a low top behind the ankle shape, which makes it perfect for hot weather.
Boat shoes paired with navy, beige or tan chino shorts creates a formal look. They complement chino shorts, making them look mature and civil. These shoes are another fashionable piece that is both comfortable and polished.
Go for navy, blue, white, or tan boat shoes for a smart-casual look. You can even take it up a notch to achieve a business casual look. And it's this versatile nature of the boat shoes that adds to making it irresistible.
Desert boots
Desert boots are known for being comfortable, durable, and lightweight. They feature crepe rubber soles that work well on sand.
So when you think about it, there's nothing odd about desert boots and chino shorts when paired with the right shirt. These boots are casual and yet can be dressed up for more formal events. And they give you a rugged yet dapper look, adding the right balance to any outfit.
For a perfect summer look, opt for suede desert boots with a lighter color and pair them with beige or brown chino shorts.
Shoes To Wear With Chino shorts On A Trip
Sandals or Flip flops
Trips need a lot of freedom and comfort, even in your dressing. And that's why a pair of sandals or regular flip-flops are just the thing. They're breathable, comfortable, and very affordable. And can never go out of style.
Thankfully you can find sandals with earthy colors like brown, mahogany, tan, and so on, which pair nicely with beige chino pants. So grab a travel duffel bag, and you're good to go.
Shoes To Wear With Chinos To The Beach
Espadrilles
Ever heard of espadrilles? Well, what used to be the footwear for peasants in the 14th century is now a hot slip-on for men who know style. These trendy and casual shoes are perfect for summer, and you can dress them up or down however you want.
Rather than throw on a pair of flip flops to the beach, add a little extra and opt for espadrilles instead. They're comfortable and easy to walk on the sand. And more importantly, they are easy to style. And since you're out on a fun day at the beach, go for a brightly colored pair of chino shorts and throw on a pair of sunglasses.
Shoes To Wear To A Picnic
Sneakers
Summer is never complete without picnics. A hot grill, ice cream, snow cones, and all the thrills summer comes with calls for a pair of brown chino shorts and low-top sneakers.
With sneakers, you can rock street style fashionably. They are casual, comfortable, and very stylish. And you can dress them up or down however you want.
With a striped, patterned, or artsy tee, you get a perfect picnic getup. And this effortless look puts you in the mood to grab some summer fun. You can opt for canvas plimsolls or a pair of converse chuck Taylor all-star.
Trainers
Trainers are another pair of shoes you can wear with chino shorts. You can either go for an easy slip-on like Vans trainers or lace-up converse trainers. Add a short-sleeved shirt and get your grill on. It's also a perfect look for regular outings.
Shoes To Wear With Chinos For Weekends
After a busy workweek, kick back with a pair of grey chino shorts and Nikes and unwind for the weekend. Again, sneakers win in this category.
Add a bold-colored t-shirt, polo t-shirt, or form-fitting shirt to complete the look.
How Do You Wear Shorts Correctly?
Where will we be without shorts during summer? They're comfortable, versatile, and cool. However, even though they are a simple get-up, you should know how to wear them correctly.
Wear the right length: The best length for guys is just above your knee when you're standing up. And one or two inches higher when you're sitting down.
Wear the same waist size and your regular pants: Your shorts should fit and sit nicely on your hips like your regular jeans or pants.
Wear a belt: Belts help hold the waist better, so your shorts do not sag. Sagging shorts isn't a good and responsible look.
Wear clean and well-pressed shorts: Avoid rumpled shorts that look out of place. Always maintain a clean, crisp look even with your shorts.
Avoid Cargo shorts: Cargo shorts do not go well in many settings, especially in the workplace. Go for khakis or chinos as they look more professional and look good on any guy.
Go for safe colors: You might want to leave the bright colors to the trendsetters. If you are a simple guy, stay safe with beige, tan, brown, black, navy colors. However, once in a while, you can dare to bring out the inner radical in you.
Should You Wear A Belt With Chino Shorts?
If you're tucking in, you should wear your Chino shorts with a belt. But if you're wearing your shirt tucked out, then you can leave out the belt.
Make sure you're wearing the right waist fit, so your shorts don't keep falling off your waist.
Should You Wear Socks With Shorts?
Generally, you should wear socks with shorts. While some may disagree with this look, they can't argue that you can end up with smelly shoes if you fail to wear socks. So rather than discard it entirely, it's better to find a way to make it work. And the good news is it can work.
So let's see some kinds of socks that will work with shorts:
Invisible socks: These are your safest bet. With these kinds of socks, no one will know you're wearing any. So it's the best socks to wear with shorts, especially formal shorts.
Colorful socks: Some guys play with socks to pop up their look if they're wearing minimal outfits. However, with shorts, you have to be the ultimate style risk-taker to pull off this look.
Tube socks: When wearing tube socks, match them with the color of your shoe or match the stripes on the socks with the color of your shoe.
Pastel socks: Pastel socks are a great alternative to invisible socks. They're comfortable and work with most skin tones.
When wearing formal shoes like boat shoes or loafers, you shouldn't wear socks. But if you must wear socks, you can go for invisible socks. With sneakers, however, socks are a must.
Sports trainers, on the other hand, are okay with short socks, especially if you're doing something sporty. And you can wear long socks if you're going to the gym or any sports activities like football.
Other than that, invisible socks are ideal.
What Styles Of Chino Shorts Are There?
Chino shorts come in different styles based on their cuts. Some styles are:
Classic chino shorts: These are your regular chino shorts that fit loosely around the legs and sit on your waistline. The length of this short stops just above your knees.
Straight fit chino shorts: These are chino shorts with a relaxed fit—not too tight, not too loose. Also, it doesn't taper or flare at the knees.
Tailored chino shorts: These chino shorts are like dress pants. They have the same waist as dress pants and feature similar detailing and pleats as dress pants.
Knee-length walking chino shorts: The length of these chino shorts stops at the knees and not above it.
Toreador chino shorts: These are longer, between the knees and the ankle. They are very for situations that call for modesty.
Slim-fit chino shorts: These shorts fit close to the body. They come with tapered ends at the knees and sometimes a little hem at the knees.
So go with whatever style fits and makes you most comfortable.
Why Are Chinos So Popular
Like jeans, almost every guy around the block owns a pair of chinos. For one, chinos are lightweight and so are perfect for summer. They help you stay cool and comfortable. Even better, you can wear them to work as well. This makes them the best and most versatile alternative to jeans.
Chinos work well as both pants, and shorts and both styles can be worn for any occasion.
Compared to jeans, Chinos are more formal. A pair of high-quality chinos can give you a semi-formal, business casual, or smart casual look better than a pair of jeans.
Chinos are also very durable. In fact, they're more durable than most other pants fabric. As such, you can wear them in tough work environments. They are also stain resistant which is ideal if you work where you are prone to getting dirty.
And finally, another reason chinos are so popular is that they are easy to wash and maintain. Simply wash in cold water, and hang. You can use a dryer since chinos are made from cotton.
So don't wait to be told, if you don't own a pair of chinos, you're missing out on some functional pants. And in summer, your best option for versatile wear is a pair of chino shorts.
Find out more about chinos and what to wear this summer with these articles:
Best Casual Shorts for Big Guys Summer Wear
Best Men's Summer Bucket Hats to Try on ASOS
9 Best Men's Chino Pants for Work You Should Have In Your Closet This Summer
RELATED POST