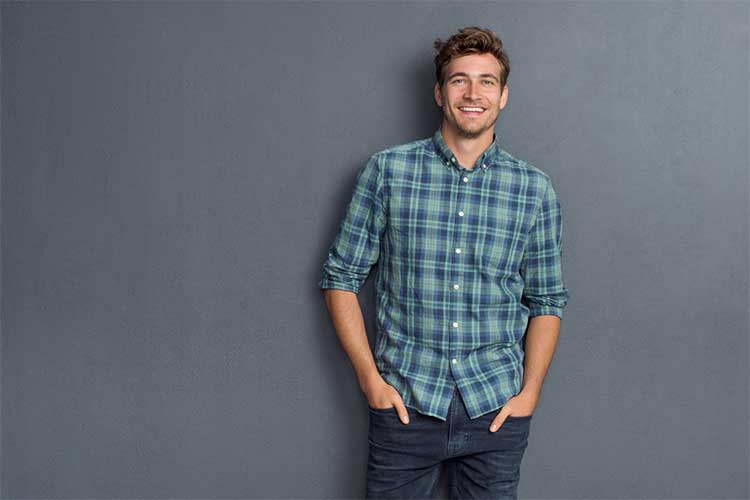 Casual, comfortable, lightweight, and breathable—that's what the best button-down shirts for big guys look like these days. It's the one shirt that can easily level up any man's style, flatter his body and make him shine when dressing down.  You can dress up these men's casual shirts with tailored trousers, or dress them down with your favorite pair of distressed jeans. Button-down shirts are totally a game-changer for the perfect style flex with timeless appeal.
If you are considered a big guy and you're looking for stylish button shirts to wear to work or on the weekend, in this post we have put together nine great options of the best button-down collar shirt you can shop for in your size.
What is the difference between button-up and button-down shirts?
In general, button-up shirts are any shirt that buttons all the way up the front, like a dress shirt, flannel, or oxford shirt. On the other hand, a button-down shirt is like a button-up shirt. The difference is that the button-down shirt has a collar that can be fastened with attached buttons and it's mostly worn casually.
Double Pump Button-Down Long-sleeve Shirt
Double Pump is an oriented shirting brand that has been bringing premium quality plaid shirts to the masses for some time now.  Stock your wardrobe with these 100 % lightweight cotton button-down plaid shirts that offer a comfortable skin feel. This is a great wardrobe option to prepare yourself for any occasion at short notice. This is the perfect long sleeve shirt for fat guys or big dudes.
Wear it tucked in or untucked for that casual after-work look. Sizes are available up to 4X large. Our recommendation is to go one size up just in case it shrinks a size down after washing. Check out all the colors and your exact size on Amazon.
Check Lastest Price on Amazon
Polo Ralph Lauren Big & Tall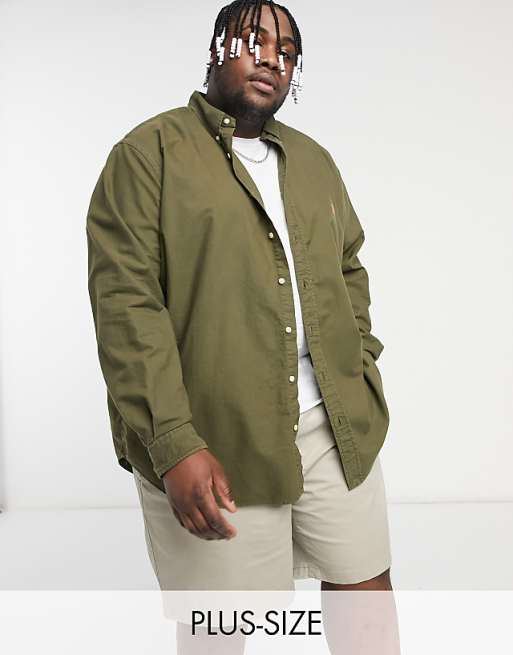 Ralph Lauren is still at the top of its menswear game with its men's big and tall Defender green button-down shirt. 
True to its size, this long-sleeve boasts its iconic Polo signature logo embroidery on its left chest. Its casual design makes it suitable to wear with t-shirts, shorts, chinos or jeans. 100% lightweight cotton keeps things breathable and comfortable. Ideal for every occasion. Check Latest Price On Asos.com
Goodthreads Short-Sleeve Printed Poplin Shirt
With Goodthreads being  Amazon's Prime fashion brand for men,  this men's short sleeve shirt will offer you that custom style fit. You have nothing to lose with the Goodthreads brand since you can try it free for 7 days with free shipping and return. If you try it but the size is too small, return it and get a bigger one instead. For the price, this is one of the best poplin shirts for a big guy who wants to have affordable and luxury.
Offered as a standard fit men's button-down shirt, it sports a  single chest pocket and is available in a wide range of printed colors and sizes.
Check Lastest Price on Amazon
Wrangler Classic Button Down Collar Plaid Shirt
One of the cool things why we chose this shirt, is that you get this classic style Wrangler shirt in 14 different colors and plaid design. This authentic Wrangler design offers a laid-back style for big guys who are on the go. The shirt is made from 100% cotton which makes it lightweight and breathable.
Dealing with a big belly you want to have a shirt that fits and wears comfortably.
Check Lastest Price on Amazon
Tommy Hilfiger Classic-Fit Men's Shirt
This Tommy classic is a must-have for any big and tall guy. It offers that stylish and sophisticated look for a casual occasion. It looks equally terrific when paired with a pair of chinos for work or any jeans for that weekend adventure. One of the best button-down men's shirts by Tommy Hilfiger brand, this shirt has a high buyers rating. 
We rate this shirt as a fat-friendly option not only because of its fit well,  but also its made of 98% Cotton and 2% Elastan. This blend of fabric makes the shirt lightweight, breathable and stretchable if you are active.
Check Lastest Price on Amazon
Dockers Comfort Flex Long Sleeve Shirt
Looking for a dressier look but still hoping to keep that casual look? Then tuck in this Dockers long sleeve shirt and pair it with a tie or wear it untucked with jeans,  Khakis or chinos. Keep the collar fastened as this will give structural strength to your shirt appearance. This men's shirt is made of cotton and elastane for wearing comfort and stretchability, and 43% polyester which makes it resistant to abrasion from machine-washing. As one reviewer put it, "Comfortable, Styleus, and Exactly as Described"
Check Lastest Price on Amazon
Carhartt Lightweight Chambray Button-Front Shirt
Carhartt is best known for heavy-duty workwear, well if you are a fan of this brand you will appreciate the quality of this lightweight chambray button-front shirt. This shirt can be your go-to piece when paired with other clothes that work just as hard. Chambray shirts are usually light blue in color but this style of shirt is available in four different colors.
 Wear it unbuttoned with a t-shirt and the collar fasten pairs perfectly with a pair of work pants or jeans. Check out all the other colors on Amazon.
Check Lastest Price on Amazon
Columbia Long Sleeve Fishing Shirt
A set of cool and sporty colors isn't all that makes up this button-down fishing shirt by Columbia. Apart from its wide selection sizes for big and tall men. It offers UPF40 sun protection and its lightweight fabric makes it easy to dry. What's noteworthy is its sleek roll-up long sleeve design and multiple low-profile pockets. 
Functioning to make your life outdoors easier. For a big guy that loves fishing and the outdoors, this is one of the best long sleeve fishing shirts you will ever need to protect you from the sun.
Check Lastest Price on Amazon
Columbia Rapid Rivers Ii Long Sleeve Shirt
Great all-around shirt, durable, it's what you would expect from Columbia. Complete with a wallet-friendly price tag that's irresistible. Overall this Columbia Rapid River button-down collar shirt is a fat guys best friend. Its cotton and elastane fabric blend design makes it comfortable and hard to fault.
Check Latest Price on Amazon
Polo Ralph Lauren Big & Tall oxford shirt
These blue oxford shirts are the perfect casual menswear that will classically add style to your large physique, minimizing the midsection of your frame. Generally, long-sleeve oxford shirts are a fantastic choice to be worn to any occasion because they are so versatile.
With these big and tall button-down oxford shirts, you get that casual look when compared to its cousin. The spread collar oxford shirt. Check the latest prices on Asos.com 
Van Heusen Big and Tall Wrinkle-Free Shirt
Make your life easier with this wrinkle-free check shirt check. This Van Heusen big and tall short-sleeve button-down shirt will be an essential addition to your wardrobe. Made of 55% cotton, and 45% polyester means that it is breathable and comfortable to wear. 
Pair it with chino pants or jeans, to get that fine semi-casual look layer it under a blazer. Van Heusen has made it easy for you to care for this shirt. All you need to do is machine wash and wear.
Check Latest Price on Amazon
Lacoste Oxford Woven Button Shirt
Lacoste is one of the best men's casual wear brands that offers a wide range of the best casual shirts for men. Since 1933 Lacoste has played a great role in delivering classic and modern clothing inspired by sport. Like this oxford woven button-down collar shirt. Its made from 100% cotton, which makes it feel comfortable on your skin.
Check Latest Price on Amazon
Amazon Essentials Pocket Oxford Shirt
An Oxford shirt is a versatile piece of clothing to have in your wardrobe, simply because it can be worn for any occasion. Maintaining a high standard in quality and comfort this Amazon essential oxford shirt offers a solid balance of quality and budget. Sporting a single chest pocket and button-down collar. If you are a fat dude this shirt will offer you a balance between formal and casual.
With everyone in mind, Amazon Essential makes this shirt in all the sizes possible. Anywhere between an XX-small to 7X- Large Big. They also have several color choices to choose from, giving you more options to blend with the rest of your outfit.
Check Latest Price on Amazon
How Do Guys Wear Button-Down Shirts?
A classic way to style your button-down shirt is by tucking it in your jeans and wearing it under a blazer. There is no need for any tie here, all you need is a matching belt and shoes to go with it.
Another popular combination of styling your button-down shirt is by wearing it over your t-shirt. To pull this off make sure you undo all your buttons, totally exposing your T-shirt underneath it.
Another example is to tuck in your shirt and button all the way up  which is best suited in the fall and winter or just leave the first two buttons open in warmer seasons
But perhaps the best way to wear them is by rolling the sleeve up to the elbow. We advise, for you to pull this off it's best to wear button-down shirts that are wrinkle-free.
Should Fat Guys Tuck In Their Shirts?
A rule of thumb is, if the event is more on the formal side, then it's best you tuck in your shirt to blend in with the dress code. Here are a few rules to follow when deciding to tuck in your shirt or not.
When considering wearing a short-sleeve shirt, a top like a polo, Hawaiian shirt, or a t-shirt to a casual event we strangely advise not to tuck your shirt in. There is no reason to tuck it in.
If you intend to wear a casual jacket or coat to give you that smart casual look, generally, it's best to tuck your shirt in.
Always Tuck your shirt in if the occasion is business casual. You don't want to look unprofessional in this situation. Whether it be in front of your clients or colleagues. If you are wearing just a sweater, a sports jacket or a plain shirt always tuck your shirt in.
 What's The Best Fabrics For Big Guys
The best fabric for a big guy should not be too heavy or too light, but at the same time, it should add structure and limit added volume to your shape. Cotton, oxford, denim, Twill, and knit fabrics are the best fabrics choices if you are a large guy. These fabrics are not too thick. Thick fabric will generally make you look bulky, get hot and sweat easily. 
Secondly, these fabrics are not too thin. Thin fabric will stain easily, it's uncomfortable when wet and exposes any bumps and lumps you may have.
For more recommended men's shirt reviews check out Best Shirts for Guys with Broad Shoulders, the best Shirts for Big Belly Men,  No Iron Button Down Dress Shirts, and our favorite 5 Sweatshirts For Men To Wear All Day.