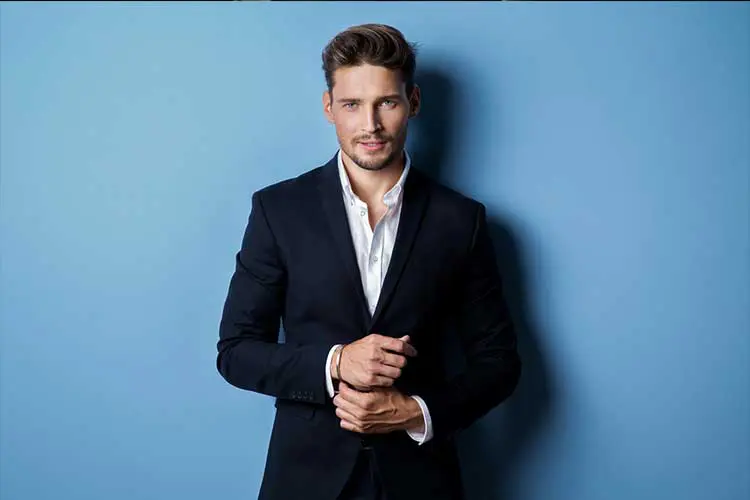 Many people find it hard to pull off a collared shirt and jacket look. They end up either looking robotic or uncomfortable, both of which are major turn-offs. But it doesn't have to be this way. You can create a great collared shirt and jacket look – playful, formal, youthful, or casual yet chic.
Still, I'm sure you've also wondered – can you wear a collared shirt with a collarless jacket? Generally, it's okay to wear a collared shirt with a collarless jacket. It may even go nicely with a waistcoat and tie as well. But not everyone can pull off this look. So if you can, you're one stylish guy!
 Nonetheless, that's what we're going to help you do. It doesn't matter whether it's a collared jacket or collarless jacket; we can show you how to pull off the look without a hitch. Here's your men's guide to wearing a collared shirt with a jacket.
 Whenever you make a purchase through links on this page we make a small commission from our affiliate partners. Learn more
What Qualifies As A Collared Shirt?
A collared shirt features a part, i.e., the collar that fastens around the neck or frames it. This part may be attached to the main clothing or detachable. It is typically made up of a band, leaves, spread, and point.
The band is a strip of clothing upon which the collar itself is sewn or attached. It's also called the stand or base of the collar.
The leaves, on the other hand, are the sides or main bodies of the collar that lays flat against the band. Then the points refer to the tips of the collar or the shape of the collar ends, while the spread is the distance between two points. These points may be pointy, rounded, squared, or cut off completely.
A collared shirt typically reflects a business formal look. However, you can style it to achieve a laid-back casual look. Now, there are different types of collared shirts, and we'll take a look at these next.
What Are the Types of Collared Shirts?
Have you ever heard of spread collars or point collars? Or do you think a collar is simply that – a collar. Well crazy as it may seem, there are different types of collars. And knowing the differences is a key to styling your collared shirts the right way.
Some of the types of collars are:
Point Collar:
As the name suggests, the collar tips of a point collar are pointed, with a small space of 1.5″ to 3.5″ between the spreads. This type of collar doesn't expose the tie beyond the knot on either side. Also, the pillar doesn't get covered by the lapel of the jacket. Pretty neat, right?
Tab Collar:
This collar features an underlying tab that pulls the collar tips while lifting the knot of your tie. It is rooted in vintage styling and gives you an elegant look.
The Club Collar:
This type of collar has a rounded end instead of points. And they have a wider space between the collar leaves. It was developed as a uniform for Eton college and has continued as a style statement.
The Wing/Tuxedo Collar:
This is the most formal of all collar types, perfect for a white tie event and usually worn with a bow tie. Admired for its vintage look, these days, you'll find some men wearing it with a tuxedo. And it's not rare to spot valets or butlers wearing a winged collar.
The Band Collar:
This type of collar has no leaves and usually stands at 1-2 inches high. It is also called Mandarin and doesn't require a tie.
Pin Collar:
These types of collars have holes sewn in them for collar pins. And pins fasten the leaves of the collar bringing it closer. These collars are perfect if you like to sport a bit of classy man jewelry.
Square Collars:
These collars are rare and have their points squared off. In the early twentieth century, they were usually worn in detachable form.
Button-Down Collars:
These collars, although intended to give off a casual vibe, still end up looking dressy with a tie and suit. They feature buttons on both points which hold down the collar. And if you don't like visible buttons, there are those with snaps underneath.
Spread Collar:
A true spread collar is 5-6 inches between collar points. They are best for wearing thicker ties made of wool or cashmere without exposing the string of the tie. The points of a spread collar form a 45° angle or more.
The Cut Away Collar:
These collars have a 6 inches space between points forming an obtuse angle. Some collars even form a 180° or a straight line. So for these types of collars, it's best to wear them without a tie.
What Kind Jacket Goes Well With A Collared Shirt?
The kinds of jackets that go well with collared shirts include:
Bomber Jackets: Bomber jackets are an essential fashion staple for men these days. Combined with a dress shirt, the bomber jacket is a recipe for a decent outfit. Add a pair of nice Chelsea boots and dark chinos, and you're rocking in style.
You can also wear this with a pair of loafers, a nice tote bag, and a wool hat for a bit of an upscale look.
There are multiple ways to style this for any age, mood, or event.
Denim Jackets: With dress shirts, these rugged and durable wear have proven yet again why they are must-have clothing in every guy's closet. To pull off the denim jacket and collared shirt look, go for a jacket that isn't too distressed and make sure it's a slim fit. Also, go for one with dark colors and pair it with dark-colored pants.
Raincoats: These are a classic fashion statement. It may not be a jacket per se but works great with a dress shirt, and you'll need it, especially when the heavens open. So, you might as well look sharp while staying dry.
Colors like camel, grey, black, and navy are fantastic. A navy raincoat goes well with navy pants and a sky blue dress shirt. And a pair of brogues will seal the deal to making you look like a classic man.
Harrington Jacket: This cropped and preppy look of a Harrington Jacket goes remarkably well with a collared shirt. Go for a relaxed fit and match with a pair of slim-fit trousers and a pair of loafers for a simple yet smart work look.
Wool Blouson: Although the name "Wool Blouson" covers jackets that are short and at waist level, this particular type has a boxy look, with a short length and large front pockets. So if you're not into Harrington jackets or Bomber jackets, you can opt for these.
Paired with a white or grey shirt look finishes off nicely with a pair of slim-fit pants and a slim tie. Don't forget a stylish black pair of Oxford shoes.
Field jacket: Another classic wear gotten from the war times, these jackets give off an impressive manly look you can only get if you were around that time. They're functional with four front pockets and a short length. Some feature a drawstring at the waist to create the perfect fit, or at least your most preferred fit.
You can cuff up the sleeves to dress it down a bit for a smart yet casual attire.
Leather Biker Jackets: You want to achieve a monochrome look with this: black leather jacket with a clean finish, black slim-fit pants, a Blacktown, and a white shirt. Then top it off with a pair of black boots.
The leather jacket complements the dress shirt beautifully for a rocker yet smart look.
How Do You Wear A Collared Shirt Casually?
To wear a collared shirt casually, try out any of the following.
Throw on a short-sleeved collared shirt: There's something about short sleeves that gives off a casual flare that even rolled up long sleeves can't.
Try a Variegated shirt: When paired with a sweater, these shirts give you a unique casual look. The colorful pattern on this shirt does away with the need for a tie. Now, if you do wear a tie, go with one that has a solid color and avoid patterned ties.
Throw on a sweater over your shirt, sport a pair of jeans and sneakers. Just remember to tuck your shirt into your pants. You can ditch the sweater for a cardigan. But if you do, don't tuck in that shirt.
Go for Checks: Check shirts are a great casual look when paired with jeans. Style it by rolling up the sleeves, and step out in an effortless style.
Wear Military-inspired shirts: Not only are these shirts casual, but they also add a little toughness to your look. The strips on the shoulders give your shoulders a straight, broadened look while maintaining a cool casual aura. Works great with a pair of chinos or a cool pair of jeans.
Go for artsy collared shirts. These shirts look absolutely casual and defeat the formal collared shirt stereotype.
Lose a button or two: Don't button your shirt up to your neck. At least unbutton down to the second button from the collar, bearing a little skin.
Lose the tie: Ties are the definition of formal, so lose them if you want to go casual. And if you're wearing a suit, simply unbutton it, add a pair of sneakers, and voila!
Unbutton down completely: You should wear a solid color shirt or a graphic tee on the inside. This is a great casual look.
Combine with a jacket or blazer and jeans, and don't tuck in the shirt.
Rolled-up sleeves are also pretty basic for transforming a formal look into a casual look.
Tips for Wearing a Jacket and Dress Shirt
Matching a dress shirt and a jacket can give you different looks. And depending on the look you're going for, it is important you know how to match them well. So here are some looks and how to match your shirt and jacket using the right color combination.
For a classic look, match a plain-colored grey shirt with a white or sky blue shirt. A plain colored or striped tie will do just fine.
However, if you're looking to go formal, then a blue Field or Wool Blouson jacket matched with a white or sky blue shirt goes well together. Match them with a plain colored tie and for a little color, add one with shades of burgundy.
For a modern look, a blue bomber or Harrington jacket with a white shirt and a blue-colored tie will look great.
A young and fresh look will need a solid grey jacket with a striped shirt and a plain colored tie.
And if you're wearing your shirt with a suit, the general rule is that the wider the shirt collar, the wider the lapel, and vice versa.
There are a lot of different ways to combine them, so feel free to explore your options and have fun.
Is A Polo Shirt Considered A Collared Shirt?
Generally, polo shirts are considered collared shirts. They feature a fold-down collar with only two or three buttons in front. However, unlike most other collared shirts, they're best worn for casual occasions. Just pair them with jeans or shorts and sneakers or loafers. You can even wear them with a suit. Just leave out the tie.
They are usually super comfy, made from a breathable material like cotton. This makes them ideal for sporting events, playing golf, dining in warmer weather, or sightseeing.
And there you go, your easy men's guide to styling collared shirts and jackets. Who knew there was so much to know and so many great styles you could get from them?
Well, we knew, and now you know too. And thankfully, there's more, so go right ahead and check out these articles:
What Are Collar Stays; Are They Necessary, And Are They Uncomfortable?
Tips To Wear Collared Shirts And Sweaters | Perfect For Office Or Party
Best Shirts for Guys with Broad Shoulders
RELATED POST