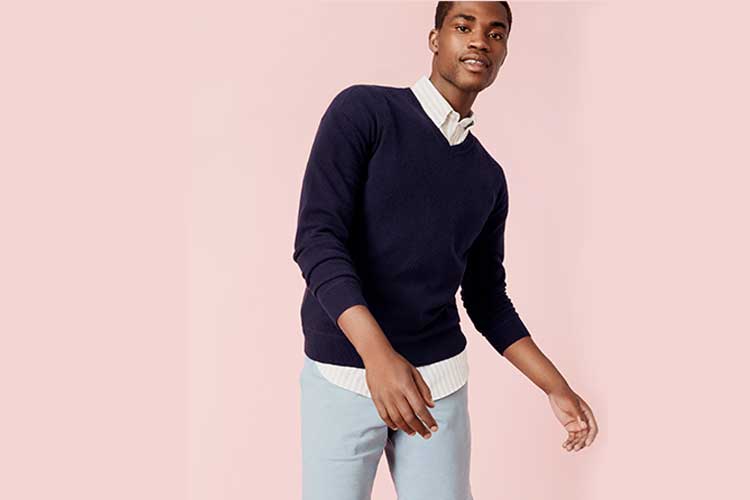 Sweaters are great for the winter and rainy seasons. And these functional wear can be stylish if worn the right way. You don't have to look sloppy just because you've got a sweater on. With a sweater, you can easily dress up an outfit to look formal or dress it down to look more casual. And this is more reason to have them in your wardrobe.
So, in choosing the right sweater fit for a man, you may be wondering, "should sweaters be a size bigger"? This depends on the look you're going for. But generally, sweaters don't have to be a size bigger. Going for a bigger size would mean you want more room, while choosing a smaller size means you want a tailored fit.
And that's why we've put together for you 9 tips for choosing the right sweater fit for a man.
 Whenever you make a purchase through links on this page we make a small commission from our affiliate partners. Learn more
1. Get the Right Length
How Long Should A Men's Sweater Be?
Generally, a men's sweater shouldn't be longer than the length between just below your belt buckle and two inches more than that.
This means that the best length for a men's sweater is just below the belt buckle or at most two inches below the belt buckle. So if it's above your belt buckle, that is too short, and if it is longer than two inches below your belt buckle, that's way too long.
How Should A Sweater Fit?
One way to choose the right sweater is to make sure it fits properly. And following the right rules help you find the right fit. So, here are some rules for how a sweater should fit:
2. Wear The Right Shirt Underneath
The first trick of the trade is to make sure you're wearing the right shirt underneath the sweater you're trying on to know if it fits or not. For a V-neck sweater, a collared shirt looks great, and so you should wear it when trying out sweaters because that is what you'll be wearing with it.
For a crew neck sweater, while it may be disagreeable to wear a collared shirt, it actually looks great. And these days, you have top celebrities, fashionistas, and regular people pulling it off, even with a tie.
Length and Fit of Sleeves
The length of your sweater sleeves should stop where your wrist ends, especially when you bend your wrists to face the ground. There should be some ripples on the sleeves without it looking baggy; if there aren't any ripples, then at least it should reach the end of your wrist.
The sleeves should fit close to your arms but not so much that it's too tight. It also shouldn't be too big such that it looks floppy. No one wants to see your muscles protruding or the shape of your muscles beneath your sweater. And it's even more unflattering when it's floppy or folding on itself.
Shoulders
The shoulders should fit at the point where the end of your shoulder joins with your upper arm. This means that if the seams rest above this point, the sweater is too small, and if it's below that, it's too big.
Body Fit
You should give your sweater 1 to 2 inches of allowance or breathing space. If you can't get up to one-inch space, then it's too tight. The sweater should hang lightly against your body without it being too loose or too tight. And this applies to all body types.
Neck
For V neck sweaters, the bottom of the V neck shouldn't fall below the top of your armpit. This doesn't apply to crew neck sweaters.
And for the opening, it should be wide enough to allow your collar tips tucked in neatly. The neck opening should not show a lot of the shirt you're wearing underneath.
The same applies to crewnecks, although since they have a standard size, it won't be much of a problem. Just make sure the neck is not slacked.
Armhole
If the armhole is too small, it will bunch under your armpit, and that's super uncomfortable. And if it's too big, it will look too big and baggy around the chest area.
The perfect fit is somewhere in the middle.
How Do I Choose The Right Sweaters?
Choosing a sweater isn't simply pulling any random sweater from the rack. It is carefully selecting the perfect sweater that not only beats the cold but adds to your overall look. So here are some things you need to know for the best sweater picks:
3. Choose Your Fabric
Sweaters come in different fabrics. And the first thing in choosing the right sweater is deciding your preferred sweater fabric. So what kind of fabrics are out there?
Wool: Wool is very durable and has high insulation properties. This means that wool is very effective at keeping warm. However, they require a lot of care because soaking a woolen sweater can cause it to lose 30% of its strength.
Cashmere: "Luxurious" is the second name for this fabric. Apart from being popular for being luxurious, it's also warm and soft, even 8x warmer than wool. Cashmere is obtained from the hair of a cashmere goat, and they come in different grades. So to test the quality of a cashmere sweater, try stretching it a bit. If it immediately falls back into place, it is stretch-resistant and of higher quality. If you're getting cashmere, ensure that it fits and go for darker colors. With cashmere, you have years of wearing it because this fabric is highly durable.
Alpaca: This material is as soft as cashmere and even warmer. It has microscopic air pockets that make it so. And it is elastic and hypoallergenic, which makes it the best option for those allergic to wool or cashmere.
Cotton: This fabric is not as warm as wool and cashmere, so they are best for the fall season. And they are a more affordable option.
Synthetic: This fabric provides the same level of warmth as wool or cashmere and is easier to maintain. However, don't expect it to last as long as sweaters made from this have a shorter lifespan.
4. Go For A Weave pattern You Are Most Comfortable With.
Weaves of the sweater can affect the level of warmth of the sweater and its overall look. So if you want more warmth, a cable knit is a better option. However, because of its rugged look, it is better worn as casual clothing.
Similar to this is the ribbed knit, although it provides less bulk than the cable knit. And the fair isle knit features multiple colors and traditional Scottish patterns.
5. Select a Sweater Pattern That Suits You Best
Some sweaters do not come with knit features but in checkered or argyle patterns. The argyle pattern usually is in the middle of the sweater, and it should be paired with a plain shirt and jeans or chinos.
6. Choose the Right Colors Fit For The Occasion
You should opt for colors that best reflect specific situations. So if you are opting for a formal look, darker colors are a better choice, and they are versatile. On the other hand, brighter colors are more playful and attract attention to the wearer, so it's best to wear them for parties or other informal settings.
7. Go For The Best Sweater Fit
Fit is an important part of choosing the right sweater. It should fit snugly without being too tight because you want to be comfortable in it but without excess fabric flapping around. Also, the shoulder seam should rest at the point your shoulders join with your upper arm. And if you're wearing a V-neck sweater, it should cover the points of your collar sleeves.
What Style Of Sweater Should I Go For?
Choose Your Preferred Style
While it may seem there are so many styles to choose from, the truth is that there are just a few major styles in different variations and patterns.
So let's take a look at the patterns available for you to choose from.
Crew Neck Sweaters: Crewnecks are likely the oldest sweater style and will never go out of style. Crew necks come in a round neck shape and are usually close-fitting at the neck area. With their simple and versatile nature, you can easily dress them up or down. And you can find them in varieties of fabrics, colors, patterns, or weights.
The V-Neck Sweater: Every stylish man should own a V-neck sweater. This style gives you a neat look, and it is versatile. You can pair a lightweight V-neck sweater made with merino wool with a shirt and a tie. You can also wear it under a suit. And a thicker V-neck sweater goes with a pair of solid jeans and chukkas.
Cardigan: Cardigans feature buttons from top to bottom. And to pull off a cardigan and avoid looking like an old man, go for a slim fit.
Shawl Collar Cardigan: Not only is this sweater super comfy, but it's as stylish as it gets. However, it helps to know how to style it properly, so you don't come out looking off. For example, go for a slim fit, with the right length and when wearing, lose a few buttons, depending on your preferred look. You should also pair with pants of a different color or shade from the cardigan and so on.
Shawl-Collar Pullover: This sweater is very stylish. And because it's not very common, having one shows that you put some effort into your wardrobe. This style features a roll neck that is crossed into a V-neck, and it comes with two or three buttons or toggles that may or may not be functional.
Rugby Shirt: This style gives you a casual yet put-together look. It's proof that you don't need a baggy hoodie to look really casual and laid back. You can do so while still looking put together, and to achieve this better, go for a slim fit with solid colors.
Turtle Neck: Sporting a turtle neck is sure to get you a lot of compliments, especially if you wear it well. You can go for a solid color, with a slim fit size, and pair it with a cool bomber jacket and a pair of jeans. You can opt for the shorter mock neck or the roll neck version.
Half Zip/ Quarter-Zip Or Mock Neck: The mock neck and the half zip neck are similar. The only difference is that the mock neck uses buttons while the half zip features a zip. The buttons or zipper are attached to a high collar and stop at the chest area. When zipped up, you get a turtleneck, but it's best not to zip up completely for a more masculine look.
Commando or Wooly Pully: This style is like a crew neck with additional features like epaulets and elbow patches. It is designed to look military, so the name is no surprise.
How Many Sweaters Should A Man Own?
There's no general rule for how many sweaters a man should own. You can have as many as you want and can afford. With the variety of styles introduced into the market constantly, the temptation to stock your wardrobe fully increases. However, bear in mind that you may just end up getting the same style in a different color or pattern.
So to be a wise spender as well as a stylish devil, go for patterns and styles that will never run out of style. Also, go for more versatile options that can go with the most outfits and fit different events.
9: Play It Cool And Go For Quality
Finally, go for quality. If you get quality sweaters, you won't have to visit the store so often. The best fabric is typically the more natural fabrics like merino wool, cotton, and cashmere.
You can go for some good brands like O'Connell, Blarney Wool Mills, John Smedly and so on. Thankfully, there are vintage or second-hand stores for you to explore for classic, durable and more affordable sweaters.
Tips For Cleaning and Storing Your Sweater
If you want your sweater to last longer, follow these tips for cleaning and storing your sweater:
Don't wash your sweater too often; less is better.
Wash according to the instructions on the label. Remember, avoid soaking wool.
Don't hang your sweater, rather fold them neatly and store. Hanging stretches the knit.
You can savage a pilling sweater by simply using a shaving stick or razor over it to get rid of the fluff.
And that's it, folks! Now you know what to look for before choosing a sweater. That said, check out these sweaters:
7 Best Men's Sweaters for Cold Weather
And catch up on more amazing dressing guides and style content with these articles:
Men's Dress Watches – 9 Questions To Ask Before Buying
Men's Guide To Wearing A Collared Shirt With A Jacket
Best Shirts for Guys with Broad Shoulders
RELATED POST