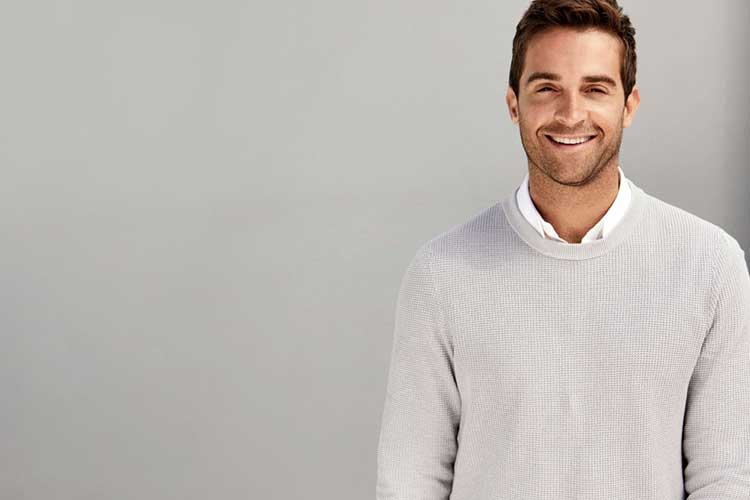 Knowing what to wear with your crew neck sweater can amp your style game like you can't imagine. Crew necks have gone from plain baggy sweaters to a style staple for men, and your wardrobe is incomplete without one. And with so many options to choose from, you want to pair it right for the desired look.
Asking "what pants go with a crew neck sweater?" is a great place to start. With a crew neck, a pair of jeans, chinos, or regular slacks will do. It really just depends on the look you're going for. You can either dress it up or dress it down. It's simply a versatile piece of clothing that fits almost any pants.
So grab your crew neck sweater, check your wardrobe for what's available and get ready to run your runway. Because we'll be showing you how to style your sweater for different cool looks. Whether it's business, formal, or casual, having these 9 things to wear with a crew neck sweater for men will do wonders.
 Whenever you make a purchase through links on this page we make a small commission from our affiliate partners. Learn more
Things To Wear With A Crew Neck Sweater
It's easy to love a crew neck sweater. It goes with basically everything, and they are so easy to wear. You don't have to be a fashion guru to rock one and rock it well. So with a crew neck sweater, you can go from casual to smart to formal easily when paired with any of these:
Pants
Every outfit needs pants. However, not every kind of pants goes with every outfit. But the good thing with crew necks is that they go with any kind of pants, even dress pants.
You can get any look depending on the type of pants you wear it with. A pair of jeans or chinos can give you both a casual and office look, and dress pants or slacks will give you a business or formal look.
You can even wear a pair of shorts with your crew neck. And for the ultimate comfort, joggers are the way to go. You get a cool laid back look, and if styled right, you can still look sharp in it. You don't have to look like something dragged out of a couch just cause you're wearing joggers.
Shirt
Layering is one of the things a crew neck allows you to do. It's both fun and stylish to layer outfit upon outfit, and a crew neck gives you the perfect canvas to paint whatever you want.
Wearing a shirt inside your crew neck can give you a classy look and even a laid-back look. Whether it's a chambray shirt—which we are absolutely loving—or a dress shirt, crew necks are a hit.
It is best to go for shirts with a slim fit, so you don't have bulges under your sweater. And let the cuffs of your shirt show a bit if you're wearing long sleeves.
If you're wearing a buttoned-down shirt, the collar points should be tucked into the neck of your crew neck sweater neatly.
With shirts, you can play with color, patterns, and design. However, don't overdo it with color; stick with mixing light and dark colors instead of going for bright colors all through.
T-shirt
T-shirts are easy-going, straight-out-of-the-wardrobe-onto-your-body wear. And thankfully, it's one of the things you can sport underneath a crew neck sweater.
For Crewnecks, it works as an undershirt for added warmth and as a bridge between your perspiration and your sweater.
And T-shirts under a crew neck can be fashionable too. As a pro tip, let the t-shirt show a bit at the neck for added color.
Blazer
A nice cool blazer says a lot about your personality. It says you're a fresh gentleman who likes to be taken seriously but who also knows how to kick back and have some fun.
Now, paired with a crew neck, hits the right chord at making a great impression. The look you get from this is "business casual," with a lot of style and a dash of smoldering. To nail this look, wear a dark-colored blazer if your crew neck is a lighter color and a lighter-colored blazer if the crew neck is a dark color.
Related read:Best Men's Sweatshirts To Wear With Chinos
Suit
If you want to dress up your crew neck a bit more, go with a suit. And you can even layer it with a button-down shirt underneath the crew neck. Then finish with classy shoes and a classy watch. And get a really smart and put-together look.
You may add a tie or leave it out. Leaving a tie out tones down the "seriousness" a bit. But then again, maybe that's exactly what you need to strike that deal.
Jackets
Every guy needs a jacket in his closet. They easily complete any outfit, and crewnecks go well with jackets. You can sport a bomber jacket, a leather jacket, a Jean jacket or whatever else jacket you prefer.
Sneakers
A pair of low-top sneakers on a crew neck sweater, a dark leather jacket, and dark wash jeans is a recipe for cool and laid back.
Overcoat
A nice overcoat with a crew neck sweater and shirt will make you look like a classic man. Add a pair of Chelsea boots, desert boots, or loafers, and enjoy the air of a classy gentleman.
Tie
A tie on a button-down shirt and a crew neck sweater makes you look smart and easygoing. Make sure the knot of the tie shows, so it doesn't look like a clumsy knot underneath the crew neck.
And don't forget to accessorize. A cool watch, perhaps, or a pair of cufflinks will do just fine.
What Pants Go With A Crew Neck Sweater?
Even though crew neck sweaters pair easily with any style of pants, they can end up in a disaster if not paired right. So let's see a few pants that go with a crew neck sweater and how to rock them.
Jeans: Jeans and crew necks were made for each other. Whether it's skinny jeans or a straight cut, these are your go-to pants for crew necks. And if you really want your style to pop, pair dark wash jeans with a boldly colored crew neck sweater, and don't forget a pair of sunglasses. The beautiful thing about a pair of jeans is that they can be worn for work and as a casual outfit.
Slacks: This is for a more formal look. Pairing a crew neck sweater and slacks is getting comfortable and a professional style at the same time. Complete this look with a pair of loafers or boots, and you're good to go.
Khaki shorts: These shorts can be worn with crew neck sweaters on cold summer nights.
Chinos: Like Jeans, these pants are also versatile. For a casual and relaxed look, wear with a pair of chinos and dress it up with a pair of Chelsea boots.
Lounge pants: These pants, when paired with a crew neck, are perfect as an off-duty look. Go for a pair of tailored lounge pants and match with a pair of nice sneakers.
Dress pants: Dress up your crew neck for a business or formal look with a pair of dress pants, a suit and a pair of Chelsea boots, and a nice dress watch.
What Shirt Goes With Crew Neck Sweater?
You've got the right pair of pants; now it's time to get on with the shirts. So let's take a look at the shirts that go well with crew neck sweaters:
Plain colored shirts: Button-down shirts work great for a formal or smart look. You can match bright with dark colors, for example, a pink dress shirt with a navy blue crew neck sweater or a white shirt and a grey sweater. For crewnecks, the points of your shirt collar of the shirts should be tucked into the neck of your sweater. Also, make sure the collar is not off-center.
Patterned Shirts: Combine a solid-colored crew neck sweater with a patterned shirt. The colors on the shirt may be a variation of the sweater or complementary colors. For example, a black checked shirt and a black crew neck sweater.
T-shirts: A regular T-shirt underneath your crew neck is a casual look you can sport anytime.
Can You Wear A T-Shirt Under A V-Neck Sweater?
T-shirts are good with V-neck sweaters. And to conquer this look, pair a v-neck sweater with a crew neck t-shirt. If you go for a darker color for your sweater, like grey or black, you can wear any colored t-shirt underneath. And pair with jeans to keep it casual.
You can also wear a V-neck tee with your V-neck sweater. It's a flexible look, and you can simply wing it. But stay within sensible rules of fashion when it comes to matching colors and fit.
Can You Wear A Crew Neck Sweater With a Shirt and A Tie?
Crewnecks go well with a shirt and a tie. Some may argue with this, but the pictures don't lie. Plus seeing guys rock this outfit in person is tons of proof. It adds a professional flair to your overall look, giving you a neat finish.
The shirt collar should be tucked into the neck of the sweater and centered neatly. The best shirt fit for this style is a slim fit, so you don't have clumsy bulges around your body. And the sweater should also be a slim fit.
For the tie, since crew necks are high necks, go for one that will reveal the knot of the tie. And also, go for a slim tie, so it rests neatly underneath your sweater without much hassle. Make sure the knot does show and isn't covered up by the neck, so it does not look like a ridiculous bulge underneath the crew neck.
Can You Wear A V Neck Sweater Without an Undershirt?
It is not a must to wear an undershirt with a V-neck. You can actually get a modern, sleek look from this if you do it right. The key is to choose a V-neck that doesn't go too low, so you don't look like a weird dude baring a hairy chest with his V-neck.
You should also go for neutral colors and fabrics like cashmere that are soft and luxurious.
However, not wearing an undershirt with your V-neck means that your sweater is likely to get dirty faster from sweat. And having to wash your sweater every time you wear it isn't a good idea, especially for wool or cashmere sweaters.
So in the end, undershirts are not just fashionable; they're kind of a lifeline for your sweater and you, for keeping warm. And today and in years to come, you and your sweater will be thankful for it.
How Many Times Should You Wear A Sweater Before Washing It?
You can wear a sweater up to 6 times or even more before washing it. By not washing your sweater every time, you'll help it last longer and retain its texture.
Generally, sweaters are worn with an undershirt or layered with other clothing which absorbs the sweat. And so you can wear your sweater repeatedly without having to wash it.
However, if there are obvious stains or it has an unpleasant smell, do well to wash it. Your sweater should always look good and smell nice.
When it comes to washing sweaters, for most sweaters, it is better to wash them by hand in cold water to avoid shrinkage. You can wash them in a washer as well but use a gentle cycle.
When washing, use a little detergent and wash the sweater from the inside to avoid pilling. And then, swish your sweater around in the water and allow it to soak for a few minutes. Then rinse with cold water and gently squeeze the sweater because wringing it may stretch the sweater and damage it.
To dry your sweater, it's better to lay it flat on a drying rack to dry than hanging it to help maintain its shape.
So grab a crew neck and whatever else and have fun with it. But this isn't where it ends; get more fashion tips right here with these articles:
Men's Layering Clothes Fashion
Best Slim Fit Dress Shirts For Men You Will Truly Wear All the Time
Why Do Men's Running Shorts Have Liners
9 Thing to Consider When Choosing the Right Fit Sweater
RELATED POST