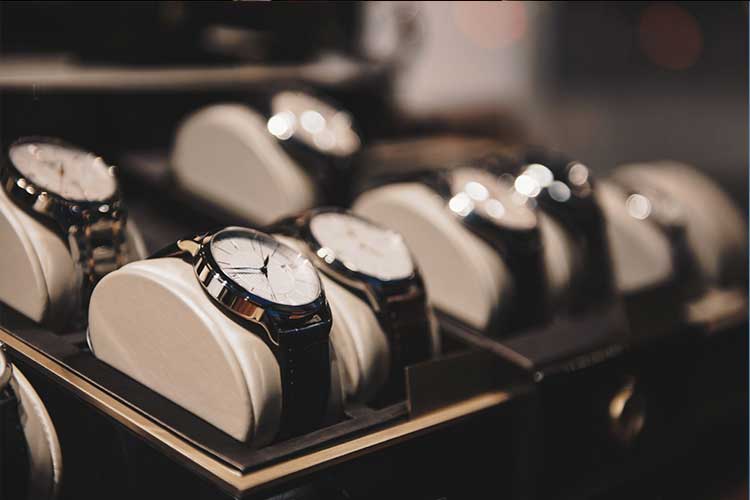 Being classy takes a lot of confidence, calm, and poise, as well as a fancy men's dress watch. But you don't just want to pick any men's dress watch. You want the one that defines your personality and makes you stand out anywhere. A nice watch that's sleek and fits perfectly. So, how do you go about it?
Now, if you're into watches, one of the questions you've probably asked yourself is: should a dress watch have a second hand? Simply put, it really doesn't matter. It works either way. A dress watch can have a second hand. However, that's a stretch for some dress watchmakers that like to keep it simple and maintain the original design.
Now let's get right down to business on 9 questions to ask before buying a dress watch. In this article, we've got you covered, so you'll be well equipped with the right answers before you make that purchase.
 Whenever you make a purchase through links on this page we make a small commission from our affiliate partners. Learn more
What Should I Know Before Buying A Dress Watch?
So you're ready for a smart new look, and a dress watch just might do the trick. However, before you make that purchase, here are some things you should know:
No. 1: What Movement Should The Dress Watch Have?
The movement of the watch refers to the mechanism of how the watch works and keeps time. It's like the heart of the watch. Watches generally fall under three main categories of movement:
#1. Mechanical watches:
These types of dress watches date way back. They are made up of several gears, springs that keep the watch ticking. With mechanical watches, you typically have to wound them continually to keep them working.
These watches work by winding the mainspring, which is usually 9-13 inches. Usually, the longer the mainspring, the longer it would work between windings.
The downside to mechanical watches is that they tend to lose seconds during the day. However, they involve a lot of detail and expert craftsmanship and are usually very expensive. You can't resist the traditional and refined charm they give. It's the stuff dress watches are made up—class.
#2. Automatic Watches:
These kinds of watches are similar to mechanical watches. The difference, however, is that they don't need to be wound every now and then. As long as you're wearing the watch and your arm is moving, it'll keep working.
And when you're not wearing the watch, you could place it in a winding case. These types of watches are also quite expensive.
#3. Quartz watches:
These are battery-powered watches and are the most affordable of all the movements. Quartz watches keep the most accurate time as they are powered by the vibration of a quartz crystal which is caused by electricity.
This electricity comes from a battery which can run down and has to be replaced when they do. The quartz watches have a distinctive tick tick sound and do not move as smoothly as mechanical or automatic watches. They also lack the charm and panache of the other types of movements. However, they are durable and easier to maintain.
No 2: What Type Of Dial Layout Should I Go For?
Generally, dress watches are minimalist. So when selecting one, it is best to go for one with a simple round dial, two or three hands, and maybe a date function.
Some dress watches, however, include "complications" like a chronograph, moon phases window, date and time window, and so on. As nice as these sound, for dress watches, typically, less is more.
Also, for the dial color, a simple black or white dial will do. However, a colored dial will work great as well if paired right.
Finally, the dial shouldn't be too big or too small but should fit your wrist size perfectly.
No 3: What Type Of Band Should The Dress Watch Have?
Dress watches feature the classic leather strap, mostly alligator leather or leather that is at least embossed to look like alligator skin. This is ideal for dress watches. Rubber straps and sports bracelets just will not do; it's far from the traditional dress watch statement.
Still, a dress watch can get away with a Milanese mesh band, but that's as far as it goes.
For a perfect look, your shoes and belt should match the color of the strap. So, if the watch has a brown strap, match it with a pair of brown shoes and a brown belt. And if the watch has a black strap, match it with a black pair of shoes and a brown belt.
Related Read: Discover the Top Watch Colors for Men
No. 4: What Design Should The Dress Watch Have?
Simplicity and elegance is the name of the game with dress watches. So you want to go for something that will not overwhelm your outfit but complements it nicely. A classic example of this is the A. Lange & Söhne Saxonia Thin dress watch. It features a silver dial with only the hour and minute hands, the company's marquee, and simple markers.
Some dress watches also feature a second hand, and this doesn't take away from the simplicity of the dress watch. An example of this is the Patek Philippe Annual Calendar Ref. 5396.
This watch has a second hand, and even with its moon phase dial and date window, you can't say this is less in style and beauty than a classic leather watch. None of these features take away from its simplicity.
No. 5: What Material Should The Case Be Made Of?
Everything about a dress watch has finesse, and the case is especially a statement of luxury and refinement. Dress watches typically feature simple, slim cases made with precious metals like gold (yellow, white, or rose) or platinum.
Thankfully, there are the more affordable ones made from stainless steel. An example of this is the Jaeger-LeCoultre Grande Reverso Ultra Thin 1948 dress watch.
You can barely tell the difference between a polished stainless steel case and a polished precious metal case, except you feel it. Of course, the price will also tell you which it is. So a stainless steel alternative works just fine.
The casing may feature classic dress watch detail like hobnailing or gem settings like the Patek Philippe Calatrava Ref. 5119.
Matching your outfit with the dress watch case is always a lovely look. If the dress watch has a white or silver case, pair it with clothes and accessories that have blue, grey, or black shades. The silver case complements these colors nicely.
And if the case is yellow gold, then match the watch with clothes and accessories that have an earthy tone. This way, the watch blends neatly with your entire look.
No. 6: What Size Of Dress Watch Should I Get?
Originally, dress watches were between 35mm to 36 mm in diameter, and dress watch purists still maintain this standard. However, dress watches have increased to even the size of 42mm in diameter.
In the end, it boils down to the size of your wrist to know which size is best for you. A 42mm diameter watch may look chunky for an average build, but a larger-sized man has no qualms pulling this off.
However, as a general rule, your dress watch should slide easily under your short cuff. It's not classy to see it get caught up in your shirt cuff. A watch like the Tourbograph Perpetual "Pour le Mérite" at 16mm height is a dress watch alright but don't expect it to slide under your shirt cuffs. So, it's best not to wear it with a tuxedo or a long-sleeved shirt.
No. 7: Should a Dress Watch Have A Seconds Hand?
In our opinion, it really doesn't matter if a dress watch has a seconds hand or not. These days, it is more common to find dress watches with a seconds hand than without.
Now should you get a watch with a second hand?
Basically, do whatever makes you happy. With or without a seconds hand, a great dress watch is what it is.
However, a seconds hand helps with specialized personal timekeeping. It is great for timing things, and this is why most chronograph watches feature a large central seconds hand for the chronograph function.
A second reason for seconds hand is that it helps you know when your watch is still ticking.
How Did Watches Come To Have A Second Hand?
The seconds' hand may seem pointless on watches, but it does serve a function which we shouldn't overlook.
Although it became popular in the 20th century, the second hand actually dates as far back as the 15th century. In the 18th century, it was found mostly on pocket watches and scientific clocks, but you wouldn't find them on regular clocks.
The seconds' hand was originally added as a sub-dial for seconds. It helped the wearer know that the clock was still ticking and didn't need to be rewound. Then in the 20th century, it was incorporated to the main dial co-axial with the hour and minute hand. And in 1948, the Zenith's carl. 133 watch changed the arrangement to establish it as the heart of the movement.
And now, there are a few watches without the second hand like the A. Lange & Söhne Saxonia Thin.
No. 8: How Do I Know If A Watch Is Too Tight?
As a general rule, if your watch leaves an imprint on your skin or a red mark, then it's too tight.
A watch with a perfect fit shouldn't slide more than one inch up or down when you move your hand. If it's more than one inch, it looks sloppy and too big, and this defeats the whole purpose of style and a smart look.
Also, if you're wearing a long-sleeve, it should fit snugly around your wrist. When a watch is too loose, it moves recklessly up and down your wrist. And it is both uncomfortable and likely to cause scratches on or damage the watch.
No. 9 Is It Okay to Wear the Same Watch Every day?
It is not okay to wear the same watch every day for several reasons. First, you want your nice watch to last longer. As such, taking breaks in between wearing it will help greatly.
Second, one watch can rarely suit different styles of clothing. For example, if your only watch is a dive watch, you shouldn't wear it with a tuxedo. Or wear a dress watch with a brightly colored casual shirt.
In this case, it's best to have more than one watch. No matter your budget, you can invest little by little in building a collection of reputable watches that suit all occasions.
Should A Watch Be On The Right Or The Left?
Generally, a watch should be worn on the non-dominant hand. This means that if you're left-handed, you should wear your watch on your right hand, and if you're right-handed, you should wear it on your left hand.
This helps reduce the jostles and bumps it will face if you wear it on your dominant hand. And so your watch is less likely to suffer damage.
This general rule dates far back to the old days. Back then, when watches had to be wound; and this was usually done with the right hand or dominant hand. As such, it made sense to wear your watch on the opposite wrist.
However, this doesn't mean you can't wear your watch on your right or dominant hand. It's not a hard and fast rule.
Typically, most watches come with crowns facing the right because most people are right-handed. However, some brands like Destro manufacture watches with crowns on the left for those who are left-handed and wear their watches on their right wrists.
Bottom line, go with whatever floats your boat and makes you comfortable.
So you see, finding the right dress watch isn't that hard. You just need to know the right questions to ask and where to find the right answers.
If you found this content helpful, then you want to also check out these:
The Best Guide to Men's Business Casual Explained
What Are Collar Stays, Are They Necessary, And Are They Uncomfortable
These Are the Best Skeleton Automatic Watches for Men to Buy Now