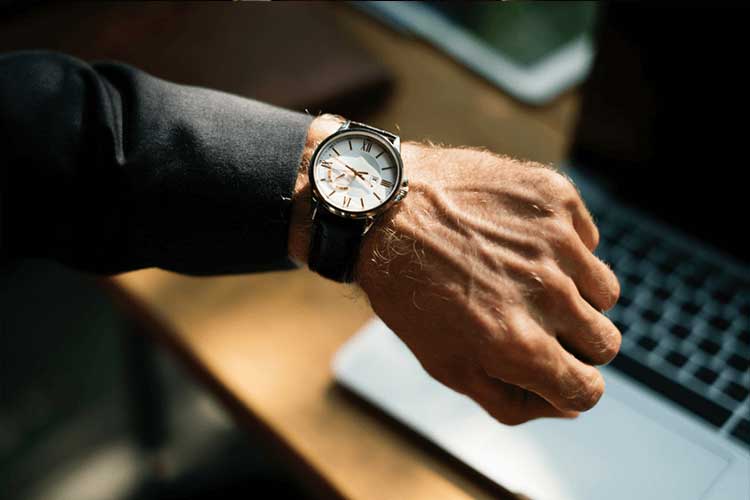 Watches that make you look attractive are a fantastic style statement. Even though for some time, phones seemed to replace good old reliable timepieces, watches have refused to take the back seat. In fact, they are now better than ever, with modern designs, improved vintage craftsmanship, and hi-tech upgrades.
However, does a watch make a man more attractive? A decent watch adds to every man's overall style and gives them a masculine and luxurious appeal. Wearing a watch sends a message that you're timely, classy, confident, and smart. Why do you think James Bond always wears one?
And that's why this list of 5 watches that instantly make you look attractive wearing is your social points lifeline. Not only are these jaw-dropping watches sure to catch your attention, but you'll also find answers to your watch-related questions. So take your time and have fun finding the right timepiece.
Whenever you purchase through links on this page, we make a small commission from our affiliate partners. Learn more
The Dress Watch
The 20th century opened up to dress watches. It began when gentlemen wanted to wear their watches on their wrists instead of constantly having to fish them out of a pocket. Imagine how tiring pocket watches must have been. Plus, it was very easy to misplace a pocket watch while in transit. So the wrist watch was a great invention.
The dress watch carries on the traditional style of the pocket watch; slim case, simple design, and sophistication. And without drawing a lot of attention to itself, the dress watch compliments your look with its classiness.
Dress watches commonly feature leather bands (alligator/crocodile leather). And they're usually worn to formal occasions. However, it's easy, these days, to see it worn on casual clothing like a pair of jeans, a sweater, and a collared shirt. When layered properly, this combo will make you look smashing.
An example of this watch is a Cartier Tank or an Orient Bamboo.
Dive Watch
A dream fulfilled by Rolex board member René-Paul Jeanneret in 1950, the dive watch is a masterpiece. René wanted a watch that was suitable for diving, an activity he was fond of. He also needed it to look good enough for everyday wear. And so the Rolex Submarine was born.
James Bond further helped to make the watch super popular as it became Bond's choice timepiece. So it's no surprise the dive watch is the most common watch you'll find out there.
It's versatile, durable, and water-resistant. And that water-resistant feature is what makes it irresistible. Most dive watches are also made from steel or titanium and can withstand water up to 100mm.
They also feature a bold face, with easy-to-read markers and metal bands. And they are perfect for everyday, casual wear and a business casual look. And if you're James Bond, you just might get away with wearing it with a tux.
An example of this watch is the Citizen Promaster.
Racing Or Driving Watch
The Racing wristwatch has been in existence since the 1930s. Racecar drivers used them to keep time while driving and determine the outcome of a race.
Seizing the opportunity for the need for accurate timing, Rolex Oyster was created. And this has been the staple for racing watches since the 1930s.
Later on, TAG Heuer added Chronograph and Tachymeter to the watch to measure speed and distance.
Racing watches are usually flashier than dive watches and so should be worn on casual clothing. They feature a bold face, a large dial, and a case made from stainless steel. The bands are also made from metal or leather and are very durable.
An example of this watch is the Seiko Sportura and TAG Heuer Monaco 1133
Field Watch
The field watch descended from the trench watch. It was designed to help officers coordinate attacks, and tell time at night. The officers also wanted to look good while at it. And if officers during war wanted to look good while sporting a watch, then we are without excuse.
The field watch is a functional and rugged, watch that is stylish at the same time. It was made to withstand the rigors of war and has maintained that military appeal ever since.
It is usually small or medium in size and features easy-to-read markers. If it's a black dial, the numbering is usually in white, while white dials typically has black numbering. Some even illuminate in the dark to enable you to check the time even then.
The case is made of stainless steel and features a leather or canvas strap.
You can wear the field watch with casual clothing. An example of this watch is the Victorinox Infantry watch.
Pilot Watch
The pilot watch paved the way for the invention of purpose-specific watches. In 1904, Louis Cartier created a watch, the epochal Santos Watch, for his pilot friend. And that was how the pilot watch was birthed.
In the 1940s, the Swiss watch company Breitling added a chronograph to the watch and created the Breitling Chronomat.
The pilot watch features a large face with easy-to-read markers. And the dial is usually black with white numbering to make it easier to tell the time.
It pairs nicely with casual wear and should not be worn with formal clothing. An example of this watch is the Breitling Naiverer.
Does A Watch Make A Man More Attractive?
As a whole, watches add to a man's overall look and makes you look more attractive and put together. They're a signature accessory that goes with any outfit and is perfect for any occasion. You can say it adds a little "oomph" and a sense of luxury to your entire look.
Not only that, but it makes you look timely and dependable. Think about when a businessman wears a watch. He looks more confident, put together, and smart.
Wearing a watch gives you an air that says, "I don't like being late." And what's more attractive than a man that keeps to time? Nobody likes having to wait for a latecomer. So a man who shows that he is always on time gives a woman (and a fellow man) that security that she (or he) can always count on you to be there—on time.
A watch also says a lot about your personality. For instance, a nice vintage dress watch says you're a classy man who appreciates the finer things of life. On the other hand, a modern hi-tech watch tells others that you're an intelligent man who values gadgets and is updated with the world's technology.
And if you were to go to a cocktail, a Rolex accessorized wrist will get you more attention than an unadorned wrist.
Call it psychology, call it style, call it stereotype, but add a watch to your look and see it transform you and people's view about you.
Related Read: Discover the Top Watch Colors for Men
Why Should A Man Wear A Watch?
A man should wear a watch for:
Convenience. It's way easier to check the time by taking a glance at your wrist than pulling out your phone from your pocket every time. It's even safer.
Watches are a great accessory. It is one piece of jewelry a man can wear without coming off as feminine. But, of course, that's as long as you stay away from feminine-looking watches. Do that, and you'll be fine.
Phones can be distracting. You can take out your phone to check the time, only to see a lot of notifications and be carried away by it. It's until an hour has gone by that you remember why you brought out your phone in the first place.
Watches involve unique craftsmanship. A lot of detail, hours, and skill goes into making a high-end watch. So wearing a watch isn't just wearing a piece of jewelry, but art, history, and tradition with a lot of sheer brilliance.
If you happen to be in a place like a classroom, meeting, or wedding, where it will be somewhat obvious and rude to bring out your phone to check the time, then a watch provides a stealthier way to do so.
Phone batteries die after a while. You don't want to be stuck in a place with a dead phone, no charger, and no way of telling the time. Seems like a scene from a horror movie.
Watches reflect style and personality. It is why you'd see some men wear vintage and some computerized watches. It says a lot about what a person does and his personality.
How Do You Choose A Watch That Suits You?
When trying to choose a watch that suits you, you should consider these:
Movement: This doesn't only refer to the movement of the hands on the face of the watch. It also applies its inner mechanisms. A watch's movement is either quartz, mechanical, or automatic. Mechanical watches are the most expensive and they are made with exquisite craftsmanship. They do not need batteries to operate but are hand-wound.
An automatic watch is like a mechanical watch but does not need to be wound by hand. And a quartz watch is the most affordable of all. It's battery operated and tells accurate time.
Type of watch: There are dress watches, pilot watches, dress watches, race watches, and field watches. So think about which one you'd prefer considering your personal taste and if there is any specific purpose it is required for.
Budget: No matter the type of watch you want, a budget eventually dictates what you get. So it's better to go over the watches within your budget. But don't be afraid to invest in a really good watch.
Brand: Go over brands to find out the brand that has what you're looking for.
Design: What design are you hoping for? Something simple like a dress watch or something a bit more complicated like a sports watch or rivers watch?
Are Women Attracted To Men Wearing Watches?
For most women, a man wearing a watch is attractive. Of course, this could be for different reasons. Nonetheless, to most women, men wear watches while boys look at their smartphones to check the time.
A watch communicates to them the type of man you are. And most women like a man who looks sophisticated and well refined.
Sporting a watch conveys that you are a serious man who wants to be taken seriously. And it shows that you like being on time, and this is a classic statement of reliability.
Also, wearing a watch, especially a good watch (don't hesitate to invest in one, it's worth it) elevates your status in a way. You go from normal, everyday man to someone who just might have something up his sleeves—at least at the wrist level.
Now we're not trying to sell you a watch, but think about it, in the movies, the smart men usually wear a watch. Take a cue from our favorite spy, James Bond.
These days since a lot of people use cell phones when a man wears a watch, it's more noticeable. Plus, men are not really into accessories, so a man who knows how to accessorize with a nice watch shows he is interesting and has style.
It might seem absurd that a woman is attracted to you because of your watch. However, some women have particular tastes, and several women believe these things about men who wear a watch.
This is because you can tell a lot about a person and their lifestyle by the type of watch they wear. Someone wearing a nice leather watch will be taken more seriously than someone wearing a cheap rubber watch.
It doesn't mean you should break the bank to get a watch. What really matters is that you get something within your budget that fits your style. And make sure you wear it with a lot of confidence.
What Does Wearing A Watch Says About A Man?
When a man wears a watch, it communicates that he is:
Stylish: Watches are beautiful and stylish. They also come in different styles and designs for different occasions. A man wearing a watch shows that he knows beauty and takes satisfaction in how he looks.
Practical: Some watches are for more than just telling time. And watch wearers typically choose what fits their lifestyle. They consider other things like water and sweat resistance, durability, and functionality. Taking time to make such a selection shows practicality.
Successful: Wearing a beautiful luxury timepiece shows that you appreciate the finer things life has to offer, and you work hard to get it. This speaks volumes.
Reliable: When you wear a watch, others see you as dependable and trustworthy. They believe that you value your time and don't like to waste other people's time.
Traditional: Watches are a classic look that never goes out of style. A lot of detail and craftsmanship is involved in making one. A man who wears a watch shows that he values tradition and timeless trends passed down.
And there you have it. So grab a watch—but not just any watch—and step out in smashing style. And if you can't give enough of watches, then get a load of this:
10 Best Men's Leather Watches Under 100 to Wear With Any Outfit
Best Rolexes To Buy That's Built To Last A Lifetime
RELATED POST
[/vc_column_text]
[/vc_column][/vc_row]