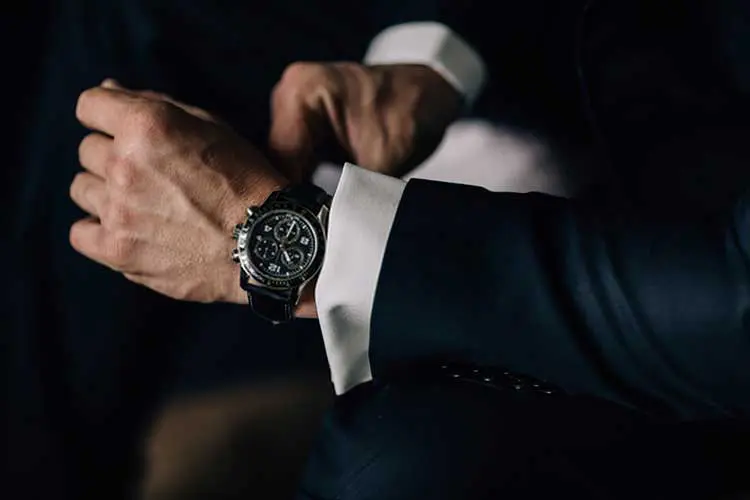 Wearing a black watch conveys modernity and mystery. It's the right color for the kind of guy who loves to be powerful and at the top of his game. All while remaining cool and collected. And the key to achieving a stunning look with an all-black watch is knowing how to wear it right. There are other things to consider and factor in.
So in getting it right with your look, you must have wondered, "does a black watch go with everything?" Generally, a black watch goes with everything. Whatever style or color of the outfit you're wearing, you can trust your black watch to match boldly yet subtly.
That said, we'll take a look at other things you need to know about a black watch and how to wear it for a stunning look. Plus, what makes an all-black watch so aesthetically pleasing. We hope you're up for a little chemistry.
 Whenever you make a purchase through links on this page we make a small commission from our affiliate partners. Learn more
How Do You Style A Black Watch?
In styling a black watch, color coordination is everything. And this should be easy since black is a very accommodating color.
For a formal event, you should wear a black watch to either match your suit or your belt and shoes.  So, as a rule, if you're wearing a black watch, then your shoes and belt should be black.
In pairing your black watch with your outfit, a black leather dress watch works fine for a black and white tie outfit, especially if it's an evening event. Black is more formal than brown, so it's perfect for black and white tie events.
It also goes well with a business formal and smart-casual outfit. And that's as far as it goes for dress watches, don't dare wear it with a completely casual get-up.
For a casual get-up, a black dive watch, racing watch, pilot watch, and field watch will do. You can pair a dive watch with a business formal, business casual, or smart-casual outfit. But when it comes to racing, pilot, and field watches, it's best to stick with smart casual or strictly casual clothing.
The one get-up that goes with any type of black watch is a smart casual outfit.
A black metallic watch should match your other accessories like cufflinks, belt buckle, and so on. Note that some watches come in silver or gold cases. For these, match the case with your accessories. And as for clothes or shoes, match the black watch with black, grey or navy blue or any other tones similar to black.
Does A Black Watch Go With Everything?
Generally, black goes with everything, and the same applies to black watches. However, beyond color, what you should really be considering is the type, design, and material of the watch. Also, consider what type of band the watch has and how well the face of the watch captures your look.
So the occasion dictates what type of watch to go for. However, whatever the style, if it comes in black, you basically have nothing to worry about.
Can You Wear A Black Watch With A Suit
Wearing a black watch with a suit is a good match. This is because suits are worn for formal occasions and the most classic color for suits is black—you don't get more formal than black. You can check out our review on the 9 Best Black Wrist Watch For Men
And as a rule, you should match your accessory with your suit. So if you're wearing a black suit, a black watch should go nicely.
Sometimes, the black watch doesn't have to match the color of your suit. Instead, you can match it with your shoes and belt. Or how about matching a black watch with brown leather shoes and a belt? That will work just fine.
You can even choose to match accessories, like wearing a black watch and black cufflinks. Just think: if it goes with a suit, then a black watch will go with it one way or the other.
In the end, a black watch just always fits into the equation one way or the other.
So whichever way, remember that a suit says a lot about your style and your watch tells us more about you than it tells the time. Imagine what a black watch says about you then; we bet "sleek and cool."
What To Wear With All Black Watches
You can wear anything with an all-black watch. It's a versatile color, and it's especially perfect for formal evening events.
This doesn't mean you can wear any style of black watch with anything. For example, you shouldn't wear a sports watch or a dive watch with a tuxedo, although James Bond has made the latter quite popular these days.
This goes to say that the type or style of the all-black watch puts a limit on what you can wear with it.
Casual, smart-casual/work clothing can be worn with an all-black dive or sports watch. The same applies to a field or pilot watch. Then, formal clothing should be worn with an all-black dress watch. However, this type may be hard to find.
So the best outfit is casual or smart casual wear if you want to make a bold, masculine, and cool impression.
Do Black Watches Scratch Easily?
Black watches do not scratch easily because they are thinly coated with a hard black material using physical vapor deposition (PVD).
This wasn't always the case as originally; black watches had powdered coated paint which scratched easily. PVD protects the finish and the stainless steel leaving the watch beautiful for a long time.
Apart from PVD, black watches are also coated with other materials like black ceramic, carbon composites, and so on. These are even more commonly used than PVD.
So if you were in doubt whether or not to bet a black watch, this should take care of that.
What Is The Most Popular Watch Color?
Black is the most popular watch color based on a lot of observations and what is common to all menfolk. Plus, it's easier to gift someone with a black watch than with any other color.
Even though there are other colors in the market, it's a no-brainer that black is the most popular color. You can easily spot 4 out of 10 guys sporting a black watch more than any other color. And this says a lot about how guys like to be seen—modern with an air of mystery and maturity.
Black is a sophisticated color that allows you to be versatile with your style choices and color combos. You can say it's an easy-going color but will not be abused because it stands for chic and sleek.
And no better challenge presents itself than a guy who seems guarded with his emotions but exudes an irresistible quiet strength.
White is a color that follows at a close second. It is the most readable dial and commonly crafted from the mother of pearl, which makes it quite expensive and luxurious.
Sporting a white watch says that you are a minimalist kind of guy who is deliberate about his choices. It also conveys goodness and humility that is quite attractive.
Another color that tops the list of favorite colors is blue—A perfect picture of cool, intelligent, easy-going, and relaxed. This color is easy to love and puts anyone in a relaxed state, so it's not hard to see why people will be drawn to a guy like you.
However, the color that defines masculinity and ruggedness is brown. Brown shows that you're a down-to-earth kind of guy who can take up any challenge and fit into any situation flawlessly. It also shows you're a simple guy who is reliable and knows how to hold his own.
Do Black Watches Fade?
Black watch dials do not fade. If you buy a black watch, the dial stays black. Formerly, with vintage watches, what you could get was a splotchy dial when the ink was starting to wear off. But modern ink for dials does not fade. It can even survive the metal dial it was printed on.
What Is The Most Versatile Watch Color?
Again black takes home the trophy for this category of most versatile watch color. It's versatile and practical. Yes, we love blue, white, green, and orange, but nothing beats black with being able to go with any outfit or color.
Well, the only exception, of course, will be if you're going to Comic-Con and you need an over-the-top animated watch. Apart from that, you can rock your black watch anywhere, anytime, and with any outfit.
Some people hold on to the rule that a black dial watch should be worn with a black band. But you can't deny the many Rolexes and modern watches these days with black dials and silver or gold cases as well as silver bands. This just goes to show that black pretty much goes with anything.
Are Black Watches In Style?
Black watches are definitely in style. It may not be the best look for everyone, but it's a style that goes with everything.
While you may not see the top brands like Rolex and Patek Philippe making all-black watches, you can find brands like TAG or Hublot that make them. And, of course, you can always customize your watch to be all black with PVD.
This all-black watch affair began in 1972 with the company formed by Ferdinard Porsche called Porsche designs. The company took off by making the Chronograph 1 watch, a stainless steel case with a black powder coating. This was the first luxury all-black watch made and has since remained as sleek and sharp as ever.
Modern Black watches are made with PVD, which is scratch, fade, and UV proof, not to mention totally cool. Black is a unique color in the realm of fashion, and it is especially a sophisticated look in the world of watches.
It is a strong color that works with anything, so it's not a surprise that PVD work is sought after for customization.
More brands are taking up this style move and making more all-black watches. Brands like Omega, Bell & Ross IWC, Hublot, Michael Kors, and TAG use PVD black coating. And other brands use black ceramic.
They are both durable and stunning, so whichever one you choose, the all-black affair has never been better or more in style.
What Are Black Watches Made Of?
Black watches are made from different materials like DLC, PVD, Black ceramic, or black alloys.
Some brands opt for metals that are naturally black, like black ceramic, carbon fiber, layered carbon, and so on. These materials are usually expensive and reserved for luxury watches.
PVD is the more affordable option that makes use of several vacuum coating methods. Here, a thin black coating is applied to the case and bracelet (if necessary).
The PVD process involves a high-tech vacuum process through which specialized materials are vaporized. Reactive gasses like nitrogen, oxygen, or hydrocarbon-based are introduced into the metallic coating, and this chemical reaction creates the coating.
When PVD is applied to the watch, not only is its stealthy appearance desirable, but it also acts as a hard, protective layer. And it increases the watch's resistance to wear and tear, water and scratches. PVD cannot be removed after it has been applied and doesn't wear off.
DLC, Diamond-Like Carbon, on the other hand, as you can guess from the name, is an expensive process. And usually reserved for luxurious timepieces made from precious metals.
With DLC, amorphous materials similar in hardness and scratch resistance like diamonds are applied as a coating to the watch. This process is done in a vacuum environment, and the coating makes the watch cases extra hard and resistant to abrasion.
With all of these, are black watches worth it? Undeniably yes. And you should get on board and join this alluring style trend.
And just because we can't get enough of watches, we have some articles for you that you will find interesting:
Can I Wear A Dress Watch To Work?
Men's Dress Watches – 9 Questions To Ask Before Buying