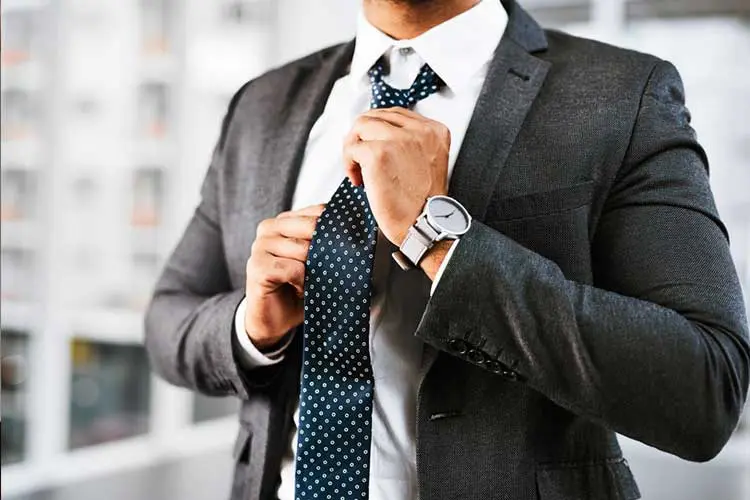 Neckwear, especially ties, adds spice to every gentleman's dressing. And if you're a classy, confident man, you'd most likely agree. Regardless, fashion trends are changing constantly and are spontaneous these days. As such, the place of neckties in a gentleman's look could be quite tricky and sometimes questionable.
So, should you wear a tie to work? Generally, it's a great idea to wear a tie to work. Ties have always represented poise and class. They complete every formal dressing and are a big deal when you want to make an impression.
Let's just say that ties grease the wheels when it comes to slaying the professional look and cheering the right mood for work. So, when it comes to dressing for the corporate world, ties are a must-have. Not convinced? Here are 9 reasons why you should wear ties to work.
 Whenever you make a purchase through links on this page we make a small commission from our affiliate partners. Learn more
#1. Raises Your Confidence
In the corporate world, you need to exude confidence or risk being eaten alive. With self-confidence, you can meet your targets and achieve your goals.
Truthfully, what you wear has a significant impact on how you see yourself. This, in turn, influences how others see you.
And there are few outfits that can boost your confidence in the workplace than a well-fitted suit and tie. When you combine a comfortable suit with a high-quality patterned tie, you'll be well on your way to appearing and feeling confident.
Furthermore, a unique tie can be a terrific conversation starter in social circumstances.
#2. Improves Productivity
When you feel confident, you're most likely to be more productive, don't you agree?
Beyond that, studies have shown that for most corporate offices, wearing a tie puts you in a working mood. Also, it creates a good impression in the minds of your clients, colleagues, and superiors. It tells them that you mean business and should be taken seriously.
So, get yourself a good tie and kit-up for the day's job.
#3. You Stand Out
With a properly knotted tie and a nice button-down shirt, you can stand out. I mean, who wouldn't notice a properly dressed Gentleman slaying the professional way?
Particularly as most professionals now forgo wearing a classic suit and tie in favor of more casual apparel. A switch back to the good old tie and shirt would make you stand out.
You'll also appear more charismatic, and, in general, make a good impression on both your clients and other staff.
#4. Shows Your Status
Wearing a tie shows that you value looking professional and businesslike. It can also be an indication that you hold yourself to a higher standard of looking formal in a corporate setting. This is as opposed to just wearing regular clothes.
As a man, you can look casual with a simple white shirt and pants. However, when you put on that tie, it takes things to a whole new level. You'll look professional, fancy, and stylish.
On that note, it's safe to say that a tie does more than merely adorn or accessorize the neck and shirt. It's a way of "declaring/upping your status." It tells others around you, "that's the boss."
As such, people would naturally respect you and take you more seriously when you wear a tie.
#5. Marks Professionalism
In addition to being a symbol of power and status, neckties also place a mark of professionalism.
So, even if you work in a casual environment, wearing a tie would be an extra way of showing professionalism. And that's not asking too much for a job you love.
And when you wear a tie to job interviews, it makes you look sharper, tidier, and smarter than the guy next to you who forgot to wear one.
During board meetings, you'll command respect and seem more proactive when properly suited with a tie-on. That's why the business world reveres this piece of clothing so much.
#6. Ties Are In Fashion
As a fashionable guy, ties are one staple that should gracefully earn a place in your wardrobe. It's a classic and never gets old.
Men's ties are one of those wardrobe essentials that never go out of style. Just like jeans and t-shirts, they're a wardrobe must-have.
#7. A Historic Symbol
Neckties are valuable fashion pieces that have been passed down through several generations. They have long been associated with royalty, honor, and order.
Croatian mercenaries serving in France in the 17th century were the first to wear knotted neckerchiefs. These neckerchiefs were a symbol of their position and alliances.
King Louis XIV of France was so taken with the neckwear that he also began wearing ties to show status.
So, just like King Louis XIV of France, men have been rocking that classic look with this neckpiece. And what's to stop you from dressing like a king when going to work?
#8. Looks good
This is probably one of the biggest reasons why you should wear a tie to work. Especially when you're a stylish guy and love to slay.
You can never go wrong with a nice suit paired with a nice slim tie and Oxford shoes. And for a fashion touchdown, you can throw on a nice skeleton watch.
#9. Reinforces Work/Life Balance
Working from home can be difficult. Primarily because, well, it's home, and home is where you rest and take a breather, not work.
So, to get into that work headspace, it's a good idea to wear a shirt and tie to simulate going to work.
You get up, throw on a shirt and tie and walk down to your basement (or wherever you want to work).
You'll most likely find that you'll be able to concentrate more and, therefore, be more productive.
What is the Origin Of the Neck Tie?
Neckwear has taken many forms since antiquity. However, the modern tie and other popular neckwear like cravats began as a fashion statement made popular by King Louis XIV.
It gradually evolved into the longer tie that is now common in Western culture because it is easier to tie.
In some ways, the tie was a status symbol. People wanted to show off that they could afford to drape costly silk around their necks even though they had no practical function.
However, it gradually became accepted as a formal and professional dress, which is how we know it today.
Types of Ties You Should Know
Now that you know why you should wear a tie to work, it's essential that you know the right tie to wear for each occasion.
Four-in-Hand Tie Knot
The four-in-hand necktie, also called the schoolboy knot, or simple knot is the simplest of all ties. It's also the most versatile.
Before deciding on what the right tie knot is, a crucial factor you must consider is the build and the type of collar on your dress shirt. Nonetheless, one advantage of the four-in-hand knot is that it goes with almost any collar.
As such, people tend to opt for this type of tie knot more than the others. But we must point out that while the four-in-hand knot is pretty versatile, it looks quite great with narrow spread collars and button-down collars.
So if your collar is wider, a knot like the Windsor may work better.
Windsor Tie Knot
This tie knot is named after the Duke of Windsor, precisely King Edward VIII. It is also called the full Windsor tie knot or Double Windsor tie knot.
The Windsor tie knot distinguishes itself with a large, well-balanced, symmetrical knot that is easily released.
Aside from that, it is significantly firmer in comparison to other tie knots, which means less slippage over time. It is also quite comfortable due to the size of its knot.
This can be a great option for a conventional meeting because it is the most formal tie knot style.
Seven-Fold Tie Knot
This style, like the four-in-hand tie, is made from a square yard of silk that has been folded seven times.
Because of the way this tie is made, it lacks a lining. However, it is thick enough to allow you to form a nice knot with minimal effort.
This type of tie is appropriate for the office or a formal occasion. It is usually made from quality material; this is why it can be a bit pricey. As such, they're usually reserved for special occasions only.
Bow Tie
Bow ties scream class and elegance. While you can wear a bow tie as regular office wear, it's best to wear them during black-tie events.
They look great with tuxedos. So, the next time your office organizes a black-tie event, pull out the bow tie and rock it with confidence.
Bolo Tie
Bolo ties are types of neckties made from a piece of braided leather or cord with embellishing metal tips.
Sometimes called bola ties, cowboy ties, or shoestring neckties, this tie has an aiguillette that is attached to an ornamental clasp or slide. Despite its alternative name, bolo ties aren't just for rodeos and Western events.
You can wear it to work like you'd wear a regular necktie. Simply button the buttons on the front of your shirt, including the top collar button. Then slide the clasp up the front of your shirt, and you're good to go.
Color Pairing Guidelines for Shirt And Tie Combinations
Here are some pointers to keep in mind when choosing colors for your shirt and tie combinations.
Same color, different shades
This color scheme is the easiest type to create. Using this combination style, you can wear the same color of shirt and tie. You only need to wear a darker shade of color with its lighter variant.
For instance, you can match a navy blue tie with a light blue shirt.
Contrasting colors
Like the name implies, the colors of the shirt and tie contrast using this combination style. It can be a bit tougher to pull off since there are various colors that contrast with others but aren't necessarily a good match.
But the trick is to combine the darker and lighter variant of contrasting colors. For instance, wearing a mid-blue shirt and a burgundy tie.
Complementary colors
This color combination style is the hardest to pull off and requires a bit of experience and expertise. You need to understand colors that complement each other – those that are across each other on the color wheel.
But as always, just remember to match a darker and lighter variant of the complementary colors. A light blue shirt with a darker, burnt orange tie is an example of the complementary color scheme.
Experiment more
The easiest and safest option is a simple tie and white shirt. But where's the fun in that? So, rather than go the conventional way, dare to have some fun with your combinations.
But not too much fun though, you don't want to go to work looking like a clown.
Still, go for wide and wild options. You would never know what fits until you try it out.
How To Select The Right Tie
To select the right tie for you, make sure your tie compliments your clothing style and physical appearance.
Check its length and width. For a man with average height and build, your tie should not be wider than 3 to 3.75 inches (7.5 to 9.5 cm) and should reach your belt buckle.
In addition to your frame, be sure your tie width matches the lapel size on your suit jacket or blazer.
Also, you can go with a semisolid or lightly patterned tie for a refined look when wearing a solid-colored suit. Contrast your shirts with brightly colored ties to make an impression.
Choosing a pattern for your tie is all about ensuring it doesn't clash with your other clothing. You should rather wear stripes on dot patterns rather than dots on dots (dotted tie with a dotted shirt). This way, your outfit is more appealing to the eye.
Finally, tie knots should be chosen with your shirt collar in mind. Point collars look best with a Four in Hand Knot, whereas widespread collars look best with the Full Windsor Knot.
Never forget that bigger neckties require more tying, while smaller ones need less.
So for formal occasions like weddings or important business meetings, you ought to use the Full Windsor Knot. However, for casual events like cocktail parties, you might use the Four In Hand Knot.
A tie is that tiny detail that says class and professionalism at the same time. So we have highlighted some other articles we thought would be helpful for a wholesome look.
Men's Guide To Wearing A Collared Shirt With A Jacket
Men's Dress Watches – 9 Questions To Ask Before Buying
RELATED POST