Whether you are going business casual or more formal, the absolute best shirt for fat guys would be the dress Shirt. For years a dress shirt has always played a major role in a man's wardrobe. And if you're a big guy or not, dress shirts are one piece of clothing every man needs in his wardrobe. Today, dress shirts are not only suited for the office or an interview. But you can dress it down casually with a blazer, jeans and even some sneakers.
Whether you are tired of wearing the same shirt on your rack day in, day out or you're shopping for a dress shirt color that will suit the mood. It's essential for every man to have a few nice dress shirts on his rack to wear because your wardrobe can't function as well without this one piece of item.
For that classic or trendy look, no matter your size or budget we have compiled a list of 10 best dress shirts for chubby guys to keep your wardrobe sharp
Ralph Lauren Oxford Buttondown Shirt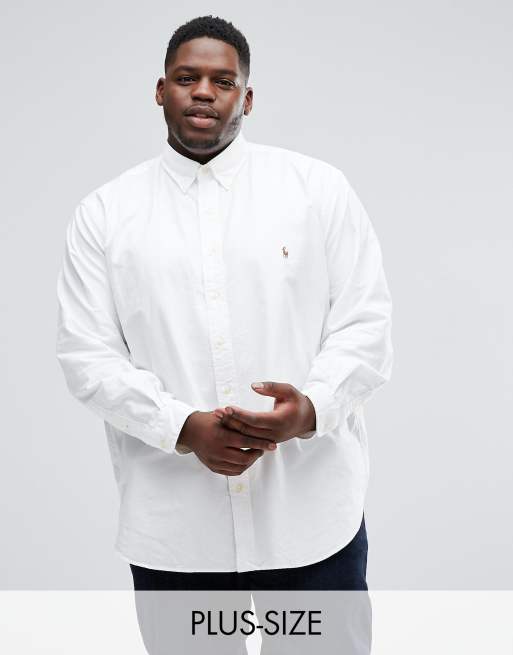 A white button-down shirt is one of the most versatile and timeless pieces any man can have in his wardrobe.
It works great with jeans and a blazer. It works great with or without a tie. 'Wear it button all the way up, or leave the first two buttons undone. So we turned to Ralph Lauren who has some of the best button-down shirts for bigger guys in their size, in several colors including white.
What better way to work this white oxford shirt into your casual occasions than with this Ralph Lauren button-down. Made of fabric that's light, airy, and great for the heat, this sucker is a worthy addition to any big guy's wardrobe. 
Button all the way up for that first date, or leave the first button undone for that laid-back style. Check the Latest Price on ASOS
Van Heusen Twill Dress Shirt
Having several solid button-down shirts that can be dressed up or down are a must-have on any man's rack. You can never have too much, whether they are made of cotton, polyester, or Twill. 
This trustworthy Van Heusen dress shirt is made from twill, which gives that professional look and feel that can be styled in so many ways.
As one reviewer rightfully said, "Great shirt for people who like a little room to move!" Part of Van Heusen's collection, this shirt is made available in sizes up to 4X-large. So as a big guy you are not left out. They are amazing quality, versatile, affordable, and comfortable enough to wear all day. This Twill button-down shirt offers other tasteful colors to choose from and different sizes to match your preference.
Check Latest Price on Amazon
Cubavera Men's Linen Shirt
Spring is here and summer is just around the corner. What a great time to refresh your wardrobe with linen. Take the guess work out of your summer look this season with these classic Cubavera linen shirts.
Made from 100% linen, this exceptional wardrobe staple wins points for its breathable properties and longevity. Going places? You can wear this shirt to a summer wedding or beach on the weekend. It's designed with pintuck detail, with mitered cuffs and a spread collar for that laidback look.
 This long sleeve men's linen shirt design will cause air to flow across your body in the summer, keeping you cooler and comfortable. For a big guy the best key to unlock this Cubavera linen dress shirt is with trousers, chinos, shorts or jeans. 
Check Latest Price on Amazon
Calvin Klein Slim-Fit Non-Iron Dress Shirt
Calvin Klein is known for its range of men's clothing lines ranging from high-quality denim to classic men's underwear, and its dress shirts are no exception. If you haven't tried one of their big and tall dress shirts, now is the time to get one.
Achieve that stylish look over a regular fit shirt with this Calvin Klein slim fit shirt. If you are a fat guy. Don't be misled, in the right size all a slim-fit shirt does is frame your body to give you a flattering look. 
Made from 96% Cotton for softness and 4% spandex to give you that extra room for movement. This spread collar design shirt will compliment most formal wear attire. Wear it with a suit or without, wear it with a tie or without. The best part, it comes in a myriad of solid colors.
Check Latest Price on Amazon
Red Kap Men's Poplin Dress Shirt
Poplin dress shirts are one of summer's must-have styles. They work great with tailored trousers, jeans and chinos. But perhaps one of the best ways for you to style this shirt is with the sleeves rolled up, indicating a relaxed attitude after a hard day's work. There is so much ways to wear this black dress shirt, it's slick enough for the office but also versatile for any occasion.
Constructed with a fabric blend of polyester and cotton, this tailored seven wood-tone button-front men's shirt is nothing but smart and sophisticated.
Check Latest Price on Amazon
Buttoned Down Collar Solid Dress Shirt
Having the right shirt is the key to men's office attire. Though the option of a tie is secondary, a high-quality dress shirt must be a part of your primary attire. For your information, this shirt doesn't have to be white. There is no rule that says a lighter color shirt won't work, like this buttoned Down collar solid blue dress shirt. 
They are completely made of Supima Cotton, which is to clean on your own if you are saving money.  Secondly cotton feels comfortable on the skin. Fortunately, these shirts offer several other tasteful light color options to choose from that will match the occasion.
Check Latest Price on Amazon
Paul Fredrick Non-Iron Dress Shirt
This Paul Fredrick check dress shirt is a great option to add texture and color to your dress shirt rotation. With sizes available up to  XXL, the quality of this classic shirt is timeless and will serve you for years to come. This remarkable wardrobe staple tops the list for comfort, style, its break-resistant buttons and, it's easy to care for. 
The shirt is made from 100 percent cotton, which makes it comfortable to wear and easy to maintain. Keep in mind that before washing your shirts in the machine, always read the label carefully. At the end of its cycle before transferring it to the dryer just lightly shake it out.
On medium or high heat just dry it long enough to heat the fabric. This Paul Fredrick shirt is non-iron, so all you need to do is hang it buttoned to finish drying.
Check Latest Price on Amazon
Port Authority Long Sleeve Shirt
Whenever you need a pop of color in your outfit purple is the way to go. Once a forbidden color reserved for royalty. This shirt can be worn in a number of ways and coordinates with a surprising range of other colors.
Perfect for weddings, office, graduation wear or dressed up for a night out. These port authority shirts are great with jeans but even better with tailored pants. This is a classic long sleeve purple dress shirt for men that you'll reach for again and again
Made from 100% cotton, the shirt is breathable and soft to the skin. One sizable chest pockets provide a nice spot to tuck away that folded paper with a quit note, contact number, and your small personal items. It features dyed-to-match buttons, Adjustable cuffs and comes in eight other bold colors.
Several sizes available up to 6X-Large. This shirt is easy to care for as it is machine washable.
Check Latest Price on Amazon
IZOD Regular Fit Gingham Dress Shirts
Bye-bye winter, spring is nowhere. And with this comes a slew of weddings and functions to attend. Even though our wallets may not welcome the cash associated with these invites, we want  to be part of the celebrations
A sleek IZOD dress shirt is always a great option for special events, especially when it's a gingham pattern. 
With this shirt, we love the fact that it's wrinkle-free and the fabric Stretches to provide you with that extra comfort when you move. The style and simplicity of this shirt make it the perfect base to give that pop of color to go with your jacket, trousers or shoes.
Made from a combination of cotton and polyester, these are one of the best gingham dress shirts for men. They come in a ton of other colors to match your outfit, they are easy to care for and affordable enough to buy more than one.
Check Latest Price on Amazon
Cutter & Buck Men's Button Down
The Cutter and Buck big and tall men's collection is dedicated to providing you with versatile clothing that will leave you feeling comfortable wearing all day, as well as looking stylish wherever you go.
Whether you call them button-down or button-up, these Cutter & Buck Men's shirts are full of features that's suited for travel.  (1.) They're made of stretch performance fabric (2.) They are moisture-wicking to help eliminate sweat and odor (3.) They are lightweight and come in multiple color pattern styles. 
Made from polyester and 7% Spandex, these men's shirts give you that smart and casual look to endure a long flight or travel? For guys with a big belly you need to look sharp, so rocking this shirt with your favorite pair of pants is a no-brainer.
Check Latest Price on Amazon
How Do You Determine Dress Shirt Size?
The moment you wear something that's too tight or too loose, it will be obvious. Knowing your true shirt size when shopping online makes your selection so much easier and less stressful.
So if you are shopping online for a dress shirt and you are not sure what size is right for you. You can make an educated guess by taking your measurement at home. Here is a general way you can determine a standard-fit dress shirt when buying online.
 To figure out your size, you will need a tape measure and someone to help you measure loosely around the neck, chest, waist, and along your arm to get its length. 
For your neck measurement, wrap the tape measure loosely around the base area of your neck. Take note of this by rounding it off to the nearest size in inches.
Next taking your chest measurement, run the tape measure around your body which should be under your armpit area. Record your result.
Then, measure your waist, loosely wrap the tape measure around the narrowest part of your waist. Write down your measurement.
Finally, for the sleeve length start with the tape measure at the nape of your neck and run it along the top of your shoulder, then along your arm and elbow, then all the way down to your wrist bone. While holding your arm slightly bent. Write down your measurement.
When to Wear a Dress Shirt
Dress shirts are very flattering men's clothing that you can wear every day of the week.
While usually, a dress shirt falls under the category of formal wear, it can also be worn in most casual settings. 
In a formal setting, it is customary to tuck in the hem of your shirt. And when wearing a tie your shirt should be buttoned all the way up.
However, with the different options in dress shirt colors and patterns, wearing dress shirts on casual occasions has become more common in recent years. Now you can casually wear them with the sleeves rolled up to the elbow. And, you can wear them fully buttoned without a tie or worn with a few top buttons undone.
Now it has become acceptable to wear a dress shirt in almost any setting. On the other hand, you should be mindful of the setting or occasion whenever you are wearing a dress shirt.
For more recommended men's shirt reviews check out Best Button-Down Shirts For Big Guys, the best Shirts for Big Belly Men,  How Do Men's Dress Shirt Size Work, and our favorite 5 Sweatshirts For Men To Wear All Day.