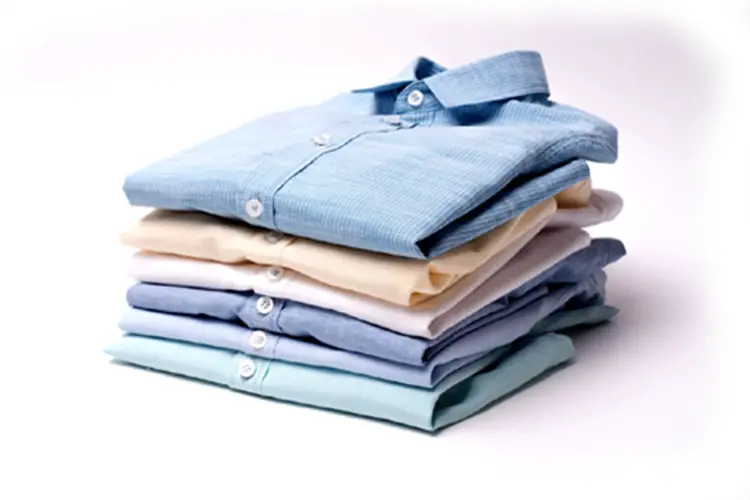 Men's dress shirts come in various cuts, styles, and fabrics. Some are made from natural fibers like cotton, linen, or silk, while others are synthetic blends or polyester. Depending on the style, they also have different sleeve lengths, such as conventional or double-ended. Since all these styles come in other cuts and measurements, finding a suitable Men's dress shirt size can take time and effort.
Therefore what do those numbers and letters mean? And How do Men's dress shirts size work? 
Generally, dress shirts are measured by the neck size of the shirt and the length of the sleeves. Starting with 13″, the neck size increases by half an inch until it reaches 19″. Sleeve length is the second number. According to which button you use on the cuff, each shirt has two length options. In addition to providing a size range, a good dress shirt manufacturer also provides chest measurements.
 First of all, most men's dress shirts have similar sizes from brand to brand, so finding a shirt that fits around your chest and shoulders shouldn't be too difficult.
Keep reading to learn more about how men's dress shirt sizes work!
Whenever you purchase through links on this page, we make a small commission from our affiliate partners. Learn more
How to Determine Your Dress Shirt Size 
  When shopping online, how do you find the right size dress shirt for your body type? The answer to this question is more complex than you would think. Most brands use different sizing standards, and there needs to be more standardization across manufacturers or even within the same brand. 
 Therefore, you can find the best fit for your body type by understanding how men's dress shirts work. Virtually all dress shirts will have two primary measurements: Neck and sleeve length. Most brands will also include another set of measurements for example, the chest.
 Some brands may add an XXL measurement if their standard L fits smaller than most other brands, or vice versa for an XL. Each of these different measurements helps determine where the shirt fits on your body. 
How Are Men's Dress Shirt Size
The most critical measurements for men's dress shirts are chest and waist. The chest measurement determines the size of the shirt, while the waist measurement determines the size of the shirt's fit. If a shirt's chest measurement is too large, you can tailor it to fit your body perfectly. 
 Wearing a shirt that is too baggy around the waist, however, can make you look as if you're wearing a tent. The other measurements are essential but are less crucial to determining the shirt's fit. The length of a shirt is measured from the top of the collar to the hem. Like the waist size, a shirt can be tailored if it's too short. 
 The sleeves are the length of the shirt's sleeves from the shoulder to the end of the cuffs. A tailor can adjust cuffs, but the sleeve length is much less critical than the waist and chest measurements.
What Is The Neck Size On Men's Dress Shirts?
When measuring a men's shirt, you need to pay close attention to the neck, since it is half a numerical size. It's vital to get it right. The most significant variable in taking an accurate neck measurement is ensuring enough room for comfort.
 For a proper dress shirt neck measurement, first wrap the measuring tape around your throat. The tape should be placed around your neck, so that one or two fingers can be slipped between the tape and your neck. When the collar is buttoned, there will be some breathing space.
How Do You Determine Neck Size For Dress Shirts?
The place where your shirt collar sits comfortably at the base of your neck is where you should measure. Don't pull too tightly, as you should be able to move your head from side to side. You should be able to slide in two fingers when closed to ensure you've got the proper fit.
How Do You Determine Sleeve Size For Dress Shirts?
 Your first step should be to find a shirt with a shoulder seam that fits correctly.
 Start by measuring the shoulder seam from the nape of the neck. After that, measure the exact position of the seam. The nape is the midpoint of the shirt collar, located at the center of your neck. In order to locate your nape, measure your shoulder width from seam to seam and halve it. Note this number down.
From the seam point to the wrist bone, measure down the arm. Don't hold the measuring tape with super-tight grips. Keep your arms relaxed naturally. You should also write down this number.
Take the neck-to-shoulder measurement and the shoulder-to-wrist measurement, and you will have your shirt sleeve measurement!
What Is The Sleeve Size On A Men's Dress Shirt?
 Some brands offer half-size formal shirts, but they're usually whole numbers. The following number is the sleeve length. When the size covers multiple sleeve lengths (for example, 32 to 33), the size is usually formatted with a dash. 
 The sleeve length of most formal shirts falls between 31 and 39 inches. Last but not least, formal shirts may be labeled "Slim" or "Cut".
What Size Dress Shirt Should I Wear?
The best way to determine what size dress shirt you should wear is to try the shirts on. Unfortunately, trying on shirts in the store can be tricky since most stores only have a limited selection. If you're shopping online, try to find a brand with a sizing chart that lists measurements in inches.
  You can also research the brand online to see if others recommend a specific size. Remember that different brands will use different measurements and sizes, so a recommendation based on one brand might not be helpful when shopping for a different brand.
What Types Of Fabric Used For Dress Shirts?
The type of dress shirt depends on your style and event. The most common dress shirts are poplin, oxford, broadcloth, and pinpoint poplin. Oxford is the most formal type of shirt, with poplin being second. 
 Oxford is woven using a more tightly knit fabric, giving the shirt a more structured and formal look. Oxford fabrics are generally only worn for formal occasions like weddings or black tie events. Oxford fabrics are typically more expensive than poplin fabrics, so if you're shopping on a budget for a oxford shirt, you may want to stick with a lighter-weight poplin shirt.
Poplin shirt gives you a smart, polished look, which makes it the ideal garment for office wear. Its lightweight properties also make it great for layering under a sweater or suit jacket. Its also an ideal option for smart business attire.
 Pinpoint Oxford, is a cross between poplin and oxford fabric in pinpoint. Compared to poplin or twill, it is more formal than oxford cloth. Fabrics made from point are generally not transparent, and they are slightly heavier and thicker than fabrics made from poplin. The heavier construction of pinpoint shirts makes them durable. 
 The versatility of broadcloth dress shirts cannot be overstated. For formal occasions, a classic white broadcloth fitted dress shirt will look very dressy. Dress shirts made of broadcloth are ideal for weddings and business interviews.
What Are The Types Of Dress Shirt
The term' dress shirt' refers to a specific style of men's shirt typically made from finer material, like silk or cotton. This type of men's shirt is usually worn with a tie and can be folded collarless or buttoned up. The fit of dress shirts can vary, depending on the style and brand. Men wear dress shirts for formal occasions, such as corporate events or weddings.
Dress Shirt Types:
1) Slim-fit – Most dress shirts have a slim silhouette, but some styles have a more tapered fit. This is the most common style of dress shirt and can be worn with most styles of pants.
2) Classic – Classic dress shirts have a more standard silhouette and can be worn with most pants.
3) Pinstripe – A pinstripe pattern gives these dress shirts their unique look. These can be worn with most pants and are often considered the 'dressiest' shirts.
Types of Dress Shirt Collar Styles for Men
As men wear their dress shirts to work, it is essential to consider the different collar styles. There are no rules for wearing a dress shirt, but specific guidelines can help you look your best.
 There are over ten different styles of dress shirt collars. But the two most common types of collars are peaked and spread. A peaked collar is cut higher around the neck, while a spread collar is broader and lower. The difference between them depends on the look you're going for. 
For example, peaked collars can give you more of a classic look, while spread collars can make you appear more casual. Be sure to pick one that works for your style and body type.
 Another way to make a great impression at work is wearing a dress shirt that fits well. Buy one that fits right out of the dryer and hangs comfortably on your frame. Consider buying shirts with button-down collars or collars that lie flat against your neck when they're not being worn.
How Do You Find The Right Size Dress Shirt For Your Body Type?
Test out different sizes of dress shirts to find the one that fits your body type best. You can buy some of them, but you can use each shirt you try on as a guideline for what size to buy in other brands. If a shirt is too big, you can decrease the size in several ways. 
 If the shirt is too big at the waist, you can have the shirt tailored to make the waist smaller. If the shirt is too big in the chest, you can have the shirt tailored to make the chest smaller while keeping the waist the same size. If a shirt is too small, you can make alterations to increase the size in the chest or abdomen, but it would be more challenging to make the sleeves longer.
Conclusion
Dress shirts are an essential part of any man's wardrobe, and these garments come in various styles and fabrics depending on your needs. For example, there are button-down shirts, the most common type of dress shirt, tuxedo shirts for formal occasions, sports shirts for athletic wear, and polo shirts for casual wear. 
 Before you buy a dress shirt, it's crucial to understand how men's dress shirt sizes work so that you can find a shirt that fits your body type. 
Two measurements are used to determine the fit of a dress shirt: the neck size and the sleeve length. The neck size appears first, and increases by half an inch from 13″ to 19″. Sleeve length is the second number. There are two length options for every shirt, depending on which button you use on the cuff. 
For recommended men's shirt reviews check out Best Button-Down Shirts For Big Guys, the best Shirts for Big Belly Men,  Best Shirts for Guys with Broad Shoulders, and our favorite 5 Sweatshirts For Men To Wear All Day.