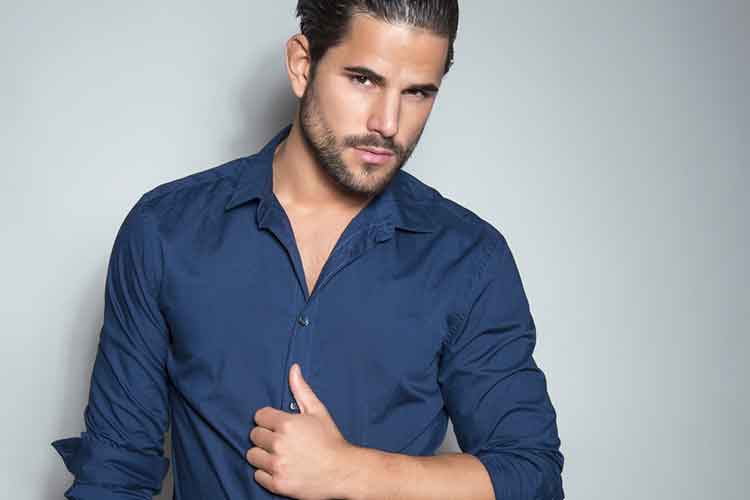 When you're going to an important meeting or a date, you want to look your best. Theo way you present yourself has an impact on how people see you. To make the right impression, you must ensure that your outfit is coordinated and well-fitting. It also needs to be comfortable to move around easily and speak fluently with your audience. 
What is the most comfortable men's dress shirt? Generally, a men's dress shirt should be soft, breathable, fit comfortably around the chest, under the armpits, and along the upper back, giving you total mobility.
Finding the perfect dress shirt shouldn't be complex – all you have to do is get something made of soft fabric that fits you perfectly. We have compiled this list of the top 6 dress shirt fabrics you should look for when searching online websites. We will also give you some tips for a better-fitting dress shirt.
Whenever you purchase through links on this page, we make a small commission from our affiliate partners. Learn more
What are the best dress shirt fabrics?
There are many different types of fabric you can go for when buying dress shirts, and each type has its unique pros and cons. The most common materials used in dress shirts include cotton, twill, oxford, and poplin. 
Cotton is the most popular choice among shirt makers for a few reasons. 
First, it's exceptionally durable, which makes it an excellent choice for shirts that need to be folded or washed regularly. It also comes in various colors and patterns, so you can easily find a shirt that suits your style.
Cotton
Cotton is an excellent material for dress shirts. Cotton is a naturally breathable material that will keep you cool during the summer and warm in the winter. It's also antimicrobial, so it's great for keeping bacteria from growing on your clothes. Cotton is an excellent material because it's soft and comfortable to wear. It's also readily available, which makes it an inexpensive choice. 
However, cotton can stain easily. It can take a while to dry after it gets wet, so you may need to dry clean your shirt more often than you'd like. Cotton may not be a good choice if you sweat a lot. Choosing the correct type of cotton for your dress shirt is essential.
Avoid synthetics since they don't absorb moisture as natural cotton does.
Twill
The twill weave is the most common weave used in dress shirts. Usually, it is made of cotton, linen, or wool. It's a variation of the plain weave but with horizontal ribs instead of vertical ones. Dress shirts made of twill are more durable and hard-wearing than other types of weave shirts while still being soft enough to give you a comfortable fit. 
Twill is usually more expensive than plain weaves but is more suited to formal wear than other types.
More casual materials like denim or canvas might only last for a short time when worn under heavy use. For everyday use, twill suits should be your go-to choice. More traditional materials such as oxford cloth or flannel are traditionally used for dress shirts, especially those with collars, so keep that in mind when choosing what material to use for your shirt.
Broadcloth
A broadcloth shirt is a type of fabric that is typically made from linen or cotton. It features a smooth, supple feel and is often used for fine knitwear, dress shirts, and suits. Due to its refined appearance, broadcloth is considered an "upscale" fabric. It's also suitable for formal occasions as it can easily dress up or down.
Broadcloth has a moderate shrinkage rate of approximately 1% when washed in hot water and dried on low heat. Because of this, keeping the size of your broadcloth items consistent is essential to retain their shape after washing. The fabric also does not need to be ironed, but it will require ironing to remove wrinkles.
If you're looking for an alternative to broadcloth, consider buying a twill or poplin shirt. These fabrics have rough textures, which provide more structure than broadcloth and can make the shirt appear dressier.
Oxford Cloth
Oxford cloth is a fabric made from finely woven cotton and polyester threads. The material is woven to create a soft, smooth surface. It has four layers:
A top layer of polyester

A middle layer of polyester

An inner layer of cotton

An outer layer of polyester
Oxford cloth dries quickly and holds wrinkles well.
 Oxford cloth is commonly used for dress shirts because it allows the fibers to stretch without losing shape. It also provides a crisp look that helps men stand out. In addition to its durability, oxford cloth has some other benefits. Oxford cloth can be easily ironed, so you don't have to worry about wrinkles showing up in the first place. 
Oxford cloth also feels nice on the skin; it's soft and comfortable against your skin while still looking neat and professional. However, it is more expensive than other types of dress shirt fabrics. Therefore, it should be reserved for formal occasions or when you want to create a standout style.
Poplin
While poplin is often used to make dress shirts, it's also an excellent fabric for casual wear like T-shirts, polos, and jeans. Poplin is a lightweight, breathable fabric with a smooth finish that feels soft against the skin. It comes in various colors, so you can find one that suits your style.
Like all fabrics, poplin should be cared for to avoid shrinking or pilling. Avoid ironing and machine washing your clothing, as this will cause the fibers to break down and lose their shape.
Poplin is an excellent option for dress shirts because it's lightweight and wrinkle-resistant, making it a perfect choice for casual wear. It also comes in many colors, so you can find one that suits your style.
Flannel
Flannel is a soft, warm fabric made from wool or cotton. It's lightweight and comfortable to wear, making it an excellent choice for dress shirts.
Flannel shirts are often worn with jeans or chinos as an alternative to cotton T-shirts. They're also perfect for spring and fall because they're lightweight enough to be layered under a jacket.
They're also great for dressier casual situations like weddings, formal dinners, or business meetings.
The most important thing to remember when wearing a flannel is that it should be clean and well-pressed. If it starts getting wrinkled, take it off immediately and iron it.
As far as sizing goes, you can get away with going up a size if you have broad shoulders and thick arms. If you're on the slim side, go down one size to make sure there's room for your arms to move freely.
Related Read: 10 Best Dress Shirts For Fat Guys
How Should a Dress Shirt You Comfortable?
A good fit is crucial when it comes to successful attire. A well-fitting dress shirt will make pulling the right look off much easier. When it comes to dressing shirts, the fit is key. Avoid shirts that are too tight or too loose. You should avoid boxy shapes and stiff fabric. Instead, look for softer materials like cotton, linen, and silk. A good fit has a few pieces to it. The chest should fit snugly without constricting.
The shoulders should be comfortably broad and fall naturally on the back. Keep the length of the shirt close to your torso so you don't have to pull it down as you move around constantly. Shirts that don't fit well can be a drag in the workplace, especially if you spend your days hunched over your desk at a computer for long periods. So, take care to get one that fits correctly from the start!
If you're unsure if your dress shirt is fitting correctly, it may be best to go by these basic guidelines:
The collar should sit snugly against your neck and not feel loose or too loose around your shoulders
The sleeves should be long but not too long, covering most of your forearm while still leaving a little bit of room for movement
The hemline should fall evenly across the front of your waistband
When buttoning up the cuffs, they need to rest flat against your wrists
Conclusion
 Your dress shirts must fit correctly at the shoulders first because this will affect how they fit everywhere else on your body. If you're looking to minimize shoulder bulge, there are several ways: First, make sure you follow the manufacturer's sizing guidelines when ordering. Second, go for a tailor-made fit if you're buying off-the-rack (OTR). Third, if you're looking for a bespoke fit, ask for custom measurements from a reputable tailor to ensure that each sleeve is cut accurately and suits your proportions.
Choosing the right shirt that's comfortable can be a real challenge. It's crucial to pick the suitable fabric and fit, but you also need to consider other factors, like how the garments will look after being washed. The best way to pick out a shirt is by researching the different types of shirts available online. 
Depending on your budget and lifestyle, you can choose from various shirts that offer additional benefits. For example, a dress shirt made from oxford cloth will be more expensive than a plain cotton shirt, but it's also more durable and attractive.
On the other hand, a plain cotton shirt is an excellent option for everyday wear at a lower price tag. If you have any questions about what type of shirt you should get, talk to the salesperson at your local clothing store. If you don't have a local shop, try looking for retailers that sell menswear online. 
Remember, not only is it important to choose the suitable fabric for your shirt, but it's also essential to find the right style. You can find dress shirt styles, from casual button-ups to sleek, tailored separates. All you need to do is find the right pair of pants and shirts to complement your outfit and make a great first impression!