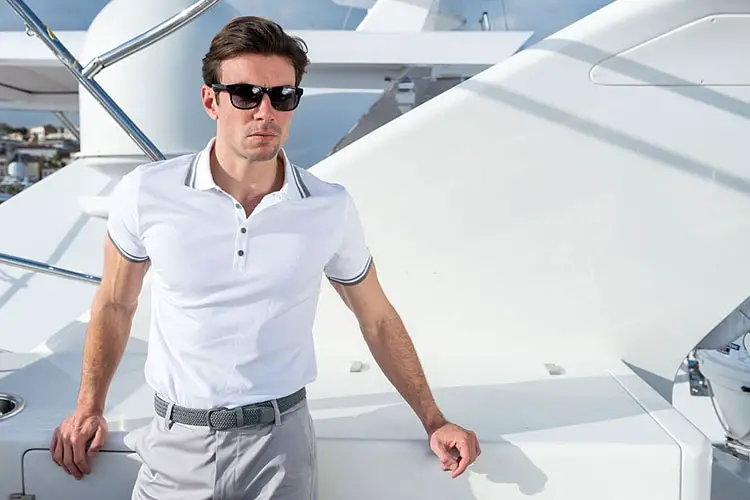 Are you looking for a versatile and stylish shirt to elevate your wardrobe? Any man would benefit from wearing a polo shirt. Polo shirts are the perfect way to dress up any look while maintaining a casual, comfortable style. They can be worn on various occasions, from a day at the office to a night out with friends. With so many types, colors, and designs available, it can be hard to choose the perfect polo shirt for you. 
This article will provide tips on selecting and wearing the best polo shirts for men. We'll cover the different types of polo shirts, the various colors and designs available, and how to wear them to create the perfect look. With the proper knowledge and a few helpful tips, you'll be able to find the perfect polo shirt to express your unique style.
Whenever you purchase through links on this page, we make a small commission from our affiliate partners. Learn more
Three Most PopularFabrics For Polo Shirts
Polo shirts are a timeless wardrobe staple and have been popular for years. They are the perfect combination of relaxed and stylish, making them ideal for various occasions. When choosing the suitable fabric for a polo shirt, there are three main options: cotton, polyester, and spandex. Each fabric has unique qualities and benefits and is ideal for different events and activities. 
Deciding which fabric is best for you can be difficult with so many options. Let's take a closer look at the three most popular polo shirt materials.
Cotton Polo Shirts
Cotton is the most popular choice for everyday wear, as it is lightweight and breathable. 
The fabric of the cotton polo shirt is lightweight and breathable. It is soft to the touch and keeps you cool in hot weather. It is also durable and can withstand regular washing and wear. The fabric also has natural antibacterial and antifungal properties, which make it resistant to odor and bacteria. The material is also wrinkle-resistant and resists fading and shrinking.
 Polyester is a more durable choice and is great for activewear. Lastly, spandex is the best fabric for more athletic activities, as it is stretchy and allows for more movement. 
Related read: How To Wear A Polo Shirt – Modern Guide For Fat Guys
Polyester Polo Shirts
 This shirt is composed of 100% polyester, a durable synthetic fabric that is resistant to wrinkles, shrinking, and fading. This fabric also helps wick away moisture from the body, making it an ideal choice for active wear. Polyester polo shirts are suitable for casual and formal occasions, making them a versatile option for the modern man.
The polyester polo shirt is also economical; it is often less expensive than other fabrics, such as cotton or linen. The fabric is also lightweight, making it an excellent option for summer. It is also easy to clean and maintain; machine wash it through a gentle cycle and then hang it to dry.
Polyester and Cotton Fabric Mix Polo Shirt
A poly-cotton blend polo shirt combines the best qualities of both polyester and cotton. Polyester is a synthetic fabric known for being lightweight, durable, and easy to clean. Cotton, on the other hand, is a natural fiber that is incredibly soft and breathable. By combining these two fabrics, a poly-cotton blend polo shirt offers the wearer the benefits of both.
 The result is a polo shirt that is strong yet lightweight, wrinkle-resistant, and comfortable. It's also easy to clean and maintain, making it an excellent choice for active lifestyles. Poly-cotton blend polo shirts are perfect for the office or the weekend. They come in various colors and styles, so you can find the ideal shirt for any occasion.
What Is The Best Color For Polo Shirt?
There are many options when selecting the best color for a polo shirt. However, the most popular colors are black, white, and navy. Black polo shirts have been popular for decades and are a classic, timeless look. Depending on the occasion, black can be dressed up or down. 
White polo shirts are also popular and can help create a bright, crisp look. For a more casual, classic look, navy polo shirts are a great choice. They are a great way to add a subtle pop of color without being too loud. 
No matter which color you choose, a polo shirt is a versatile piece of clothing to dress up or down. For an office environment, a black or white polo shirt can give you a professional, polished look. For a more casual setting, navy can provide a more relaxed look. It all depends on the occasion and the type of look you are going for. 
How Should A Polo Shirt Fit?
Finding the right polo shirt isn't a one-size-fits-all situation. The best way to ensure a perfect fit is to try the shirt on and ensure that the shirt's length and shape are appropriate. A polo shirt should fit snugly on the body without being too tight or loose. 
It should be long enough to tuck into pants but shorter, so it hangs past the waistline. The sleeves of a polo shirt should be long enough to reach the mid-point of the upper arm, and the shoulder seams should be in line with the shoulders.
The collar of a polo shirt should fit snugly around the neck but not be too tight. The collar should also lay flat against the back of the neck and not rise or stand away from the neck. The buttons of a polo shirt should be able to close without pulling the fabric too tightly. The shirt's fabric should not bunch up or hang away from the body when buttoned.
When it comes to the fit of a polo shirt, it is crucial to consider the type of fabric and design of the shirt. A lightweight, breathable fabric is ideal for warm weather, whereas a thicker, heavier fabric is better for cooler months. Additionally, the fit of a polo shirt should take into account the style of the shirt. For instance, a slim-fit polo shirt should fit more closely to the body than a traditional fit.
Related Read: A Man's Guide To Wearing Undershirt With Dress Shirt
How To Style Polo Shirts?
When styling polo shirts, the most important thing is choosing the right fit. It should be close to the body, but not too tight; the hem should hit at or slightly above the hips. Additionally, the right sleeve length should fall between the middle of the bicep and the elbow. If you choose the wrong size, the shirt won't look right, no matter how you style it. 
When it comes to colors and patterns, the options are endless. The most versatile colors are solids, which are appropriate for a variety of occasions. Try a patterned polo if you're looking for something more adventurous. Stripes, checks, and even floral patterns are all great options for adding flair to your look. 
When it comes to styling polo shirts, the key is to keep it simple. Opt for a pair of dark-wash jeans and sneakers for a casual, everyday look. You can also dress up your polo with khakis and loafers. Try pairing your polo with tailored trousers and a blazer for a dressier look. 
Should Polo Shirts Be Buttoned Up?
A person's preference and the occasion determine the answer to this question. You should wear buttoned-up polo shirts for formal events, such as job interviews and business meetings. It is also often suggested that casual polo shirts be unbuttoned for a relaxed look.
However, if you prefer to keep your shirt buttoned, this is usually acceptable in most social situations. Ultimately, the decision of whether to button or unbutton a polo shirt comes down to individual preference and the context of the situation.
Polo Shirts VS Golf Shirts: What's The Difference?
A polo shirt and a golf shirt are both collared shirts typically made from cotton piqué fabric. There are, however, several differences between these two popular casual shirts.
First, the collar on a polo shirt is typically a two- or three-button placket. In contrast, a golf shirt has a more traditional button-down collar. Additionally, the sleeves of a polo shirt are usually short. In contrast, the sleeves of a golf shirt are generally long.
Another critical difference between a polo shirt and a golf shirt is the fit. Polo shirts tend to have a slightly looser, more relaxed fit than golf shirts, which usually have a fitted silhouette. Consequently, golf shirts are more suitable for activities requiring a lot of movement, such as golf.
Finally, the colors and patterns available on each type of shirt can vary. While polo shirts often feature solid colors or subtle stripes, golf shirts are available in a wider range of colors and patterns, including bold and bright prints.
What Is The Best Way To Wash Polo Shirts Without Shrinking Them?
Washing polo shirts are essential to preserving their fit and enhancing their lifespan. To properly clean your polo shirt without shrinking them, you should follow the following steps: 
1. Read the label on your polo shirt for the manufacturer's instructions. This is the essential step in washing your polo shirt, as it will provide specific instructions for the best care for your shirt. 
2. Pre-treat stains as needed by gently dabbing a small amount of mild detergent onto the stain and let sit for up to 20 minutes before washing.
3. Place your polo shirt into the washing machine with like-colored garments only.
4. Choose a gentle cycle setting, cold water temperature, and the mild detergent of your choice. Your polo shirt may be damaged if you use fabric softeners or bleach.
5. Once the cycle has finished, gently remove your polo shirt from the machine and hang dry. Avoid tumble drying as this could cause your shirt to shrink. 
If you follow these steps, you should be able to wash your polo shirt without shrinking it. If you are ever trying to figure out how to best care for your polo shirt, consult the manufacturer's instructions for the best advice.
Explore More Options
White Or Blue Dress Shirt – Which Is Better