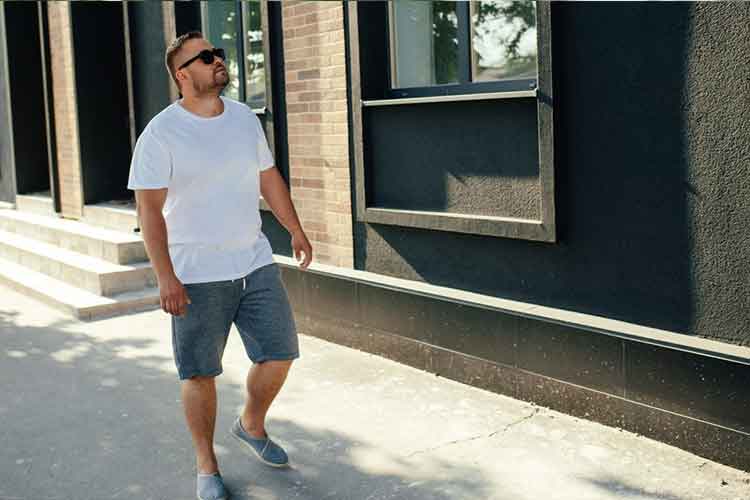 If you are a big guy, you know how hard it can be to find that cool t-shirt in your size. And even if you find one in your size, it's either poor quality or just plain dull. T-shirts are an essential piece of a wardrobe staple. And Finding one in your size that is both comfortable and stylish is worth the investment you will never regret. Because T-shirts are so versatile, you can match them with anything on-the-go. 
If you are wary of finding stylish t-shirts to fit your frame and budget, we have put together this quick mini-review of 11 best t-shirts for big guys available on Asos.com. Whether you're going to pair it with your favorite jeans or trousers to work, on vacation, or meet up with friends, these tees will always be in style.
Best Black T-shirt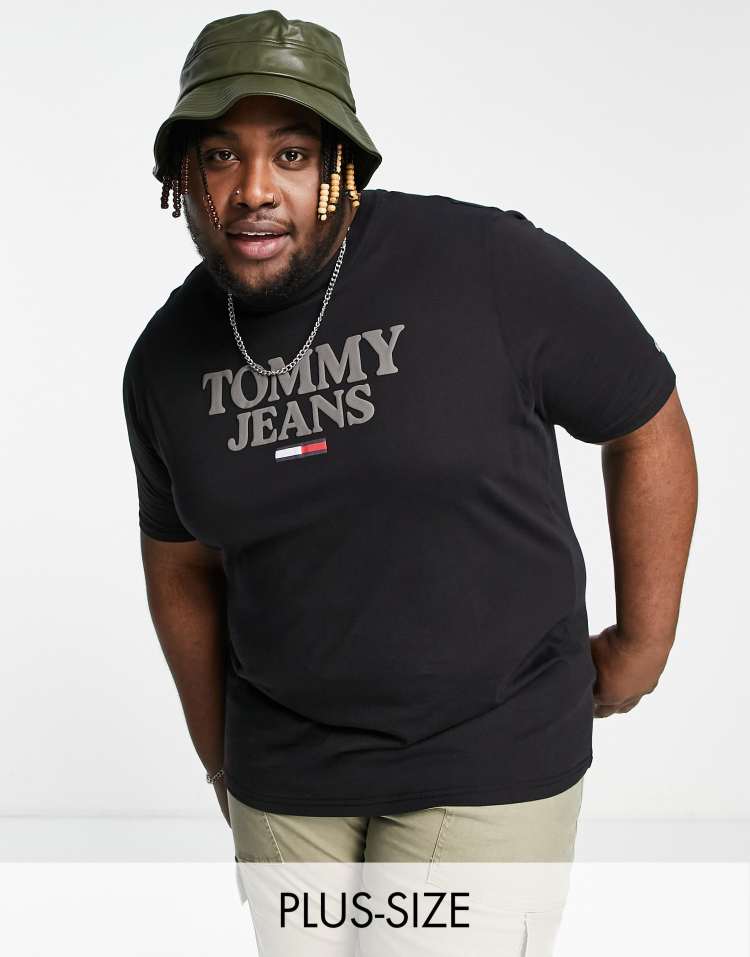 Tommy Jeans Big & Tall t-shirt in Black
One of the most casually worn pieces of clothing is the t-shirt. It is so versatile that it works well with other popular casual wear like jeans, sneakers, bucket hats, denim jackets, etc. One of the safest color t-shirts to wear with almost anything is black or white. And to spice things up, you can wear one with your favorite brand logo on the front or back.
Make this Tommy Jeans Big & Tall tonal logo t-shirt yours for an endless combination of casual style outfits. This short sleeve crew neck t-shirt is made from 100 percent organic cotton, making the shirt an environmentally friendly option. Cotton grown organically uses no pesticides or harmful chemicals and uses less water.
This solid black Tommy Jeans t-shirt features its detailed logo on the front. Its cotton fabric makes it soft and breathable to wear all day. Finally, it's machine washable, making it easy to maintain.
Check Latest Price on Asos.com
Best White T-shirt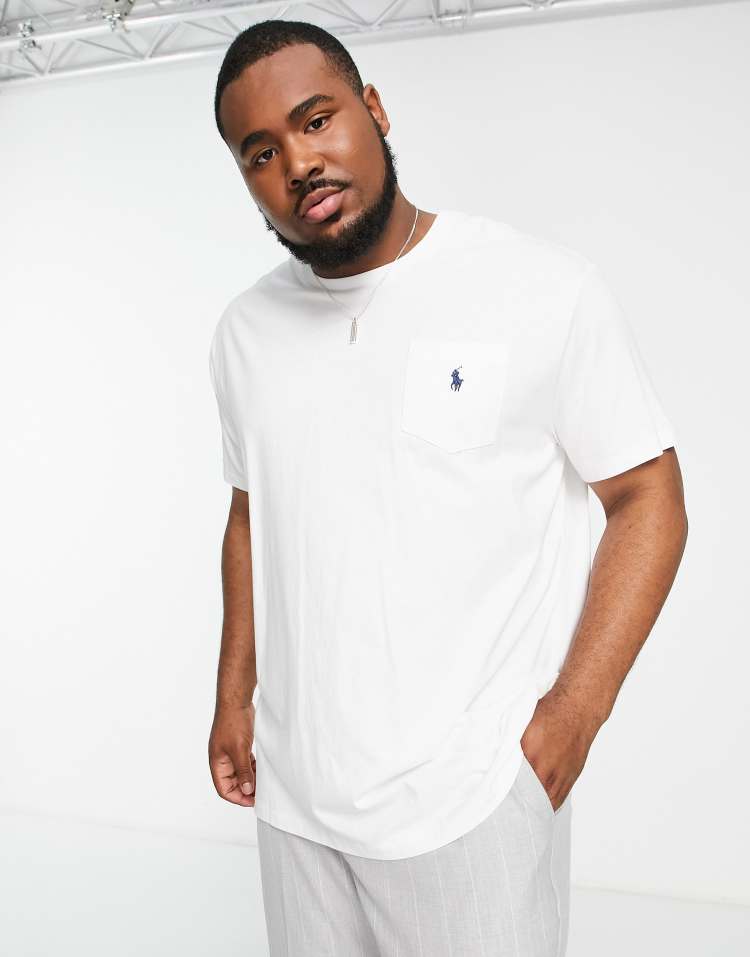 Polo Ralph Lauren Big & Tall White T-shirt
Are you that big and tall guy who's shopping for that all-white t-shirt that's stylish, comfortable, and of a high quality that won't break the bank. Then this white Polo Ralph Lauren t-shirt checks all the boxes. You will also love this shirt even more because it's machine washable, making it easy to care for. Just make sure to turn them inside out before tossing them in the wash and put your water setting on warm.
Made from premium cotton, this is one of the best white t-shirts for a chubby guy. It's soft and stretchy and sports a chest pocket with logo embroidery. Wear this with earthy color trousers and sneakers that create that stylish summer look.
Check Latest Price on Asos.com
Most Comfortable T-shirt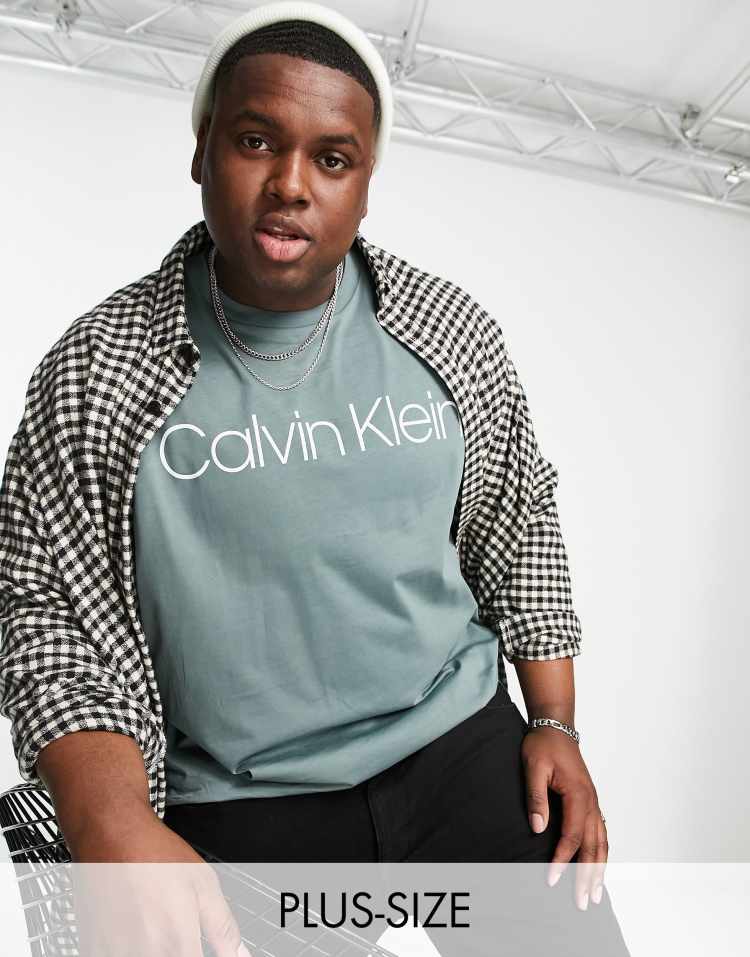 Calvin Klein Big & Tall T-shirt
OK, you have enough black and white t-shirts in your wardrobe. Let's brighten things up with this green t-shirt from Calvin Klein. This crew neck t-shirt is very light and immensely comfortable to wear. It flatters your physique and smoothly tappers downwards towards the waist. 
You can dress this up with an open-front button-up shirt, a pair of dark denim, and cool sneakers to complete the look.
There are countless ways to wear this CK tee. 
If you have broad shoulders and often feel like your shirt does not have enough room, this t-shirt will be the perfect fit if you are big and tall. Pair it with a flannel shirt or a blazer, or rock it with chinos or corduroy. Check Latest Price on Asos.com
Best Graphic T-shirt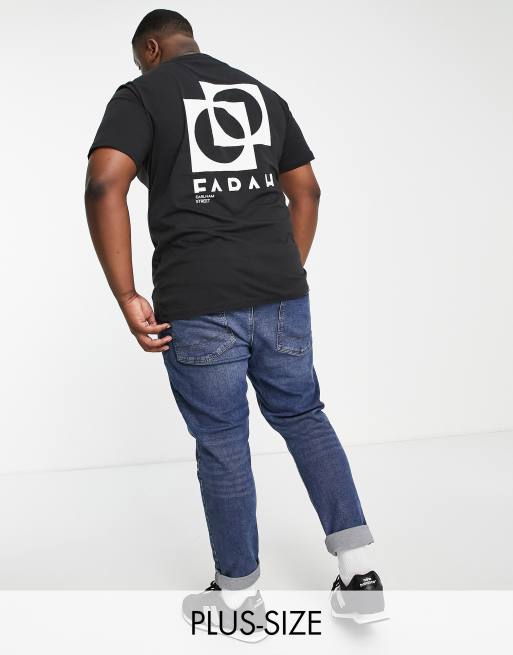 Farah Plus Heads Graphic T-shirt
This Farah Plus graphic tee has an irresistible modern appeal. Its unique print matches smoothly with any outfit casual wear combination. 
The key feature of this Farah tee is that it is soft. It is made with 100% organic cotton fabric that touches your skin comfortably to wear all day, giving you that laid-back look perfect for summer. 
This shirt is so soft and comfortable, don't be surprised if your friends ask you if they can touch it. Make this Farah menswear the best black t-shirt for your wearing pleasure. Check Latest Price on Asos.com
Best Oversized Long Sleeve Tee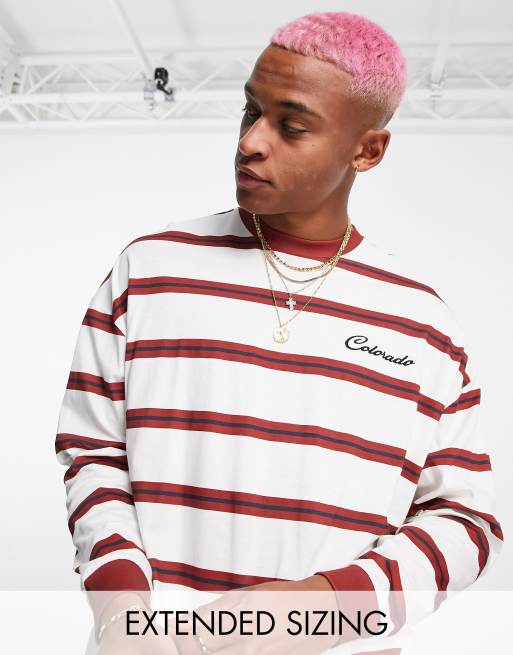 ASOS DESIGN Colorado Long Sleeve Tee
Match up with a pair of distressed jeans and some cool kicks, then sit back and let this Asos Colorada long-sleeve shirt do all the talking. A long-sleeved striped shirt is always an easy fix whenever you have to run through the door, and you're stuck on what to wear.
It can also work with many casual shoes, leather boots, and everything in between. Though most times, a long sleeve tee seems like an underrated item over the short sleeve shirt, it appears to look more formal when compared. Another advantage of a long-sleeved shirt is that it gives you more coverage for layering. Check Latest Price on Asos.com
Coolest Crew Neck Tee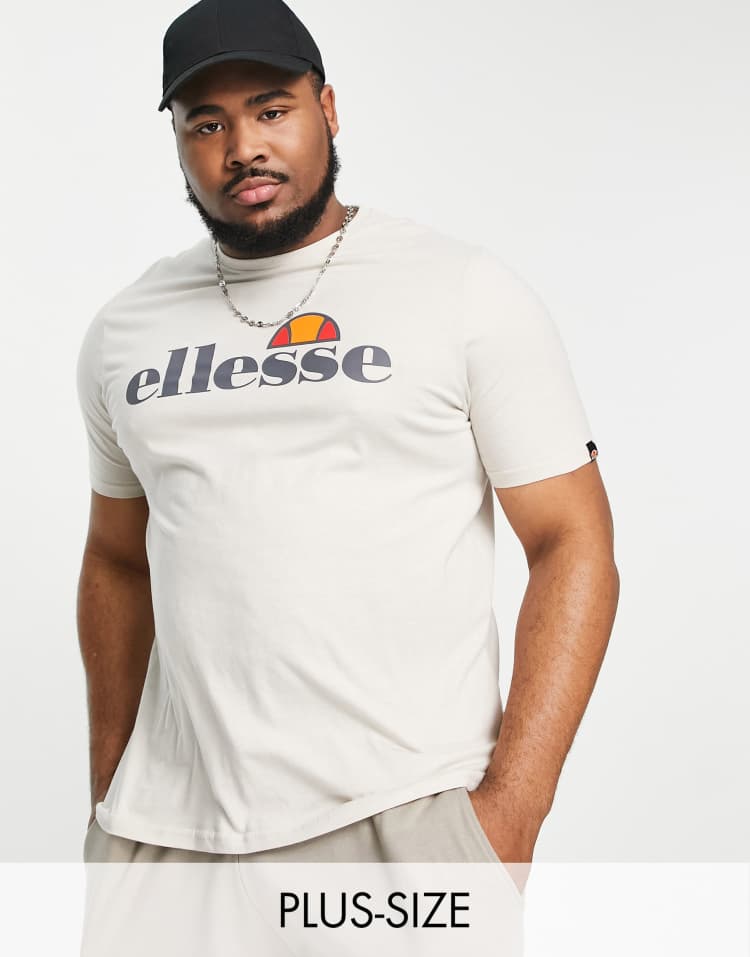 ellesse PLUS Prado T-shirt
Founded by Italian Leonardo Servadio, the Ellesse brand is incredibly well known. Their logo is on stylish and unique sportswear like hoodies, track jackets, and polo shirts. The hunt for best-fitting shirts for a big guy seems never ends.
You are going to and from the gym to the games, work, or a night out. Let this Ellesse Plus Prado T-shirt take you wherever you want to go. Given its versatility and affordability, you will be patting yourself on the back for adding it to your wardrobe collection.
Made from authentic cotton t-shirt fabric, you don't have to worry about color fading or how it will fit after washing in the machine. Wash according to directions on the care label. Check Latest Price on Asos.com
Best Classic Fit T-shirts for Big Guys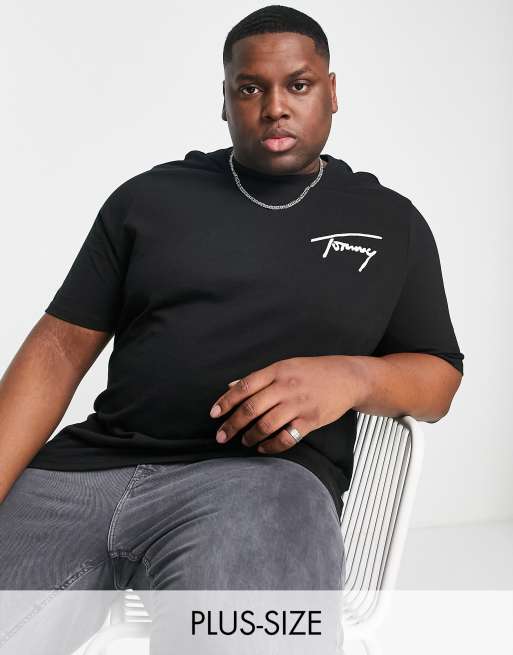 Tommy Jeans Big & Tall Signature t-shirt 
The Tommy Hilfiger brand is still taking the clothing world by storm with its relaxed classic American style. Its rebranding of Tommy Jeans signature logo t-shirt is what we understand to be a true American classic. This fresh crew neck tee features large logo embroidery on the chest and a small one on its arm. A high-quality piece of clothing built from 100% recycled cotton gives you that soft and comfortable feeling when you're wearing it.
Owning this shirt is great for any occasion and will be your go-to closet pick. Just imagine yourself in it. With matching accessories, you can wear them from day tonight. With black being your basic color shirt, you can pair it with anything. Check Latest Price on Asos.com
Best Tie-Dye Shirt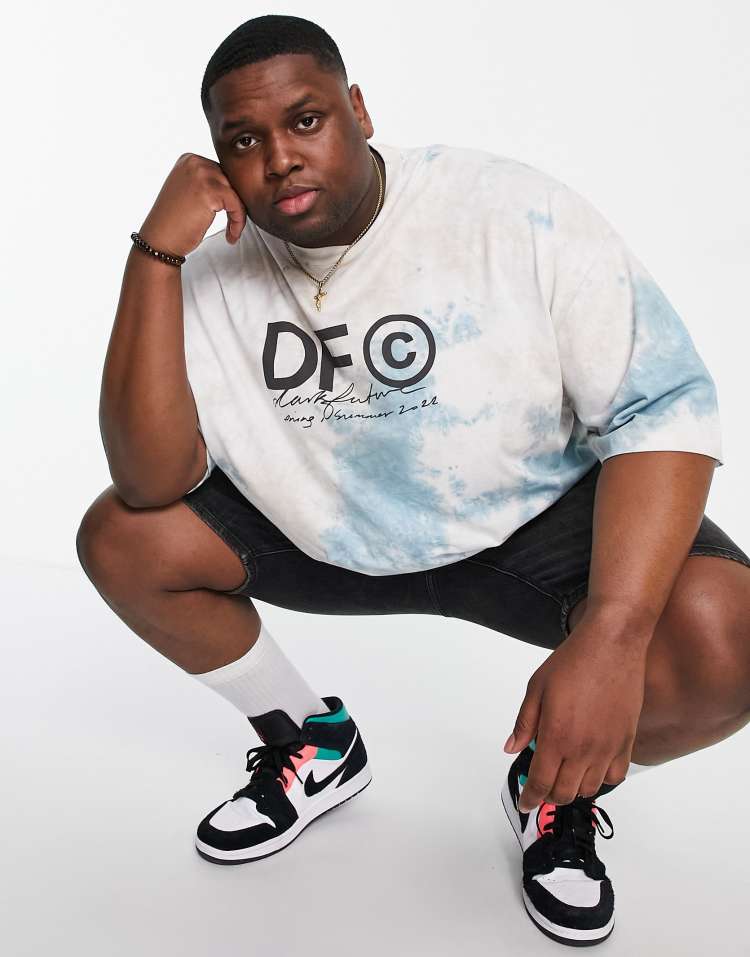 ASOS Dark Future Oversized T-shirt 
With so many fashion trends you see here today and then gone tomorrow. Some trends transcend with time, like the tie-dye shirt. The tie-dye shirt phenomenon has been with us since the 60s and won't be going anywhere soon. Over the years, we have seen many current tie-dye shirt designs embraced by many streetwear brands with open arms, such as one of Asos.com best men's tie-dye shirts, the Dark Future oversized T-shirt.  
If you are looking for a cool tie-dye design t-shirt that's always trending, look no further. This oversized Dark Future tee from Asos is all you need. Boasting its chest logo print, you can wear it with jeans, shorts, cargo, sweat pants, collared shirts, or a jacket. Check Asos.com to see if your size is still available.
Check Latest Price on Asos.com
Best Strip T-shirts for Fat Guys 
ASOS DESIGN Relaxed Stripe T-shirt
Come spring and summer, and you want to have the power of a striped t-shirt to upgrade your casual look. Wearing the best strip t-shirt allows you to try bold color choices and patterns that you typically wear with your outfit. This blue and white stripe t-shirt design by Asos will enable you to mix things up for the most current look.
Made of 100% cotton for a premium soft feel. You can wear this shirt for layering or pair it with a denim jacket and jeans. Striped tshirts for big belly guys are dressier than plain t-shirts. You can easily style it to go out, whether for work, vacation, or casual occasions.
Check Latest Price on Asos.com
Best Curved Hem T-shirt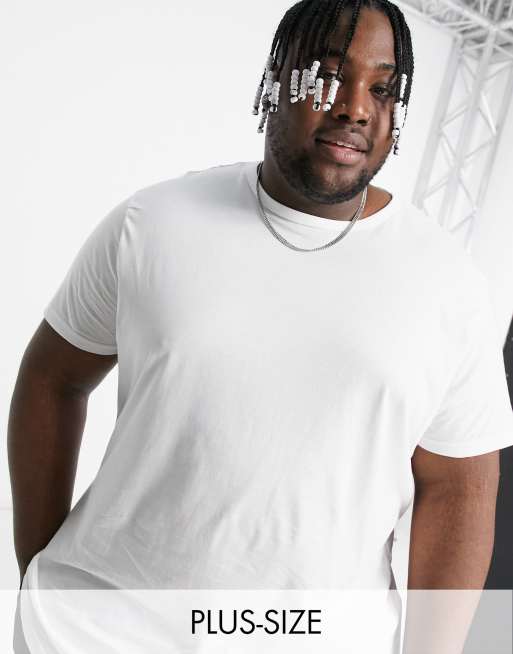 River Island Curve Hem T-shirt
This curved hem t-shirt gives your body a form-fitted appeal to achieve a simple, eye-catching look. This trendy wear, also known as the Scallop hem shirt, won't look baggy at the end. There is one of River Island best men's curved hem t-shirts for big belly guys. You can wear this practically under anything, from a jacket to a hoodie. You can pair it with black jeans and a pair of white kicks.
Versatility is critical when building your wardrobe. River Island understands by creating this timeless curve hem t-shirt for larger guys like you. If hand feel is your criteria for selecting a shirt, you appreciate the quality of its fabric. Made from breathable cotton t-shirt fabric that's machine washable, it's so affordable you may want to get more than one. Check Latest Price on Asos.com
Best Workout Shirt for Chubby Guys

French Connection Plus Raglan T-shirt
Simple, stylish, and available in 4XL. French Connection designed their Plus Raglan t-shirt with 100 percent cotten. They have created this tee to be a classic year-round staple for your wardrobe. It looks fantastic and stylish, and it is comfortable. What more could you want? This shirt is ideal for men with a large torso and offers a longer length for tall guys. This color-block men's t-shirt fits well and will flatter your body type at its core.
This stylish option for men will instantly improve their looks without breaking your wallet. With many ways to pair this, your outfit possibilities will be endless.
Check Latest Price on Asos.com
Best Cotten Tshirt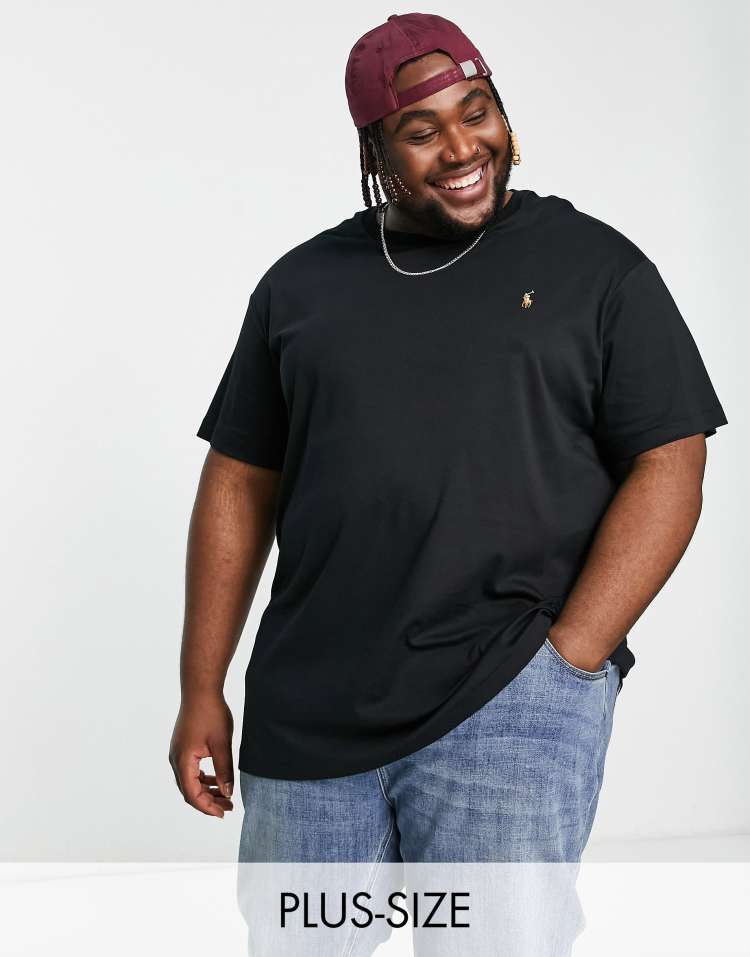 Polo Ralph Lauren Pima cotton T-shirt
Before, you may have heard that the black t-shirt should be a staple piece in a man's wardrobe. When the weather gets warm, it's a top that can be worn on its own and look cool doing it. The Polo Ralph Lauren T-shirt is another one of our shirt options for large dudes.
You can wear it by itself or use it for layering. Make a dramatic statement by pairing it with a bomber jacket or chinos. 
This crew neck tee boasts its Polo logo on the chest and is 100 percent cotton. To maintain its integrity after machine wash, hang it to dry.
Check Latest Price on Asos.com
How Can A Man Hide His Belly In A Shirt?
Men can follow a few tips to help conceal their belly when wearing a shirt. Firstly, they should choose shirts with a looser fit rather than tight or slim-fitting ones that accentuate the stomach area. Button-up shirts with a straight cut and a longer hemline are also a good option as they can help create a more streamlined silhouette.
Additionally, choosing darker colors can create a slimming effect. Wearing a jacket or blazer can also be a helpful way to draw attention away from the midsection. Another option is to try wearing shirts with patterns or prints, as they can help break up the visual appearance of the stomach area. It's important to remember that confidence is key, so choosing clothing that one feels comfortable and confident wearing is best.
More Recommended post on Best Shirts for Big Guys
Best Button-Down Shirts For Big Guys
Sweatshirts For Men To Wear All Day
Best Shirts for Guys with Broad Shoulders
Best Ways To Wear A Henley Shirt For Big Guys