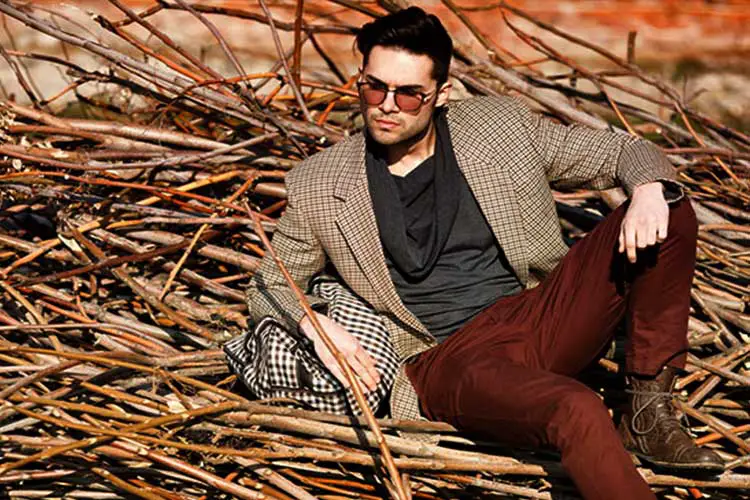 Jeans have been the go-to winter wear for the longest time. But it's time we went for something a bit different. So if you're tired of the feel of denim against your skin during winter or are looking for nice alternatives to wear this winter instead of jeans, then you've come to the right place.
So now, what can men wear instead of jeans in winter? There are quite a number of other outfits men can wear in winter instead of jeans. You can go for cords, cargo pants, flannel pants, leggings and so on. Various options to explore. And considering how cold it gets in winter, these options are just as good as jeans for keeping warm.
However, it's not only about putting on something and heading out or staying in. It's also about knowing how to wear it well and pairing the pants with the right outfits. So read on and learn five things to wear this winter instead of jeans and what they are all about.
 Whenever you make a purchase through links on this page we make a small commission from our affiliate partners. Learn more
Sweatpants/Drawstring Trousers
Remember when a guy wearing sweatpants looked like he had given up on life? Well, get rid of that idea because sweatpants are now in style.
Following the athleisure style trend, it's common to see sweatpants on almost every guy these days. Not only are they stylish, but they showcase youthfulness and are ridiculously comfortable.
The more relaxed styles are like tracksuits with a tracksuit bottom, but the smarter style has a tailored fit and is tight at the leg cuffs. The idea is to wear a sweatpant that is not too baggy on the legs and fits around the bum area for a smart look.
Sweatpants are sewn long and made from cotton, combined with polyester sometimes. And they work great for winter in covering your legs and keeping you warm.
You can wear a pair of sweatpants to work if worn properly. For example, you can wear your sweatpants with a button-down shirt, a pair of brogues, and a V-neck sweater. Then for a more casual look, a pair of sweatpants go well with a fitted sweater and sneakers.
Cargo Pants
These old-fashioned pants from the nineties are back again in banging style. The new style of cargo pants comes in a tailored yet relaxed fit with plenty of pockets for easy storage. The long cuts flatter your legs, making them look longer. And you can get a pair of cargo pants in different colors.
However, if you're wearing colored cargo pants, tone down with a neutral-colored cashmere sweater or a bomber jacket. And take it easy on the pockets; the pockets on your cargo pants should do. Then add a pair of military boots or regular boots or trainers at ankle height.
Cargo pants are made from cotton and are great for winter. So, instead of wearing jeans, you can throw on a pair of cargo pants to keep warm. It's best to go for a heavyweight ripstop for better warmth, plus it's a great work look.
Flannel Pants
Want to look sharp this winter? Then a pair of flannel will give your style the right kick. These super comfortable pants are soft and warm and perfect for fighting winter cold.
Flannel pants became popular during the early 20th century in Britain as sportswear, especially for cricket. It's little wonder that these stylish pants have long been a business-casual staple for the most stylish men.
They are made from flannel, a soft type of wool—merino wool—and woven in looser weaves to give them a softer finish. And like denim, these pants are highly versatile and add texture to your outfit.
For a formal look, you can pair grey flannel pants with a nice patterned jacket, and for a casual look, a turtle neck or V neck sweater will look nice. Another great look is a half zip cashmere sweater and a pair of solid hiking boots. In fact, you can pair flannel pants with almost anything.
Corduroy Pants
Corduroy pants are a great alternative to jeans for winter because they are sturdy and warm. And they are super comfortable, with enough stretch in them. It's no surprise they have been hot winter wear for the past few winters.
As far back as the 70s, cargo pants have been used in winter wear. However, they were most popular as factory uniforms because they were cheaper than wool.
A great thing about corduroy pants is that even though they are sturdy, they still have a soft and supple feel which you may not get with regular denim.
You can get them in a tailored or more loose fit without tapers or a tailored fit with tapers. And they often come in sand, brown, white, or beige colors. Although for a more modern look, khaki and navy are better options.
It's this color variety and their different feel that puts them ahead of denim. And when they come with embroidery, it is an even better style.
You can wear cords with tone colors or contrasting colors. That said, a sweatshirt or sweater and a pair of boots (not too bulky) are a good match.
Moleskin Chinos Pants
Another solid pair of pants to wear this winter instead of jeans is Moleskin Chinos Pants. Moleskin chinos are made from cotton and are as hard as cords. They were originally worn by laborers in the colder months. And it was also used as a military uniform which is why they often come in khaki or green colors.
Tough as leather yet very comfortable, these versatile pants can be worn as casual or business wear. So you can easily transition from office to party without breaking a sweat. And they pair neatly with a knit sweater or jacket.
And as a bonus, these pants are wind-resistant and breathable. So while you are warm, you don't get sweaty and uncomfortable. And this makes them also suitable for summer. You can wear them for winter fishing or hiking.
You can pair one with a nice crew neck sweater for a casual look and a jacket for a more dressier look.
Other Winter Fabrics To Choose From
There are other great fabrics that are suitable for winter. Fabric-like:
Velvet:
When you hear velvet or velvety, what comes to mind is something soft and luxurious. Velvet is a type of fabric made from silk with a shiny appearance, although these days, it can be made with synthetic fibers like polyester, rayon, viscose, and nylon.
Velvet is also available in cotton velvet which is the more preferred choice for men's clothing. It's far less expensive than silk velvet and heavier as well and transforms into nice suits, jackets, and blazers.
Leather
Leather works great for any season, and it's good at repelling the elements. And you can get really nice leather pants and jackets that are good for staying warm during winter.
Made from the tanning or chemical treatment of animal skin, it is strong, durable, flexible, timeless, and stylish. And it's also breathable, which makes it suitable for both summer and winter.
Tweed
Tweed is made from tightly knit wool, and it is usually very strong and durable, which is why it is a popular winter wear. You can find tweed jackets, pants, and waistcoats.
You can always wear tweed with other materials and textures as it is a flexible and stylish material. It's rough yet soft and keeps you warm during winter.
Silk
It may seem surprising that silk is on this list, but it is true. This fabric keeps you both cool during summer and warm during winter, but it doesn't mean you should wear the same summer silk outfit for winter.
Silk does not conduct heat, and so it is a great fabric for keeping warm during winter.
Wool
Every closet must stock up on wool for winter. Gotten from sheared sheep, wool has great insulation and moisture-wicking abilities.
If you get itchy when wearing wool, then opt for merino wool. It is softer and more comfortable than regular wool.
Fleece
Fleece is made to look like wool and could almost pass as one. It is made from synthetic material—polyester. If you want to keep warm without feeling weighed down, then wool is a great option.
Plus, it dries quickly, so you can exercise with it. And if you happen to get wet, you won't stay wet for long.
Down
Made from the feathers of ducks and geese, this material has great insulation properties, which makes it great for winter. However, it's quite costly.
It is usually lined on the outside with waterproof material, and the more feathers, the warmer you feel.
Is It Better To Wear Jeans Or Sweatpants In Cold Weather?
Generally, sweatpants or joggers are a better pair of pants to wear in winter than jeans. They are made from soft cotton and often with a polyester blend and sometimes fleece. And they are usually lightweight. Denim, on the other hand, is made from sturdy cotton twill with limited heat abilities. And most denim has some weight, especially when wet.
However, some factors come into play that may change this. For example, the thickness of the material used and the combination of the materials used.
While sweatpants are better at retaining body heat, they should always be worn dry. This is because while they are warmer, wet cotton is never comfortable.
Sweatpants are casual wear that can be worn for different situations, especially during winter. They are also worn for sports or athletic activities because of how comfortable and versatile they are. Sometimes, they come with flexible bands on the waist, and other times, you can find sweatpants with drawstrings.
A typical sweatpants style is tight at the waist, loose on the body and tight at the ankle. Although these days, there are more tailored fit options that are suitable for even work. And even though they are lightweight, they are super warm.
A sweatpant is typically made up of two layers: the outer layer and the inner layer, which is the fluff or wool lining. And this is what provides the warmth.
Sadly, a downside to sweatpants is that they are not good for wind and snow. So if you're wearing a sweatpant, best to wear it in dry winter. And if you need protection against wind, jeans are a better option.
How To Dress For Winter
During winter, you want to stay warm while remaining stylish. The key to achieving this is layering. A well-layered outfit is a wonderful sight to behold. So here are some tips on how to stay warm every winter while turning up the heat in style.
Wear three layers: Your clothing should consist of three layers; the base layer, the middle layer, and the outer layer. The base layer can be either silk or Merino wool inner-wear or any other light moisture-wicking fabric. The idea is to stay warm without sweating inside.
The middle layer is typically thicker—a thick fleece or a fabric that provides insulation. And as for the outer layer, a winter coat, and corduroy or joggers.
Wear tight clothes: It helps to wear clothes closer to your body. If you're wearing leggings, they should be fleece lined to provide more warmth.
Go for the best fabric: For winter, wool or cashmere are things to invest in. Lightweight merino wool works as a great base layer. And cashmere is a great fabric for sweaters and cardigans. Wool pants are also ideal and are better than jeans.
Wear long coats: You want your coat to cover your entire upper body property, and it's also a great look.
With these marvelous alternatives, you're ready to rock winter as stylishly as possible. And don't forget to check out these articles for more winter fashion:
More Related Read
8 Best Men's Sherpa Lined Denim Jacket – Winter-Ready
15 Must-Have Men's Winter Fashion Essentials for Your Wardrobe
White Jeans for Men: Match Them Perfectly with These Colors
RELATED POST