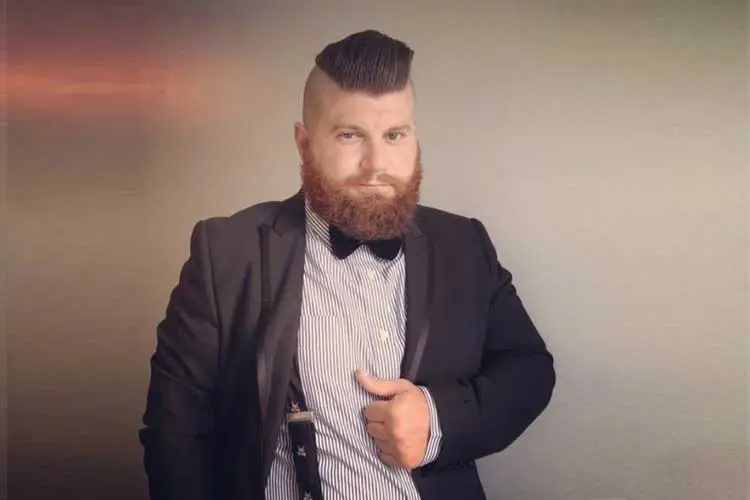 Dressing up as a man with a big belly can be tough. While you want to hide the belly, you don't want to end up looking frumpy. Striking that balance between tight and loose clothing can be a task. However, it doesn't mean it can't be done. Having a little extra meat on, you can look fabulous with the right style tips.
So to begin, what should men with big bellies wear? For starters, wear well-fitting clothes as opposed to loose or right clothing. You should also invest in an overcoat, blazer or sports jacket. And of course, when it comes to lines, go for vertical lines and not horizontal lines.
But that's not all. There's so much to learn about finding flattering clothes for big stomach men. And that's why we've put together these 9 pieces of clothing advice for men with big bellies. With these, styling couldn't be easier. And you'll know how best to convert those luscious extra skin to a style asset.
Whenever you make a purchase through links on this page we make a small commission from our affiliate partners. Learn more
# 1. Invest In Suits, Jackets, Overcoats, And Blazers:
These emphasize your shoulders and make you appear to have a narrower waist than you actually do. And the best colors are navy, grey, or butter colors because they have a slimming effect.
Pin-striped jackets are a good look. And if you're going for these types, go for medium-spacing stripes. This is because if it's too small, then your jacket will look too busy since the stripes have to cover more fabric.
And always pair your shirt with a pair of trousers of similar color, so the eyes go up and down and away from the belly. It also creates a proportionate look.
The best kind of suits and jackets to opt for are single-breasted suits and jackets. This is because a double-breasted jacket focuses on your belly.
Another thing to note with suits is that your top button should rest where your belly juts out the most. This is so you're not left with more bulges sticking out above or below. Rather, it should be properly placed, and the second button should be left unbuttoned.
You should also leave your jackets buttoned for a slimming effect. And unbuttoned if your jacket will look too tight that way. You should also go for jackets slightly padded at the shoulders for broader shoulders.
So wear a well-fitting jacket with a nice, clean finish and smooth texture. And stay away from wrinkled suits or jackets or those made with bulky fabric.
# 2. Wear A Nice Tie:
Ties represent poise and class and complete a formal look nicely. So to increase your confidence, sport a tie with your shirt. It helps to get a shirt with a spread collar.
A spread collar has a 90° distance or more between collar points. So, it gives you more room to knot a big necktie. As a fat guy, you shouldn't knot a slim necktie; it will only end up looking clownish.
Another reason you should wear a spread collar is that it gives your face a proportional look.
Back to ties, a simple four-in-one knot tie will give you the best look. And make sure it's the right length: at your belt buckle.
To your tie and jacket, add a pocket square. Not only is it classy and stylish, but it also directs the eyes upwards to your chest and away from your belly.
# 3. Wear Your Shirts Untucked
This is a good informal look for a fat guy. Wearing your shirt untucked helps hide your waistline as the shirt drapes over your waist and trousers. When you use a belt, it emphasizes the problem area, which isn't what we want.
So for this look, wear a shirt with round hems of the same length at both sides, rather than a ducktail style. And the right length should be about the mid-crotch area.
Polos are also to be worn untucked.
# 4. Wear Vertical Stripes:
These elongate your body, making you look taller, slimmer and flattering while horizontal stripes make you look wider. Even when you're layering with an overshirt or flannel shirt, wearing one with vertical stripes gives you a slimmer look. And at the same time covering upside fat.
# 5. Jeans And Shorts.
Do not wear skinny jeans or boot-cut jeans. Rather wear tailored jeans that are straight and narrowly tailored at the ankle.
Get a medium or high-rise pair of jeans to hold the extra skin. You also want to make sure your jeans fit around the waist and aren't too tight. If they are, you'll end up creating a muffin top that isn't flattering.
To help with that, get a pair of jeans with spandex on the waist. But if you don't like spandex, get regular jeans at one inch above your normal size.
Shorts also give the illusion of length, making you look taller. The best length is an inch or two above the knees. So, if your shorts are below your knees, your legs will look shorter while the rest of your body will look larger. And this will make you look disproportionate.
Finally, avoid cargo shorts with bulky pockets. These will only add to your weight, making you look heavy.
# 6. Loafers, Low Cut Sneakers, or heavy shoes
Loafers or low-cut sneakers create some space between the foot and ankle. And this gives you an illusion of length.
Also, as a fat guy, you should wear heavier shoes. It just looks awkward and cartoonish to have a big body and tiny feet. So heavy shoes or boots will sort of create a balance and nicer proportion.
# 7. Wear the right fabric:
Some fabrics that are a little heavier or thicker cotton hold their shape better. And they look nicer on the stomach. But on the flip side, thick clothing can make you look heavier.
Another downside to heavy clothing is that they lead to lots of sweating. And this is something you want to watch out for as a fat guy. So lighter clothing becomes a better option in this case.
But better yet, go for clothing made from natural fibers. They are both lightweight and maintain body definition.
# 8. V-Necks Vs. Crew Necks
There's a bit of a controversy on this point. Some stylists say wear a v-neck, and others say they wear a crew neck for various reasons. But what is the goal of your outfit as a fat guy? Hiding that belly and looking good and comfortable. So which style helps you achieve that more?
Well, Crewnecks shape the face and bring the eyes up, while v-necks bring the eyes pointing downwards to your belly. Also, one problem a fat guy may have is a fat neck. And so crewnecks do a better job at hiding this than a v-neck.
On the flip side, a v-neck gives the illusion of a longer neck. By revealing your chest area, the focus moves from your neck to your chest.
So on this note, go with whichever you prefer and best compliments your face.
# 9. Ditch Belts For Suspenders
Hold your trousers up with suspenders instead of belts. Belts draw attention to your stomach, emphasizing the bulge, while suspenders are both stylish and hold you up neatly.
Another plus for suspenders is that they feature vertical ropes. And we know that vertical lines are slimming on any guy.
We recommend wearing a button-on suspender with a Y shape at the back. The Y shape is the most common shape, and it's best for formal settings. You can also go for X-shaped suspenders, but they are more for relaxed settings.
When it comes to the width size of a suspender, go for the basic size of 1.5 inches. This is also best for formal settings. And for a more casual look, a thinner size will do the trick.
Suspenders go with dress pants for a formal look. And when it comes to pants, opt for those with flat fronts rather than pleats.
Pleats require more fabric, which appears in folds, adding to your belly making you look fatter. A flat front, on the other hand, is slimmer and gives you a neatly tailored look.
How Can A Man Hide Beer Belly and look more Flattering?
Not ready to hit the gym yet? Well, there are short-term solutions to hiding that beer belly in your clothing. And here they are:
 First, your posture matters.
Believe it or not, a good posture goes a long way to helping you hide that beer belly. Jutting out your stomach with your back swayed is sure to get your belly bulge more noticed.
However, maintaining the right posture— back, head and shoulders straight—will provide the right cover. And don't think slouching will be a good decoy. It only passes you off as fat and lazy, so avoid it. Rather look sharp and smart with a good posture.
 Second, Fit:
Avoid tight clothing like a plague. This is because tight clothing is never a flattering look for a fat guy.
Rather than help you look slimmer, they magnify your body fat, showing off all your love handles and extra layers. And it can get even uglier when part of your belly sticks out from under a tight tee. Enough said.
In the same vein, loose clothing also does no favors for a fat guy. They add to your weight, making you look bigger than you really are. So basically, the trick is to avoid extremes and go with what fits. Get measured properly to know your size and wear clothing that fits your body size perfectly.
 Next, Layering:
Might seem absurd, but layering does work to hide beer stomach. Wear a shirt over a t-shirt, preferably a light or flannel t-shirt with vertical stripes. It will drape nicely over your body and cover upside fat.
 Next, wear bold accessories:
Wearing bold accessories helps draw attention away from your body. And they match your big body size.
 Finally, colors and patterns:
Go for bold, neutral colors like black, brown, beige, and navy blue. These are slimming colors. And if you like patterns and prints, pair them with plain clothing.
For example, a black and white flower print shirt should be paired with regular jeans. Then a pair of checked shorts should be paired with a plain t-shirt.
Avoid busy patterns as they make you look larger. And also, avoid sharp contrasts as they create a horizontal line at your midsection.
Should Fat Guys Tuck in Their Shirts
Fat guys can tuck in their shirts if they need to. Nonetheless, they can also wear it untucked, as we said earlier.
Tucking in can create symmetry to your body if done right. So to achieve a neat tucked in look:
Wear a shirt with the right length is mid-crotch or an inch above that. This helps your shirt stay neat and tucked in without creating a bulge at the back or inside your pants.
Your pants should sit on your waist and not below your belly. This only emphasizes your belly bulge and makes you look heavier.
Make sure the belt is not too tight, so you don't end up with a muffin top.
These three easy hints are all you need for a sharp tucked-in look.
So that's it. Remember, every time, the trick is to create balance and proportion to your style. And always keep it simple.
Finally, as a pro tip, visit a tailor. He should be your best friend. His job is to accentuate your strong points and minimize your weak points by fitting your clothes in the right places.
So for more hot fat guy styling, check these articles:
How To Wear A Polo Shirt—Modern Guide For Fat Guys