"Are jeans warm enough for winter?" and surprising to say, this answer can be yes, only if it is lined. The most common cold-weather improvement on basic denim jeans is the addition of a lining.
A Sherpa lined denim jacket is a winter staple, particularly in the northern United States and in Canada.
For many of us we wear jean 24/7, however, when the cold season comes along we sometimes get a serious blow. Like most warm weather clothing hacks, the secret is all in layering.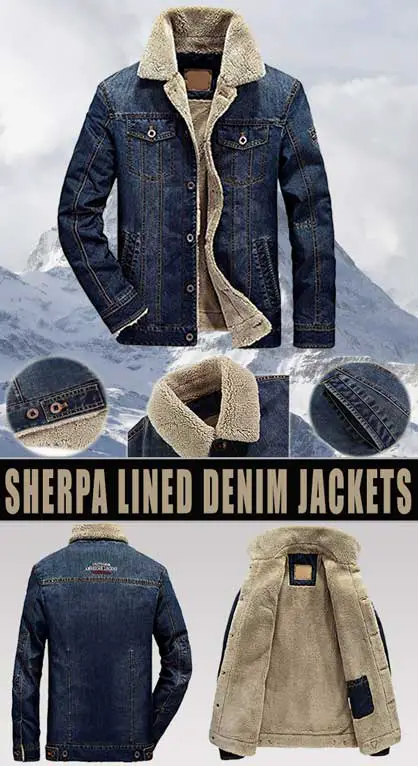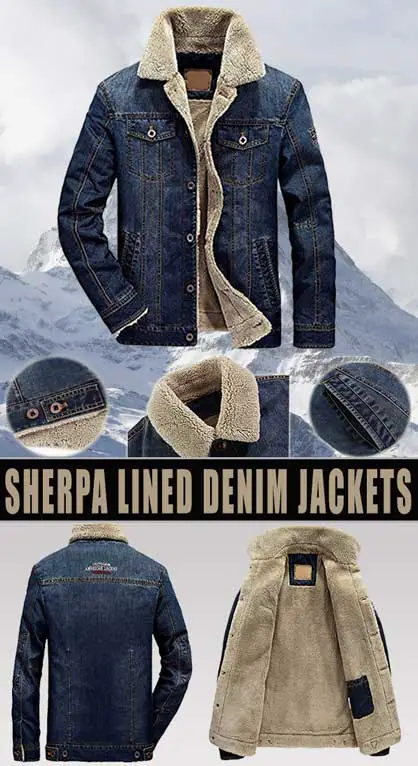 With a little creativity, you can definitely stay warm without an issue. For all denim lovers, a Sherpa lined denim jacket in your wardrobe is a must if you're planning to wear jeans on extra snowy cold days without hating your life.
You won't find them in the photo spreads of glossy fashion magazines very often, but in places where getting work done and staying warm is a daily necessity, sherpa jackets are actually among the more attractive options.
If you live somewhere where "winter" means a few inches of snow and a couple chilly days, you'll still find the use for this classic jacket.
Ratings
Name
Product
Color
Compare Prices
#1




Chouyatou Men's Classic
Button Front Rugged
Sherpa Lined Jacket



Dark Blue



#2


Levi's Men's
Faux-Shearling Trucker
Jacket



Juniper Rinse Sherpa



#3


Wrangler Men's
Rustic Sherpa
Lined Jacket



Denim/Sherpa



#4



Levi's Type 3
Sherpa Trucker
Jacket



Needle Park



#5



Zicac Men's Fleeced
Denim Jacket Winter
Fall Warm Cowboy
Coat Outerwear Parka



Black



The Best sherpa lined men's jacket for you
A men's sherpa lined denim jacket is a staple piece of apparel, and for guys who wear jeans 24/7, this would be the perfect winter wear jeans piece to add to your wardrobe for those cold seasons winter, spring or fall.
Many of us go with our favorite brands or styles that tend to work best for the environment we spend the most time in.
Although many of us prefer the most cost-effective option for our budget, we also want quality and durability.
There are literally countless styles and brands online to choose from when it comes to jean jackets with sherpa lining.
What is sherpa lining made of
Most Sherpa fabric is made out of polyester or a polyester blend, though some are made of cotton, like the Sherpa used in some sherpa baby blankets. The cotton makes the fabric hypoallergenic.
The overall effect is similar to real sheep's wool, but sherpa lining is lighter weight, much less bulky, and faster-drying. It's also considerably cheaper, and avoids any ethical concerns about animal products.
______________________________________________________________________________________________________________

#5 Zicac Men's Fleeced Denim Jacket Winter Fall Warm Cowboy Coat Outerwear Parka
When dressing casually, this Zicac Men's Fleeced Denim Jacket is one of the most stylish Sherpa lined denim you can wear, its full of personality design and refined craftsmanship.
These winter fall wear coats are traditionally made quality denim fabric, 66% cotton, 22% polyester and 12% viscose fabric, featuring a warm Sherpa lining that's made of 100% polyester.
With five pockets, two chest button pockets, two slant pockets, one inner pocket this simple yet classic design is ideal for casual and working occasions
Fleece lined interior which provides excellent comfort and warmth in cold weather winter or autumn. Full button front with single button cuffs, buttons at back hem for expected fit.
Customer reviewers on Amazon gave this winter jacket a 4.5 out of 5 stars. Their reviews stated that the Zicac fleeced denim jacket was "It was a hit!," and "Warm, comfy and stylish"we truely recommends the Zicac jacket for cold climate outdoor occasional  >>Read More Here
___________________________________________________________________________________________________________
#4 Levi's Blue Type 3 Sherpa Trucker Jacket
The Levi's Blue Type 3 Sherpa Trucker Jacket is easily my favorite fall wear denim outerwear.
Levi's Known for supplying the perfect fit of jeans and types of denim for practically any body type has also capitalized on making jeans jacket that is affordable and comfortable while keeping you warm during the colder season.
Featuring a label on the front, with buttoned front pockets and an inside pocket, this men's jacket sports a spread collar and a hot popper open front button closure.
___________________________________________________________________________________________________________
#3 Wrangler Men's Rustic Sherpa Lined Jacket
Sherpa lined. Wrangler men's rustic jacket is the perfect transitional piece for fall or cooler evenings. Wrangler has staked its claim as a global leader in Jeanswear, casual apparel and fashion-forward western inspired attire.
In your traditional western styling, this Wrangler jacket this vintage piece features Sherpa collar and stylish front pockets with w stitching. >>Read More Here
________________________________________________________________________________________________________
#2 Levi's Men's Faux-Shearling Trucker Jacket
Surely, you know the Levi's brand handsome, exceptionally well-crafted jeans and denim. Wherever, whenever, this hot Levi's Men's Faux-Shearling Trucker Jacket.
Is Yours! This Denim wear jacket doesn't get any better, made from 67% Cotton and 33% Polyester with a button-front jacket featuring a standout collar faux-shearling spread collar and body lining.
A polished fit that's perfect for elevating any outfit. Style it with your fave jeans and cotton shirt combo. This is a stunning piece of outerwear that's nearly perfect down to the last detail. Take it outside. >>Read More Here
________________________________________________________________________________________________________
#1 Chouyatou Men's Classic Button Front Rugged Sherpa Lined Denim Trucker Jackets
If you're looking for a Sherpa lined denim jacket that will keep you warm and stylish during the cold season, then you need this jacket.
Made by Chouyatou, a clothing line brand that started back in 2013 and is paving the way for some of the news and trending men's fashion style on Amazon online store.
This jacket styles, with button front closure, flip button chest front pockets as well as inner and front pockets to store stuff like your smartphone, notebooks, passport or small camera.
This jacket not only caters to unique style cut and fit, but with its Sherpa lining Chouyatou has managed to keep you warm during the late fall and even into the winter season.
This jacket is made of high-quality light-washed and distressed cotton denim fabric and is available it two color, blue/dark blue.
Suitable for casual daily wear >>Read More Here
How should your denim jacket fit
Whether you dress it up, down, or somewhere in between, here's how it should fit.
SHOULDERS
Just like a tailored jacket, the fit of the shoulders determines how the rest of the jacket will sit on the body.
A denim jacket is meant to be worn very trim, borderline snug, so look for one with a shoulder line that meets your own (and doesn't sag down the arm). Buy one that has a good, snug fit in the first place. You're looking for nice straight lines throughout your figure
LENGTH
The jacket should hit a few inches below the waist, around the widest part of the hips, just less than halfway down the seat. Too much longer than that and it starts to look more like an untucked work shirt; too much shorter and it's getting girly.
MIDSECTION
A denim jacket with sherpa lining is supposed to be trim. It's supposed to be and hip jacket, so it should be cut to make you look the same. You're rarely going to fasten the front buttons, but you should still be able to (just barely) in case you want to layer it under another jacket.
SLEEVES
A narrow sleeve is key. Look for a high armhole, a trim upper arm, and a sleeve that hits just past the wrist, grazing the hand (there shouldn't be any shirt cuff showing here).
BODY
A denim lined jacket is supposed to be cut close to the body because it is usually always worn opened. In fact, I hardly ever wear mine closed, but make sure that you are still able to fasten a few buttons, just in case you want to layer it with a waistcoat.
FABRIC
I almost always wear the collar up (or half-up) on trucker jackets, so I prefer a stiff heavy denim that has some body to it, like the JYG Men's Sherpa Lined Denim Jacket Menswear.
What to wear with your denim jacket
In general, just wear pants that aren't denim when you wear your jean jacket.
Cords, chinos, khakis, and even some casual dress slacks can all look fine with a jean jacket, as long as there's some color contrast. It takes the whole problem of matching denim out of the equation.
If you must wear denim pants and a denim jacket at the same time, make sure the colors are substantially different.
Light gray jeans and a dark indigo jacket can work; a medium-blue jacket with light blue jeans will not.
Taking Care of Your Sherpa lined Denim Jacket
✔ More resistant to insect damage and easier to care for during moisture and temperature changes, Sherpa lined, sherpa fleece or fake fur offers some advantages over real fur by far.
✔ Faux fur can be cleaned at home, while many faux fur coats or trimmed garments may have a tag that recommends dry cleaning only.
✔ Be on the safe side, follow product instructions or fabric maker's cleaning instructions if you have them.
✔ Polyester fabric is very heat sensitive, synthetic shearling or sherpa fleece is usually machine washable. You'll typically use cold water and the gentle or delicate cycle, then line dry or tumble dry on low.
✔ Washing won't affect the looks. The fabric's distinctive woolly appearance is due to curling of the surface nap or pile during fabric finishing,
✔ Spot clean collars, trim and other items that are only slightly soiled to save wear and tear caused by unnecessary washing.